Wal-Mart (NYSE:WMT) is one of the biggest success stories in the history of the western world. The company's stock has an interesting history where the share price remains relatively flat for a long time and jumps up when no one is expecting. This is why it is very difficult to time this stock.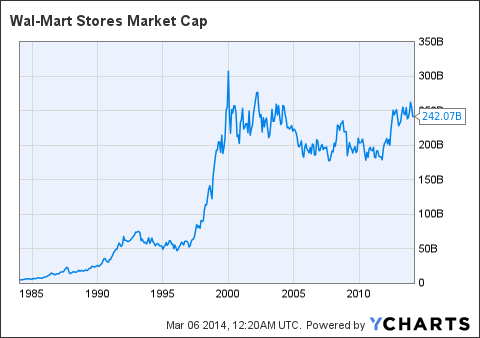 Many people believe that Wal-Mart has peaked in the US. Currently, the company has a store in almost every major city and town (with the exception of San Francisco) and it captures a large market share among traditional shoppers that prefer to see and touch a product before actually buying it. Wal-Mart is one of the few brick-and-mortar stores that didn't suffer from emergence of online shopping.
If you look at the chart below, you will see that the slowdown in Wal-Mart's revenue growth is so small that it is hardly noticeable. The company's annual revenues passed $100 billion in 1997, $200 billion in 2002, $300 billion in 2006 and $400 billion in 2009. Notice that the company's revenue growth continued relentlessly even during recession times. In fact, many times, Wal-Mart performed even better during recession because when people have to save money on groceries and other items, they will go to the most cost-effective store, which happens to be Wal-Mart in most cases.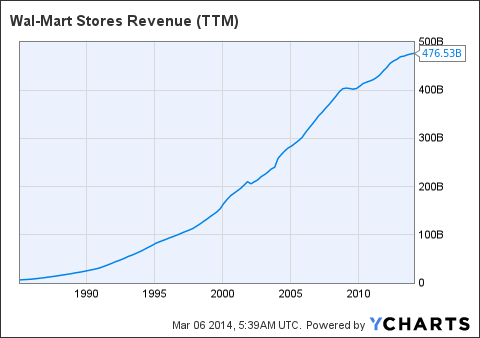 While the company's revenues grew nicely in the last 30 years or so, we can't say that same about gross margins. As you can see in the chart below, Wal-Mart's gross margins generally trended upwards in the long term; however, this has been a bumpy road for the company. In fact, Wal-Mart's gross margins fell sharply during the recession of early 2000s and it's been on the decline since hitting the peak in 2010. Currently, Wal-Mart's gross margin is pretty close to its peak, but the declining trend is undeniable.
In the recent years, many low-cost stores, such as Big Lots (NYSE:BIG), Dollar General (NYSE:DG), Dollar Tree (NASDAQ:DLTR) and Costco (NASDAQ:COST) saw a lot of growth and there were many times Wal-Mart had to face pricing pressures in order to be able to compete with these stores.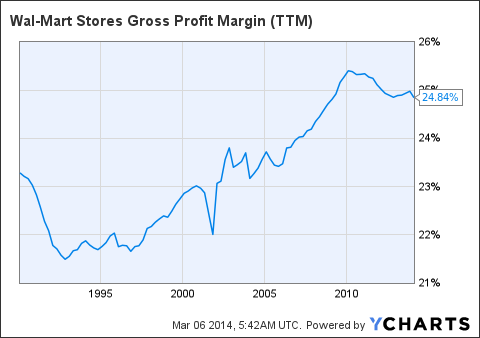 The chart below shows the revenue growth of some low-cost stores that are posing threat to Wal-Mart's margins. Big Lots is the slowest growing of the bunch, and with the exception of this company, every other competitor of Wal-Mart was able to grow their revenues by anywhere between 48% and 63% in the last 5 years. As Americans become more cost conscious, low-cost retailers will continue to grow their revenues even though their margins might not grow as much as their revenues do.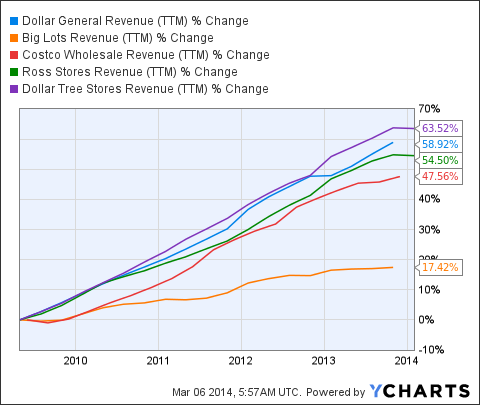 Let's take a closer look at Wal-Mart's margins. Keep in mind that if a company's revenues grow faster than its profits, we are looking at a margin contraction, and if a company's profits grow faster than its profits, we are looking at a margin expansion. In the last 10 years, Wal-Mart's revenues grew by 78%, while the company's gross profit grew by 90.63%, suggesting a gross margin contraction. Furthermore, Wal-Mart's operating income grew by 73% and the company's net income grew by 71% during this period, which means there was some margin contraction even though it wasn't too bad. On a positive note, the company was able to grow its earnings-per-share by 127.3% during this period, mostly helped by share repurchases, which is becoming a common activity among mature companies.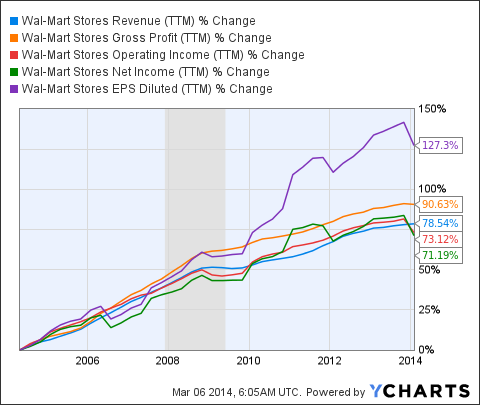 The market is currently valuing Wal-Mart at 24 times its free cash flow and 15 times its earnings. Historically, Wal-Mart has been valued at 30 times its free cash flow and 22 times its net earnings, which shows us that the market is discounting Wal-Mart compared to its historical values because the market is worried that Wal-Mart's growth story is coming to an end. In the US, the company might not have much more room to grow; however, the market is ignoring all the growth opportunities Wal-Mart can take advantage of outside of the US.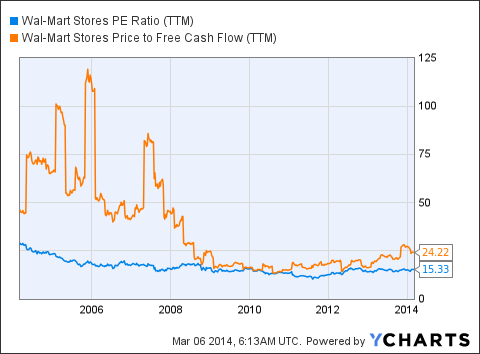 Wal-Mart has never been shy about returning money to investors. Even when the company was growing as fast as Amazon is today, it was still solidly profitable and it was still sharing its profits with investors in terms of buybacks and dividends. The chart below shows the dividend history of Wal-Mart. Notice the sharp increase in the company's dividend payments after 2000.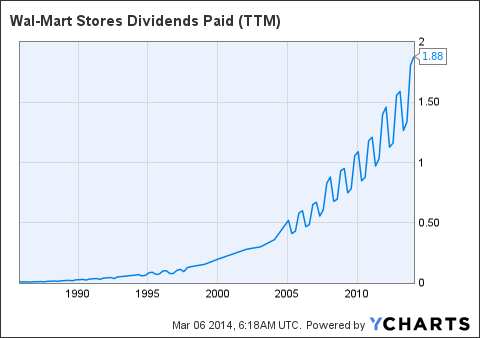 We can also see how Wal-Mart's share count has been falling dramatically over the years, making each share more valuable at the end. At this rate, the company will have less than 3 billion outstanding shares within a couple years. Notice that the rate of share buybacks keeps accelerating just like the company's ever-increasing dividend payments.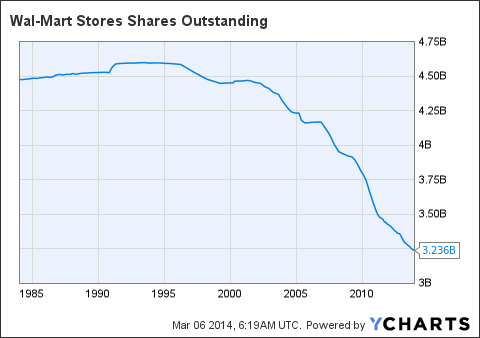 Moving forward, Wal-Mart is expected to earn $5.29 per share this year followed by $5.75, $6.40 and $7.25 in the next three years. According to these analyst estimates, Wal-Mart is currently looking at a forward P/E of 11, which is very reasonable given the company's historical P/E value of 22. If the investors start seeing the value in the company we might see another historical bump in Wal-Mart's share price.
Disclosure: I have no positions in any stocks mentioned, and no plans to initiate any positions within the next 72 hours. I wrote this article myself, and it expresses my own opinions. I am not receiving compensation for it (other than from Seeking Alpha). I have no business relationship with any company whose stock is mentioned in this article.