by Taras Berezowsky
MetalMiner's monthly Rare Earths MMI® kept steady at a value of 34 in March - and a lot can be explained by China.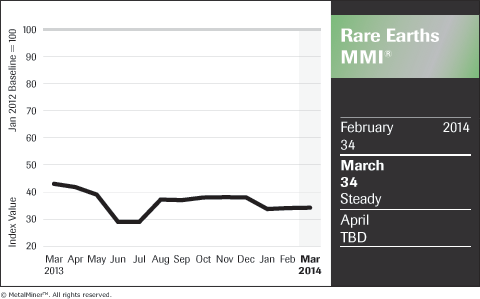 Still home to nearly 90 percent of the world's rare earth metals, China has seen buoyant demand but falling prices these last 12 months. Although that has affected non-Chinese producers such as Molycorp (MCP) (and their bottom lines the past two years), that company's CEO Geoff Bedford predicts rising demand and lower price volatility.
"On the demand side, we are encouraged by the demand outlook we are hearing from customers, both internal and external, for lanthanum, neodymium, praseodymium, and light rare earth concentrate, which we call alloys," Bedford told analysts Tuesday.
But China's REE industry revenue was close to $12.6 billion last year, up nearly 8 percent, yet profits slumped 28 percent to less than $1.3 billion, as illegal mining continued to undermine the market and a growing contribution from non-Chinese sources increased availability. This year, prices have firmed just a little, with modest upticks by some rare earths as the supply market has stabilized and demand has remained solid from Japan and South Korea.
What This Means For Metal Buyers
A continued focus on environmental issues in China will likely spur the consolidation process and help support prices going forward, although strong upward movements are unlikely.

Key Price Drivers of Rare Earths Index
The price of yttria rose 10.0 percent after falling the previous month. After dropping the previous month, the price of terbium oxide prices rose 6.1 percent. The price of dysprosium oxide rose 5.7 percent last month. Following a 4.3 percent change in price, lanthanum oxide closed the month up. The price of cerium oxide rose 4.2 percent after falling the previous month. Neodymium prices increased as well. After dropping the previous month, the price of praseodymium oxide prices rose 1.8 percent.
The price of neodymium oxide dropped a bit last month. Samarium oxide dropped too, and other prices, such as those for Rare earth carbonate, praseodymium neodymium oxide, terbium metal, yttrium and europium oxide either did not budge or moved marginally lower.
Stuart Burns contributed analysis to this article from London.
Disclosure: No positions