The share price of Transocean (NYSE:RIG) has been experiencing weakness over the past 12 months. In my view, there remains a substantial downside price risk for the stock as I believe the company's worrisome near-term prospects have not yet been fully priced in.
2014 will be a challenging year for offshore drillers as major oil companies have been reining in offshore drilling spending due to increased focus on capital discipline and investment return. Under this unfavorable market condition, I believe Transocean will likely be most affected based on the following two reasons:
The company is expected to have contracts expire in 2014 for 12 ultra-deep-water ("UDW") rigs and 8 deep-water ("DW") rigs. This would not only expose the company to the weak pricing market resulted from the offshore drilling downturn but also increase the likelihood that several units will experience extended period of downtime.
The quality of Transocean's fleet portfolio is almost the lowest among the US-based offshore drillers as a large number of its rigs are with low-specifications and the average rig age is approximately 17 years, which is the oldest. As drilling requirements from oil companies continue to rise, it would be increasingly difficult to secure good pricing and maintain sufficient utilization for those lower-specification rigs. As such, it is expected that Transocean would take a harder hit from the weak market demand relative to companies with higher-grade rigs, such as Seadrill (NYSE:SDRL).
In the Q4 earnings call, management announced a plan to build 2 UDW drill ships, which will be delivered in Q2 2017 and Q1 2018, respectively. As a result, the company expected a total capital expenditure of $2.6B for 2014, up from the previous guidance of $2.3B. In addition, management also announced a dividend plan of $3 per share in 2014 for a total dividend spending of approximately $1.3B in the year. While management's commitment to replace old rigs seems to be heading in the right direction, the timing for higher capital expenditure plan is questionable as this would undermine the dividend sustainability based on the following reasons:
Given that the company was not able to generate positive free cash flow in 2013 (-$1.5B) and the offshore drilling market is likely to weaken in 2014, I would expect the negative free cash flow trend to persist in 2014. This means that Transocean would need to borrow to finance its capital expenditure and dividend plans as its current cash balance is only at $1.2B.
Comparing with its US-based peers, Transocean's current total debt to capital ratio and net debt to EBITDA multiple are fairly in line with peer averages. However, its interest coverage ratio is at the low end of peer range (see chart below). This means that the company will have less capacity to make additional borrowing as further increase in leverage and decrease in interest coverage would likely increase the risk of its credit rating. In the case that the company generates worse-than-expected operating cash flow, management would have to consider delaying its capital expenditure plan or making a dividend cut.

Transocean currently trades at 8.4x forward 2015 P/E multiple, which is at 12% premium over peer average at 7.5x. Given the reasons discussed above and that consensus estimate expects the company's EPS to experience a negative CAGR of -14.4% over the current and next fiscal years (i.e. dropping from $5.47 in 2013 to $4.01 in 2015), I view this relative valuation to be expensive.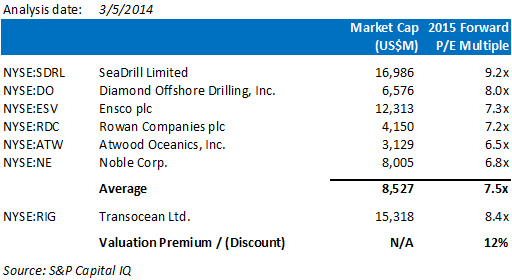 In summary, as Transocean's significant exposure to the industry downturn and questionable liquidity prospect are not fairly reflected in the stock valuation, I would recommend selling the shares. Amid the current industry downturn, investors should own shares of companies with high-quality drilling fleet, such as Seadrill, that are less vulnerable to pricing and downtime risks.
All charts are created by the author and data used in the article and the charts is sourced from S&P Capital IQ, unless otherwise specified.
Disclosure: I have no positions in any stocks mentioned, and no plans to initiate any positions within the next 72 hours. I wrote this article myself, and it expresses my own opinions. I am not receiving compensation for it (other than from Seeking Alpha). I have no business relationship with any company whose stock is mentioned in this article.