Units of Kinder Morgan Energy Partners (NYSE:KMP) have been trading fairly weak over the last four weeks delivering a negative return of 5%. Barron's published a bearish piece at the end of February about Kinder Morgan's accounting practices and questioned its distribution prospects which contributed to the decline in unit price. However, questions about KMP's growth prospects and high distributions are no news really. Other SA authors have already refuted Barron's talking points.
Kinder Morgan Energy Partners' units, though, took a beating: Units declined from $78.44 on February 21, 2014 to $74.32 on February 24, 2014 -- a decrease in unit value of approximately 5%.
However, I continue to be bullish on Kinder Morgan Energy Partners and believe the current sell-off is way overdone. Long-term oriented investors who act opportunistically now get a much better deal with Kinder Morgan Energy Partners compared to just four weeks ago. KMP units now also quote about 19% below their 52-week High of $92.99 and approximately 6% lower since I last recommended KMP for income-oriented investors.
(Source: Yahoo Finance)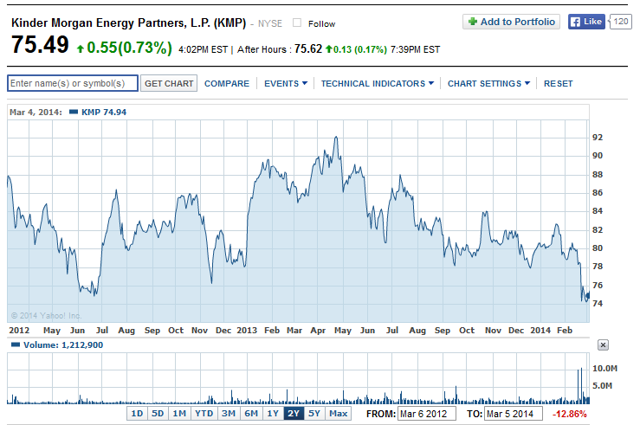 From a technical standpoint, I believe units of Kinder Morgan Energy Partners are now oversold. As is often the case when bearish articles in widely read financial magazines are published, investors suspend critical thinking and give in to herding behavior. Investors quickly sell their shares/units without regard for their intrinsic value, which, in turn, is an opportunity for contrarian investors.
Richard Kinder, Chief Executive Officer and Chairman of Kinder Morgan Energy Partners is a good example as to how a long-term approach to investing can yield outstanding results (after all, he built Kinder Morgan into what it is today and became a billionaire). Richard Kinder addressed investor concerns about the underperformance of KMP's and Kinder Morgan, Inc.'s (NYSE:KMI) units in the fourth quarter 2013 conference call:
Now I'd be remiss if I didn't speak of one other topic before turning this over to Steve. While we had an excellent year at the Kinder Morgan companies, both financially and operationally, our units and stocks underperformed the market by a wide margin. Now perhaps we failed to adequately communicate our story, although we certainly tried, and maybe we did communicate it, and the message was not accepted. I don't know the answer to which it was, but I do believe that particularly at KMI and KMP, these securities are trading at the greatest disconnect to appropriate valuation since the period in 2006, just before we took the first KMI private. Like now, back in 2006, we had an enormous backlog of projects. And like now, many experts will find that we were too big to be able to continue to grow at an acceptable rate. We proved the doubters wrong the first time around, and I anticipate the same result this time. Reflecting this belief in the Kinder Morgan companies, as many of you know, I've been a buyer of KMI shares. I've purchased over 800,000 shares in December alone. So I guess my message to those who saw the story less positively was you sell, I'll buy, and we see who comes out the best in the long run.
I think there is nothing more comforting for investors than knowing that the billionaire who build the company, is an aggressive open market buyer of KMI shares. The insider transaction overview below shows that Richard Kinder continued aggressive purchases on February 20, 2014 and February 24, 2014 amounting to a total of 299,165 shares.
(Source: Yahoo Finance)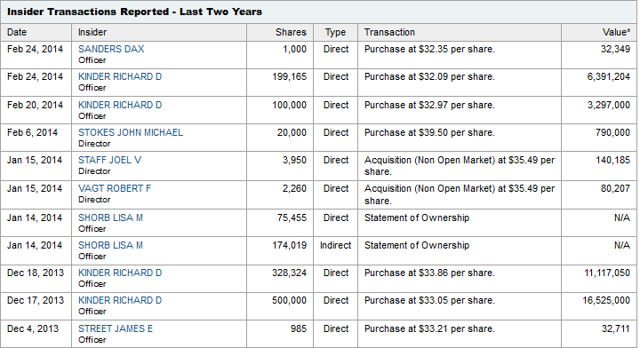 Conclusion
While the market panics about negative short-term sentiment, serious investors should consider Kinder Morgan Energy Partners as a long-term midstream play in a buoyant industry. I have repeatedly written that the US is in the midst of a gigantic upgrade of its energy infrastructure - substantial transportation-, storage- and refinery capacity is required in order to accommodate larger throughput volumes stemming from the domestic shale plays.
The decline in KMP's unit price has increased the initial unit yield to 7.21% -- Kinder Morgan Energy Partners now pays investors $1.36 per quarter or $5.44 annually. Opportunistic investors who seek energy/midstream exposure and a solid unit yield should consider Kinder Morgan Energy Partners. Richard Kinder's extensive open market purchases and long-term view only add to the appeal of this master limited partnership. Long-term BUY.
Disclosure: I am long KMP. I wrote this article myself, and it expresses my own opinions. I am not receiving compensation for it (other than from Seeking Alpha). I have no business relationship with any company whose stock is mentioned in this article.