The crisis in the Ukraine showed this week that a geopolitical shock could catalyze a capital flight to quality near-term. If such an event occurred and was sustained long enough, I believe Annaly Capital (NYSE:NLY) could benefit. Here's how.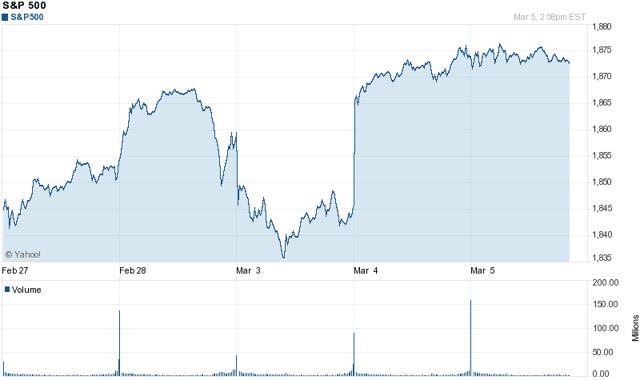 The crisis in Ukraine, with Russian troops occupying the Ukrainian region of Crimea, had stocks shocked at the start of the week and led me to make a "risk off" call over the weekend and suggest investors consider gold and the SPDR Gold Trust (NYSEARCA:GLD). The SPDR S&P 500 (NYSEARCA:SPY) dropped 0.7% Monday, but the market was much higher Tuesday after Vladimir Putin offered some hope to the west that there might be an amicable way out of the mess. Still, Russian troops remain on Ukrainian territory today despite Putin's denial of it. The situation is on a hair trigger that could easily escalate into a messy war based on recent Russian history. So how would such a testy scenario benefit Annaly Capital then?
When capital flights to quality occur, investors tend to sell risky securities and buy U.S. Treasuries and gold and silver. When demand increases for U.S. Treasuries, the U.S. government can offer their debt instruments at a lower interest rate. In other words, the yield offered to buyers of newly issued U.S. debt comes down on increased demand. As a result, interest rates in the U.S. realize a downward pressure. This does not necessarily mean they decline on the long end of the duration spectrum where mortgage assets are found, but that is possible as well, especially if conditions persist or look especially troublesome. Add to that the fact that much of the more recently published housing data has been poor, and you have a potential driver for lower mortgage rates near-term.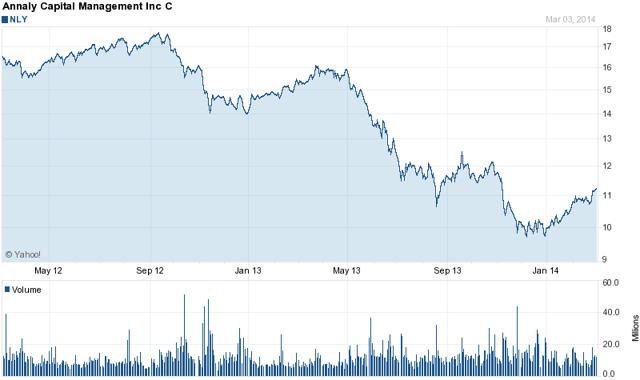 Over the past year or so, Annaly Capital and its mortgage REIT peers like Two Harbors Investment (NYSE:TWO), American Capital Agency (NASDAQ:AGNC) and others found in the Market Vectors Mortgage REIT ETF (NYSEARCA:MORT) have come under pressure as mortgage and other interest rates have increased. The reason for the concern has been the impact of rate rise on the book values of these mortgage REITs. As current market interest rates rise, you see, the value of the mortgage-backed securities held in portfolios at Annaly and the others decrease. Annaly estimated at the close of 2013 that if rates rose by 75 basis points, the negative impact on the net asset value of assets held would be approximately 10.6%. The impact is expected to be mitigated by interest rate swaps, but book value would decline for NLY significantly nonetheless.
Annaly's book value has been decreasing through recent quarters. This has raised a question about what Annaly and some of its peers are worth on a price-to-book value basis. Now, there is an argument to be made about the secularly improving housing environment, and how Annaly's book value might later benefit from it. However, this is a topic in and of itself and for another time. I will author an article on this important issue sometime soon, so please stay tuned. Access to debt capital was hampered slightly as well by the recent rate increases. However, that less problematic situation would also improve in a flight to quality, again because rates would decrease. Therefore, a flight to quality could serve to lift Annaly's book value due to a potentially favorable downward impact to interest rates. This is an important factor weighing on the valuation of the security and that of many of its peers.
In conclusion, if Annaly's book value increases due to lower rates on a flight to quality, the stock price could adjust higher as well. This would likely only hold if the situation in the Ukraine were to escalate and were expected to persist. Given the player involved in Russia and its history with regard to its similar handling of the Republic of Georgia, which is an issue I am intimately familiar with, bad results are realistically within the realm of possibility here. Of course, if the United States and Russia were to somehow end up in a war, which is hopefully as highly unlikely as geopolitical experts indicate, all bets are off and capital would depart again to a new destination other than U.S. Treasuries (probably gold). Rates would rise (not fall) in that unlikely worst case scenario, and Annaly would be devastated along with the market on the whole. I reiterate though that the odds of such a war and its effects to rates and NLY are extremely low, but should be mentioned.
The possibility of a lesser localized escalation is much more likely in my view, and could ironically serve NLY here. It's a notable point of interest for NLY shareholders to keep in mind as dynamic markets react to events overseas. That is because, initially, if escalation occurs and the market is shocked, we could see NLY shares sold off with the market. I believe that would only mark a buying opportunity in NLY shares for the reasons I've outlined.
Disclosure: I have no positions in any stocks mentioned, and no plans to initiate any positions within the next 72 hours. I wrote this article myself, and it expresses my own opinions. I am not receiving compensation for it (other than from Seeking Alpha). I have no business relationship with any company whose stock is mentioned in this article.