As the smallest of the big three pizza retailers, Papa John's (NASDAQ:PZZA) has done a great job garnering national attention, through its massive TV campaign. The company has been adding restaurants at a healthy pace, with an increasingly larger focus on international markets.
Today, we will be addressing two catalysts that can have a long term impact on topline growth. In our main catalyst section, we will look at China and the pivotal role it can play for the long term outlook of Papa John. Our second catalyst deals with the initiatives undertaken by the company to attract franchisees. Success in these two areas dictates whether we believe Papa John's is a Hold or Buy.
Main Catalyst
Management announced in the latest earnings report they are pursuing a 70/30 store expansion split, with 70% of stores international and 30% domestically. The larger concentration on foreign market tells us long term growth will come from these markets.
| | | | |
| --- | --- | --- | --- |
| Company | Dominos (NYSE:DPZ) | Papa Johns | Pizza Hut (NYSE:YUM) |
| Domestic Owned | 390 | 665 | 471 |
| Domestic Franchised | 4596 | 2621 | 7375 |
| Int'l Owned | 0 | 58 | 1502 |
| Int'l Franchised | 5900 | 1084 | 5619 |
The table above shows the exposure of the big three pizza makers to international markets. As we can see, Papa John's has the least foreign market penetration. International franchised stores have increased from 662 location in 2009 to the current 1084, representing a solid 13% average annual growth rate. Compared to its peers, we can conclude that PZZA has ample room to grow. Currently, the UK represents the largest market in terms of number of stores, followed by China in second. We will be focusing on the latter, as it presents a larger opportunity moving forward.
From a revenue point of view, international franchised stores only account for 1.5% of total revenue in FY2013. Papa John's collects 5% in royalties from franchisees on an annual basis. Since direct franchisee revenue is limited to royalties, we can expect a more significant impact from company owned locations. Looking at the table above, Papa John's has a small amount of owned foreign locations, relative to Pizza Hut. However, what is more significant is the geographical concentration of those restaurants, as shown in the table below.
| | | | |
| --- | --- | --- | --- |
| Company | Dominos | Papa Johns | Pizza Hut |
| China Company Owned | 0 | 58 | 1264 |
| China Franchised | ~30 | 131 | 0 |
The store presence of Pizza Hut in the Chinese market is proof of the great potential this region can have on growth. It's no surprise then to see all 58 non-US Papa John's company owned stores to be located within China. It looks like Papa John's has adopted an in the middle strategy, compared to its peers, which picked either the direct expansion route or the franchised route. Judging by the numbers, Pizza Hut looks to have the right strategy, as it has cornered the Chinese market. Domino's on the other hand, has a very limited presence at has failed to grow the number of stores in recent years. This brings us to the next question: How does Papa John's fare in the Chinese market?
Currently, the company is facing issues with profitability. Success in this market has not been a breeze. While revenue from company owned stores has been increasing, it has largely been a result of growth in number of stores. Comparable store sales are lagging, as the company is struggling with profitability.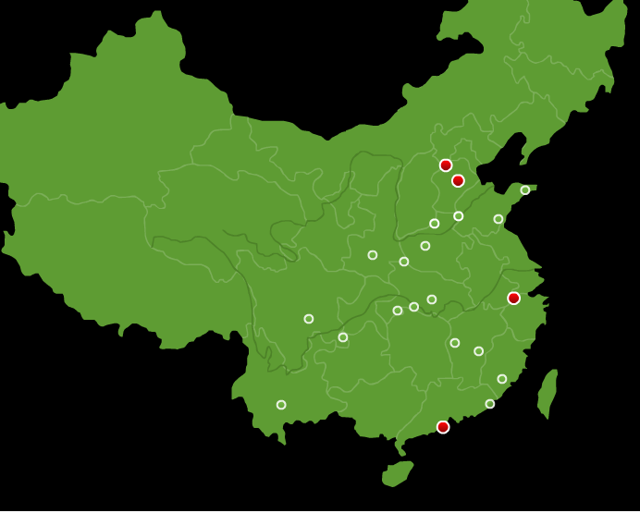 Image taken from papajohnschina.com
The picture above shows the geographical spread of Papa John's locations throughout China. The red dots represent locations with two or more stores. The locations are spread throughout a large part of China, meaning the company is looking to reach a large audience and build a name for itself. Company-owned locations are concentrated in the Beijing and Tianjing municipalities. When we think about success in China, we need to look at what Pizza Hut is doing, since this company has found the solution to success.
Identity Shift
Pizza Hut achieved success by changing the identity that domestic consumers know. The Pizza Hut in China is fundamentally different from its US counterpart. The first difference relates to store structure. Chinese consumers like to have the option to sit down and enjoy their meal. Moving away from the carryout only model was a must in order to attract customers. The second change we see is in the restaurant menu.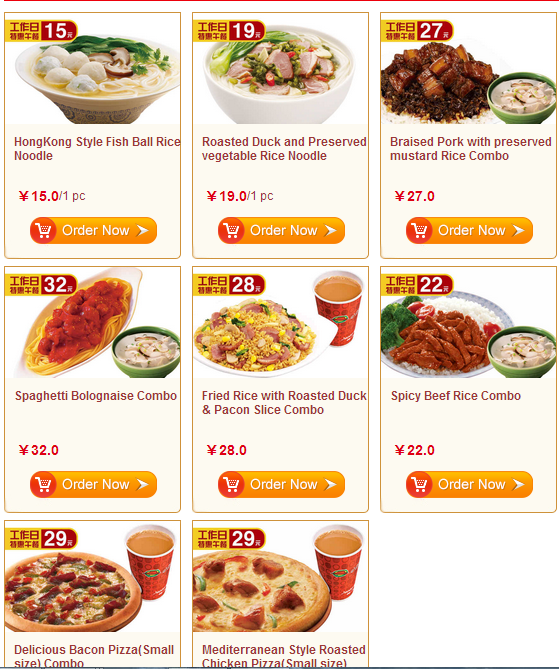 Image taken from Pizza Hut China main website
This is a typical lunch special menu for Chinese Pizza Hut locations. What is striking is the lack of focus on Pizza. Only 2 items feature a pizza, whereas the rest are items you will most likely find at a Chinese store, rather than a pizza store. In fact, only one third of Pizza Hut sales come from sales of pizza. So, when we think about the success of Papa John's in China, the solution is: don't sell pizza.
Now, let's look at what Papa John's is doing in China. The company does function as a sit down restaurant, so the first condition is reached. As far as the menu goes, we see a concentration on pizza. The two main entrees offered are pasta dishes and a large variety of pizza. Papa John's looks to stay true to its name and also uses the same slogan of "Better Ingredients, Better Pizza" for the Chinese market.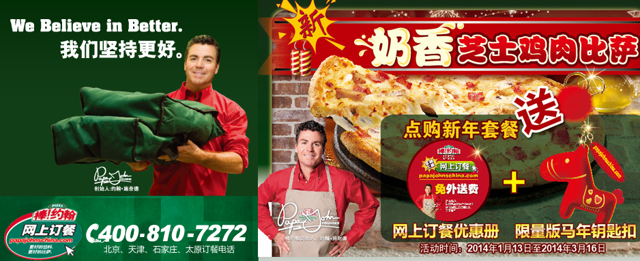 Image taken from papajohnschina.com
Moreover, founder John Schnatter believes he is the best person to market the brand. From an identity perspective, the company hopes adopting the same domestic marketing style will achieve the same positive results in the Chinese market.
Nevertheless, we identify China as a key market moving forward. The number of company owned restaurants in China has been growing by approximately 20% for the last 4 years. We expect that number to grow at the same pace for the next 5 years, given the company's commitment to expansion. Sales from this segment have been growing by 22% per year for the last 5 years. International commissary sales have also been growing at a 25% rate for the same period. We have laid out two possible scenario moving forward for the Chinese market. The first envisions a 20% annual growth rate for international non-franchise revenue, sparked by continuous store expansion in the Chinese market. The second scenario envisions a 10% annual growth rate, due to less than expected growth in the Chinese market, with less focus on company owned store expansion. We will be using the data below in our valuation section to determine our price target.
| | | | | | |
| --- | --- | --- | --- | --- | --- |
| Revenue (thousands) | 2014E | 2015E | 2016E | 2017E | 2018E |
| Inernational Owned+ Commissary (20%) | 79932 | 95918 | 115102 | 138122 | 165747 |
| Inernational Owned+ Commissary (10%) | 73327 | 80659 | 88725 | 97598 | 107358 |
Secondary Catalyst
When we think about continued growth for Papa John's we still see significant potential in franchising.
| | | | |
| --- | --- | --- | --- |
| Company | Dominos | Papa Johns | Pizza Hut |
| Domestic Franchised | 4596 | 2621 | 7375 |
| Int'l Franchised | 5900 | 1084 | 5619 |
With only 2,600 domestic franchises, Papa John's is well behind both rivals. The initial investment for franchise store with any of the big three starts in the low $200K. In order to stand out from the rest, PZZA recently offered several perks to potential franchisees. Below is a list of the latest offers from PZZA:
- NO FRANCHISE FEE ($25,000 savings)
- FREE SET OF OVENS FOR EACH STORE
- REDUCED ROYALTIES over 5 years as follow:
First 12 Months - 0% Royalty
Second 12 Months - 1.0% Royalty
Third 12 Months - 2.0% Royalty
Fourth 12 Months - 3.0% Royalty
Fifth 12 Months - 4.0% Royalty
After 5 years - Standard Rate
$3,000 Food Credit (when applicable)
Information taken from papajohns.com
Not only are the initial incentives strong, but the continued discount in annual royalties can steer those looking to own a pizza store towards Papa John's. Although this is not good news for topline growth, the company makes the amount up through commissary sales to the new franchisees.
Improving Efficiency
Last but not least, Papa John's has taken clear initiatives to improve efficiency.
"In addition, our technology leadership continues beyond consumer facing innovation to back-of-house initiatives such as our new point-of-sale system that we will soon begin to rollout to our domestic restaurants. The new POS system which we call, FOCUS, is a technologically advanced system designed specifically and uniquely for our model and will support continued store level productivity and profitability."
PZZA introduced a new proprietary POS system in all domestic locations. It aims to reduce labor and inventory costs. The new system is to be implemented in all 3,600 domestic locations. Another example of reducing costs is the implementation of a fully automated dough facility, which aims to reduce labor costs. We see Papa john's taking on initiatives aimed towards reducing labor and inventory costs, in an effort to improve operating margin in the long run.
Pricing/Valuation
Revenue
In terms of revenue, we used two scenarios. The first entails a growth rate of 6% for revenue for the next 5 years. This is mostly influenced by continued domestic success, as a result of franchising success and increase in commissary sales as a result. As far as international growth we assumed a continuous 20% growth rate there, as laid out earlier. The second scenario envisions a 4.5%-5% annual revenue growth rate for the next 5 years, with a significant change in international growth. Here, the company experiences slow growth in the Chinese market, using the 10% growth rate.
Here is how revenue would look like in the 2 scenarios:
| | | | | | |
| --- | --- | --- | --- | --- | --- |
| Revenue(Millions) | 2014E | 2015E | 2016E | 2017E | 2018E |
| Scenario 1 | 1520 | 1609 | 1704 | 1808 | 1921 |
| Scenario 2 | 1514 | 1593 | 1677 | 1767 | 1840 |
Margins
We discussed about the recent undertakings of the company when it comes to improving efficiency. It looks like the company has hit a sweet spot in terms of operating margin. For the last 2 years, operating income accounted for 7.5% of total revenue. We used a similar rate in our model, with a slight increase in the 8% range, due to recent improvements on efficiency.
For our residual growth we used a 4% rate, due to the potential for expansion and relative size to its peers. For taxes, we used a 32%-33% range. Capital expenditures will increase by 5% on average per year due to the company's focus on technological improvements and company owned store count, especially in China. Using these parameters in our model gives us a 12 months price target of $65 and $61 for the first and second revenue scenario, respectively. For our price target, we take the in between value of $63.
Risk/Variance
The largest risk to growth for the company stems from its success in China. If the company fails to gain solid footing there, investors will react adversely, even though current revenue contributions are not as significant. Not gaining exposure to this growing consumer driven market is a risk PZZA cannot take. Domestically, we think Papa John's has good prospects and the marketing campaign is paying dividends. As a takeaway, we advise investors to keep an eye on the marketing strategy overseas. Papa John's willingness to change its image to adapt to different markets will play a pivotal role to future success.
Conclusion
At a price target of $63, this puts PZZA on the threshold between our Buy and Hold recommendations. Domestic growth looks on track. We look for 20%+ potential in share appreciation for Buy rated companies and PZZA is right on the edge. If the company starts showing signs of solid execution in the Chinese market would make Papa John's a solid Buy opportunity moving forward.
Disclosure: I have no positions in any stocks mentioned, and no plans to initiate any positions within the next 72 hours. I wrote this article myself, and it expresses my own opinions. I am not receiving compensation for it (other than from Seeking Alpha). I have no business relationship with any company whose stock is mentioned in this article.
Additional disclosure: I have no business relationship with any company whose stock is mentioned in this article. The Oxen Group is a team of analysts. This article was written by Adrian Moraru, one of our writers. We did not receive compensation for this article (other than from Seeking Alpha), and we have no business relationship with any company whose stock is mentioned in this article.