I spent the better part of 2013 and some of 2014 trying to tell people that Pandora's (NYSE:P) long-term prospects, unless acquired by someone like a Microsoft, remain very risky. My thesis was that competition from Apple (NASDAQ:AAPL), Google (NASDAQ:GOOG), and Spotify was going to make it tough for the streaming music player to have long-term continued success.
I called Pandora one of my shorts in my "8 Attractive Trades for 2014" article, which suggested 4 longs and 4 shorts for the coming year. My reasoning behind shorting Pandora was:
Pandora will be facing increased pressure from iTunes Radio moving into 2014.
Pandora's audience metrics to end the year - the catalyst for the stock for most of the end of 2013 - were an illusion of sorts.
Pandora is losing the race to both iTunes Radio and Spotify for international markets.
Pandora is severely overvalued with a $5 billion market cap and a P/E of over 100 - making it one of the first stocks to be susceptible to macro market corrections of any sort.
Those that read me regularly may remember when TheStreet.com Rocco Pendola first called me an absolute idiot for being bearish on Pandora. As a matter of fact, get this - his big beef with my article was that he didn't think active listeners had hit some type of plateau, which is what I had argued. Rocco wrote:
It's a shame to see Seeking Alpha, the site that provided me and so many of my friends and colleagues with an excellent platform to learn and grow from, devolve into a sweatshop for uninformed and poorly-researched "Short Ideas."

There's a "contributor" to Seeking Alpha who stands out among the handful who constantly publish bearish Pandora proclamations. This person only rises from the pack because his short theses do not stand up to even the lightest journalistic eyeball or most casual edit.

I presume Seeking Alpha has stopped using editors because the ones I worked with between 2011 and 2012 would have never let this sort of tripe get past them.

In "Quoth the Raven's" most recent Pandora piece, he tells us that ...

Clearly, the active listeners have started to hit some type of plateau ...

He makes this case void of any context whatsoever beyond what he can pull from his clearly uninformed and shamefully opportunistic perch.
Then, after I penned a rebuttal article to his ("This Bull is Dead Wrong on Pandora"), he all of a sudden started to come around and flip the "perma-bull" switch off. As a matter of fact, he switched to a full on Pandora bear and even sent me an e-mail to point it out to me.
Well, interestingly enough, Pandora reported its February audience metrics today - and not only were the numbers not so impressive, Pandora decided that in a couple of months, they don't even want to report these metrics anymore. That is not something you do if you think growth is going to continue - trust me. Interesting. Seeking Alpha was kind enough to provide us the news:
Pandora had 75.3 active listeners in February, +3% M/M and +11% Y/Y. (PR)
Listener hours for the 28-day month rose 9% Y/Y to 1.51B. That's a slower growth rate than the 13% posted for January.
Pandora's share of total U.S. radio listening was 8.91%, up from 8.57% in January (thanks in part to seasonality) and 8.25% a year ago.
The company says it will discontinue sharing its audience metrics after providing May numbers.
I wonder if I'm still "devoid of context"?
Imagine that - all of the analyst upgrades into the $40's - all of the bullish sentiment after earnings - all of the rumors of Microsoft (NASDAQ:MSFT) looking into buying the company - and all of a sudden, the numbers just simply don't show up. Now, who is going to fork over $5 billion + for a buyout without seeing how the metrics for the next couple of months line up? I certainly wouldn't.
And such, our active listeners graph - which, again, was a point of contention for whether or not it was specifically starting to plateau, looks like this: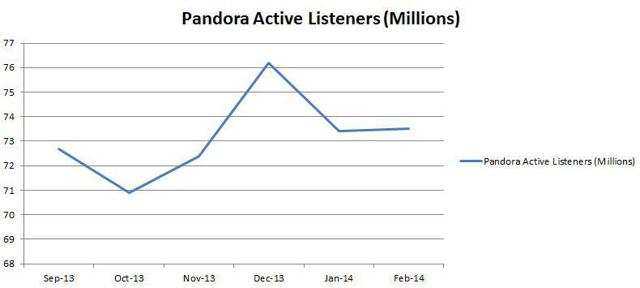 Again, Pandora is a company priced solely for massive growth, and the company makes its money mostly from advertising. If the amount of advertising channels doesn't increase greatly, there's no justifying giving the stock the credit that the market has, pricing it at this insane multiple.
Earlier this month, Pandora reported EPS of $0.11 ex-items versus expectations of $0.08. The company also reported revenues of $200.8 million versus expectations of $201 million.
Pandora's guidance for the first quarter was for a loss between $0.14 and $0.16 per share, with revenues of $170 million to $176 million. Revenue for the year is supposed to be between $870 and $890 million with EPS ex-items of $0.13 to $0.17 a share.
It wasn't the guidance the street was looking for on this stock that trades at over a hundred times forward earnings. But, after the stock took a short dip back down to $32, it was promptly run back up into the $40's - a level that this stock is going to have some trouble getting past in the future, it's likely.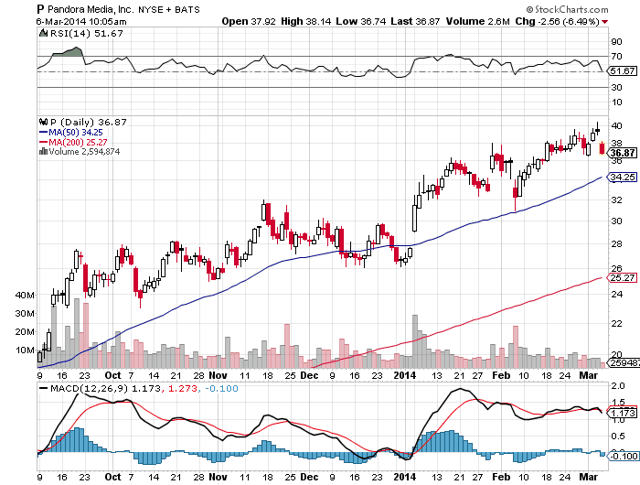 And so, this morning, it seems like the market is starting to realize that the company is a massively overinflated, monster P/E stock, and needs to get roped in a bit. As of 9:02CST, the stock was off almost 6.7%.
Pandora's sole long-term prospect is for it to pull a Green Mountain (NASDAQ:GMCR) style hail mary, where it partners with a company like Microsoft, or is acquired before the bubble continues to burst.
Pandora remains an avoid or a short at all costs, there's a lot further down for this stock to go, and mid 20's by the end of 2014 wouldn't surprise me - and the stock will STILL be massively overvalued.
Take caution, and best of luck to all investors.
Disclosure: I am short P. I wrote this article myself, and it expresses my own opinions. I am not receiving compensation for it (other than from Seeking Alpha). I have no business relationship with any company whose stock is mentioned in this article.