The retail market remains troubled, as today's quarterly results can attest to. Our view is that one should continue to position their portfolios to hold only retail positions that are diversified, such as retail ETFs or low cost retail mutual funds, while avoiding investing in individual companies. This trend has worked for us since we implemented it and we think in the current retail environment shall continue to hold true.
Regarding the economic data out today, it appears that the market is giving the economy another pass based on the recent weather in the United States. Many experts are attributing the weak numbers to weather rather than more serious underlying issues with the economy as a whole.
Chart of the Day:
The Russell 2000 is no longer just for those seeking outsized returns during bull markets versus the Dow Jones Industrial Average or the S&P 500. Now traders and professional money managers are using the index to gain more exposure to the US economy as many of the smaller companies within the index have 100% of their business in the US. This is something to consider moving forward, especially as investors try to diversify away international risk.
Source: Yahoo Finance
We have economic news today and it is as follows:
Challenger Job Cuts (7:30 a.m. EST): Est: N/A Act: -24.4%
Initial Claims (8:30 a.m. EST): Est: 338k Act: 323k
Continuing Claims (8:30 a.m. EST): Est: 2973k Act: 2907k
Productivity - Rev (8:30 a.m. EST): Est: 2.5% Act: 1.8%
Unit Labor Costs (8:30 a.m. EST): Est: -0.7% Act: -0.1%
Factory Orders (10:00 a.m. EST): Est: -0.5% Act: -0.7%
Nat Gas Inventories (10:00 a.m. EST): Est: N/A Act: -152 bcf
Asian markets finished higher today:
All Ordinaries -- down 0.301%
Shanghai Composite -- up 0.32%
Nikkei 225 -- up 1.59%
NZSE 50 -- up 0.82%
Seoul Composite -- up 0.22%
In Europe, markets are trading mostly higher this morning:
CAC 40 -- up 0.46%
DAX -- down 0.16%
FTSE 100 -- up 0.17%
OSE -- up 0.67%
Retail Wasteland
The news out this morning regarding some high profile retailers was not so great, which further backs up our thinking over the past few months on how to play the retail sector. With leaders in their categories now faltering, Costco (NASDAQ:COST) and Staples (NASDAQ:SPLS), one has to seriously begin considering looking at retail as a whole and not on an individual basis; in other words, now is the time to diversify among a basket of names rather than attempt to pick just a few winners.
Although the miss at Costco is troublesome, it is easy to forgive the company for the miss because they do not supply guidance to analysts. So one could say it is not the company's fault for missing the consensus numbers, but rather the analysts' fault for not having better computed their models. With Costco the issue is clearly their margins, which came under pressure this quarter as the company refused to increase prices even as their costs increased. Due to their business model being based off of memberships, this is to be expected from time to time as the company looks to do right by their members even if it hurts their bottom line. The move by competitor Wal-Mart (NYSE:WMT) to lower prices early in the holiday shopping season also did not help Costco, and contributed to lower sales and margins as well.
It has been a rough five years for Staples' shareholders. The new strategy does not solve their problems in our opinion and could lead to further down years for shareholders.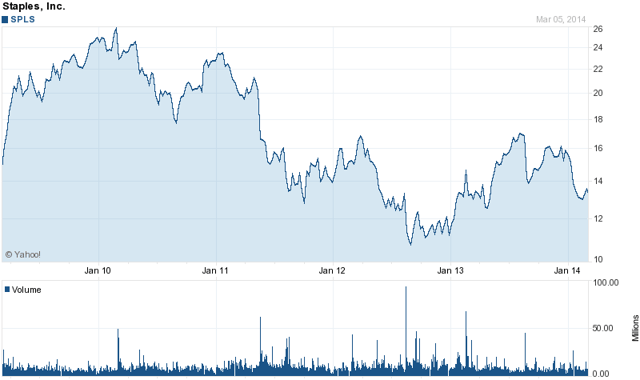 Source: Yahoo Finance
Where we are willing to give Costco a pass, the same cannot be said for Staples and Children's Place (NASDAQ:PLCE). Staples unveiled a plan to cut costs by $500 million per year by closing 225 stores by the end of 2015 as they try to shift more of their business online. The one bright spot for the company was that their online sales did increase by 10%, however overall sales fell by 10.6% year-over-year and profits declined by roughly $200 million compared to last year. Staples also said that they expected first quarter sales in 2014 to decline as well.
We have our doubts about the move to put more of an emphasis on the online retail segment due to our personal experience. Having once been loyal Staples customers and going to the closest outlet whenever we needed supplies, our buying habits have shifted in recent years as the company slimmed down their store offerings and put less popular products online. Now that the folders and other office supplies we use are online only products we have switched to Amazon (NASDAQ:AMZN) where we can get the same products cheaper, either through Amazon directly or one of the retailers who they resell for, while also having the order delivered to our door. Staples is going to find the online landscape tougher than they think, especially as they shrink their retail footprint.
Also in investors' doghouse is Children's Place, which blamed its 18% drop in earnings on weather and a highly promotional holiday season. The company also guided same store sales to be flat to down 1% in the upcoming year as they see a highly competitive landscape remaining in place with many of the same challenges facing the retailer. The company had a net of 16 store closing (they opened 8 new stores while closing 24 old stores) and also announced their first ever dividend. A $100 million share buyback plan was also announced.
Disclosure: I have no positions in any stocks mentioned, and no plans to initiate any positions within the next 72 hours. I wrote this article myself, and it expresses my own opinions. I am not receiving compensation for it (other than from Seeking Alpha). I have no business relationship with any company whose stock is mentioned in this article.