As I've been researching various stocks for my experimental, real world high yield income and dividend growth portfolios, (you can see both portfolios here and here), I came across a BDC that I think every income investor should at least consider for his/her portfolio.
Company Overview:
Ares Capital Corporation (NASDAQ:ARCC) is an externally managed business development corporation. Its managed by Ares Management, a private loan management company with $74 billion in assets under managment. Management has, on average, 22 years each of leveraged finance experience and has a staff of 82 to oversee loan origination and perform due diligence. The company makes loans to middle market companies, those with annual EBITDA between $10-$250 million and enterprise values between $100 million and $1 billion. Like all BDCs, Ares must pay out 90% of its income as dividends to shareholders and must occasionally raise equity through selling of secondary offerings. However, Ares Capital has several competitive advantages that I believe make it a stand out among an increasingly crowded field of "me too" BDCs.
Competitive Advantages:
1. Scale of Business: Ares Management is one of the largest managers of private debt and has relationships with over 350 sponsors of debt. This helps the BDC know where the good deals are to be struck and allows them to go after deals too large for other BDCs. The average size loan for Ares Capital is $50-$400 million, dwarfing competitors such as Main Street Capital (NYSE:MAIN) and Prospect Capital (NASDAQ:PSEC). This larger scope of business is made possible because Ares serves the middle market segment vs. the smaller lower middle market segment. This results in larger, safer loans to more established companies than seen at Main Street Capital. The yield on these loans is lower but management uses safe amounts of leverage and special relationships with third party financiers to provide enough income to cover the generous 8.5% dividend as well as occasional special dividends.
2. Scope of Portfolio: At $7.6 billion and covering 193 companies, Ares Capital possesses the largest and most diverse loan portfolio in the industry. For the last four years the portfolio growth rate has averaged 15.3% CAGR.
23% of the portfolio is part of the Senior Secured Loan Portfolio (Pending:SSLP), a co-investment deal with GE Capital. Ge Capital puts up 80% of the funds, Ares the remainder. In exchange Ares receives double the 7.5% yield on a tranche of high quality loans. Ares is listed as Second Lien with GE Capital as First Lien. The SSLD portfolio is itself diversified across 43 higher quality, lower risk companies. This allows Ares to net a 15% yield off these loans at a much lower risk profile than any other BDC could obtain. For example, Main Street Capital might obtain a 15% loan from a very small, much riskier company than what Ares is lending too. In essence the SSLD partnership with GE Capital is a way of going off the book leverage in a safe and disciplined way.
81% of the portfolio is floating rate loans, meaning that their yields will rise with interest rates. Meanwhile 88% of Ares Capital borrowing costs are fixed. This puts the BDC in a prime spot to gain from rising interest rates.
How much of a benefit? Well a 300 basis point increase in the prime rate would result in Ares making an additional $63.4 million in net income. This comes to $.24/share/year and would allow for an increase of $.06/share in the quarterly dividend, a 15.7% increase.
3. Borrowing costs: According to the Q4 2013 conference call, management was able to negotiate a decrease in its credit interest rate to LIBOR +2%, down 25 basis points. In addition, thanks to two equity issuances in the 4th quarter of 2013, Ares now has $1.8 billion in lending power, with a loan backlog and pipeline of $780 million. Management pointed out that, though the current borrowing costs are 5.2%, if Ares were to max out its credit lines, its total borrowing costs would decrease to 4.2%. This kind of pricing power with creditors is a result of Ares Capital's massive size and relationship with Ares Management.
4. Research and Special Teams: In the last earnings conference management spoke of hiring teams of specialists in specific fields to help Ares to become a one stop shop to as many kinds of firms as possible. For example, in 2011 it hired a team that specialized in infrastructure and power generation. In 2012 it hired a team specializing in venture capital and start ups. The goal of the special teams is to have experts in a particular field such as biotech. Then when a biotech company comes looking for a loan, the expert on the special team, knowing the industry, can help work with the company to get it exactly the size and type of loan it needs to achieve its aims. Where other BDCs with research staffs of 5-10 people might shrug their shoulders at such an opportunity, Ares can step up to the plate and offer a $400 million loan, for as long a term as 10 years.
5. Special relationships with firms: Ares has observer rights or board seats on 42% of the companies they lend to. Ares's special teams and large research staff allows Ares to help guide a firm to achieving its goals by acting as activist investors. In addition, companies that are already clients of Ares get preferred treatment when it comes to follow on loans. This kind of follow on and follow through lending makes Ares more than just a bank to these middle market companies, but a partner as well. Ares can help a middle market company grow and as it does, it learns the company's inner working. Then when the company needs additional capital, Ares is in the ideal position to know how big and what kind of loans they need to keep growing.
6. Ares is trading at a premium to NAV: Normally investors might want to buy a BDC at a discount to the net asset value/share, thinking they can buy a dollar for 90 cents. While this is technically true, because of the nature of BDCs, trading at a premium to NAV is a good thing.
This is because BDCs are limited by law to a debt/equity ratio of 1. Since they must pay out 90% of earnings as dividends, in order to grow the portfolio, a BDC must either borrow or sell additional shares.
Anytime a BDC sells shares there is a chance at shareholder dilution. After all, if there are more shares, than an individual's shares automatically become worth less. However, if shares are sold at a premium to NAV, then dilution does not occur.
For example, imagine that a BDC is trading at $15/share and its NAV is $10/share. If it sells additional shares at the market rate of $15, then each share adds $5 to the total NAV of the company. This is essentially free money, which management can then invest wisely and grow NII/share. Net interest income/share is what pays the dividends which supports the price of the BDC shares. This means that even though the share count may go up, the NII/share will too and thus the dividend will be strengthened or may be increased. This enriches existing shareholders who benefit every time shares are sold at above NAV.
In addition, one can see from the graph below that Ares Capital is very good at growing its NAV, something lesser BDCs struggle with.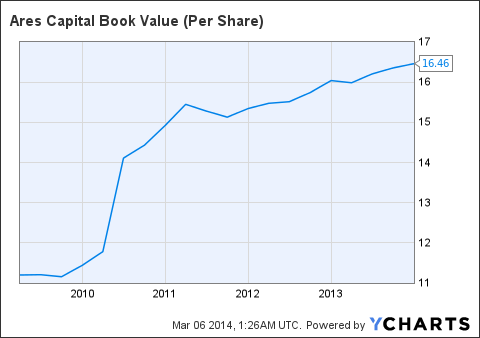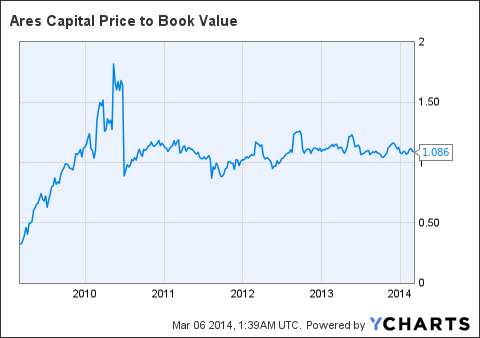 Currently Ares Capital is selling at 1.09X NAV and the last time they sold additional shares they did so at 1.08X NAV.
7. Management is very good at capital gains as well as fixed income:
According to the last earnings call, in the last quarter management sold $391 million in loans which they had initiated at a 9.9% yield and sold for an 8.8% yield, representing a 11.1% profit and netting the company $43.4 million.
Since 2004, the company has averaged an internal rate of return of 13% on its loans. This has resulted in $258 million in capital gains, including $.84/share in excess taxable income that has been rolled over into 2014. This will be used for special dividends or possibly to raise the regular dividend, which has grown at a CAGR of 2.7%.
8. Rock Solid Dividend Coverage:
Over the last 6 quarters the dividend coverage ratio has averaged 114.2%, with the last quarter's ratio 110%. This indicates that the dividend is very safe. What's more, given the high levels of capital gains the company is accruing, it's likely that the dividend shall continue to grow at least at its 9 year CAGR of 2.7%.
9. Exceptional Long-Term Performance: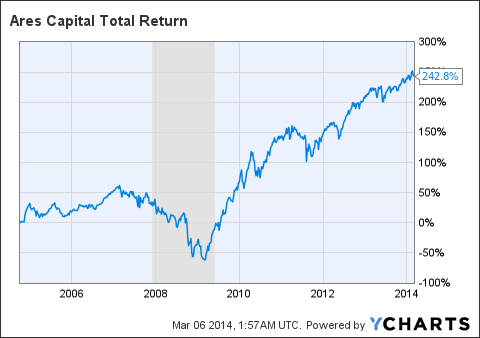 Since its IPO in 2004, Ares Capital investors have enjoyed a 14.65% CAGR total return, (which assumes dividend reinvestment). What is notable about this is that this period includes the great crash of 2008-2009, in which Ares Capital plunged 70% but kept paying dividends and eventually recovered to new record highs.
Conclusion:
Ares Capital is a colossus in its industry and it deserves to be. Its exceptional management has shown a keen skill in loan discipline and proficiency at selling loans for a profit. The capital gains this generates helps to steadily grow the dividend and NAV, resulting in stronger total returns. The steady hand of Ares Management can give long-term investors confidence that their money is safe for the long term, even in the event of a black swan event, (such as a financial collapse). Few BDCs are truly "buy and hold forever" stocks but I feel that Ares Capital is a rare exception.
Disclosure: I am long PSEC. I wrote this article myself, and it expresses my own opinions. I am not receiving compensation for it (other than from Seeking Alpha). I have no business relationship with any company whose stock is mentioned in this article.