"Only when the human spirit is allowed to invent and create, only when individuals are given a personal stake in deciding economic policies and benefiting from their success -- only then can societies remain economically alive, dynamic, prosperous, progressive and free." - Ronald Reagan
The Index of Economic Freedom is an annual index created by the Heritage Foundation and The Wall Street Journal to measure the economic freedom of individuals on a country-by-country basis.
As stated by Adam Smith in "The Wealth of Nations,"
"The natural effort of every individual to better his own condition is so powerful that it is alone, and without any assistance, not only capable of carrying on the society to wealth and prosperity, but of surmounting a hundred impertinent obstructions with which the folly of human laws too often encumbers its operations."
According to Milton Friedman, Nobel Prize winner and perhaps the most prominent historical figure of the University of Chicago economics department and Chicago School of Economic Thought, economic freedom is a necessary freedom and is a precursor to political freedom.
One of Friedman's most notable quotes, which sums up his philosophy of government, freedom and the market, reveals the role of modern economic freedom which, if used in conjunction with the Index of Economic Freedom, could provide insight into which economies are designed for long-run, positive real performance.
Friedman states,
"A society that puts equality before freedom will end up with nether. A society that puts freedom before equality will end up with a great measure of both."
In short, when society (government) looks to control the economy for the good of all, something opposite happens. Society ends up hurting itself as freedom becomes an improper objective. On the other hand, when freedom is a priority, society has a net gain.
Even the most widely-known international stock investor of the 20th century, Sir John Templeton, stated regarding his investment philosophy that
"When deciding which countries to invest in, avoid those plagued by socialist policies and inflation and invest in nations favoring free enterprise and limited government."
Investing In Freedom
When combining the philosophies of Adam Smith and Milton Friedman and using the wisdom of John Templeton, it is clear that a limited government, one that supports freedom greater than government itself, will lead to greater long-term prosperity.
The current Index of Economic Freedom country rankings divided each country of the world into one of five categories: free, mostly free, moderately free, mostly unfree and repressed.
The free countries represent only six nations in the world and are listed in order of the highest degree of economic freedom with their associated freedom score and iShares country ETF:
1) Hong Kong, 90.1, iShares MSCI Hong Kong (NYSEARCA:EWH)
2) Singapore, 89.4, iShares MSCI Singapore (NYSEARCA:EWS)
3) Australia, 82, iShares MSCI Australia (NYSEARCA:EWA)
4) Switzerland, 81.6, iShares MSCI Switzerland Capped Index (NYSEARCA:EWL)
5) New Zealand, 81.2, iShares MSCI New Zealand Capped (NASDAQ:ENZL)
6) Canada, 80.2, iShares MSCI Canada (NYSEARCA:EWC)
In the mostly free category, there are 28 countries, followed by 56 moderately free, 71 mostly unfree and 27 repressed and also eight countries that are unranked.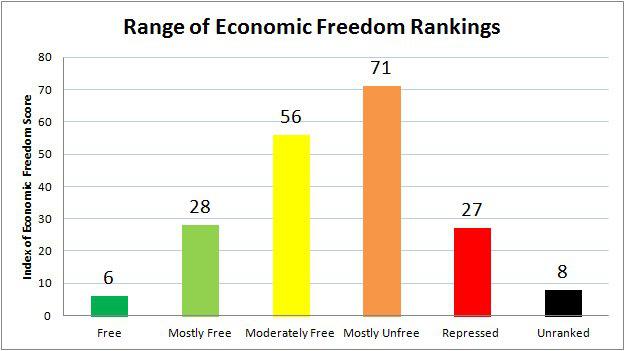 In tracking the free country stock market performances, Forbes contributor David John Marotta, notes that the top six countries (minus New Zealand as it was not available as an ETF until three years ago) have outperformed their benchmark EAFA Index by a wide margin over the last dozen years.
According to Marotta,
"The other five countries (ex-New Zealand) with the most economic freedom have outperformed the EAFE Index, the foreign developed countries index, by an average of 5.47% annually for the past 12 years. That represents a significant boost to performance over such a long time period. Every country in the free category has outperformed the EAFE over the past 12 years."
Over the long-term, 5.47% per year compounded annually adds up to quite a sum.
When looking at the five-year performance chart of the ex-New Zealand top six countries of economic freedom, each has outperformed by a wide margin except for Canada, which only outperformed by a small margin.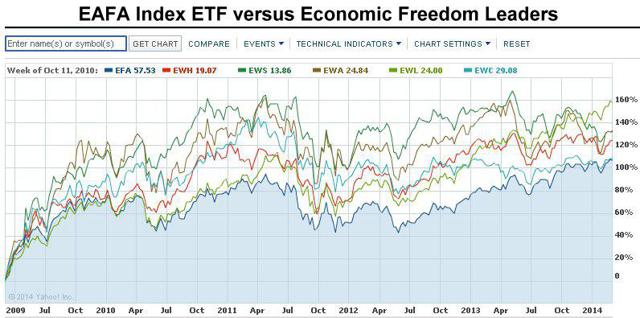 Assessing The Mostly Unfree Nations
In reviewing the 2014 rankings of the mostly unfree nations, it may come as a surprise however all four BRIC nations are listed. Brazil is rated a 56.9, the highest grade of the group, and is followed by India (55.7), China (52.5) and then Russia (51.9).
Over the past year each of these countries massively underperformed the EAFA Index. The best performance was by India, represented by the iShares MSCI India ETF (NASDAQ:INDY), which is down ~4%.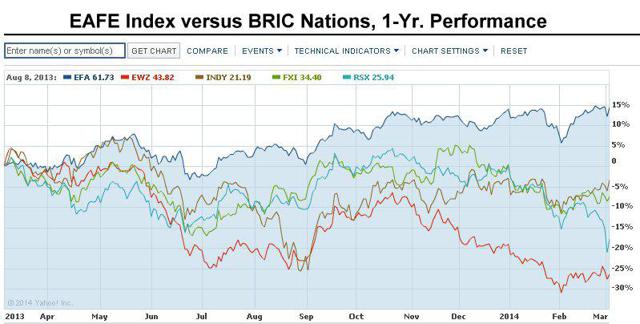 The INDY ETF was not available until late 2009, as such the Morgan Stanley India Investment closed-end fund (NYSE:IIF) is inserted in its place for the 5-year performance chart below. For investors keeping track, the IIF fund also went from trading near NAV to a current discount of 13.6%, which enhanced the downside performance.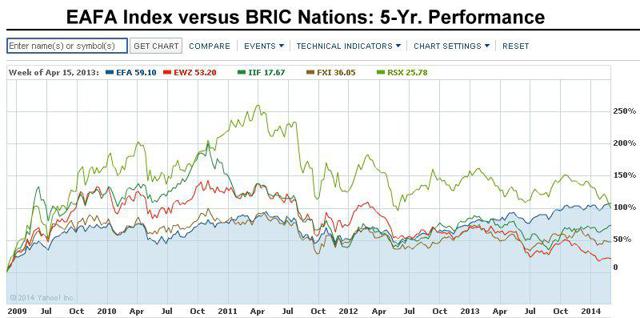 Over the past five years, the iShares Brazil Capped ETF (NYSEARCA:EWZ) and iShares China Large-Cap ETF (NYSEARCA:FXI) drastically underperformed the iShares MSCI EAFA Index ETF (NYSEARCA:EFA). Represented by the Market Vectors Russia ETF (NYSEARCA:RSX), Russia also has underperformed after leading the index for most of the time period. India was a poor performer as well, however by not quite as wide of a margin versus Brazil and China and mostly due to the fund's NAV erosion.
Much of the recent underperformance of the BRIC nations can be attributed to currency risk, however by noting the above-average historical performance of the free nations, it may make better investment sense to avoid the BRICs and buy freedom.
Conclusion
While the BRICs rode high during the commodity boom a few years ago, history suggests that investing in free countries will be more prosperous as economic freedom is associated with both equality and, according to Ronald Reagan, a necessary function to keep societies "economically alive, dynamic, prosperous, progressive and free."
In addition, investors can also take a moral stake in their investment decisions. As long as a dollar invested remains a vote of confidence, pulling money from repressive societies and totalitarian regimes will promote advancement in both free societies, through higher rates of investment, as well as unfree societies, through a vote of no confidence and petition related to what we, as economically free men and women, consider to be basic and fundamental human rights.
Performance charts source: YAHOO! Finance
Disclosure: I have no positions in any stocks mentioned, and no plans to initiate any positions within the next 72 hours. I wrote this article myself, and it expresses my own opinions. I am not receiving compensation for it (other than from Seeking Alpha). I have no business relationship with any company whose stock is mentioned in this article.