Some of my favorite dividend growth stocks are boring, industrial and farming related. After all, we all have to eat, right? So when I was putting together an experimental dividend growth portfolio and came across this company, I was immediately intrigued.
Archer Daniels Midland's (NYSE:ADM) business is to trade, transport, store and process corn, oilseeds, wheat and cocoa into products for food, animal feed, industrial and energy uses.
Archer Daniels Midland is present in 140 countries, with over 30,600 employees operating 735+ facilities. The company is a diversified global agribusiness that operates in every aspect of farming and farming commodities. From ethanol that goes into your gas tank, to the xylulose that makes it into sugar free gum, to the amino acids in your multivitamins, this company makes it all. The company transports, mills, packages and processes hundreds of food products that make it onto consumer shelves.
Catalysts For Growth:
According to the UN, by 2050 there will be 9 billion people on Earth, and the demands for food (especially meat) will be staggering. Meat consumption increases as economies develop and a nation's middle class grows. Meat is very grain intensive, and so by 2050, the UN estimates that food production will need to double to meet the demands of 2 billion new mouths and billions more who crave grain intensive meat. Specifically, the production of corn is expected to increase by 111% and soybeans by 155%. This shall be a boon to Archer Daniels Midland, which will be needed to store, process and transport all the additional food and food related products the larger population will demand.
Past Performance:
Archer Daniels Midland has a long history of strong revenue, earnings growth (though this has become rather volatile lately) and dividend growth.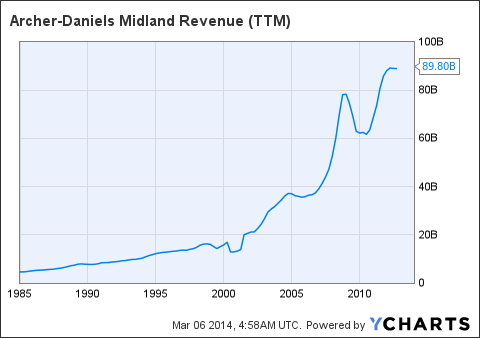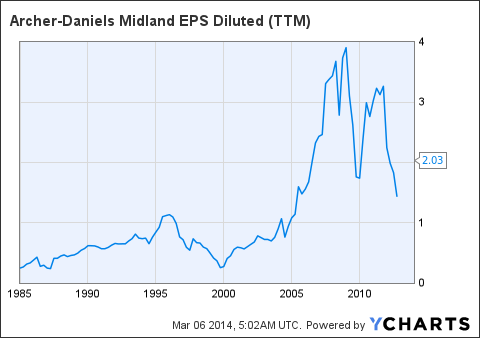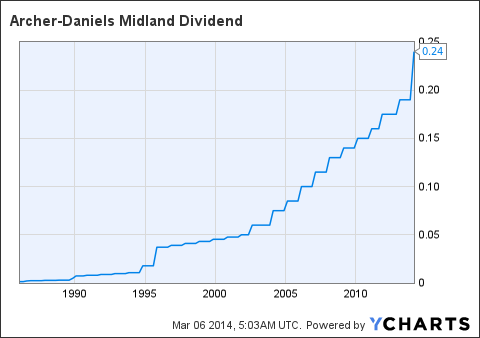 Over the last 28 years, the company's revenues have grown by 11.2% CAGR. Earnings have grown, over the same period, by 7.8% CAGR and dividends have been most impressive: 39 years of consecutive dividend increases with a growth rate of 13.5% CAGR.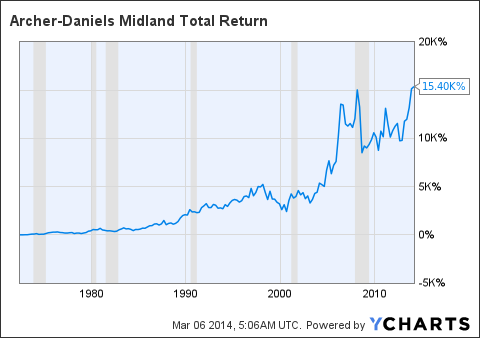 The combination of strong revenue and fantastic dividend growth has resulted in stellar total returns for investors. Over the last 38 years, Archer Daniels Midland has returned 14.2% CAGR (including dividend reinvestment). This is 27% better than the stock market's long-term return. $10,000 invested in 1975 would be worth $1.54 million today. Impressive growth for sure, but what can today's investors expect out of this agricultural giant?
Valuation and Future Returns:
There are two ways I like to model a dividend growth stock. First, through growth in earnings. Analysts are predicting 2015 EPS of $3.39 with 10% EPS growth through 2018. This model projects $4.51 in EPS. Next, we take the 5 year average PE of 14.52 (assuming regression to the mean), and we get a 2018 target price of $65.52. Now, I add in the 5 years worth of anticipated dividends to get a total share value of $71.84. I discount this by the 1871-2013 stock market's 9% CAGR to get a present day fair value of $46.68.
We can also model this company's future returns through dividend growth. If we assume a continuation of the 13.5% CAGR 37 year dividend growth rate, then the 2018 annual dividend would grow to $1.61. The 5 year average dividend yield for this company is 2.3%. If we assume the same valuation in 5 years, we get a price of $70. Add in the dividends, and we get a total value of $76.33. Again, discounting for the market's historical return of 9%, we get a fair value of $48.14. By averaging out these two fair values, I get a final fair value of $48.14, representing a 15.5% discount.
The returns described above represent a 10.8-12.1% CAGR which grows to 15.5-16% CAGR with dividend reinvestment. This is slightly above the historical return for Archer Daniels Midland. We would expect as much, given that the company's stock is trading at a medium sized discount to fair value.
Technical Analysis:
The short-term technical indicators are neutral for this company. There is unbelievable level 22 support at $40.33 with only mild resistance at $41.94. This indicates that the stock is not likely to trend lower, making it relatively safe to open a position now.
Conclusion:
Archer Daniels Midland represents exactly the kind of boring, essential and dividend friendly company that has made countless investors rich over the years. As I've shown, the stock is currently trading at a slight discount to fair value, and will likely return slightly better than expected annualized total returns. Interested investors should not hesitate to open a position at this price. Archer Daniels Midland is a strong "buy" now.
Disclosure: I have no positions in any stocks mentioned, and no plans to initiate any positions within the next 72 hours. I wrote this article myself, and it expresses my own opinions. I am not receiving compensation for it (other than from Seeking Alpha). I have no business relationship with any company whose stock is mentioned in this article.