With the current events playing out in the commodities markets, we are sitting back and waiting for the next buy or sell signal. We have developed two separate plans, which would either increase our leverage if we get a buy signal or decrease our holdings if we see a sell signal. Right now, we are on the sidelines as we wait for all the recent "muck" to be cleared out of the news cycle and for more normalized events to drive the market.
As it stands now, all indications are that we will be increasing leverage as index after index hits fresh highs and the list of new all-time highs for individual stocks grows by the day.
Chart of the Day:
There has been a lot made of the grain prices recently as the flare up in Ukraine has called into question whether that country's crops and potential harvests will face issues with this face off with Russia. We find it interesting and wonder whether American farmers will once again plant more corn while trying to game the market or if they will plant more soybeans. It is a big question right now for traders, and if we had to guess, we would say that corn will win out once again.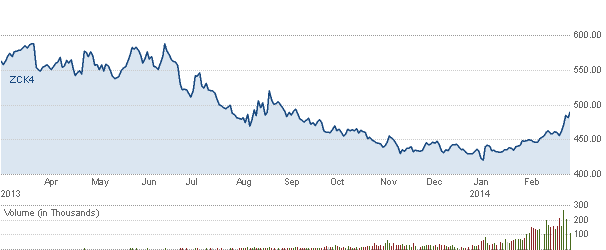 Source: CNBC
Commodity prices this morning are as follows:
Gold: $1,351.40/ounce, up by $11.10/ounce
Silver: $21.605/ounce, up by $0.334/ounce
Oil: $100.84/barrel, down by $0.61/barrel
RBOB Gas: $2.9427/gallon, up by $0.0024/gallon
Natural Gas: $4.661/MMbtu, up by $0.138/MMbtu
Copper: $3.214/pound, up by $0.0115/pound
Platinum: $1,485.90/ounce, up by $9.30/ounce
Brazilian Resource Plays
We have been receiving questions concerning the resource names based in Brazil recently as more and more of our readers seek out value in the commodity space. The two names, which come up the most, are Vale (NYSE:VALE) and Petrobras (NYSE:PBR), the two biggest names in the country.
Both companies continue to be on our watchlist, however although we see value when compared to international competitors' in terms of production numbers and the like, we still see issues in terms of geographical and political risks. Were these two companies operating in North America (either Canada or the US) we would be extremely bullish, but with the Brazilian link we are less bullish right now. To be fair though, we do like Vale much more than Petrobras as it has less ties to the Brazilian government and does not have to put up with as much meddling as Petrobras does.
Recent years have been rough for investors of both stocks, with early gains disappearing. At some point these names will be buys, but right now Vale is the only one that looks like it is even close to having put in a bottom.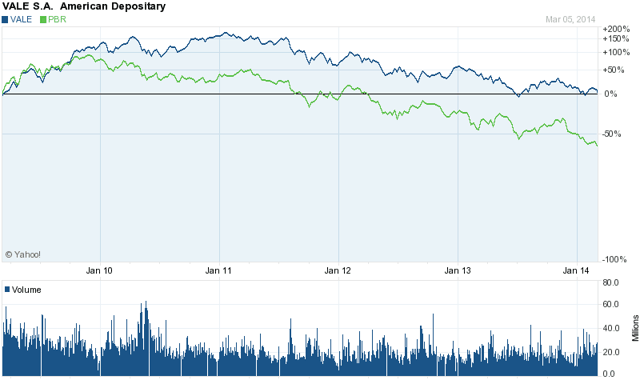 Source: Yahoo Finance
Our stance is that there are much better names out there to invest in right now, however we would be open to the idea of opening a position in Vale should iron ore pricing strengthen and base metals rise in general on world economic growth. While Petrobras is quite far down our list of names we are interested in buying, Vale is near the top as it pertains to the base metals that build the world's infrastructure.
Copper
Our copper trade has been relatively flat for the past few months as questions about world GDP growth have come into question and the market has seen some flare ups in emerging markets and Eastern Europe. We have chosen to use Freeport-McMoRan (NYSE:FCX) to gain exposure to copper as it also has an oil and natural gas hedge built into it to lessen risk. The dividend has been nice to collect while the price of shares has stagnated or even traded lower, but we do expect this name to test $40/share by year end.
We do think that copper prices are headed 3% higher in the near term, which admittedly is not a lot as we have seen the metal move between 1-3% quite a few times in the last few months but when paired with the moves we have seen in gold and oil could provide a nice boost to the realized price for these commodities for Freeport-McMoRan moving forward. At the very least it does provide a reason to be bullish on the future, which we have been and continue to be.
American LNG
We recently highlighted the LNG players here in the United States (see article here) which could benefit from changing political views on the exportation of natural gas. In the past few days we have witnessed a change in politicians' perception of American natural gas production and the ability to use it, like Russia does, as a political tool. We are not blind to the hurdles that lie ahead, however it is our opinion that moving forward we will see the US rely on natural gas exports via LNG terminals as a political tool rather than money and/or military hardware.
We still like Cheniere Energy (NYSEMKT:LNG) as a pure-play and Dominion Resources (NYSE:D) as a diversified play for those who cannot take on the risk that comes with Cheniere Energy. Even though these two companies have to wait a few years to benefit from this shift we see in the energy market, we think they are compelling stories moving forward. So long as the market has the risk-on trade playing out, Cheniere Energy should perform well. We would be buyers on any pullback in that name.
Disclosure: I have no positions in any stocks mentioned, and no plans to initiate any positions within the next 72 hours. I wrote this article myself, and it expresses my own opinions. I am not receiving compensation for it (other than from Seeking Alpha). I have no business relationship with any company whose stock is mentioned in this article.
Additional disclosure: FCX has previously been recommended.