Overview
As a disciplined value investor, it is becoming increasingly difficult to identify extremely undervalued companies in this market. Recently, I've been researching and writing about names I consider worthy candidates for a value investor to consider when the correction occurs. These names include Broadridge (NYSE:BR), John Bean (NYSE:JBT), Astec Industries (NASDAQ:ASTE), and Actuant (NYSE:ATU). US Ecology (NASDAQ:ECOL) is another company that is currently somewhat fairly valued, but possesses several key competitive advantages, a fortress balance sheet, and favorable long-term tailwinds.
US Ecology operates five hazardous waste sites in North America, including one radioactive-waste permitted site in Richland, Washington, while the other four dispose of nonradioactive forms of hazardous waste. The company primarily serves customers in the industrial, manufacturing, and energy-related sectors. More specifically, the company derives revenues from multiples sources including the core business of hazardous waste disposal, as well as transportation services generally used to move material from a customer location to an ECOL facility.
Investment Thesis
US Ecology is no doubt a small fish in a big pond, relative to peers Waste Management (NYSE:WM) and Clean Harbors (NYSE:CLH), but enjoys a significant share of available North American hazardous-waste landfill capacity. ECOL recognizes two forms of revenue: base business contracts and event-driven. The base business contracts with industrial waste customers generate recurring revenues that support a stable and steady stream of sales, while the event-driven sales are derived from special projects or cleanup efforts. Events can last from one week to multiple years. Naturally, the event-driven business is more volatile and less predictable, and at 40% of total revenues, can have a material effect on the top and bottom lines. The company's core strategy is to expand the base business while securing short and long-term event business. ECOL benefits from a high degree of operating leverage when the base business covers all fixed costs; a significant portion of event driven revenues is generally recognized as operating and net income.
Investors who focus on smaller cap stocks with sustainable competitive advantages may gravitate towards the niche market of hazardous waste, one that US Ecology can continually recognize opportunities as the market matures. The company has focused primarily on driving volume towards its landfill assets that has resulted in historically higher profit margins than both Waste Management and Clean Harbors.

US Ecology has focused on reinvesting its cash flows into assets and has generated high returns on assets and equity (discussed further below). In 2010, the acquisition of Stablex in Montreal, Canada, expanded the company's geographic footprint beyond its core Western sites. The company also expanded East with the 2012 acquisition of Detroit-based Dynecol, that supports additional transportation capabilities as well. These acquisitions should create economies of scale for the company and assist in sustaining high margins over the long term.
Lastly, the company broadened the breadth of its operations with the investment in thermal desorption technology that treats oil refinery sludge in Texas and has since 2008 growth quickly and now represents 10% of total revenues. While this space is more competitive than waste management, the ability to draw new customers towards its core business could generate excellent returns over time.
.
Competitive Advantages
I readily enjoy companies that can clearly identify competitive advantages in a 10-K, and US Ecology benefits from several that create a sizeable "Moat" for its operations. US Ecology's competitive advantages include significant expertise and intangible assets, high barriers to entry due to significant capital costs, and high switching costs. These advantages represent some of the strongest differentiators among industrial companies.
Expertise and Intangible Assets - US Ecology operates in a highly regulated environment that requires both significant expertise and long-lasting regulatory permits. This limits the number of competitors within a certain radius and affords the opportunity for ECOL to generate economic profits over the long term from these long-lived assets. Specifically, according to the annual report, of the four hazardous and one radioactive waste landfills, ECOL owns permits on three of these lasting more than 20 years.
High Barriers to Entry - The length and complexity of the process to obtain the rights to construct and operate new radioactive or hazardous waste facilities is an extreme burden for potential new entrants. Additionally, the costs and time needed to generate significant tangible assets prohibit increases in competitors. This combination of difficult-to-replicate infrastructure and limited number of competitors yields economies and scale and operating efficiencies.
According to the annual report, the cost, time, and regulatory factors have resulted in no new hazardous waste landfills or incinerators in the last 15 years in the United States. ECOL operates four of the twenty landfills in the US and Canada. The Washington site is one of only three full-service Class A, B, and C disposal facilities in the US and one of these three facilities was only recently licenses and constructed after a lengthy and expensive process that stretched the process to more than a decade. Additionally, ECOL manages a fleet of 234 gondola railcars and three rail transfer stations, which allow the company to span a range of geographies, customers, and industries.
According to the Environmental Protection Agency (EPA), the growth in hazardous waste per year is not expected to materially outpace that of heavy industries that generate the waste. This creates a lack of incentive for new entrants due to the cost-benefit trade-off. Furthermore, regulators are hesitant to approve "greenfield" sites, or those in the backyard of existing firms, when incumbent owners have the ability to expand existing sites to meet demand.
The hazardous waste market produces approximately 40 million tons of waste per year according to EPA estimates. To put this into perspective, municipal solid waste production is estimated to be 250 million tons. The radioactive market is even smaller, further signifying the niche environment in which ECOL operates. The radioactive-waste market, according to Morningstar research, is even smaller and regulated by state "compacts" that result in oligopolistic-like environments.
High Switching Costs - Very simply, when customer switching costs are high, customers tend to stick around. This is a strong competitive advantage typically found in recurring revenue businesses that make companies highly attractive for investors. ECOL benefits from such high switching costs due to the regulatory environment. Relationships between waste generator and disposer are in place from beginning to end of the process, and therefore waste generators have a vested interested in hiring only proven and reliable firms, forgoing potentially cheaper, unproven options.
ECOL is able to deliver a full waste lifetime product due to its rail assets, footprint, and diverse options for disposal that create a strong recurring revenue business model. The rail assets provide customers with cost effective transportation and risk mitigation with ECOL's dual ability to provide disposal and safe transportation.
Financials
Looking through the most recent annual report, US Ecology generated strong financial results. Revenues increased 19% YoY, driven by a 13% increase in transfer and disposal ("T&D") revenue despite the conclusion of a US Army Corps project. Excluding one-time sources of revenues and losses, base business increased 7%, due primarily to higher average selling price and volume growth that led to a 210bps expansion in T&D gross margins, with operating margins a strong 26.37%.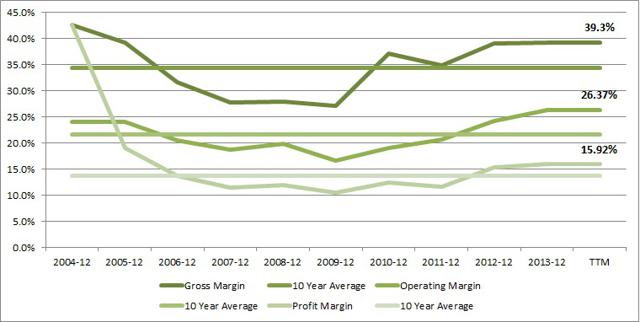 Margin expansion continues to be a differentiator for ECOL over its competitors, and the company is coming off another strong year. This leads me to believe expansion can continue and strengthen the core business over time. However, keeping in mind that event-driven business comprises 35-40% of annual revenues on average, the stock dropped after management guidance was underwhelming, erring on the conservative side given the difficulty in projecting event-driven revenues. Overall, the company delivered a record year, which may be difficult to replicate, but is far from a negative for long-term investors, and can even represent low-risk entrances.

The most important factor for me in assessing company financials is cash flows. US Ecology generates robust free cash flows, averaging a FCF/Sales conversion rate of approximately 10% over the last ten years. These figures have been particularly strong recently, averaging approximately 15%, while CapEx has leveled.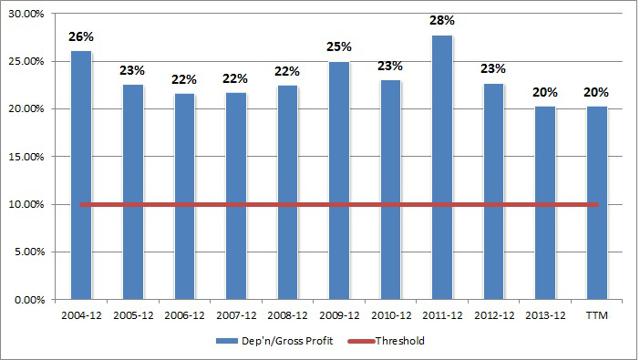 Given the capital intensive nature of the business and high amounts of PP&E required, depreciation expense is a critical factor to assess. Although not excessively high, Depreciation as a percentage of Gross profit annually exceeds 20%. This is a nice benefit for tax purposes, but also requires additional capital investment when the useful life of the asset is reduced to essentially nothing. Given the long-term nature of the assets, the risk of increased capital spending required to replenish the infrastructure is relatively limited.

ECOL generates excellent returns for shareholders. Return on Assets has typically been greater than 10% annually with Returns on Equity greater than 20%. As ECOL continues to de-lever the balance sheet, as shown by the decrease in financial leverage since 2010, higher net margins or increased asset turnover will need to compensate for this. As we have seen, margins have continued to expand during the last decade, and the core business' recurring revenues should help stabilize asset turnover. If ECOL can regain asset turnover rates similar to that of 2000-2009, ROE can increase by as much as 5% from current levels. Keep in mind the high degree of operating leverage employed by ECOL that will improve returns during strong economic cycles.

As previously mentioned, ECOL has a strong balance sheet, with little-to-no debt, and goodwill as a small percentage of total assets. Robust free cash flows allow the company to maintain a dividend payout ratio over 30%, and given an ROE of approximately 21% currently, an attractive internal sustainable growth rate of ~14-15% is generated, presumably well above the cost of capital for the firm.
The company currently has approximately $74 million of cash on the balance sheet following December's equity offering, with the use unknown at this point. Using the cash for enhancing the portfolio to increase transportation reach would be a beneficial long-term move. Watching this balance will be important going forward.

Lastly, looking at earnings and revenue growth, there seems to be no risk of earnings manipulation and provides assurance of high quality of earnings. Diluted EPS is near the highest level in the past 10 years, representing both operational excellent but perhaps the beginning of a cycle turn. Given the critical nature of waste disposal, there is limited cyclical risk for US Ecology, however a beta of 1.10 suggests the company's stock is generally tied to the broad markets. Any pullback in the markets could present an excellent opportunity for investors to buy low.
Investment Risks
No company is without risk, and US Ecology is no different. Besides the obvious - volatility of event-driven revenues, high degree of operating leverage - there are other considerations to take into account. The thermal desorption segment, while fast growing, also exposes the company to more pricing-sensitive environments that could dampen margins over time if not properly executed or managed. Also, ECOL plans to integrate several complementary services to enhance the portfolio and build a complete suite of end-to-end products for clients. While these initiatives may go a long way in client retention, they are generally lower margin products.
Additionally, the highly regulated market in which ECOL operates creates ever-present litigation risk due to environmental disasters of compliance issues. To protect against this, the company carries a broad range of insurance coverage customary to the industry. These costs typically are not significant against total revenues, however, the potential for significant expenses and long-term litigation is without zero probability.
Valuation

My estimates for valuation are typically very conservative and can be viewed as a floor in my opinion. Given that, the weighted average valuation target for US Ecology is approximately $32. Using a 10% EPS 5 year growth rate, the stock currently trades at less than 13x 5 year earnings. Applying the 5 year average P/E ratio of 20.90 to this yields a 5 year value of $57.89, or a ~10% annually compounded return.
The DCF model uses a 10% discount rate, 10 year average revenue growth rate of 10.90% and FCF/Sales conversion of 10%. Given these valuations, the stock seems somewhat fairly valued currently, however if the excess cash is reinvested in high return assets and the company can continue to benefit from higher levels of event-driven revenue, company value should increase.
Recommendation
While not a highlight-reel worthy name, ECOL could be considered a high potential core investment. The company benefits from strong competitive advantages in a niche market. While the stock is currently fairly valued, this would be a strong addition to a long-term portfolio in any market correction. The strong recurring nature of revenues with expansive moat provide a higher-than-average probability of generating positive economic profits over the long term.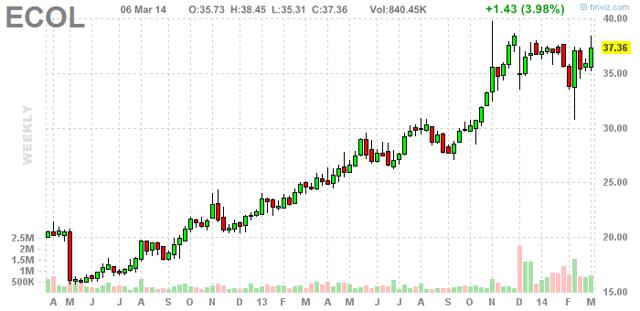 Technical analysis can be a useful tool for identifying potential buy prices. Given the current chart and the range-bound trading since November 2013 with $35 support, an entry target price of approximately $35 would be recommended while a 33% margin of safety price of ~$25 is considered the most appropriate value-based entry.
Disclosure: I have no positions in any stocks mentioned, and no plans to initiate any positions within the next 72 hours. I wrote this article myself, and it expresses my own opinions. I am not receiving compensation for it (other than from Seeking Alpha). I have no business relationship with any company whose stock is mentioned in this article.