Introduction
Canadian domiciled small-cap O&G explorer and producer Canacol Energy (OTCQX:CNNEF), which operates predominantly in Colombia continues to perform strongly. When I last wrote on Canacol in July 2013, I found the company was undervalued offering investors potential upside of 60%, with a price target of $5.26 per share.
Since that article Canacol's share price has shot up almost 94%, well in excess of the potential upside identified. In this article, I will illustrate why the company still offers investors considerable potential upside, with a range of newly emerging catalysts set to significantly boost operational performance and send its share price soaring higher.
Key catalyst: Production continues to grow significantly
For the calendar fourth quarter 2013 (Canacol's fiscal second quarter), oil and gas production grew significantly, almost 11% QoQ and a massive 88% YoY to 10,095 BOE daily. This gives Canacol's production an outstanding CAGR of 129% since the company commenced operations and production in 2008. The spectacular growth in Canacol's quarterly production over the last year can be seen in the following graph.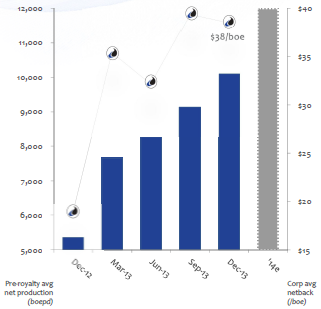 Source: Company Presentation.
I expect this spectacular growth in production to continue into 2014, with Canacol estimating 11,500 to 12,500 BOEPD in 2014 calendar year, which is a 30% to 40% increase over average daily production in calendar 2013. I also believe this production guidance is achievable on the back of Canacol targeting the drilling of 36 gross (8 net) development wells and working over 13 existing producing wells during calendar 2014.
In fact it may even be on the light side with Canacol comfortably achieving its 2013 production guidance of 7,500 to 8,500 BOE daily through drilling 7 gross development wells and working over 16 existing producing wells.
The production split is forecast to be 70% crude liquids and 30% gas, which is a marginal increase in crude liquids production over the fourth quarter 2013. This also bodes well for higher revenue during 2014, with oil and non-gas liquids gaining higher margins than natural gas with gas prices remaining depressed.
Operational costs continue to fall boosting profitability per barrel
A key driver of Canacol's strong operational performances has been its ability to significantly reduce operational costs. For the fourth quarter 2013, Canacol's operating costs fell 12% QoQ and more than halved YoY to $18.22 per barrel, resulting in Canacol's netback more than doubling YoY to $38.44 per barrel.
I also expect netback per barrel to increase throughout 2014. Canacol is focusing on production growth of its high netback oil, primarily from its Labrador, Leono, Mono Arana, and Libertador-Atacapi fields. Such a significant increase in netback, a core measure of an E&P company's profitability, has seen a significant growth in operational cash flow.
Higher cash flow and growing operational profitability
The massive growth in production coupled with a higher YoY netback per barrel saw operating cash flow for the fourth quarter 2013 jump a staggering 465% YoY. Operating cash flow for calendar year 2013 in comparison to calendar year 2012 grew a breathtaking 7.5 times to $71.3 million.
This has seen Canacol turn a significant corner marking a noteworthy achievement. Fourth quarter 2013 was the third successive quarter where operating cash flow exceeded capex, and calendar year 2013 was the first calendar year where operating cash flow exceeded total capex by $15 million or 56% higher.
This is an important achievement for Canacol and its investors. It now means the company is able to fund a significant portion of its capex for much needed exploration and development so as to drive higher production and reserves through cash flow. Rather than increasing leverage and weakening its balance sheet by taking on additional debt or diluting existing investors through additional equity raisings.
I expect this growth in cash flow to continue, with the key growth triggers being:
The forecast 30% to 40% increase in production.
A steadily growing netback from Canacol reducing operational costs and focusing on growing its higher netback oil production.
Higher oil prices for the foreseeable future, with WTI futures due in April 2014 trading at $101 per barrel and Brent futures for the same period trading at $108 per barrel.
On the back of such strong growth in operating cash flow, Canacol has increased its calendar 2014 capex almost threefold in comparison to calendar 2013 to $150 million. This will not only contribute to the forecast strong production growth but will be funded by a combination of cash flow coupled with existing working capital and debt facilities.
Key catalyst: Potential for massive growth in reserves
Canacol has consistently demonstrated an ability to significantly grow its reserves for the short amount of time the company has been operating. As at 31 December 2013, Canacol had 1P reserves net after royalties of 29 million BOE and 2P reserves NAR of 37 million BOE. In comparison to 30 June 2012, Canacol's 1P reserves had grown 2.5 times and its 2P reserves doubled, giving it an impressive CAGR for its 2P reserves of 97% since commencing operations in 2008.
At the current rate of production, Canacol has a reserve life of around 13 years. But the company is diligently focused on growing those reserves through its significant high quality exploration acreage and significant investment in exploration and development. The company's exploration acreage and producing assets are located in Colombia and Ecuador in proven oil producing basins and hydrocarbon trends, boding well for continued reserves growth.
For 2014 Canacol plans to spend total net capex on exploration and development of $150 million, with $117 million allocated to its activities in Colombia and $33 million for Ecuador. Funding for this capital program is expected to come from existing working capital, operating cash flows and debt facilities.
Significant and high quality exploration and development acreage coupled with an exceptional drilling success rate
Canacol has acquired a substantial acreage base with over 2.9 million gross acres. The acreage sits across the sub-Andean basin's hydrocarbon trend, which is believed to be one of the richest hydrocarbon trends in the world. The trend runs from Trinidad, through Venezuela, Colombia, Ecuador and Peru, and is estimated to have proven reserves of 48 billion barrels of oil.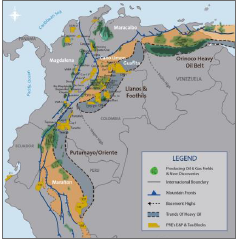 Source: Pacific Rubiales Presentation.
The Colombian hydrocarbon regulator (ANH) estimates the trend holds 30 to 70 billion barrels of prospective oil resources in Colombia alone. Canacol holds 23 blocks in the trend in Colombia's Llanos, Magdalena - Cordillera and Putumayo-Caguàn Basins. Canacol also holds blocks that sit in the trend in Ecuador, in the Atacapi and Libertador fields located in the Oriente basin in northern Ecuador.
Canacol's blocks in the Llanos and Middle Magdalena - Cordillera Basins are focused on light oil exploration and production. The details of Canacol's Colombian assets are set out below.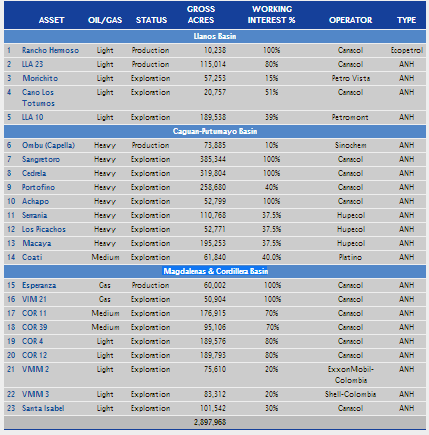 Source: Company presentation
This considerable resources base is set to deliver some spectacular results for Canacol, particularly with all of its exploration, development and producing assets located in the sub-Andean hydrocarbon trend.
Furthermore, during 2013 Canacol saw considerable exploration success. The company made 4 oil discoveries across its Colombia acreage in 2013. These were the Labrador and Leono oil discoveries in the LLA23 block in the Llanos Basin as well as the Mono Arana oil discovery in the VMM2 block and the Oso Pardo 1 discovery, both of which are in the Middle Magdalena basin.
For 2014 Canacol plans to drill 11 gross exploration wells targeting 32 million barrels of risked oil equivalent. The main focus of this exploration drilling will be the LLA23 and Cano Los Totumos blocks in Llanos, the VMM2, VMM3 and Santa Isabel blocks in the Middle Magdalena basin, and the Ombu block in the Caguàn-Putumayo basin.
Llanos basin
Canacol holds 4 blocks in Colombia's prolific Llanos basin, in central east Colombia, where it produces light oil. Its key exploration and development asset in the Llanos basin is block LLA23 which contains the Labrador and Leono discoveries. This block delivers Canacol's highest netback per barrel production at around $65 per barrel for the 3 months ending 31 December 2013, making it Canacol's key producing block.
To date Canacol has had an exceptional drilling success rate across its blocks in the Llanos basin with the Ranch Hermoso, Labrador and Leono Fields all having success rates of 100%. Even more promising is Canacol has been able to maintain this success rate in the Rancho Hermoso field since commencing operations there in 2008, indicating this is not a one-off result.
But production from the Rancho Hermoso field is predominantly made up of tariff production, which receives the lowest netback at around $21 per barrel of oil produced. As such Canacol is focusing its exploration and development drilling in the Llanos basin on block LLA23.
Putumayo-Caguàn & Oriente basins
Canacol holds 9 blocks in what has become one of the hottest heavy oil plays in Colombia, the southern Putumayo- Caguàn basin. Canacol also has producing wells in the Atacapi and Libertador oil fields located in northern Ecuador's Oriente basin.
Both of these basins form part of what is known as the Putumayo Oriente Marañon basin, which runs from southern Colombia, through northern Ecuador and into central Peru. As such the geology of these 3 basins is analogous and can be seen in the chart below.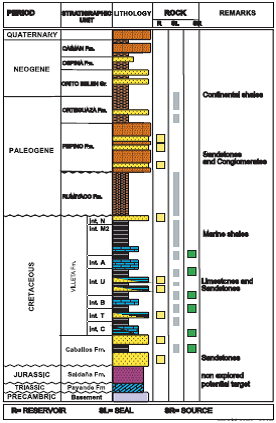 Source: U.S. Geological Survey & U.S. Department of the Interior.
The majority of oil located in the Putumayo Oriente Marañon basin is made up of heavy and medium crude. Heavy crude with an API of 15 degrees to less than 20 degrees dominates, as the chart below highlights.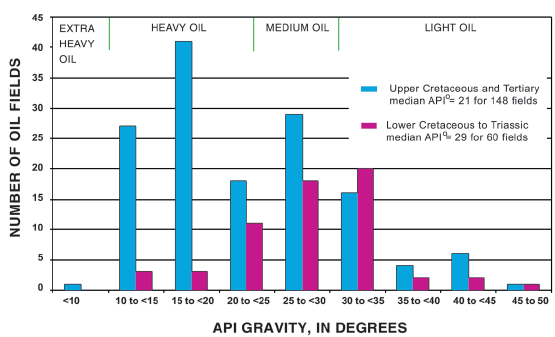 Source: U.S. Geological Survey & U.S. Department of the Interior.
Typically Colombian heavy crude blends trade at a moderate discount to WTI, although those blends exported to Europe have their prices benchmarked to Brent, which continues to see its price differential with WTI widen. As such the development of Canacol's assets in the Putumayo-Caguàn and Oriente basins bodes well for continued revenue and profitability.
In 2008 Canacol made a significant heavy oil discovery in the Ombu block in the Putumayo-Caguàn basin, the Capella heavy oil field. The oil field is estimated to have oil in place of 1.8 billion barrels and Canacol has 2P reserves net after royalties of 5.6 million barrels in the field.
After making this discovery, between 2009 and 2013 Canacol acquired 7 adjacent blocks to the Ombu block and the Capella discovery as the chart illustrates.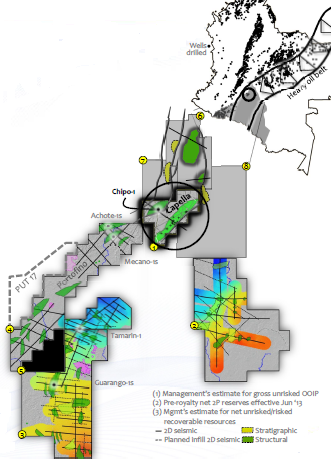 Source: Company presentation.
For 2014 Canacol is targeting the drilling of 22 development wells and 1 exploration well in 2014 as well as conducting 3 workovers of existing wells across its Putumayo basin assets.
Canacol also holds interests in the Atacapi and Libertador oil fields in Ecuador, which are located in the Oriente basin in northern Ecuador. As explained earlier, this basin forms part of the Putumayo Oriente Marañon basin and has analogous geology to Canacol's assets in the Putumayo basin.
These operations currently produce around 1,740 barrels of oil daily with a netback of $38.54 per barrel, and this production is relatively insensitive to oil prices since tariff agreements with the Ecuadorian government is responsible for all operating expenses.
For 2014 Canacol is targeting the drilling of 8 development and 1 exploration well along with 7 workovers. This should see an increase in production with the fields proven operating long-term fields with significant prospective resources.
Leading player in Colombian unconventional shale oil and gas exploration
An exciting aspect of Canacol's operations and one that promises to deliver a significant increase in reserves is the company having positioned itself as the leader in non-conventional shale oil and gas exploration in Colombia. Unconventional oil and gas exploration in Colombia has become particularly important, with the country now estimated to have only 7 years of oil reserve life left at the current rate of production.
The principal region for unconventional shale oil exploration is the Middle Magdalena Valley, which is increasingly being called Colombia's shale oil sweet spot. It is located in central Colombia and highlighted in pink in the map.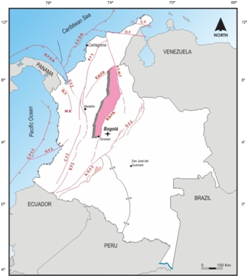 Source: ANH
The valley has been producing conventional oil since the 1920s, with discovered reserves of 1.9 billion barrels of shallow conventional oil and accounts for 14% of Colombia's total production. It is also estimated there is 79 billion barrels of unconventional Undiscovered Petroleum Initially In Place (UPIIP) in the Middle Magdalena Valley.
The stratigraphic make-up of the Middle Magdalena Valley is highly conducive to the presence of hydrocarbons and is illustrated in the chart below.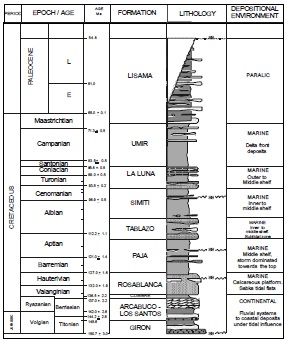 Source: Dept of Geology and Geography, West Virginia University
The main shale formations in the valley, the La Luna and Rosablanca formations are 3 to 6 times thicker than the Vaca Muerta, Eagle Ford and Bakken shales. This makes them easier and more cost effective to drill, which should lead to lower operational costs and higher netbacks for oil produced from those formations.
Canacol has amassed 545,000 net acres of shale land in the Middle Magdalena Valley, making it the second largest holder in Colombia after state-controlled Ecopetrol (NYSE:EC). The company has also entered into a number of farmout agreements with Exxon Mobil (NYSE:XOM), Royal Dutch Shell (NYSE:RDS.A) and ConocoPhillips (NYSE:COP). The details of Canacol's shale acreage are set out in the chart.

Source: Company Presentation
These farmout agreements give Canacol access to the funding and expertise required to explore and develop the Santa Isabel, VMM 2 and VMM 3 blocks in the Middle Magdalena basin and eventually bring them online as commercially viable production.
Canacol's net risked estimate is that its shale acreage in the Middle Magdalena Valley has prospective resources of 89 million barrels of crude, but it is unknown what percentage of that is commercially recoverable at this time. Canacol's blocks are located in the La Luna and Rosablanca formations adjacent to blocks with proven production, boding well for their ability to yield commercially viable oil and gas.
As noted above, Canacol has already made 2 oil discoveries in these shale oil assets, the Mono Arena discovery in block VMM2 and the Oso Pardo 1 discovery in the Santa Isabel block.
Canacol holds a 20% non-operated working interest in the VMM2 block, with the majority interest held by Exxon Mobil. Two intervals in the Lisama within the Mono Arana 1 well were production tested over a period of three months from March 2013 to June 2013. After initial separate testing of the lower and upper Lisama, the final co-mingled testing of the well yielded a gross average rate of 1,043 barrels of oil and 271,000 square cubic feet of gas daily.
An appraisal program is to be conducted through 2014 and beyond. The program will see the drilling of up to 6 wells and the construction of production facilities related to the appraisal and development of the Tertiary aged Lisama discovery at Mona Arana.
Canacol also made a significant oil discovery, the Oso Pardo 1 well in the Santa Isabel block, where it has a 30% operating working interest, with the remaining 70% held by ConocoPhillips. A production test was completed on the well for the Umir and Lisama sandstones, and despite some technically difficulties, shallow operations were commenced.
The production test returned a final stable rate of approximately 205.3 barrels oil per day of 23 degree API oil with a water cut of 9.67% coupled with gas production of 107.54 thousand cubic feet per day. Further tests are to be conducted on the well and it is expected the well will go onto long-term production once it has been permitted by the ANH.
Both of these discoveries bode well for Canacol to increase oil and gas production over the short term once further appraisal tests are completed on the Mono Arena well and the Oso Pardo 1 well is permitted for production by the ANH.
Furthermore, when these discoveries are considered in conjunction with the exceptional potential held by the Middle Magdalena shale formations and Canacol's other exploration blocks in the basin, it is clear it is well positioned to continue growing reserves and production from these exceptional assets.
Such a high drilling success rate coupled with Canacol's exploration assets being located in known and successful basins in one of the world's largest hydrocarbon trends bodes well for ongoing drilling success in 2014. As such I expect to see Canacol make further discoveries during 2014, which will further boost its reserves, increasing the underlying value of its assets.
Key catalyst: Canacol's NAV is significantly higher than its current share price
Canacol's 2P reserves of 37 million BOE NAR as at 31 December 2013 have a NAV of $769 million, which with 87 million common shares issued gives it a 2P NAV of $8.88 per share. With Canacol trading at around $6.75 per share at the time of writing, this represents a premium of around 32%. With Canacol trading at a significant discount to its NAV, the company is an attractive long-term play for investors based solely on the value of its underlying oil assets.
But typically, E&P companies trade at a discount to their 2P NAVs because this represents the risk associated with the company developing their proved and probable reserves and bringing them into production. In the case of Canacol, this discount can also be attributed to the market's overblown sense of country risk associated with investing in Latam and Colombia in particular.
With the Colombian government currently engaged in increasingly fruitful peace negotiations with the main insurgent group, the FARC, and steadily improving security situation, much of this risk is mitigated. The Colombian government has also created a business environment that is conducive for foreign investors particularly with regard to investments in the country's oil industry. Again mitigating much of this risk and as the market recognizes this, I expect the risk discount to fall.
But as I will demonstrate, Canacol is also undervalued by the market on the basis of its key valuation metrics and cash flow from production.
Undervalued on a range of industry specific metrics
Despite the solid share price appreciation over the last year, Canacol appears attractively priced on a range of key industry specific valuation metrics. These include an enterprise-value-to-BOEPD of $64,268, a price per flowing barrel of $67,117 and an enterprise-value of 17 times its 2P reserves. All of which compare favorably to its peers operating in Colombia as the chart shows.

On the basis of these valuation metrics, Canacol is certainly more attractively valued than the industry average and especially many of its peers operating in North America.
Finding Canacol's fair-value per share
But to gain a better feel for Canacol's indicative fair value per share I have used an industry standard deterministic DCF valuation methodology. Essentially a deterministic DCF calculates an E&P company's fair value per share by determining the future value of cash flows derived from the production of its oil reserves at a particularly point in time. It is typically set over a predetermined period and the total cash flows are then discounted back to a net-present-value.
When calculating Canacol's indicative fair value per share, I have made the following assumptions:
Average annual daily production NAR will be 10,465 BOE, which is the lower end of 2014 guidance provided by Canacol.
All reserves are net of royalties and factor in the updated natural gas reserves provided in the DeGolyer & MacNaugton reserve report dated 31 December 2013.
I have assumed an oil price of $62 per barrel, which is lower than the current price for WTI. This lower price takes into account the lower price received for Canacol's tariff production coupled with softer natural gas prices.
I have used a 10% discount rate in accordance with the industry standard NPV-10 methodology.
I have conducted the DCF over a 10 year period representing Canacol's reserve life.
I have not factored in the value of Canacol's exploration acreage because of the uncertainty surrounding the valuation of those assets.
I have not factored in any increase in reserves or production despite the company's solid exploration and development prospects because of the high degree of uncertainty that surrounds oil and gas exploration.
This conservative valuation yields an NPV-10 of $950 million or 1.4 times Canacol's current enterprise value of $673 million. When net debt of $138 million is deducted, it leaves an implied market-cap of $812 million, valuing Canacol at $9.37 per share as shown by the chart.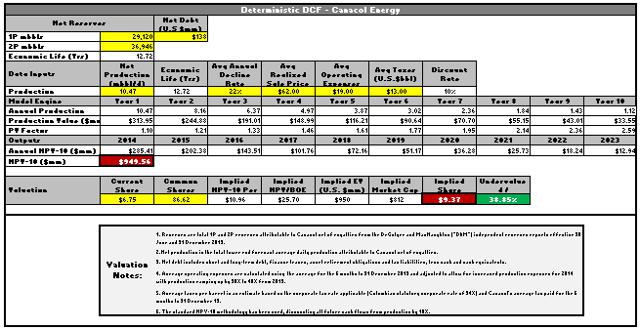 After applying this valuation methodology, Canacol is undervalued with it trading at $6.75 at the time of writing. This means the company offers investors potential upside of almost 39% using relatively conservative assumptions. I would expect this potential upside to play out over the next year as a range of short-term catalysts gain traction and boost Canacol's operational performance.
Investors should note Canacol trades as a liquid listing on the Toronto Stock Exchange under the stock code CNE.TO with an average daily trading volume of ~$2 million CAD.
Short-term price catalysts
Continued production growth: As the production growth chart earlier in the article shows, Canacol continues to grow production and/or meet production guidance for the last 5 quarters gaining the market's confidence. If current calendar 2014 guidance is achieved or exceeded and WTI prices remain stable, the shares are almost certain to be bid higher and its valuation increase for a 30% to 40% gain.
Continued significant reserve growth: Canacol's significant exploration program, leading position in unconventional hydrocarbons exploration in Colombia and drilling success rate of 100% bodes well for further oil discoveries in 2014. Any significant oil discovery will have a significant material impact on reserves growth and hence the NAV of the company. Positive results, which I expect to see, would initiate a re-rating of the company and its target share price.
Risks to this investment thesis
When investing in a small-cap O&G E&P company operating in emerging economies, there are a range of risks that apply to the investment:
Commodity risk: Canacol is leveraged to the price of WTI and to a lesser extent Brent crude. If the price of crude falls below $100 per barrel, it would have a material impact on Canacol's netback and accordingly its cash flow and valuation.
Currency risk: The depreciation of the Colombian peso relative to the U.S. dollar and Canadian dollar will impact revenues and profitability. For the year-to-date period, COP has softened by 6% against the USD.
Market risk: Canacol is vulnerable to a general market or sector downturn, as we have already witnessed earlier in 2014 with the emerging market crisis triggered by the significant depreciation of the Argentine peso.
Country/geopolitical risk: Canacol operates in Colombia, which is an emerging Latam economy. While Colombia has a business environment conducive to foreign investment, particularly in the petroleum industry, there is still has a higher degree of risk than developed jurisdictions.
Contract risk: There is a risk Canacol's crude purchasing customers may forfeit payment and cause a working capital squeeze.
Operational risk: The company may suffer from adverse operational events which can impact reserves, production, cash flow and cash on hand. Such events could also see reserves being downgraded reducing the overall value of Canacol's asset base. The company may also not be able to ramp up production as per its historical performance or as per guidance.
This would see Canacol become dependent on raising capital externally in order to fund its exploration and development capex. Such an event would either weaken the balance sheet if debt were used or potentially dilute existing shareholders through an equity raising.
Conclusion
Canacol has a world class management that has taken a start-up O&G E&P company and turned it to one of Colombia's largest privately controlled producers of oil in just 6 years. Furthermore, they have consistently identified the potential that exists in a range of locations for oil exploration and production that only a short time ago were considered unviable and unprofitable.
This includes taking a bet on the Putumayo-Caguàn basin and building a leading exploration position in Colombian heavy oil, which was until 4 years ago considered uncommercial to be produced and difficult to sell. Now they have established Canacol as the leader in unconventional oil and gas exploration in Colombia, which is set to explode and set to become the next unconventional oil and gas hot spot in Latin America.
Canacol's shares currently are trading in significantly undervalued territory, particularly for a company with a solid resource base along with growing production, increasing operational efficiency and strong growth in operating cash flow. If crude, particularly WTI, remains above $100 per barrel, Canacol will be generating further significant cash flow growth as its production grows allowing it to increase its internally funded capex.
This will allow it to reduce it degree of leverage, strengthen its balance sheet and continue to grow its exploration and development programs. This will increase the likelihood that both production and reserves will continue to see considerable growth over the foreseeable future. Canacol's shares offer compelling value, trading at just 61% of its 10 year DCF per share and 68% of its 2P NAV per share.
Disclosure: I am long CNNEF. I wrote this article myself, and it expresses my own opinions. I am not receiving compensation for it (other than from Seeking Alpha). I have no business relationship with any company whose stock is mentioned in this article.
Additional disclosure: Caiman Valores recommends that potential and existing investors conduct thorough investment research of their own, including(but not limited to) a detailed review of the companies' SEC filings, and as required consult a qualified investment advisor. Any opinions or estimates constitute our best judgment and are subject to change without notice.