By Dee Gill
The reports this earnings season from defense contractors reiterated the slowness in that business lately with a mix of good results and worrisome guidance for the coming year. But there's a reason that investors keep coming back for more of shares like General Dynamics (NYSE:GD), L-3 Communications (NYSE:LLL), Northrop Grumman (NYSE:NOC) and other low- and no-growth defense contractors. Beautiful orchestrations of share buyback and dividend programs keep shareholders in this sector happy even when circumstances don't.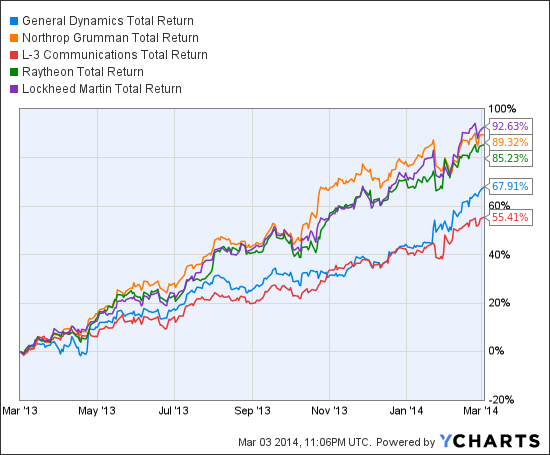 GD Total Return Price data by YCharts
Few sectors manipulate share numbers and dividends in such investor-friendly ways as defense contracting. General Dynamics, Northrop, L-3, Raytheon (NYSE:RTN) and Lockheed Martin (NYSE:LMT) offered investors total returns between about 55% and 90% in the past 12 months despite shrinking revenues and often disappointing forecasts. Investors understand that the shareholder rewards these companies offer can be powerful return-boosting tools, especially because they are paired with cost cutting measures. It's not revenue growth that's pumping up share prices in this sector.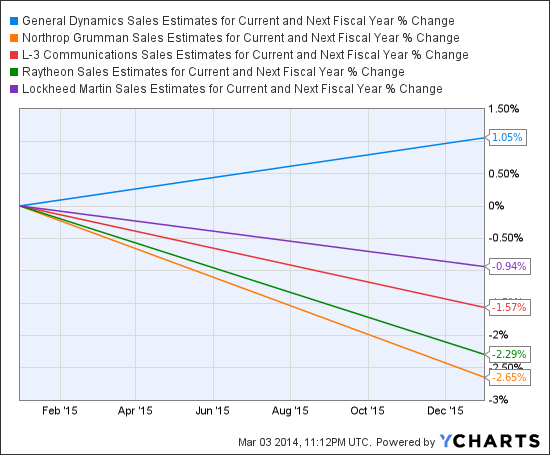 GD Sales Estimates for Current and Next Fiscal Year data by YCharts
Consider the jump in earnings each Northrop Grumman shareholder has gotten since it launched a massive repurchase program last spring, even though its EBITDA earnings are down. Lowering costs and the shares outstanding concurrently has artificially – and we use that term with respect here – inflated the amount of earnings attributable to each share.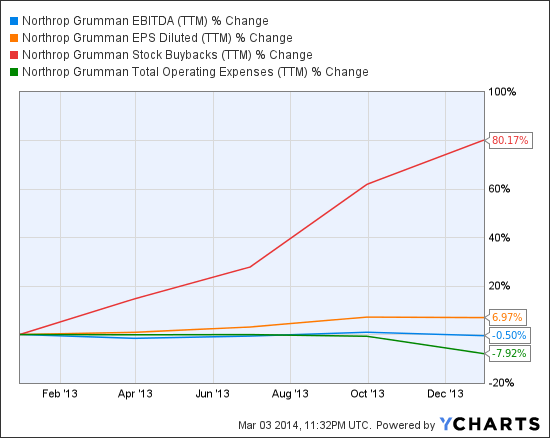 NOC EBITDA (TTM) data by YCharts
The power of buybacks in this sector is one reason General Dynamic shares are up some 15% YTD despite a disappointing new forecast earlier this year. The forecast came with plans to accelerate the previously authorized purchase of 11.4 million shares, and to step up the share repurchase program this year. In February, the company announced plans to buy up to 20 million more of its outstanding common shares (roughly 5.6%) on the open market.
A few key charts help illuminate options for investors seeking to get the most out of repurchase programs. These are helpful when paired with investment research that uncovers a company's general growth prospects, such as the size of its order book, and the long-term competitiveness and prospects of its products. Good buyback and dividend policies can more than make up for some slow years in cyclical businesses. They can't prop up a share price indefinitely.
The buyback yield showing percent of outstanding shares repurchased gives us a good idea of a board's eagerness to please shareholders. Northrop Grumman and L-3 Communications, for example, have had some of the most aggressive share repurchase plans in the S&P 500. Here's a look at buyback yields across the sector.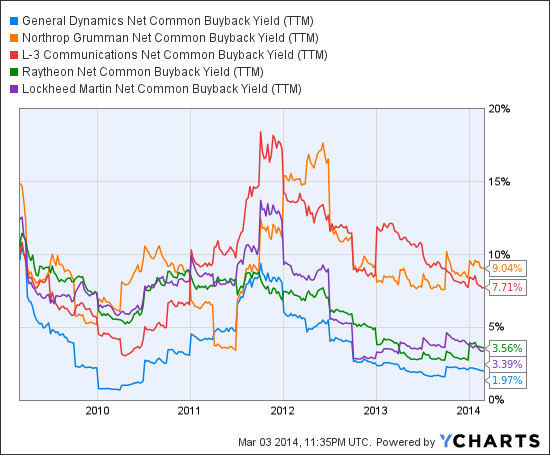 GD Net Common Buyback Yield (TTM) data by YCharts
Those are historic numbers, however, and don't directly reflect the status of ongoing repurchase plans. One needs to find out if there's still time to take advantage of an ongoing program, like Northrop Grumman's plans to retire some 25% of its shares by the end of 2015. Looking at the change in the number of shares outstanding since then gives us an idea of whether it's too late to get in on its advantages. From that earlier chart, it looks like Northrop still has a lot of buying to do. Here's a look at how much other defense contractors have reduced shares in the past five years.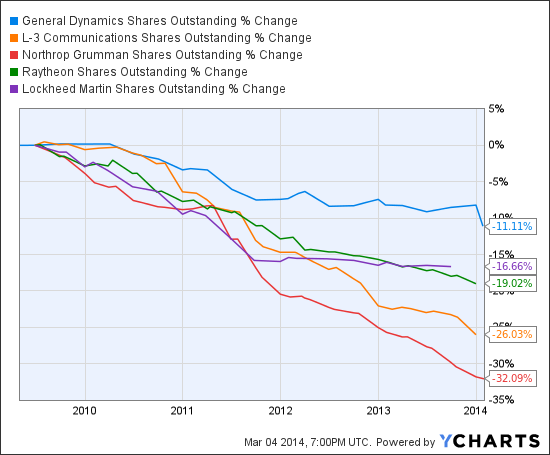 GD Shares Outstanding data by YCharts
Dividends are a core component of defense sector perks. Although the yields are modest, annual growth of the dividend per share above 10% in most cases makes them attractive.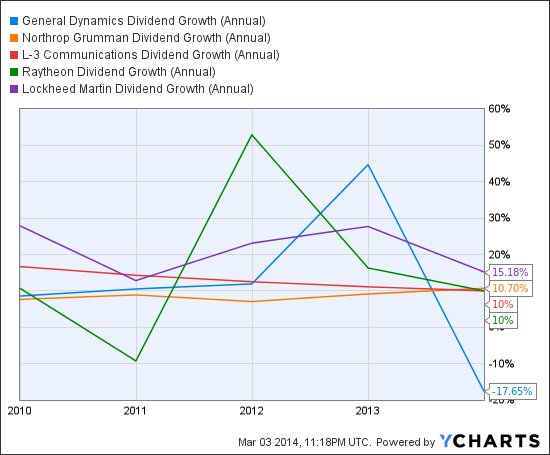 GD Dividend Growth (Annual) data by YCharts
The shareholder yield measures the impact of both buybacks and dividends, giving investors a way to roughly calculate potential return if there is no growth in the company itself. (Debt reduction is a factor in shareholder yield too, but a relatively minor one in these companies lately.)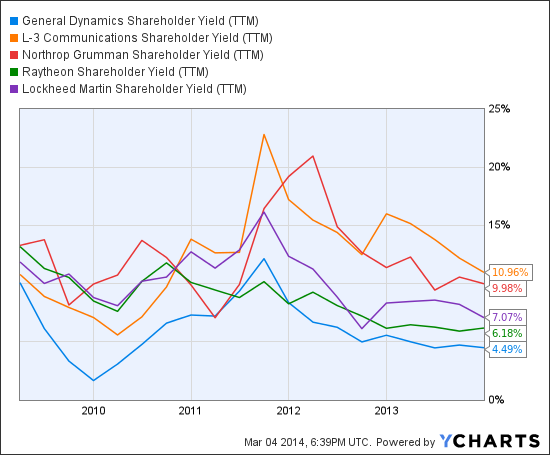 GD Shareholder Yield (TTM) data by YCharts
For quick comparison, each of these metrics can be shown together on the YCharts Stock Screener, as we have done here for the defense sector. To see how these companies compare with other stocks in the S&P 500, go to the top right of the screen and remove the Aerospace and Defense intersect under Universe.
Disclosure: None