Well, today we are seeing the strong bounce that we'd been anticipating in the stock market (if you missed yesterday's piece, you can get caught up here).
Now that the S&P 500 has rallied to the doorstep of 1100, the question is - how much longer will this rally go? And when should we re-initiate our short position on the S&P?
Jeff Clark - one of my favorite traders - wrote today that he believed this rally could go all the way to 1130:
Over the next several days, the S&P 500 could rally back up to 1,100 or even 1,130 if the bulls really take control.

Remember, though, dead cats always fall back to the bottom. Once we get a bounce in stock prices, we're likely to come back down and retest the lows.

As a trader, I'm playing stocks from the long side right now. But I'll be quick to take profits and I'll be looking to short stocks aggressively if the S&P rallies back toward 1,130.
I did a quick back-of-the-envelope calculation - because markets are probabilistic, after all - to see where this retracement may end. For my calculations, I'm saying that this decline began at 1173 on the S&P, and ended at the intra-day low of 1040: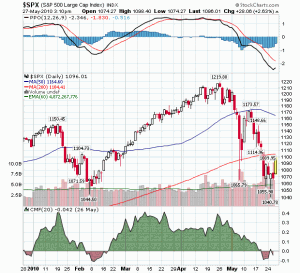 (Click to enlarge)

The magical retracement range you always hear about is approximately 38-62% of the previous move. This would put us somewhere in the range of 1091 and 1123.

We hit an intra-day high today of 1098, and we sit just a point below this as I type. So the next turn down could complete this move.

Let's sit back and see what tomorrow's trading brings. If we do indeed get a rally towards the top end of my 1091-1123 range - or better yet, all the way up to Clark's 1130 target - we'll be looking to re-initiate our short position, for what we anticipate could be a doozy of a next leg down.

Remember, kids - the markets make the news, and not the other way around. We needed a rally above 1100 to relieve the oversold condition and let everyone believe "things are going to be OK." Which is perfect - it gives us the opportunity to take the other side of that wishful bet!


Disclosure: Author long SDS