Crippled banking systems tend to bring on deflations. And crippled banking systems seem to result from the bursting of asset bubbles because of the sharp decline in the value of the collateral backing bank loans.

–Paul Kasriel, Northern Trust[1]

We are on the brink of one of the worst commercial real estate financing markets ever. The banks are healing now, but the (CRE) industry is about to smack them next.

--Phillip Blumberg, CEO Blumberg Capital[2]

A thing long expected takes the form of the unexpected when at last it comes.


--Mark Twain
Though commercial real estate (CRE) has long been viewed by analysts as the "next shoe to drop," it has been downplayed as an issue in recent months. "Commercial real estate is a train wreck, but it's already happened," the illustrious Jamie Dimon of JP Morgan Chase (NYSE:JPM) said during a company-sponsored conference in January. He pointed to the 38% drop in CRE prices since 2007.
In early April, Alan Greenspan reiterated that argument: "With prices already down and adjusted, if we were going to get severe secondary reactions, they would have occurred, and they would have occurred if it weren't for the fact that the rest of the economy is showing some degree of buoyancy."[3]
Indeed he could point to a 1% uptick in overall CRE prices for January, the last month that had been reported. Delivered on March 22 by Moody's/REAL Commercial Property Price Index, the number capped two prior up months and suggested that --after 13 months of consecutive declines— the market was finally turning.
So did it?
In a word: no. The rebound suggested by January's number never really materialized. In fact, January has been followed by two months of declines. The Moody's/REAL CCPI registered a 2.6% drop in February. March registered a .5% drop overall, with slight upticks for apartments and warehouses offset by significant declines in office (-3.2%) and retail (-4.7%) property prices. Commercial property values are now down 44% since the peak of October 2007.[4]
Other salient data points also look negative. The office vacancy rate rose to 17.2% in the first quarter of 2010, a level unseen since 1994. "Effective rent" in the last months of 2009 was 7.4% lower from a year earlier.[5] And compared to fourth quarter 2009, 1Q 2010 retail property prices for the top ten metro areas dropped 19%.
So what does it all mean? I will try to sketch out the impact that the commercial real estate bust will have on both our banking system and the economy more generally. I also will tease out those factors unique to the industry that might make the bust far more severe than anticipated.
Let's start by sketching out the origins of the problem.
The boom in commercial real estate started several years after the residential market had heated up: (Click to enlarge)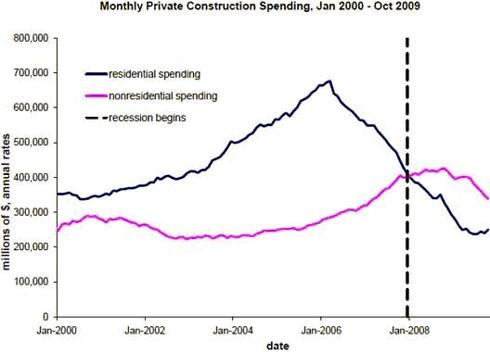 The industry as a whole was chastened 15 years ago in the early 90s and had assiduously avoided overbuilding. But as graph 2 suggests, the industry was lured into a spasm of speculative activity starting in 2005. Beginning that year, commercial real estate prices began to depart from a 20-year trend of 1.4% annual growth.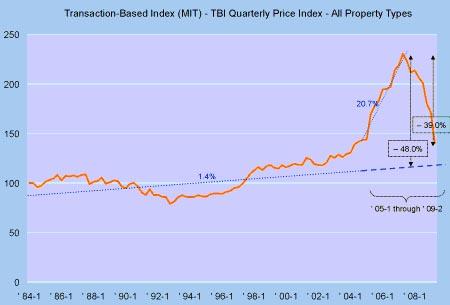 Because commercial real estate loans typically have five-year terms, the industry's loans are continuously being refinanced. The problem is that loans made at the height of the boom -- 2005 to 2008 -- were based on inflated asset values and often "easy" origination terms. Up until now, very few of these "boom era" loans have reached maturity --though the delinquency rate on all CRE loans is up.
So, what exactly is the magnitude of the problem? The total value of outstanding commercial real estate-backed loans in the US stands at $3.7 trillion. Between 2010 and 2014, about $1.4 trillion of these loans will mature and need to be refinanced. As the following graph suggests, the destructive height of this loan tsunami crests in 2012-2013: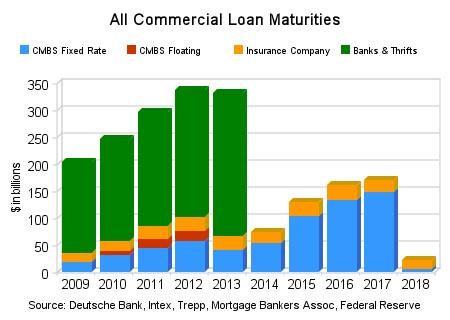 Nearly half of the loans are presently "underwater" – i.e. the borrower owes more than the underlying property is currently worth. Commercial property prices have fallen more than 44% since the height of 2007.
Vacancy rates, which now range from 8% for multifamily housing to 17.2% for office buildings, are at levels not seen since 1994.
Rental rates fell an average of 0.8% in the first quarter of 2010, a less steep decline than seen last year. Asking rent fell 4.2% from a year earlier. Add in months of free rent and landlord contributions to space improvements for each tenant, and "effective rent" of 1Q 2010 was way down from the year before. And that pressure will likely to continue for six more quarters. According to Reis Director of Research Kyle MacLoughlin:
"As the labor markets stabilize we expect occupancies and rents to require another 12 to 18 months before showing signs of improvement, given the typical lags in commercial real estate."[6]
PricewaterhouseCoopers also suggests that commercial real estate vacancies will increase in 2010.
So even if the recovery began last quarter, rents on CRE will "suck fumes" well into 2011 and perhaps 2012. These pressures already are choking operating incomes, causing defaults even before the re-financing crucible. The following graph makes this clear: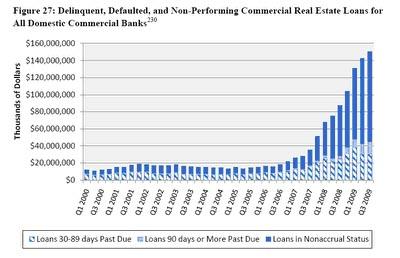 The Weapons of Mass (Bank) Destruction:
So what will make the commercial real estate market of 2011-14 so devastating? Here are the three main issues:
1. Falling Operating Income
As noted above, increasing vacancy rates and falling rental prices pressure all existing loans. Decreased cash flows will affect the ability of borrowers to make required loan payments. As vacancy rates climbed in some cities a full two years after the 2001 recession, it would not be unlikely to see a similar momentum this time. Note the US average on the following graph: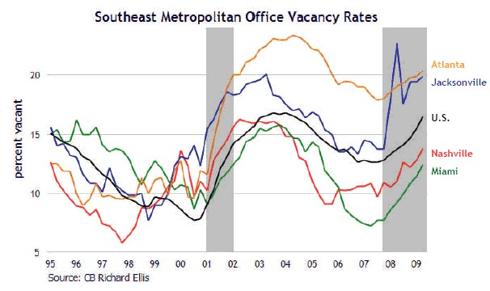 Fortunately, over the past decade, the Commercial Mortgage Backed Securities (CMBS) market was far smaller than its residential counterpart. But the income flows will be similarly affected. The following bar graph offers a wonderful glimpse at the destructive time delay conjured by contemporary finance, with "boom era" loans haunting the CMBS income streams until 2017: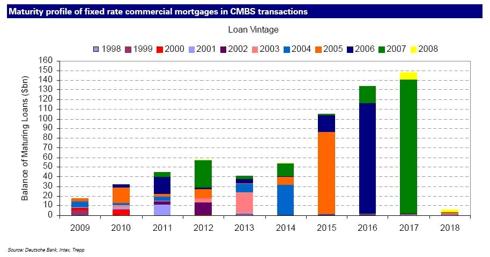 2. Few lenders / more stringent underwriting standards
The frothy "easy liquidity" period (2004 – 2007) resulted in the origination of many commercial real estate loans based on weak underwriting standards. These loans assumed overly aggressive rental or cash flow projections sustainable under bubble conditions. Hedge funds, Private equity, and the "shadow banking sector" started to enter the field, offering loans with higher levels of allowable leverage –say 80% instead of 65%. Offering more loan for less collateral, these are analogous to the famous "Alt-A" residential loans.
Since the credit crisis of 2008, all these more specious sources of financing have dried up. When those "easy" loans come due in 2011, the originators will have been long gone from the field. Those eager "shadow bankers," hedge funds, and private equity firms from 2006 are out of business –or at least out of that line of business. The traditional sources of commercial financing--with max LTV ratios of 65 percent--are all that remain.
By the old measures, the 80% LTV ratios are impossible to accept –even if the value of the property had remained constant. Another "financial innovation" made extinct by the bust.
Even the more respectable CBMS origination market, which may have created demand for new loans, was snuffed out in the crash: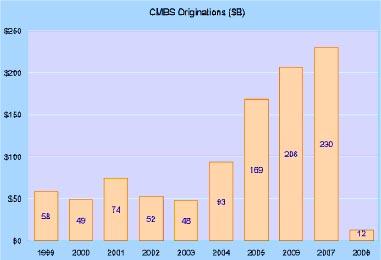 3. Falling Property Prices / Wrecked LVT Ratios
This factor is the most punishing, and may cripple the economic prospects of the next decade.
Falling commercial property values result in higher "loan-to-value" ratios, making it harder for borrowers to refinance under current terms regardless of the soundness of the original financing, the quality of the property, and whether the loan is performing. The collateral is worth less than it was a few years back, placing the loan out of contention for refinancing. The owners are essentially locked out.
As one example makes clear, refinancing becomes impossible:
Adjusted property value: $80 million (down from $123 million in 2007)
Loan amount to be refinanced: $80 million
Maximum LTV ratio: 65 percent
Maximum new loan amount: $52 million (65 percent of $80 million)
Shortfall: $28 million
Result: impending bankruptcy[7]
All of the fundamentals of a good commercial real estate investment may still be intact – fully occupied, good tenants, positive cash flow, "location-location-location," etc. The problem is not inherent to the building itself. It is the new pricing environment, but it's still deadly. Like a perfectly healthy "hot house" flower that will die now that all the windows of its green house have been shattered mid-winter, the building's financing was not designed for the new financing milieu.
Goldman Sachs forecasts that the average commercial LTV ratio will reach 117 percent by 2010 and that 81 percent of commercial borrowers will be looking at negative equity.[8] PricewaterhouseCoopers also suggests commercial property prices will ultimately fall further, dropping from today's 42% to a full 50% of the 2007 highs.
This gives owners an incentive to simply walk away and cede an underwater asset to the bank, creating another terrible liability for the banks.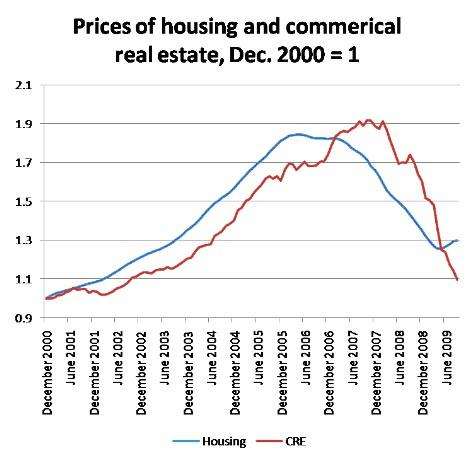 Death by a Thousand (Deflationary) Cuts: CRE's Impact on America's Regional Banks
Liquidity is a function of two factors, money supply and collateral. But the impact of available collateral is far more critical to maintaining liquidity than the money supply. A decline in the value of the entire asset base of the US Commercial real estate sector will have a real effect on banks. The Japanese experience is clear:
"When the bubble burst, the debtors could not keep current on their loans and turned back the collateral to the banks. The market value of the collateral was less than the amount of the loan outstanding, thereby inflicting huge losses of capital on the Japanese banks. With the decline in bank capital, the banks could not extend credit to the private sector, even though the Bank of Japan was offering credit to the bank at very low nominal rates of interest."[9]
As residential lending and the CDO conveyor belt became a key part of the big banks' profit center, the smaller regional players could not keep up. So instead they funded local commercial real estate projects. The big investment banks did some CRE, but only for the most prestigious projects.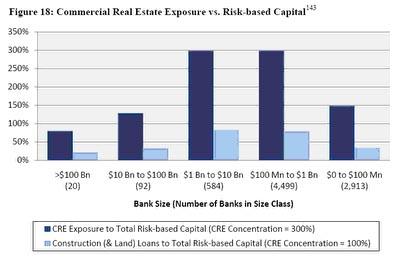 So the coming CRE crisis will not implode Wall Street high rollers like Lehman or AIG. Unlike the residential mortgage meltdown or the derivatives blow-up, commercial property loans will hit the regional banks, not the big 20. And as 70% of total banking assets sit with the top 100 banks, the international financial system will thus stay intact. The center will hold.
But the "vast periphery" -- the 8,088 smaller banks -- will be ravaged. And these smaller banks are responsible for 40% of small business loans.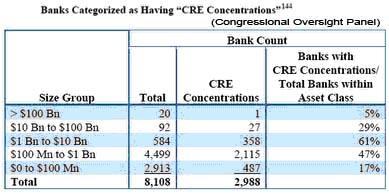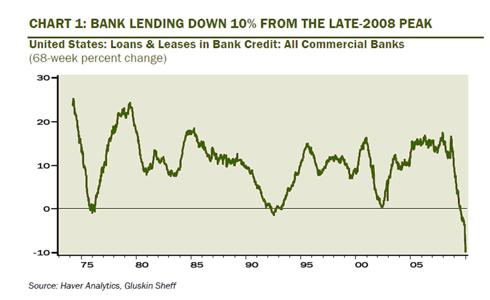 This is one of the main reasons that bank failures in 2010, 2011, and 2012 will be likely higher than 2009's total of 140. As the chart from the preceding page suggests, a total of 2,988 Banks have been flagged with "CRE Concentrations" by the US government. Banks will continue to take on a defensive stance, bracing for this new wave of debt deflation to hits their shorelines.
They will not be able to lend.
At present, the banks have been reluctant to mark down the value of their CRE assets. Goldman Sachs estimates that banks are still carrying the commercial mortgages at an average of 96 cents on the dollar.[10] This might not be a problem for big banks with low CRE exposure – say Citibank (NYSE:C), at only 3% of all loans. But regional banks out West look vulnerable: Las Vegas-located Western Alliance Bancorp (NYSE:WAL) has 65% of its loans in CRE; Zions Bancorp (NASDAQ:ZION) in Salt Lake City has 56%; Fifth Third Bancorp (NASDAQ:FITB) has over 50% exposure. The list goes on.
The "stress testing" conducted last year was only for the 19 major financial institutions and their capital reserves were examined only through the end of 2010. The hungry, boom-town regional banks in places like Atlanta or Phoenix were never subjected to anything remotely like a stress test, and nothing that looked out to 2014.
A recent Congressional Oversight Panel calls for such assessments. The February report stated that for the nation's roughly 7,000 community banks, those with less than $10 billion in assets, the average CRE exposure equals 288% of total risk-based capital.
To put that baldly:
The average community bank has about $3 in commercial real estate loans for every $1 set aside to cover possible losses. And the collateral for those loans just lost half their value.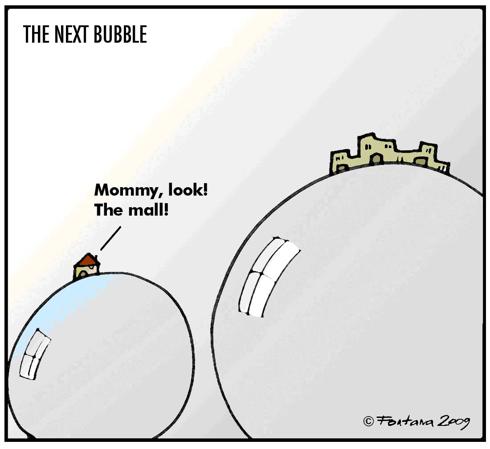 Conclusion:
There is a commercial real estate crisis on the horizon, and there are no easy solutions to the risks commercial real estate may pose to the financial system and the public.


--Congressional Oversight Panel, Feb. 2010
Is the Federal chairman worshipping a false religion? Was Milton Friedman right in arguing that the quantity of (broad) money is what matters most, not the credit mechanism?
Upon this abstruse doctrinal point will depend whether the Atlantic economies rise above stall speed or lurch in a double-dip recession.


--Ambrose Evans-Pritchard[11]


Bonds, real estate, and pension funds, ultimately, are all collateral – the primary engine of liquidity. Over the long-term, the only way to stabilize the value of collateral is to establish a sustainable positive cash flow.

--Edward Ring, CIV FI
So how bad will it be?
To put this in a global context, many regions around the world are already dealing with commercial vacancies of 15-20%. The US is not alone.
And there was not the predatory lending or insane "CDO squared" dicing that complicated the residential loan market. This market is mostly whole loans and some overpriced paper, so the bank wounds will be "clean cuts." But they will be deep and they will be inflicted on the smaller players.
According to Real Capital Analytics, there are already 10,100 troubled commercial properties worth more than $205 billion in the US. That number will obviously rise as we hit the "refinancing" period of 2011 – 2014. Over the next few years, their report states, the banks alone could experiences losses nearing $300 billion.[12]
In this scenario, hundreds more community and mid-sized banks will face insolvency. These banks play a vital role in financing the small businesses that provide the majority of new job creation in the US. Their widespread failure will further winnow local communities, undermine a sustainable recovery, and pressure the economy into a second recession a few years from now.
In a recent speech, Atlanta Federal Reserve President Dennis Lockhart spoke of the "potential of a self-reinforcing negative feedback loop" involving bank lending small business employment, and commercial real estate values. No lending means that the small businesses dependent on that source of credit will be forced to shut their doors. This pushes up commercial vacancy rates in the local region, which pushes down on real estate prices. Those falling prices in turn will lead to additional write-downs in the bank's CRE portfolio.[13]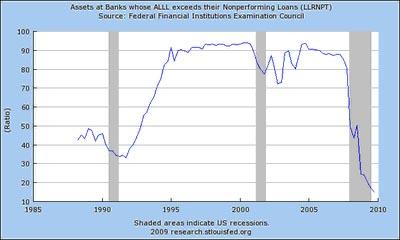 Worst case, this vicious cycle starts to hurt the local economies just as the municipal bond defaults start to occur, leaving no room for Keynesian responses. Worse case, the real estate industry in China goes bad and the two downturns hit the global economy over the same time frame. Worse case, today's apparent bottom in property prices is a temporary respite, with a further fall mid-decade.
As has often been the case in history, the lag time between the CRE loan and the finished "shiny building" is the time delay between boom and bust. What is truly unique today is that fifteen years of financial globalization had instituted an astonishing "simultaneity" to world growth patterns. From Atlanta to Astana, from Barcelona to Beijing, from the OC to Hungary, speculative real estate was built.
The emerging economies saw real gains in purchasing power and industrial capacity. And decades of excessive monetary policy and credit expansion hid real wage declines in the developed economies. The world boomed in unity, but it may not recover in unity.
With no likelihood of higher US wages or pronounced demographic growth, the nation's commercial real estate market will likely endure capacity overhang for years. This will continue to burden our smaller banks.
As the following graph of "real peaks" suggests,[14] it is unclear whether the US will escape the kind of period of deflationary pressure Japan experienced on the long road down: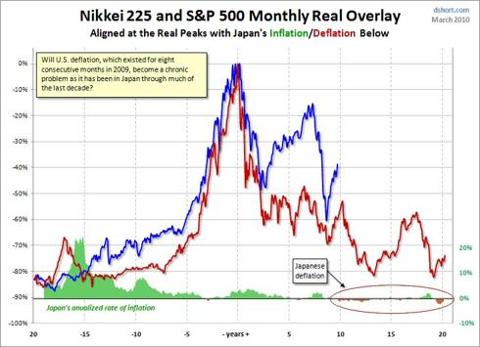 [1] Paul Kasriel, "Interview with Michael Shedlock," Dec. 11, 2006 (globaleconomicanalysis.blogspot.com)
[2] John Crudele, "Banks Worry about Next Wave of Loan Defaults," New York Post, May 19, 2009
[3] Jake Tapper, "Greenspan: Commercial Real Estate has already Popped," ABC News, Apr. 4, 2010
[4] Brian Louis, "Commercial Property Values Drop as Rebound Stalls," Businessweek, May 19, 2010
[5] "US Vacancy Rate hits 17.2%" Fox Business News, Apr. 5, 2010
[6] John Keefe, "Rents Rise, sort of; another sign of slow recovery," CBS Marketwatch, Apr. 6, 2010
[7] Greg Rand, "Commercial Real Estate Bust? Not for Everyone," Entrepeneur, March 29, 2010
[8] James Stewart, "Commercial Real Estate: The Next Bubble?," Smart Money, Nov. 23. 2009
[9] Paul Kasriel, "Letter to Mish Shedlock," Dec. 11, 2006 (globaleconomicanalysis.blogspot.com)
[10] James Stewart, "Commercial Real Estate: the Next Bubble?" Smart Money, Nov. 23, 2009
[11] Ambrose Evans-Pritchard, "Deflation on the Prowl as Bernanke Shuts down his Printing Press," The Telegraph, Apr. 4, 2010
[13] "Elizabeth Warren Warns about Commercial Real Estate," Huffington Post, Feb. 11, 2010
[14] This graph is adjusted for inflation and aligns the Nikkei 1990 with the S+P 500 tops. Japan's property prices started falling 2 years after the stock market; US property started to fall seven years after March 2000. The delay can be chalked up to the far larger US property market, demographics, and the immense liquidity measures the Fed used to fight the initial bust and deflationary symptoms in 2001- 2002.
Disclosure: No positions