DryShips (NASDAQ:DRYS) is feeling the impact of falling dry bulk shipping spot rates. Year to date, the company's stock price has fallen around 4% due to lower spot prices. However, the situation is going to improve after March, this year because dry bulk commodities' demand will increase in coming quarters.
Global dry bulk shipping market scenario
2013 was a good year for dry bulk shippers, as dry bulk commodities' shipment volume increased by 5.4% over 2012. However, in the first quarter of this year, dry bulk commodities' shipment like iron ore, coal, steel, and grains in volume have dropped by 8.8% over last quarter, which has negatively affected the dry bulk shipping spot rates.
The Baltic and International Maritime Council (BIMCO) forecasted spot rates of different categories of vessels for first quarter of this year. Following is the forecast for three types of vessels that DryShips owns:
| | |
| --- | --- |
| Vessel Type | Feb/Mar Spot rates per day |
| Capesize Vessel | $4,500 to $10,000 |
| Panamax Vessel | $5,000 to $11,000 |
| Supramax Vessel | $7,000 to $11,000 |
However, BIMCO expects that demand drop is due only to seasonal factors, and after the first quarter the market will recover. Overall, fundamentals are good for the dry bulk market, and the demand of various dry bulk commodities are expected to increase in coming quarters, which will push dry bulk shipping spot rates up.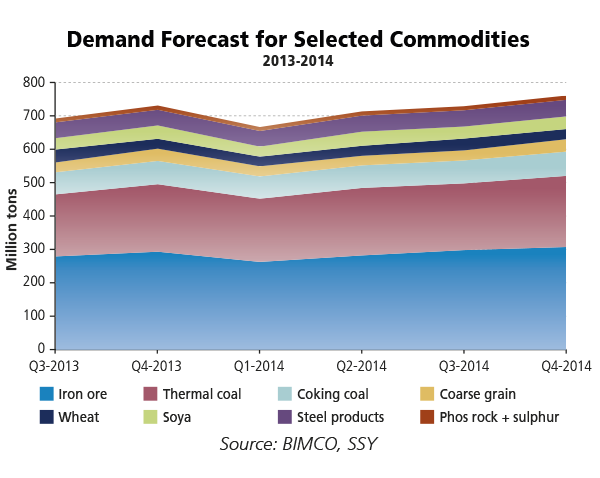 The company's unique position will help to counter spot-price volatility
1. Capesize vessels operating on a fixed rate
In the current price environment, the class of vessels affected is Capesize vessels. The Capesize spot price is trailing around $10,000 per day, while it was about $30,000 per day in December. With this price setting, DryShips is in a favorable position. The company has 12 Capesize vessels; most are operating under a fixed-price contract, and 10 are operating at price of more than $20,000 per day. Hence, on a per-day basis the company's vessels are earning more than double from the spot price.
2. Spot-rate exposure to benefit after market recovery
The company can also take advantage of the expected market recovery, through spot-rate exposure of its Panamax, and Supramax vessels. Sixteen out of its 24 Panamax vessels and both Supramax vessels are operating on a spot-rate basis. In 2014, the company's dry bulk fleet will be operating for about 9,000 days on a spot basis, which will positively affect its revenue on rising spot rates. The company is expecting that with every $5,000 rise in spot rates in 2014, EBITDA will increase by $63.3 million. Decent spot exposure through its Panamax and Supramax vessels, and the high fixed-price contracts of Capesize vessels will help DryShips to offset price volatility.
3. Subsidiary diversifies the risk
DryShips' offshore drilling subsidiary, Ocean Rig UDW (ORIG), in which the company has a 59.4% stake, helps it to diversify from the dry bulk shipping business. Ocean Rig has good growth prospects. In 2014 and 2015, respectively, 99% and 72% of the subsidiary's fleet calendar days are covered under contract, which will prevent it from any short-term market softness. It also has a contracted revenue backlog of about $5.4 billion, which runs until 2018 and beyond.
| | |
| --- | --- |
| Year | Estimated contracted backlog revenue (In million) |
| 2014 | $1,883 |
| 2015 | $1,547 |
| 2016 | $1,019 |
| 2017 | $488 |
| 2018 | $244 |
| Beyond 2018 | $408 |
Source: Ocean Rig's 4th quarter presentation
As these backlogs ensure definite future cash flow, Ocean Rig is in a good position to return value to investors. From first quarter of this year, Ocean Rig announced it will distribute about $25 million in dividends every quarter. Realization of the proposed dividend will therefore increase DryShips' yearly cash flow by around $59.4 million. Potential cash flow will help DryShips to offset low dry bulk shipping spot prices.
Is additional equity offering required?
DryShips resumed its $200-million market price equity offering program this year, which it had suspended in the beginning of December. The company said it did so to repay some or all of this year's mandatory debt repayment of $150 million. In January, the company issued 20,837,582 shares at an average price of $4.14 per share, which resulted in net proceeds of $84.5 million. Under the same program, the company issued 6,892,233 equity shares last year, generating about $24.1 million. With about $91 million still remaining under the program, at the current stock price of about $4, the company can issue another 25 million shares.
With the potential share offerings, dilution risk remains for long-term investors. However, additional equity will help the company improve its liquidity position. At the end of the third quarter in 2013, the company had about $739.3 million of cash and cash equivalents. The additional proceeds through equity sales will further strengthen the company's financial position and help the company counter potential cash outflows this year:
1. The company's four new Panamax vessels are expected to be delivered this year. However, the company stated that the vessel developer, Rongsheng, has not given any schedule of the delivery, and the vessels may not be delivered. If delivery occurs, the company has to allocate about $124 million for the remaining contracts.
2. The company's convertible bonds worth $700 million will be maturing in December this year. The company suggested it may extend maturity by refinancing through the note holders, but even if it doesn't refinance due to additional equity sales, the company will be in a better position to redeem the notes.
Conclusion
DryShips fixed-rate contract for its Capesize vessels provides a competitive advantage in the current low spot-price environment. In addition, through its Panamax and Supramax vessel fleet, it can benefit from a potential price recovery. The company's liquidity position will also be supported by subsidiary Ocean Rig this year. However, additional equity offerings will increase dilution risk, but it will help the company to repay this year's mandatory debt. Overall, I recommend investors hold this stock in their portfolio.
Disclosure: I have no positions in any stocks mentioned, and no plans to initiate any positions within the next 72 hours. I wrote this article myself, and it expresses my own opinions. I am not receiving compensation for it (other than from Seeking Alpha). I have no business relationship with any company whose stock is mentioned in this article.