On March 5, 2014, US Secretary of State John Kerry and EU leaders threatened that harsh economic sanctions could be imposed on Russia for its intervention in Ukraine. Russian state-controlled natural gas giant Gazprom (OTCPK:OGZPY) has threatened to disrupt gas supplies to Europe. This could turn the Ukraine crisis into a trade war. Aside from the threats, a very real part of this problem is that Gazprom may be unable to fully deliver fuel to its European markets without using Ukraine's pipeline network. The status of that is up in the air due to the current violence. Ukraine also is a deadbeat Gazprom customer. It owes over $2B for gas that has already been delivered; and Gazprom may cut Ukraine off. However, it cannot do this without at the same time stopping the flow to Europe through the Ukraine pipeline network. 52% of Gazprom's exports to Europe are currently routed through Ukraine; and Ukraine itself is contributing up to 8% of Gazprom's revenues. No political problem is ever simple.
Today, March 6, 2014, Obama authorized sanctions against Russia. These will restrict the travel and freeze the assets of people the Obama administration identifies as being involved in the invasion of the Crimea. US companies would also be prevented from doing business with any individual or entity named in an executive order signed by Obama. However, administration officials say they have not designated any specific individuals for penalties yet. The US Congress is also working on sanctions legislation.
In contrast the UE, while talking of sanctions, seem inclined to pursue a diplomatic solution. The EU on March 5, 2014 announced it will offer Ukraine at least $15B in aid as the country struggles against a possible debt default. Experts have said Ukraine could default this March on the roughly $13B dollars in debt that is coming due just in 2014. Compounding this problem is that much of the debt is denominated in USDs. These are becoming increasingly difficult for Ukraine to payback as the value of its currency has dropped sharply in 2014. The US has offered $1B in loan guarantees.
All of the above has left Europeans very uncertain of their natural gas supplies. Yes, the winter is almost over; but they use natural gas for many other things such as power generation. It makes sense that many EU companies and states will want to take out as much insurance against a Russian natural gas supply disruption as they can. The US does not currently have LNG export facilities; but it does have propane and other NGLs (natural gas liquids) export facilities -- LPG (liquefied petroleum gas) export facilities. European countries and companies may (as I write) be in the process of tying up as much of this export capacity as they can. They will probably be willing to pay premium prices to do so. This will be good for the exporting companies.
Two of the biggest US propane exporters are Targa Resources Partners LP (NYSE:NGLS) and Enterprise Products Partners LP (NYSE:EPD). Investors may want to know that Targa Resources Corp. (NYSE:TRGP) has general and limited partner interests in Targa Resources Partners LP . Both of these companies have large LPG (liquefied petroleum gas) export terminals on the Texas Gulf Coast; and they are currently the only LPG terminals on the Gulf Coast. Propane represents about 90% of the total LPG exports, and butane largely accounts for the other 10%. Several LPG marine terminal projects have been announced by midstream companies to be in service by 2015; but the above two companies are the main US propane exporters at this time.
EPD finished an expansion of its Gulf Coast export facility in 2013. Its propane deliveries are now over 7.5 million barrels per month. Plus it has announced a further expansion by +1.5 million barrels per month that is expected to go into service in Q1 2015. The company further announced a second export terminal on the Gulf Coast with a capacity of 6-6.5 million barrels per month of propane or butane to go into service in Q4 2014. These all total to 15-16 million barrels per month of loading capacity for propane or butane.
Targa Resources Partners has already completed the first phase of an expansion to its Galena Park and Mont Belvieu LPG export facility. This went into service in September 2013. This increased NGLS' export capacity to 3.5 to 4 million barrels per month. NGLS is working on a second phase expansion for its LPG export facility that will add at least another 2 million barrels per month of capacity. This extra capacity is expected to go online in Q3 2014. This would yield a total export capacity for LPG of 5.5 to 6 million barrels per month for NGLS.
Targa Resource Partners and Enterprise Products Partners will probably be the biggest short term beneficiaries of the growing NGLS supplies and the growing NGLS export demand. It might seem that EPD would be the biggest beneficiary, but NGLS has an enterprise value of only $8.8B and a market cap of only $6.02B. EPD is about an order of magnitude bigger with an enterprise value of $79.91B and a market cap of $61.94B. Hence even though EPD will have 2-3 times the export capacity, the impact of that capacity on earnings will likely be less than will be the case for NGLS, which is a 10 times smaller company.
LPG ship owners have also positioned themselves for growth over the next two to five years. At least 47 new very large gas carriers (VLGCs) are expected to be delivered over the next two to three years. The underlying bullishness of the shippers is in turn mostly due to the NGLS and the EPD expansions. The expansion of the Panama Canal, scheduled for completion in 2015, is adding to the furor. It will effectively open up the Asian markets to the shippers from the Gulf Coast; and many (if not all) forecasts see the Asian markets as growing dramatically over the next several years.
Further Brazil has become a big consumer of LPG. It is experiencing higher than expected consumption; and its domestic refinery production will be lower than expected, especially during the football World Cup and the Olympics preparations. It is less clear whether these increased imports will be sustained. Brazil does have tremendous natural resources of its own. Logic says Brazil will eventually supply its own propane. Still Europe and Asia should provide more than enough demand growth for US exporters to thrive, especially the early birds such as NGLS and EPD. Other companies reported to be considering new export terminals include Sunoco Logistics (NYSE:SXL) -- an affiliate of Energy Transfer Partners LP (NYSE:ETP), Lone Star NGL -- a joint venture between ETP and Regency Energy Partners LP (NYSE:RGP), Vitol, Occidental (NYSE:OXY), Phillips 66 (NYSE:PSX), and Intercontinental (OGJ, May 7, 2012 p. 104). SXL and Lone Star are combining on an initial 6 million barrel per month project expected to go online in Q1 2015. PSX is going to build an initial 4.4 million barrels per day capacity marine export facility near Houston, Texas that is slated to go into service in mid-2016.
More in the planning stage (but likely to be built), Boardwalk Pipeline Partners LP (NYSE:BWP) and Williams Companies (NYSE:WMB) are combining in the Bluegrass Pipeline joint venture. As part of this joint venture they are planning to build the Moss Lake LPG Terminal (Louisiana). This terminal will be designed to store 900,000 barrels of fully refrigerated propane and butane. It will have a load rate of 25,000 barrels per hour (or 600,000 barrels per day or 18 million barrels per month). This project could be placed into service in late 2015 (perhaps 2016 would be more realistic).
Long term, European companies are also interested in striking ethane supply deals with the US. The US ethane is so cheap, US companies are currently "rejecting ethane" in many areas.
Some investors will want to know that ETP owns 33.5 million LP units of SXL; and it owns SXL's general partner. ETP owns 70% of Lone Star NGL. RGP owns 30% of Lone Star NGL. Energy Transfer Equity (NYSE:ETE) owns the general partner of ETP and RGP. I hope everyone is thoroughly confused now.
US propane exports have risen dramatically in recent years. Americas (NYSE:APU), a US retail and wholesale supplier of propane, noted in its Q4 2013 conference call that propane exports during Q4 2013 totaled 36 million barrels. This was 125% higher than the prior year's exports of 20 million barrels. This almost exactly equals the maximum capacity of the two companies (NGLS and EPD) I have mentioned above. EPD has been exporting about 8 million barrels per month; and NGLS can export about 4 million barrels per month (or a total of 36 million barrels per quarter between the two). The chart below shows the growth over the last 40 years or so.

Some might think there is a mistake in the numbers in the chart above or in my 36 million barrel figure; but 400,000 barrels per day for 30 days (one month) for 3 months (one quarter) amounts to 36 million barrels exported.
The colder than normal winter caused propane spot prices to spike this winter, especially the Conway prices where supply was lower. Prices have fallen significantly from the winter's peaks. However, the underlying trend has been upward form some time. The chart below shows the Mont Belvieu, Texas spot propane price over the last 20 years.

The price has spiked quite a lot in the chart above. However, a clear pattern of higher lows has emerged over the last 10 years, and the world demand fundamentals tend to support that technical trend. It is too soon to say what effect the trouble in the Ukraine will have. The Ukraine trouble could cause more upward spiking near term. Longer term the secular growth in world energy demand, especially in emerging markets, is virtually sure to push both propane prices and US exports of propane higher.
The Ukraine problems may possibly or even probably go on for a number of years. This means that the European natural gas and propane supplies will be in jeopardy for some time. It makes sense that European countries and companies will try to contract any new US propane export capacity that comes online. With the expanded Panama Canal opening at the end of next year, one is inclined to believe Asian countries and companies will also be eager to contract for relatively cheap US LPGs. This will likely include all of the new export capacity that EPD and NGLS have coming online this year and next. Other companies should benefit too; but these two early birds have a clear opportunity to do the best, especially when contracts are often very long term (for example 10 years).
It is too much work to cover all of the LPG exporters (or future exporters) in depth in the is article. I will leave that to readers and perhaps to future articles. However, NGLS and EPD are leaders in this area. Therefore it is appropriate to at least take a look at their two year charts.
The two year chart of NGLS provides some technical direction for a trade.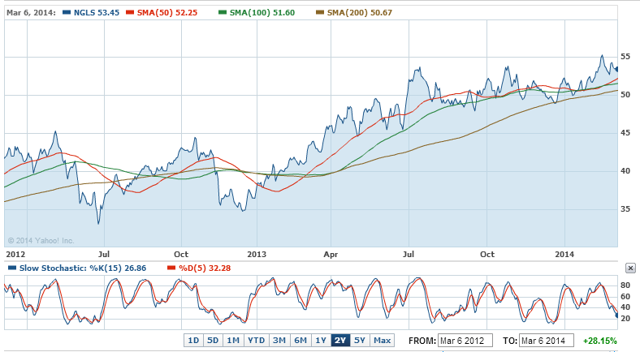 The slow stochastic sub chart shows that NGLS is near oversold levels. The main chart shows that NGLS is in an uptrend. The five year chart shows that the uptrend has extended a long time. NGLS pays a 5.59% dividend. It has a PE of 44.92 and an FPE of 27.55. These last seem high; but they do not seem quite as high after you consider the dividend and the five year average analysts' EPS growth estimate per annum of 18.92%. NGLS has an EPS growth estimate of 24.40% for 2014 and 31.10% for 2015. It has an average analysts' recommendation of 2.2 (a buy). CAPS rates it four stars (a buy).
The two year chart of EPD provides some technical direction for a trade.
The slow stochastic sub chart shows that EPD is near overbought levels. The main chart shows that EPD has been in a strong uptrend for two years. A look at the 5 year chart shows that the uptrend is at least five years long. EPD has a reputation of being one of the great US pipeline LP companies. It pays a 4.13% dividend, and you seldom see a chart as strong as EPD's chart. It has a PE of 23.85 and an FPE of 20.69. It has a mean analysts' recommendation of 1.6 (a strongish buy). CAPS rates it five stars (a strong buy). Readers should do further evaluation before investing in this stock; but it does not look like investors will go very far wrong with a long term investment in EPD.
Both of these stocks look very strong. Both may be over priced at the moment; but both should provide good long term returns. Given the overbought nature of the overall market, it may be wise to wait for a pullback to consider buying them. Alternately investors may wish to average in over 2014. That way they should get an average entry price. Don't forget to do your own due diligence.
NOTE: Some of the above fundamental fiscal information is from Yahoo Finance.
Good Luck Trading.
Disclosure: I have no positions in any stocks mentioned, but may initiate a long position in EPD, NGLS over the next 72 hours. I wrote this article myself, and it expresses my own opinions. I am not receiving compensation for it (other than from Seeking Alpha). I have no business relationship with any company whose stock is mentioned in this article.