While rival eBay (NASDAQ:EBAY) works on improving its search capabilities for a more optimized user purchasing experience, Amazon.com Inc. (NASDAQ:AMZN), which already has an advantage in its search capability, is putting its focus elsewhere. The company is trying to enhance its foothold in the entertainment industry, where it will try to beat industry leaders, such as Netflix (NASDAQ:NFLX).
The company's share value has risen more than 35% over the past year and is expected to increase further going forward. In this article, I will take you through the company's recent performance and its expansion plans. Later, I will include additional arguments that will support my belief of how Amazon will sustain its profitability for investors.
The Year
Domestic Market Leads the Growth for Amazon

Source: Press Release
During fiscal year 2013, Amazon grew its sales revenue by 22% to $74.4 billion, with the majority of the year-over-year growth coming from the North American territory (28%). International sales accounted for 14% of the growth, if we exclude the currency impact. Lower prices and better offerings in rapidly growing markets such as electronics and other general merchandise brought about the higher growth experienced in all the regions Amazon.com caters to.
Cost of sales that included items such as purchased consumer products and digital content increased almost 18% to $54 billion, reflecting nothing more than increased product offering, digital content, and shipping costs resulting from increased sales, as well as from expansion within the digital arena. Likewise, there was no shift in cost patterns that should've been alarming.
Speaking of the increased offering, it is worth mentioning why the increase of 44% in technology and content expense that represented the company's nearly 8% of total sales didn't surprise me. Amazon is expanding its universe of digital products and services, as well as its technology infrastructure in order to continue enhancing the customer experience and selling process efficiency. Since this was in line with the Amazon Prime service improvement plans, a likely increase in expense was already expected.
Gross margin improved 240 bps to 27.2%, but proved to be a poor measure of performance, since a majority of the improvements reflected service sales (sales representing third-party seller fees earned) growth. A better measure is income from operations, and it improved by 10%, reflecting the effective running of the company.
EPS turned positive from loss a year ago to $0.59. All in all, the year gave investors many things to be happy for: sales improved, whereas costs stayed within line, reflecting much of what was done for expansion purposes. Losses turned into profits, and with upcoming popularity of existing and new ventures, it is likely that such performance is going to extend towards the future.
The Future
Nine years to date, Amazon Prime still continues to grow
Last quarter, Amazon had a record-setting holiday season for Prime, with popularity growing so much that the company limited its new membership signups during peak periods in December. The annual membership program, with millions of members worldwide, allows customers to enjoy free shipping and other perks for just $79 per annum.
The company offers what it calls Instant Video, that allows users to watch videos online through their Prime subscription. I believe this will be a good return booster, as an analysis of the service reveals interesting facts. Firstly, Prime provides equally unlimited content across any number of devices, but has a totally different pricing structure than Netflix that is $16/month in terms of subscription. Since consumers benefit from free shipping on anything they purchase, the gross benefit realized by consumers is absolutely larger than the notional price.
Secondly, Amazon offers new releases that are significantly younger than Netflix. This provides an edge to the company through consumers who are eager to watch new releases. Comparisons over the internet have already started rating Amazon's new service as a better service than its rivals, such as Netflix.
Keeping the Fire Alive
To add value to the pre-established product, the company has been heavily investing ($1 billion per annum) into the entertainment side. Last year, Amazon increased its instant video selection from 33,000 to more than 40,000 movies and TV episodes. The company is currently in discussion with record labels under preparation to launch a music streaming competitor similar to Spotify.
Adding music to the current offering will also prove to be profitable. Additionally, it will justify the $20-$40 price hike, owing to rising fuel costs to its Prime subscription. This is because if individuals opt for all the services that come with Prime through exclusive sellers, they will end up paying a minimum of $200 per annum for all of their music and movie needs. This, of course, doesn't include the costs accrued through the free shipping Amazon's Prime offers.
With Prime offering all of the above for a price of $119, including free shipping, it seems to be a good deal that any savvy customer would opt for.
Bottom Line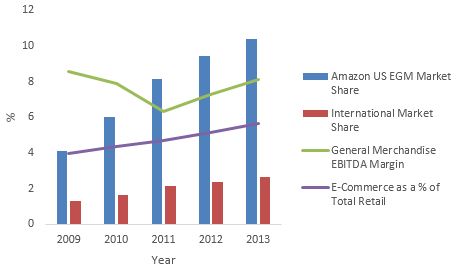 Source: Trefis
Amazon's market share and margin are rising (see graph above). Ebook readers using Kindles, and minute technical features that provide a subtle but important edge have played their role in bringing the company to where it is. With the improving quality of Prime, it is likely that consumers will be making Amazon their first choice. With this in mind, I have high hopes for the company's near-term profitability. Therefore , I recommend investors to include Amazon in their portfolios.
Disclosure: I have no positions in any stocks mentioned, and no plans to initiate any positions within the next 72 hours. I wrote this article myself, and it expresses my own opinions. I am not receiving compensation for it (other than from Seeking Alpha). I have no business relationship with any company whose stock is mentioned in this article.