Yahoo (YHOO) as a search engine company and as a tech business has floundered for years, never fully recovering from where it was during the dot-com 1990s. The driving seat it once owned was long ago taken away by Google (NASDAQ:GOOG), and since then Yahoo has been left with trying to attract interest and business through major partnerships. AT&T is one of the biggest and most obvious so far.
In 2013 Marissa Mayer took over as CEO, and the world expected a turnaround to have finally arrived for the beaten search engine company. Mayer's focus has been predominantly aimed at producing massive spikes and increases in Yahoo Internet traffic versus just relying on advertising revenue growth. The new traffic generation is then targeted for metrics and analysis with the hope of producing new information products and new revenue streams for the company. In short, Mayer's approach took a flailing company stuck in one aspect of the industry and re-engineered it to diversify, which looks very similar to how current operations run at Google and its information products built off of search engine results.
There is no question that the Yahoo is improved somewhat under Mayer's watch.
One just needs to look at its valuation in terms of stock history to see that a confidence build has definitely been established. Up until October 2012, Yahoo's stock value rarely crested over $15/share. As of March 2014, the value has now settled in just below $40/share, being more than a doubling of worth for investors who have benefited from Mayer's management. That said, stocks can often reflect sentiment only without any substance. So examining the accounting books gives a better picture.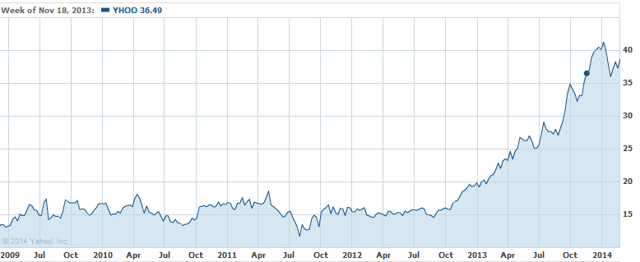 From a cash flow statement, improvement appeared early.
While overall cash flow may have dropped from 2010 levels of $6.3 billion to just below $5 billion, the net income summary after operating and business costs jumped from $1 billion up to $3.9 billion. In cash flow, that same figure expanded to $1.1 billion in cash available versus previous years of maybe $35 to $250 million being available for liquidity.
Yet the latest quarter releases, even though the company beat analyst expectations, have been signaling a slight pullback in confidence. This is the point where the honeymoon for Mayer comes to an end. She has ridden a very comfortable rise with the company and her new direction plans. However, eventually, those new ideas need to cement and produce long-term revenue growth when the short-term revenue spikes start to come to a close, as is the case in the last quarter.
Yahoo has a couple of options in front of it, but the company has previously focused too much on its history.
It will instead need to be far more creative under Mayer. Yahoo needs a change that makes it a household name again. For example, Apple (NASDAQ:AAPL) made a point to make its name synonymous with education. This was no mistake or simple chase for school-related sales. Apple was far more focused on the long term by getting its brand, product and name embedded with a number of generations. So when all those school kids who played on Apple computers grew up, they pushed Apple products farther along today. Google is trying to play the same game pattern with its Chromebook laptops.
Yahoo needs a catalyst function that will deliver long-term revenue boosts similar to what Apple is enjoying now. That may be in the form of a digital product or a tangible one. Whichever the case, the item needs to be a concept that people will use and function with daily. So far, Yahoo's directions have not hit this third rail. They dance around it, trying to monetize around the search engine core that made Yahoo famous in the first place, but nothing has hit the ball out of the park. Eventually, someone else comes out with a search engine tweak and duplicates Yahoo's current portfolio, making it just another commodity.
Some new ideas could involve finding a way to integrate the company's products with cars and GPS systems, for example. Playing with the idea of search and transportation, as well as the fact that most cars have a digital display and potential for broadband connections, Yahoo could marry a local search and mapping product with a car maker, leading the way for a fully Internet-ready car system. By locking up major car brands early, Yahoo would then have a diversified product that breaks the company's reliance on traditional computer search alone.
Again, Yahoo has to think smart and new. Mayer is the right CEO for the job, but she needs to crank out the idea cornucopia quick. Time is ticking. As an investment then, YHOO is a wait and see stock bet until something changes in its product formula.
Disclosure: I have no positions in any stocks mentioned, and no plans to initiate any positions within the next 72 hours. I wrote this article myself, and it expresses my own opinions. I am not receiving compensation for it (other than from Seeking Alpha). I have no business relationship with any company whose stock is mentioned in this article.