Editors' Note: This article covers a stock trading at less than $1 per share and/or with less than a $100 million market cap. Please be aware of the risks associated with these stocks. Emeco trades on the Australian exchange on the ticker EHL.AX, with $825K AUD daily volume.

Emeco Holdings (OTCPK:EOHDF) is world's largest independent mining equipment rental business. The company is listed on the Australian Securities Exchange and is mainly active in Australia, Canada and Chile. When commodity prices drop and miners reduce their activities, a rental company is the first in line to see utilization rates drop, and that is exactly what happened last year to Emeco. The company saw its average utilization drop from 86 percent in fiscal year 2012 (its year ends on 30 June) to 67 percent in 2013 and just 45 percent in the first half of 2014. Since then utilization rates have slightly improved and are now at 53%.
The dramatically lower utilization rates resulted in a very significant reduction in EBITDA, and this has put the company in a dicey situation because it also has a big debt load. Emeco came close to breaking its gearing covenant that required a gross debt/EBITDA ratio of less than 3.0x (later amended to 3.5x). With the debt covenant breathing in their neck, management has been aggressively deleveraging the company, reducing net debt from A$455 million at the end of CY 2012 to A$320 million today.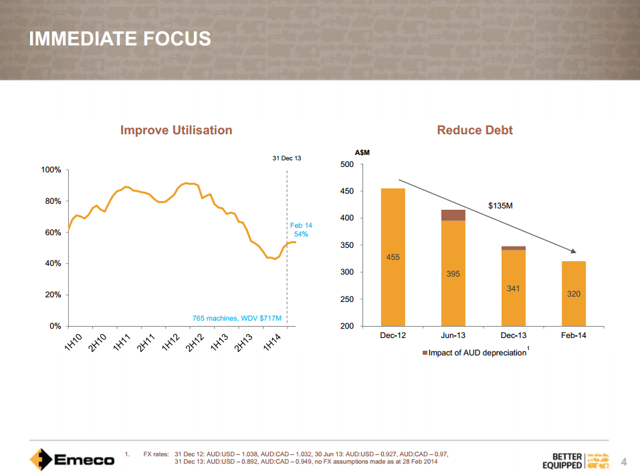 Asset value
Because Emeco is a rental company, the biggest part of the balance sheet consists of plant and equipment listed under non-current assets, but in reality this asset is pretty liquid since it consists of standard dump trucks, excavators, dozers and other equipment. Idle equipment can be separated from the business without impacting current contracts and cash flows. Its PP&E is not an indivisible industrial building that cannot be moved and can only be used for a single purpose. Mining equipment can be moved all over the world, and it can be used to extract a whole range of commodities from the ground. If we view its mining equipment as inventory, which I think is economically more correct, Emeco's adjusted balance sheet looked as follows at the end of December 2013. Note that I also netted some derivative assets and liabilities to simplify the picture.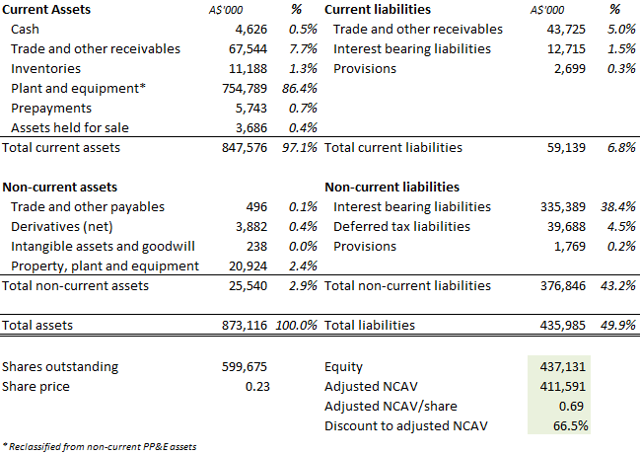 As is visible, its mining equipment accounts for almost all its assets on the balance sheet while the same can be said about its debt on the liabilities side of the equation. So valuing Emeco really comes down to one question: how much is its mining equipment worth? If it is worth close to book value, the upside could be considerable. The company is currently trading at a 67% discount to adjusted net current asset value, implying a possible 200% upside if the assets are indeed worth book value.
While this would be wonderful, this is probably not what the company is worth today. Because Emeco has been selling a lot of equipment historically, we can track how much its idle equipment has been worth compared to book value. While the company managed to sell its equipment at a small profit in FY 2013, it had to offer a discount in the first half of 2014.

In the conference call discussing the latest results, the CEO talks about selling some equipment for even bigger discounts to book: ranging from 22 percent to 28 percent. While I believe Emeco would still be undervalued if all its equipment would be worth 70% of book value, the latest sales prices are probably not indicative of the value of its complete fleet. Emeco's utilization of its Indonesian segment dropped from a cliff in 2013, and has remained literally near zero percent since (it's probable that the company will close down the entire segment). While mining equipment can be used worldwide - Emeco has in fact moved equipment from Indonesia to Chile - it takes time and money to ship it, so it makes sense that the company is willing to take a bigger discount for this equipment. It reduced the size of the Indonesian fleet from A$108 million to A$81 million in the first half of 2014, so that accounts for 80% of all asset disposals in this period. In the first two months of the second half of fiscal year 2014, it has increased the speed of the asset disposals and sold equipment worth A$35.1 million. This number included another A$25 million of sales from the Indonesian segment.
Since the ability to turn idle equipment into cash is a crucial part of the thesis for Emeco, it is reassuring that the CEO indicated on the latest conference call that he thought that the company would be able to sell between A$90 and A$100 million of equipment in the second half of FY 2014 if required. This would require the same kind of speed in liquidations as in the first two months of the second half of FY 2014, and with a number of sizable deals already lined up, that sounds plausible.
Debt refinancing
Shortly after the publication of the interim results, the company also announced its intention to refinance its debt by offering US$360 million in senior secured notes and by establishing an A$75 million revolving credit facility. The debt offering isn't completed yet, but Emeco has already received a B+/B1 credit rating, so I doubt that this will be problematic. It will probably need to start paying more than its current 4.5% interest rate, but presumably this debt will give management more breathing room to right size the rental fleet. Its current average debt maturity is 4 years, so the only reason to refinance is to get less restrictive covenants.
Valuation
If we take adjusted net current asset value as a proxy for liquidation value, Emeco is worth A$0.31/share when we discount the book value of the equipment by 30%, and it's worth A$0.43/share if we use a 20% discount. This would imply an upside between 34% and 89% in a liquidation scenario. I see the 20% discount as the base-case scenario.
Since liquidation value is one of the most pessimistic valuation approaches possible, the intrinsic value of Emeco is most likely higher. The equipment is worth more if the company can successfully rent it out: a quick glance at the historical results show that this business can be a cash printing machine. With almost 50% of its fleet idle right now, the other 50% is generating solid cash flows. After a tough first half of 2014, the company is expecting that things will improve in the second half of the fiscal year. In the first half, Emeco generated A$33.1 million of EBITDA while the guidance for the full year is between A$82 million and A$94 million. That means that EBITDA could almost double in the second half of the year.
The following slide, showing how much free cash flow after maintenance capex Emeco has been able to generate historically, should give some idea about the potential of the business: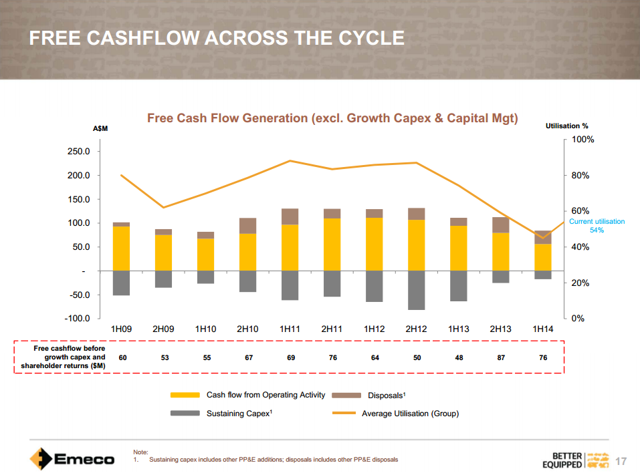 Conclusion
Emeco looks ugly: a highly cyclical company at the bottom of the cycle with a lot of financial leverage thrown in to make things even worse. But because its idle equipment can be sold without impacting the remainder of the business, Emeco is in a good position to deleverage and wait for better times, or simply shrink the rental fleet to match the new reality. If the cycle turns, there could be a lot of upside, but if things stay as they are, the upside could also be big. The company could simply shrink and still be worth a lot more than the market is giving it credit for, and thanks to the upcoming debt refinancing, Emeco should have some breathing room if things don't exactly go as planned.
Disclosure: I am long EOHDF. I wrote this article myself, and it expresses my own opinions. I am not receiving compensation for it (other than from Seeking Alpha). I have no business relationship with any company whose stock is mentioned in this article.
Additional disclosure: I'm long Emeco Holdings through EHL.AX