The future of telecommunication companies are bright. The following article focuses on Liberty Global as a business which has yet to tap upon its growth potential. Much of the information derived are conclusions based of various SEC filings as well as official sources from Liberty Global.
The first part addresses the growing competitive moats in which leading telecommunication providers operate. The second part addresses the avenues in which Liberty Global is positioned to tap aggressive growth. The third part addresses shake-ups in which the Liberty Global may face in future. The forth wraps up conclusions.
The Competitive Moat
1. Regulation
"In April 2010, Ziggo 4 BV, a joint venture between UPC Netherlands and Ziggo BV (the largest cable operator in the Netherlands), acquired licenses in the 2.6 GHz spectrum band. This band is suited for long-term evolution wireless service, the next generation of ultra high-speed mobile data (LTE)."
Telecommunications for any country are positioned as a potential risk to national security. As such, commercial telecommunications are subjected to heavy regulation. It is common for telecommunication providers to secure licenses to establish spectrum bands as quoted from the above SEC filing. Such procurement of licenses are commonly limited to one or two providers per country. Securing the licenses are one of the keys in order to remain competitive in the country. As the demand for faster broadband speeds increase, telecommunication companies who have existing infrastructure to improve and build upon will more than likely succeed in catering to the increasing needs of consumers.
An excerpt from Liberty Global's SEC filing states;
"Regulation could limit growth, revenue and the number and types of services offered and could lead to increased operating costs and capital expenditures. In addition, regulation may restrict our operations and subject them to further competitive pressure, including pricing restrictions, interconnect and other access obligations, and restrictions or controls on content. Failure to comply with current or future regulation could expose our businesses to penalties."
While the above is true, it applies to its competitors as well. While it is possible to compete with a telecommunications leader, new entrants are faced with increasing regulatory standards that often stops them from competing.
2. High Cost of Entry
There are two primary ways in which new entrants can enter the telecommunications sector. Buyouts and building from scratch.
Looking back in 2005, Liberty Global has made significant strides in acquiring telecommunication networks across Europe. As such, their strategy of growing market share is similar to what Comcast did from 1990-2000 (and ongoing).
"Based on research of various telecommunication publications, including the Organization for Economic Cooperation and Development, and internal estimates, approximately 51%, 31% and 46% of our operations in Hungary, Romania and Slovakia, respectively, are overbuilt by other cable providers. In Poland, approximately 41% of our operations are overbuilt by other cable providers."
While purchasing and acquiring companies may be one attractive way to grow market share, the above excerpt gives insight on emerging markets in Europe. While acquisitions may make sense in high barrier countries, the countries listed above have infrastructure that are overbuilt and under utilized. Much credit must be given to Liberty Global to acquire networks that are actively used instead of under utilized.
To develop new infrastructure that caters towards a big market share of a nation's use requires much regulatory bidding cost as well as processes which may take years to bear fruit. In most cases, it's more cost effective for telecommunication companies to expand by buying existing companies. The cost of entry in this factor isn't limited towards the bare basic raw materials required to build infrastructure. But rather, it includes the amount of time needed in order to establish a firm foot print in the nation.
3. Cost of Talent
Liberty Global boasts a total workforce of 22,000 employees (2012). Telecommunication expertise, engineering, training and development costs are an increasing expense which most telecommunication companies bear on a yearly basis.
New entrants entering the market are faced with a high barrier in finding talent to operate and maintain infrastructure. Often, a series of poaching would be non cost efficient as it affects profits for the business. In a market which has commodity like features, it is often the number one or two entrants which take the majority of the profits. New entrants are faced with high investment costs of finding and training talent, one which may prove challenging when operations require over 1,000 people to operate effectively.
The Strategy to Win
1. Monopoly Share Per Country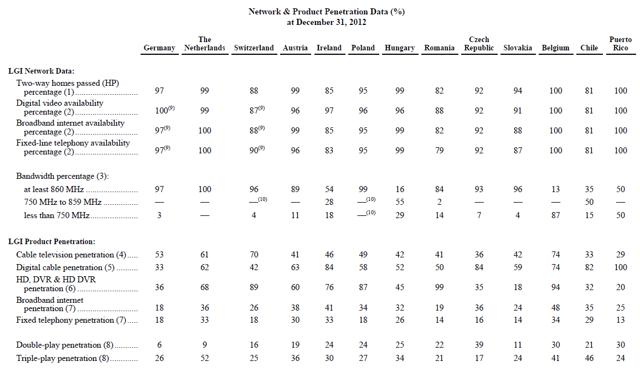 From the above, Liberty Media has control over the bare basics of all 13 countries in Europe. Bare basics includes LGI Network Data. Your author believes that this is a significant competitive advantage with regards to future development of the information age. While the content and hardware will change, the likelihood that the "railway-tracks" of information will be subjected to a change of providers.
The opportunities or growth in capturing market share can be seen in the above table as well. As of 2012, the Product penetration for Liberty Global has yet to reach monopolistic features. The following excerpts below summarizes each country's operations.
Germany Unitymedia KabelBW
"two-thirds of Unitymedia KabelBW's video customers are in multiple dwelling units"

"agreements allow Unitymedia KabelBW to offer its digital video, broadband internet and telephony services directly to the tenant."

"Second largest cable television provider in Germany"
The Netherlands UPC Netherlands
"We are the second largest cable television provider in the Netherlands"
Switzerland UPC Switzerland
"We are the largest cable television provider in Switzerland"
Austria - UPC Austria
"largest cable television provider"
Ireland - UPC Ireland
"sole provider of video cable services in Ireland"
Hungary (UPC Hungary)
"video cable service is available to approximately 38% of the television households in Hungary"
Poland (UPC Poland)
"largest cable television provider in Poland"
Czech Republic (UPC Czech)(49% of market share)
Slovakia (UPC Slovakia) (34% of market share)
Romania (UPC Romania) (11% of market share)
Chile (UPC Chile)
"largest cable television provider"
Liberty Puerto Rico - Puerto Rico
"largest cable television provider"
Telenet - Belgium
"it serves approximately 46% of the total television Market"

"Upon completion of the LGI Telenet Tender on February 1, 2013, we owned 58.4% of Telenet's outstanding ordinary shares"

"Telenet Tecteo Bidco, a partnership between Telenet and the Tecteo SCRL (the second largest cable provider"in Belgium operating in the Walloon region), acquired mobile spectrum licenses in the 2.1 GHz spectrum band"

"Under the terms of the licenses, it must meet coverage obligations of 30% in July 2014, 40% in July 2015 and 50% in July 2016"
It is with great evidence that Liberty Global remains dominant in the cable television markets. The following discussion will tie upon the leverage in which Liberty Global is positioned to generate growth.
Diversified Telecommunication
Telephony and Mobile Services, Broadband Internet and Programming Services comprise of the remaining three quadruple plays which most diversified telecommunications companies use. While their dominance in television networks was described in the first factor, Liberty Global has yet to tap into the other services as dominantly.
"Telenet offers video, broadband internet and fixed and mobile telephony services (quadruple play) in Belgium"
"In September 2012 and January 2013, we launched Horizon TV in the Netherlands and Switzerland, respectively. Horizon TV is a family of media products that allows customers to view and share content across the television, computer, tablet and smartphone. Horizon TV is powered by a user interface that provides customers a seamless intuitive way to access linear, timeshifted, on-demand and web-based content on the television. It also features an advanced set-top box that delivers not only video, but also internet and voice connections along with a wireless network for the home. For our Horizon TV customers, we also offer applications for various services. We intend to expand the availability of Horizon TV to other markets within our footprint, with launches planned in Ireland and Germany during 2013 and in certain additional markets during 2014 and 2015."
There lies a big opportunity for Liberty Global to capitalize upon their dominance in television subscribers. Often, consumers are inclined to stick with one provider instead of diversifying services. Majority of Liberty Global's competitors in the various countries are commonly incumbent players. Liberty Global remains a competitive private sector player in diversified communications across Europe.
Addressing Possible Shake-ups
1. Technological Replacements
Messaging system Whatsapp replaced the feature of short messages in telecommunications. It is not wild to speculate that there might be replacements for mobile transmissions.
However, as history suggests;
"Radio waves were first predicted by mathematical work done in 1867 by Scottish mathematical physicist James Clerk Maxwell. In 1887, Heinrich Hertz demonstrated the reality of Maxwell's electromagnetic waves by experimentally generating radio waves in his laboratory. Many inventions followed, making the use of radio waves to transfer information through space."
Radio waves have been discovered, utilized and efficiently improved in the past 130 years. Despite the vast improvements of technology, there is little change in regards to the fundamentals of Radiowaves that exists in nature. Telecommunication infrastructure can be likened to a railroad. Discovered early, it was only in recent times whereby infrastructure has attained a level of efficiency to attain profitability for shareholders and investors.
2. Leverage
"Our substantial leverage could limit our ability to obtain additional financing and have other adverse effects. We seek to maintain our debt at levels that provide for attractive equity returns without assuming undue risk."
As of 2014, Liberty Global's asset/equity ratio stands at 5.64 to put things into perspective, Comcast's asset/equity ratio stands at 3.13.
Debt has it's double-edged sword characteristics. Often, it amplifies both strengths and weaknesses. Management will need to pay close attention to the debt on the balance sheets as they might overextend themselves during periods of cash crunches.
Conclusion
Your author believes that the above combinations of risk and return possibilities give a compelling reason for readers and investors to dwell further into the potential of Liberty Global.
As a last segment, your author draws attention to the shareholder-friendly approach of Liberty Global. The letters in which the current CEO writes are filled with compelling insights of vision and clarity that make Liberty Global great. Liberty Global as of recent, is selling at a market price of $24.5b. In perspective, Comcast is offered at a rate of $135.8b. While the borders of Europe may prove challenging for Liberty Global as opposed to Comcast, the management team led by John Malone and Michael Fries may pave way for great prospects in future. In their words,
"We remain focused on executing our value creation strategy: superior organic growth,opportunistic and accretive M&A, and a commitment to drive equity returns through the use of appropriate leverage and aggressive share repurchases."
Your author welcomes all comments, agreeing and disagreeing with statements made above.
Disclosure: I am long LBTYA. I wrote this article myself, and it expresses my own opinions. I am not receiving compensation for it (other than from Seeking Alpha). I have no business relationship with any company whose stock is mentioned in this article.