I have to admit I was fairly skeptical about LinkedIn (LNKD) when I created my first LinkedIn account, but then I realized that the growth potential in its employment solutions is beyond what I had originally anticipated. In fact, I think I caught a glimpse of what could be a phenomenal investment opportunity.
Shortage of talent
Currently, global CEOs are looking to hire more employees and are worried about the methods for attracting the right group of employees to drive the success of an organization.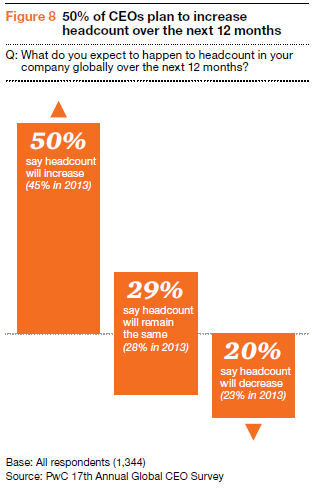 At the present moment, 50% of global CEOs anticipate an increase in head count, which puts LinkedIn investors in a very strong position to capitalize on the growing demand for employment related solutions. In LinkedIn's Q4 2013 earnings release, the company was able to report 53% year-over-year sales growth in its Talent Solutions segment.
And according to PricewaterhouseCoopers, "70% of US CEOs are concerned about the availability of skills, and 62% plan to hire in 2014." This bodes extremely well for LinkedIn's domestic operation in the United States as it has been able to grow by 43% year-over-year in the most recent quarter.
Membership growth in the United States has slowed, but I think that LinkedIn should be able to address this shortfall by increasing the pricing on its employment solutions services, and identifying smaller companies that need a better database for identifying and hiring the right kind of employees for their respective organizations.
Currently, LinkedIn is 21.18% off of its 52-week high, which indicates that this could be a classic buy the dip moment, assuming momentum is sustainable, and the company is able to deliver guidance in future quarters that can exceed analyst expectations.
Super cyclical trend working in your favor
Currently, LinkedIn offers a fairly reasonable demographic for employers to take advantage of. At least according to PricewaterhouseCoopers:
Swiss food giant Nestlé is one firm that has seized the initiative. Worried by the prospect that up to 15% of the 93,000 employees in Europe will retire by 2024, as graying baby boomers leave the workplace, the company has launched a drive to recruit 20,000 young workers. Over the next three years, Nestlé hopes to hire 10,000 people under the age of 30.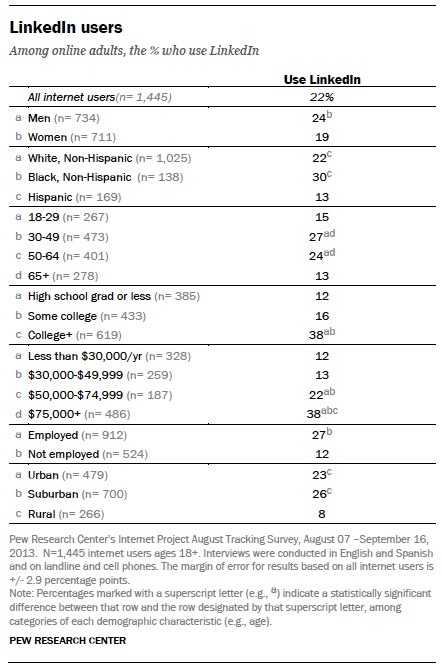 It just so happens that at LinkedIn 18.4% of users belong to the under 30 age demographic on its website. In the most recent quarter LinkedIn reports that it has 276.8 million users, and assuming the demographic data from the Pew Research Center is accurate, LinkedIn has 51.29 million potential employees that companies are looking for. Also 26.64% of LinkedIn users belong in the high school grad or less demographic, which is another 73.73 million potential candidates for the next ten-years assuming baby boomers continue to leave the workforce at an accelerated rate. This gives me reasonable assurance that LinkedIn should be able to sustain ten-years of sales and earnings growth.
As massive shifts in demographics occur, the amount of frictional unemployment will actually increase. This increase in frictional unemployment comes from older employees leaving and retiring from the workforce. A massive supply shift for those who currently attend high school and university over the next ten years is likely to occur. This gives investors a great opportunity to buy into the business before the demand for employment solutions suddenly skyrockets. I couldn't give an exact estimate on how the elasticity of demand will actually work out 10 years into the future. But I don't think it's impossible to imagine increases in pricing as employers become more and more dependent on unique ways for hiring younger and younger employees.
Conclusion
LinkedIn has continued to grow its user base, and as a result has become more and more valuable for employers looking to hire prospective employees. However, with a massive shift in employment demographics coming, I think the dependency on this database will rise significantly by the end of the decade.
LinkedIn has a significant durable advantage to mitigate competitive factors as it has reached extreme economies of scale. Going forward, young workers will need this service in order to find the best job possible given whatever unique skill set they have. Employers will need this service to find the best possible candidate given the limited economic resources they have. The only company that can accomplish this strategic business objective on both ends successfully is LinkedIn.com.
Currently, the Talent Solutions segment represents 56% of LinkedIn's current revenue, and it is the fastest growing segment in the company. I don't think this will change any time soon, and I expect this segment to represent the vast majority of the upside going forward. Therefore, LinkedIn is a buy opportunity for those who have the patience to deal with volatility, and are able to align themselves with the company's long-term vision.
Disclosure: I have no positions in any stocks mentioned, and no plans to initiate any positions within the next 72 hours. I wrote this article myself, and it expresses my own opinions. I am not receiving compensation for it (other than from Seeking Alpha). I have no business relationship with any company whose stock is mentioned in this article.