By Taras Berezowsky
Every single gold, silver, platinum and palladium price point tracked by our monthly Global Precious Metals MMI rose over the month of February, pushing the index to a value of 96 for March's reading, an increase of 5.5 percent from 91 in February.
The precious metal price index is now in a steep uptrend, relative to the last time it bounced back in November 2013: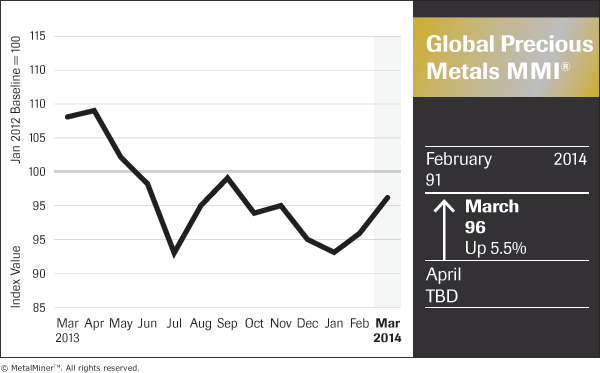 However, as far as a few metals are concerned - gold and platinum, for example - we're not sure how sustainable their rises really are. Let's begin with gold.
Gold In A Falling Market
As our internal forecasting team reasoned recently, the price of gold - which has risen more than 11 percent so far this year - is almost entirely dependent on psychology and the factors that drive psychology, such as inflation and the dollar, rather than true supply and demand fundamentals. Despite events such as the Ukraine crisis, the recent increase in gold prices still needs to prove real strength.
Despite the recent increase in gold prices, gold remains in a falling market. Gold prices are about to meet resistance at $1,375 per ounce, and rising above that level will be a bullish signal that buyers might want to consider. (They're almost there, hitting the $1,350 mark recently).
Do Platinum Mining Strikes Matter?
Part of the reason for the South African miners' strikes having limited impact on platinum prices could be because physical supply remains steady. Standard Bank estimates from Swiss and UK customs data that producer inventory in London and Zurich vaults might be around three months' worth of production. Inventory deliveries into Zurich and London have been stepped up since summer of last year, as producers probably saw this situation coming.
As a result, the bank judges that the current strikes, and the possible price movement, have a finite period before producers need to go to the market to buy metal to honor existing off-take agreements.
What This Means for Metal Buyers
Keep an eye on these two metal groups going forward to see if the precious metals index will keep rising.
Key Price Drivers of Precious Metals Index
The price of US silver rose 11.1 percent after falling the previous month. The price of Japanese silver rose 10.0 percent after also falling the previous month. The price of Chinese gold bullion jumped 8.3 percent last month. The price of US gold bullion finished the month 7.3 percent higher.

The price of US palladium bars rose 5.6 percent. The price of Japanese platinum bar prices rose 4.9 percent. The price of US platinum bar rose 4.6 percent. The price of Chinese platinum bar closed the month up 4.1 percent. After dropping the previous month, the price of Japanese palladium bar prices rose 4.0 percent. For the second month in a row, the price of Chinese palladium bar increased, rising 1.8 percent over the past month.