This article on Plug Power (NASDAQ:PLUG) begins with a little anecdote from the annals of alternative energy.
In 2006, solar stocks vaulted from obscurity to the forefront of traders' and investors' awareness. The leading solar, SunPower (NASDAQ:SPWR), rose from $25 in 2006 to $160 in 2007, before falling precipitously to $4 by 2012.
Was it a good company with a great product? Yes. Was the potential there for a paradigm shift in Americans' energy usage? Yes. But it took another 5 years before the cost of solar came down enough - became compelling enough - for widespread residential use.
I have been pricing rooftop solar installations for many years, and this was the first year I could justify one, because the financing cost was finally cheaper than my electric bill. It would pay for itself in 6 years (2014-2020). The value proposition was obvious.
Solar technology might never have risen to where it is today if it hadn't been for the commodity spikes of the last decade. The recent surprise yields of fracking have created a bonanza of nat gas, enough to power the United States for a 100 years, and it could directly compete with the current pace of solar adoption in the future.
The point of this digression is that the inflection point of adopting a new technology comes when the pro-rated cost of owning and operating it is cheaper than a previous alternative.
Ford Motor Co. figured that out when their new Eco-boost injected engines could bring more power - with better gas mileage - and cost $4,000 less to build - than their existing hybrid SUVs.
A buyer would have to own a hybrid 7-10 years to justify the higher cost of that car over a conventional high-mileage car. It's as if all the benefit is paid for up-front. Electric cars from Nissan, Chevy, and others are great ideas once you buy the $2,000 garage charging-station, receive a rebate from the local energy company to charge at midnight at dirt cheap rates, and power up.
But the net savings over traditional gas-powered cars (that become more fuel efficient with each passing year)? Maybe 50 cents to a buck a gallon equivalent. But electric cars can cost $7,000+ more than an "ordinary car", so the comparable net savings car to car is closer to zero.
This leads me to a few common sense queries concerning PLUG.
It was worth $130/share in 2002; $105/share in 2004; $80 in 2005; $70 in 2006; $30 in 2007; $8 in 2008; $7 in 2009; $4 in 2010; $2 in 2011; $1 in 2012; and 15 cents in 2013.
If the technology was so compelling - and could be had for pennies on the dollar - and potential WalMart (NYSE:WMT), FedEx (NYSE:FDX), and Kroger (NYSE:KR) warehouses were waiting in the wings - why is it that no large player in the equipment business saw this opportunity and bought a piece of PLUG in a joint venture?
Why didn't one of the big equipment makers - Cummins (NYSE:CMI), Komatsu (OTCPK:KMTUY), Caterpillar (NYSE:CAT), John Deere (NYSE:DE) buy it out for a song?
A bank did not step forward. No hedge fund. The company was on the verge of being de-listed. In a market wildly looking for the next new thing - ANYTHING that could quickly turn a buck - Plug Power was financially invisible to a suitor.
Why? Because the numbers didn't add up. It didn't pencil out. The Industry felt it was still too expensive for what they'd have to pay for it, for what customers would pay for it.
This sentiment was expressed by three university researchers in an unbiased comparison study written in 2012. Their abstract and conclusions are listed below, including the web-link to the original article.
(See: Economic comparison of fuel cell powered forklifts to battery powered forklifts, by Jacob V. Renquist, Brian Dickman, Thomas H. Bradley, Dept. of Mechanical Engineering, Colorado State Univesity, Fort Collins, CO.
Article from "The International Journal of Hydrogen Energy 37 (2012) 12054-12059"; Published online July 13, 2012 by Hydrogen Energy Publications, LLC, Elsevier Ltd.)
Abstract

"This paper presents an economic comparison of fuel cell powered forklifts to various types of battery-powered forklifts. The total costs of ownership of each technology is calculated and compared over their economic lifetimes and at varying workloads to determine the economic costs or benefits associated with each technology. The study is novel compared to the previous literature in that all data sources are referenced, it includes a model that is scalable by facility workload, and it includes the economic costs of hydrogen storage and charging infrastructure.

"Results show that fuel cell forklifts are more expensive to purchase and operate than battery powered forklifts for the types of facilities considered in this analysis. Fast charge forklifts are shown to be economically advantaged at high workloads relative to conventional to conventional battery-swapping forklifts."

Conclusions

"Analysis of the project NPC (Net Present Cost) per unit of workload shows that fuel cell forklifts cannot compete with battery technologies on an economic basis for the workloads and facility types considered.

"For low workloads, conventional battery swapping forklifts allow for the lowest project NPC. At higher workloads, fast charge forklifts have the lowest project NPC because they require less battery changing infrastructure and space.

"These quantitative results agreed with the qualitative understanding of the fuel cell forklift industry based on interviews conducted for this research.

"In general, fuel cell forklifts were considered most commercially viable at materials handling facilities that had extraordinary costs of facility space, labor, and electricity. These outlier facilities might be physically unable to expand a battery room with increasing workload, located in geographic areas with high prevailing wages, and are subject to high electricity peak demand prices. These types of facilities should perform the type of economic analysis described in this report using their particular valuations of these key costs."
++++++++++++++
What, then, is creating the violent price surges in Plug Power? It's wildcatting; momentum-investing, piling-on, and siren-chasing. PLUG traded at $3.50/share last Monday, $4.50 on Wednesday (Friday too), then $7 yesterday.
In the last 4 days, Plug has exchanged 310 ML shares: 3.5x its entire available float. Short sellers have sharked up 39% of the company's stock, thinking a bust might be in the making.
As you can see from this 5-year chart below, PLUG has been here before. It is the King of the three-month wonders; and each one before this one was a round trip.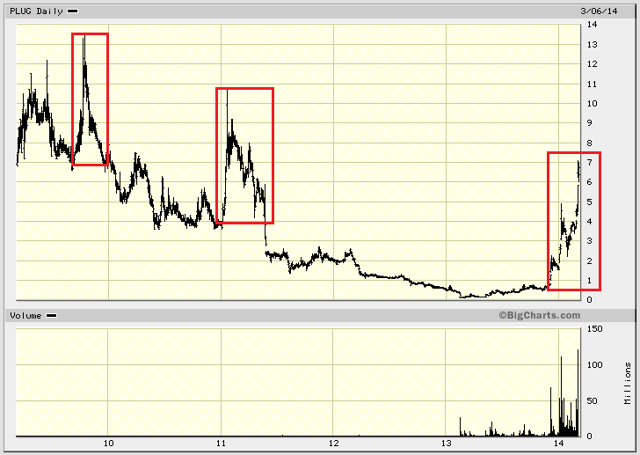 The next set of charts shows the remarkable price action leading up to - and including - the final red rectangle above.
March - November, 2013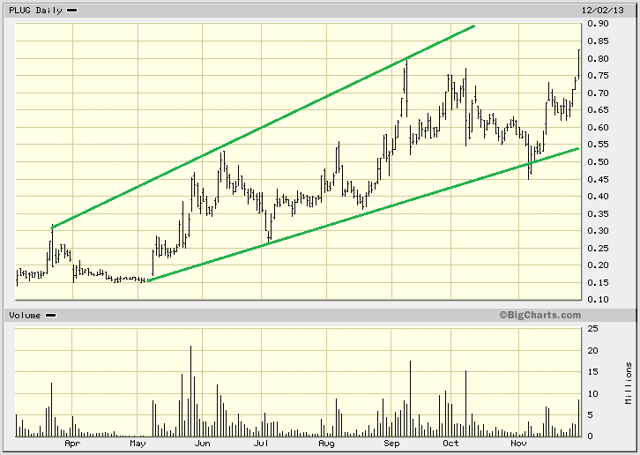 December 2013 - March 6, 2014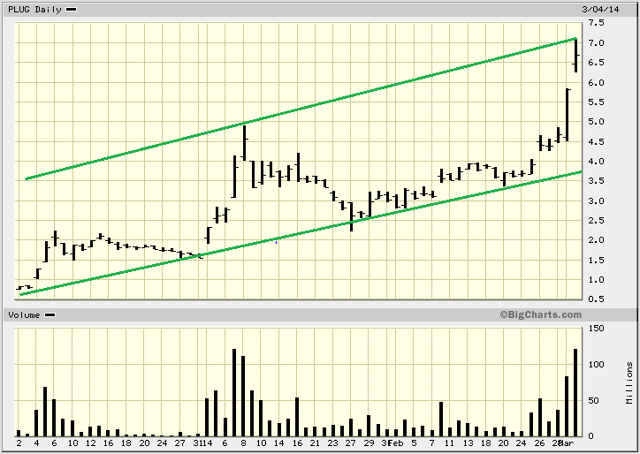 The same information is presented in table form below. Plug Power has risen in 5 successive parabolas since May 6, 2013 (10 months), netting 4,600%.
| | | | | | | |
| --- | --- | --- | --- | --- | --- | --- |
| Date | Price | Date | Price | $ | % | Days |
| May 6, 2013 | $0.15 | June 11, 2013 | $0.51 | +$0.36 | + 240% | 24 |
| June 11, 2013 | $0.51 | July 3, 2013 | $0.28 | -$0.23 | - 45% | 16 |
| July 3, 2013 | $0.28 | Sept. 9, 2013 | $0.76 | +$0.48 | +171% | 48 |
| Sept. 9, 2013 | $0.76 | Nov. 6, 2013 | $0.45 | -$0.31 | -41% | 43 |
| Nov. 6, 2013 | $0.45 | Dec. 6, 2013 | $2.25 | +$1.80 | +300% | 23 |
| Dec. 6, 2013 | $2.25 | Dec. 31, 2013 | $1.55 | -$0.70 | -31% | 16 |
| Dec. 31, 2013 | $1.55 | Jan. 8, 2014 | $4.55 | + $3.00 | +194% | 5 |
| Jan. 8, 2014 | $4.55 | Jan. 27, 2014 | $2.61 | -$1.94 | -43% | 12 |
| Jan. 27, 2014 | $2.61 | Mar. 4, 2014 | $7.09 | +$4.48 | +172% | 25 |
| | | Short side - | $3.18 | | | |
| | | Long side + | $10.12 | | | |
| | | | | | | |
Because I lived through the dotcom bust 15 years ago and was an active day trader back then, the price action in PLUG is unmistakable to me. It's parabola-chasing justified by pie-in-the-sky assessments of the future. Just substitute fuel cells for Internet eyeball-clicks (circa 1999), and the emotion behind the price momentum is clear.
The final kicker for me was when the analyst from Cowen and Co., Rob Stone, plugged the PLUG a couple of days before his brokerage underwrote a $22.4 ML secondary offering for the same. PLUG jumped 18% after his commentary on March 3, 2014.
That seemed like a conflict of interest to me, reminscent of the 1990s, when analyst comments moved stocks around like pinballs. (See "Plug Power down after Share Offering." by Claudia Assis, MarketWatch, Wall Street Journal, 06 Mar. 2014, Web).
I'd like to conclude this article with a companion chart of Ballard Power Systems (NASDAQ:BLDP). It shows just how far and how quickly this fuel-cell mania has run. At the end of the day, investors must decide for themselves whether ambulance-chasing is what they want to throw money at. When parabolas like this chart crack, the fall can be precipitous and painful.
Ballard Power Systems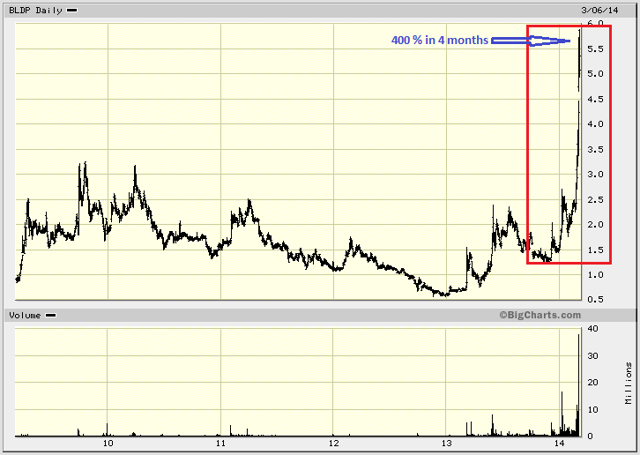 Disclosure: I am long BRP, WMC, NLY, RUSL. I wrote this article myself, and it expresses my own opinions. I am not receiving compensation for it (other than from Seeking Alpha). I have no business relationship with any company whose stock is mentioned in this article.