The Dogs of the Dow theory presumes that investing in the 10 Dow Industrial components that enter a calendar year with the highest yields is a prudent investing strategy. In particular, the strategy presumes these Dogs are likely laggards that might provide capital appreciation, and that the dividends will provide above-average income streams. Further, the investments are likely to be in relatively large, stable businesses.
Another variation of this method is known as the Small Dogs of the Dow. The small dogs would be the 5 highest-yielding DJIA components. Some people may consider them the big dogs, if measuring them by the size of their yield and not the pack number.
So far, 2014 has been volatile, year for equities, and though the market has continued to pushed upwards through this increased volatility, it appears probable that the broad market's value at risk is less appealing that previously. To the extent that this may be true, large and established businesses should be expected to outperform smaller ones, as well as the market as a whole.
This likelihood of 2014 outperformance for large-caps is especially the case for recent laggards that have large and growing dividends. In 2013, many income-oriented investments substantially underperformed the market as investors fled investments with significant interest rate risk. Many equities that are utilized as income substitutes sold off as rates began to increase in the second half of 2013, but most of these equities do increase their dividends over time, which is hard to price into the equity.
While it is certainly the case that rates may soon begin to increase again, some of those potential increases may already be priced into equities that are used as income substitutes. Nonetheless, it is also possible that these income substitutes were significantly overvalued and still are, in which case it is possible that they should be avoided in spite of their yield and perceived safety.
Below is a look the five highest yielding Dow components as of the start of 2014.
AT&T (NYSE:T)
AT&T has been a dog for several years, and the highest yielding dog for about as long. Shares have declined by about 8.5% since the start of 2014. Based on its current price, shares yield 5.7%. If shares can merely return to their price at the start of 2014, a new investor would have around a 15% return. See a recent performance chart for T (source: Finviz):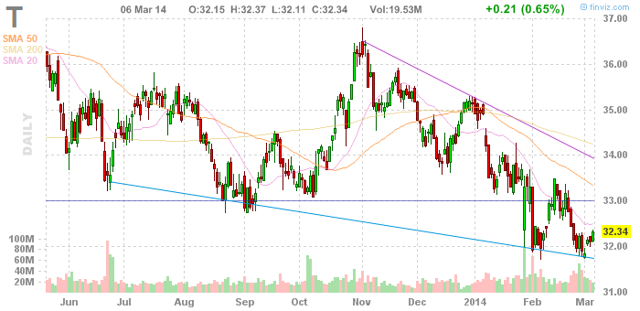 Verizon Communications (NYSE:VZ)
Like T, Verizon is a long-time dog and the two are usually the highest yielding members of the pack. The present yield is around 4.5%, which is substantially lower that T's. This lower yield may have contributed to its better recent performance, as it poses a reduced rate of interest rate risk, though its consolidation of its ownership of the Verizon Wireless subsidiary may have also contributed. See a recent performance chart for VZ (source: Finviz):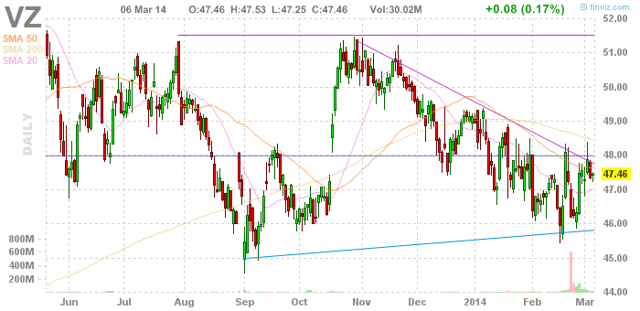 Merck (NYSE:MRK)
Unlike the two telecoms above it in yield, Merck has performed extraordinarily well so far this year. Thus far in 2014, shares have appreciated by over 14 percent and currently yield just over 3 percent. This recent strength appears due to the company's recent enhanced push into oncology treatments as well as its announced intention to shop around its portfolio of consumer brands, such as Coppertone sun screen and Claritin allergy pills. These brands are expected to sell for around $10 billion and would allow for either a significant special dividend or substantial fortification of MRK's financial position. See a recent performance chart for MRK (source: Finviz):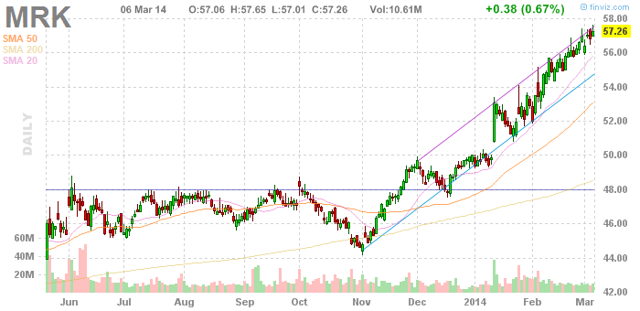 Intel (NASDAQ:INTC)
Intel entered 2014 as the highest yielding technology stock in the Dow, and has since declined by about 5.6 percent. It currently yields around 3.7 percent. The company has remained range-bound for years, as trends in computer sales suffered declines in the face of smartphone and tablet adoption. The company hopes to take market share in these new markets, but may be required to do so through the expensive acquisition of a competitor. See a recent performance chart for INTC (source: Finviz):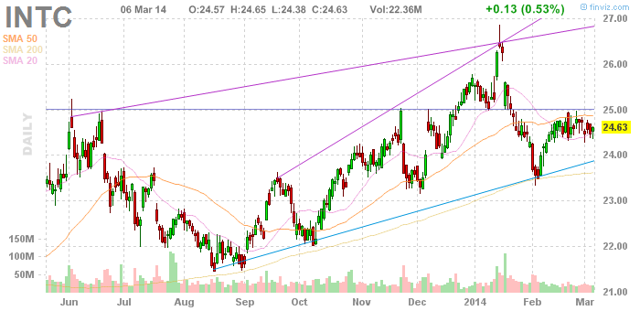 Pfizer (NYSE:PFE)
Like MRK, Pfizer has appreciated this far in 2014, and is up about 7.5% since the start of the year. Some of the recent strength is likely due to the company's proposed plans to offer Lipitor in an over-the-counter form, as well as recent positive phase 3 trial results for dacomitinib, a proposed treatment for non-small cell lung cancer. See a recent performance chart for PFE (source: Finviz):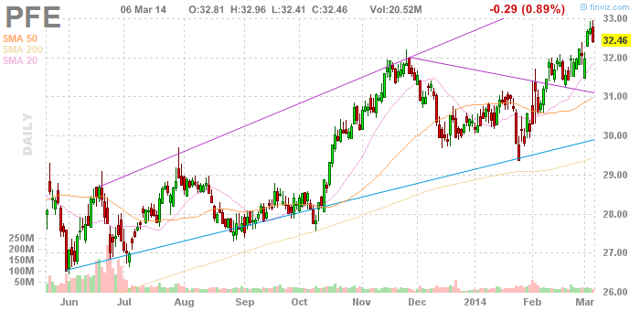 It appears that, like the broader market, these companies are somewhat richly valued and that there is some risk of declines in the event of a market correction. It must also be noted that these five companies do not make a diversified portfolio, as two of the five are major telecoms and two are big pharmaceutical manufacturers.
Further, both MRK and PFE have outperformed the market over the last couple of months and may soon plateau or decline. Nonetheless, the sizable yields do provide some potential for either outsized returns or the ability to withstand a short-term market correction due to the cash-flow provided to the investors.
One other benefit to these companies and dogs generally is that they are highly familiar to American consumers, and it is relatively easy to obtain news and information on them. Still, it would appear the more logical approach would be to refrain from acquiring or increasing positions here, and instead waiting for a potential opportunity if the market does correct.
Disclosure: I am long INTC. I wrote this article myself, and it expresses my own opinions. I am not receiving compensation for it (other than from Seeking Alpha). I have no business relationship with any company whose stock is mentioned in this article.
Additional disclosure: I have one share of INTC.