With the economic revolution three-dimensional printing technology presents to the world, investors are asking the more tangible question about major industry player, 3D Systems (NYSE:DDD). Is their stock a good buy or sell in 2014?
3D Systems multiple strengths in Q4 2013
The company improved earnings per share 6.3% in the 4th quarter 2013 over the same quarter a year previous.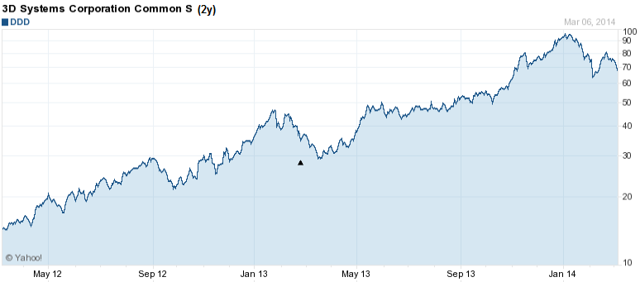 More growth can be anticipated in 2014 for some fundamental reasons:
Revenue growth: revenues were up 49.9% over the same quarter 2012, compared to an industry average of a tenth that (4.6%).
Net income growth: net income rose 30.6% over same quarter 2012 (from $13.5 to $17.7 million), greatly outperforming computers and peripherals industry average.
Net operating cash flow: jumped 39.8% (to $31.6 million) over same quarter 2012.
Their debt-to-equity ratio is low (0.02), though currently higher than the industry average. A quick ratio of 4.4 emphasizes their ability to cover short-term cash requirements.
Beyond the numbers: what investors need to know
Fourth-quarter revenue growth of 52% screams loudly, but what's behind that number tells a startling growth story for investors:
3-D printers: related revenues up 81% to $63.1 million (41% of total revenue).
Services: increased to $43.7 million (28% of total).
Materials: leaped 39% to $37.2 million (24% of total).
Software: up 95% to $6.3 million.
Revenue from the "other" category-meaning software and perceptual devices-was $10.8 million, or 7% of total revenue.
How the revenue break-out matches with demand
Market forecasters and other 3-D printing companies have predicted greater growth in this segment than actually appeared. Without a "killer app" compelling consumers to buy 3-D printers, the stampede might happen in 2015, and not by holiday season 2014. Thus, the company's consumer printer sales soaring 162% failed to meet their own company expectations.
Growth in the health-care sector revenues-67% to $21.8 million-matches expectations of demand in that field. "Outsized growth" should continue with growing health-care applications from surgical models to medical implants to instruments.
Furthermore, since acquiring Phenix Systems in July 2013 direct metal revenue grew 204% to $14.3 million:
Metals is in the beginning stages of what we believe is a very exciting journey. As we have said repeatedly now, we have been sold out of capacity every quarter since we acquired this business [Phenix] and we expect that this year it could generate some place between $25 million and $50 million in revenue and it's just the beginning. --Avi Reichental, CEO
Growth expectations for 2014 (and 2015)
Revenue growth expectations for 2014 and 2015 are "turbocharged". The company expects 2014 revenue from $680 to $720 million, with adjusted earnings per share coming in from $0.73 to $0.85. They expect 2015 revenue of $1 billion; nearly doubling 2013 revenue of $513.4 million.
Strategically it plans to sacrifice short-term profits to focus on long-term growth and capturing market share. The plan involves:
Stepping up research and development
Increasing manufacturing capacity, and
Boosting sales and marketing efforts.
On top of these, 3D Systems continues to search for "opportunistic acquisitions" and partnerships. The more 3-D printers they can install the more recurring revenue from material sales they can count on-boosting company profit margins.
The company partnered with dominant players across a wide range of industries in 2013. These partnerships included:
Google (NASDAQ:GOOG) for Project Ara
Hershey Company (NYSE:HSY) to produce 3-D printed edibles, and
Hasbro (NASDAQ:HAS) to develop play 3-D printers.
With the 3-D printing sector expected to explode from $2.2 to $6 billion 2012 to 2017, it's seems best to pair up with movers and shakers before somebody else gets there first.
Stock analysts express optimism on 3D Systems
More and more analysts are expressing optimism about the prospects of 3D Systems stock. Among these:
James Ricchiuti with Needham & Co. reiterated his Buy rating and upped the target price from $75 to $88.
Ajay Kejriwal of FBR Capital Market reiterated an Overweight rating and $83 price target on the stock.
Weston Twigg with Pacific Crest reiterated an Outperform rating and a $91 price target.
Troy Jensen of Piper Jaffray reiterated an Overweight rating and raised his target price from $69 to $82.
In support of all this optimism on stock price, Ricchiutti sees the company adding $105 million in revenues from metals and consumer sales, and operating leverage returning 2015. Kejriwal sees good things coming from the hiring of 100+ engineers from Xerox (NYSE:XRX) and the partnerships with Google and Hershey.
Analyst Twigg sees 3D Systems aggressively developing new products, ramping up R&D spending, and focusing on creating better consumer access to 3D printing. Jensen expects investments in R&D and S&M, coupled with expansive market demand, to "fuel impressive growth over the next several years."
And answer to the question
Is 3D Systems a good buy in 2014? Most certainly, yes.
Disclosure: I have no positions in any stocks mentioned, and no plans to initiate any positions within the next 72 hours. I wrote this article myself, and it expresses my own opinions. I am not receiving compensation for it (other than from Seeking Alpha). I have no business relationship with any company whose stock is mentioned in this article.