Spin-off companies often have three characteristics:
Undercovered. As a smaller part of their original parent company, Wall Street tends to neglect them and focus on the parent company.
Cheap. Due to lack of history, research, and excitement (comparing to an IPO), institution investors sell them at any market price as an unimportant part of their portfolio.
Value unlocked. They are typically divested by parent companies to create value for shareholders.
With regard to Sears Hometown (NASDAQ:SHOS), all three of these points are applied accordingly. SHOS receives no Wall Street coverage, has declined 60% from its high, trades at 13x P/E and 7.6x EV/EBITDA, and was created specifically to unlock value from Sears Holdings (NASDAQ:SHLD) by hedge fund manager Eddie Lampert.
Sears Hometown is very different from Sears Holdings. For instance:
SHOS only sells hardware and appliances and does not sell clothing or fashion as some stressed retailers do. SHOS does not compete with Macy's (NYSE:M), J.C. Penney (NYSE:JCP), or Target (NYSE:TGT). Its peers are Home Depot (NYSE:HD), Lowes (NYSE:LOW), and Best Buy (NYSE:BBY). Refrigerators, washers and dryers, drills, and mowers are the core strength of Sears brands. Kenmore refrigerator has the No.1 market share in the U.S. at 29% (Lowes at 19% and Home Depot at 12%), while Sears Holdings are criticized for slow sales in soft goods.
2. Direct Competitor Comparison
| | | | | | |
| --- | --- | --- | --- | --- | --- |
| | SHOS | BBY | HD | SHLD | Industry |
| Market Cap | 554.52M | 8.88B | 114.44B | 4.76B | N/A |
| Employees | 1,875 | N/A | 300,000 | N/A | 9.45K |
| Qtrly Rev. Growth (yoy) | 0.01 | -0.14 | -0.03 | -0.14 | 0.00 |
| Revenue (NYSE:TTM) | 2.45B | 42.41B | 78.81B | 36.19B | N/A |
| Gross Margin | 0.24 | 0.22 | 0.35 | 0.24 | 0.74 |
| EBITDA | 78.24M | 1.89B | 10.92B | -481.33M | N/A |
| Operating Margin | 0.03 | 0.03 | 0.12 | -0.03 | 0.02 |
| Net Income | 41.49M | 687.00M | 5.38B | -1.36B | N/A |
| EPS | 1.80 | 1.53 | 3.76 | -12.87 | 0.02 |
| P/E | 13.40 | 16.71 | 22.02 | N/A | N/A |
| PEG (five-year expected) | N/A | 0.81 | 1.13 | 0.04 | N/A |
| P/S | 0.23 | 0.21 | 1.45 | 0.13 | N/A |
Source: Yahoo Finance.
SHOS is a franchise model ranked in Entrepreneur Magazine's Annual Franchise 500. The company does not need to spend on storefront and personnel in its franchised stores. The inventory is provided by Sears Holdings and SHOS receives a percentage of profit from sold goods. Franchise owners manage their own businesses, which is beneficial in two ways: more effective than a centralized model and more knowledgeable of the local market.
SHOS primary focuses on rural markets where consumers have limited choices. It avoids the cost and competition in the big cities. In a remote town in Oklahoma, it brings convenience to have a SHOS store in town. The experience of a farm owner driving 30 minutes to buy a new mower is very different from Millennials buying a laptop on Amazon.
SHOS is expanding. The company opened 10 stores in February. As Sears executes its transition plan (closing department stores and switching channels to online and SHOS), more retail flow will be directed to SHOS. Based on estimates from third-party research, for each new store (Appliance Showroom type), SHOS net investment is $100,000 ($125,000 displaying inventory minus the $25,000 franchise fee), and annual operating income increases by $240,000. That is a great franchise business model.
New store locations opened last month:
Click to enlarge image.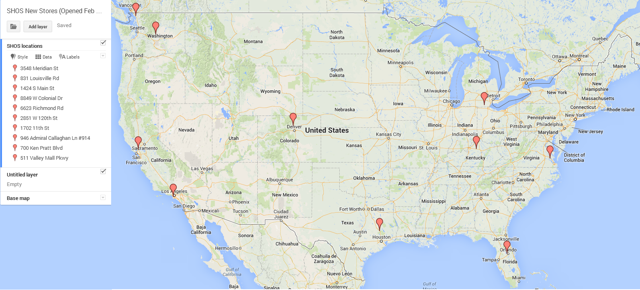 Investment Thesis for SHOS
The price has bottomed. At $23, it is significantly lower than its fundamental valuation at $45. The historical trading range is between $20 and $57. Buying at $23, the upside is estimated to be 50%-80%.
Edward Lampert is the major holder of both SHOS and SHLD. Historically, there have been a few short squeezes in SHLD, which jumped from $30 to $60 with no short locates. Similar actions have been observed in the past.
SHOS is profitable. At 8% earnings yield, it does not need the turnaround strategy that some companies need. Focusing on large appliances and rural markets makes it less subject to Amazon and online competitions.
SHOS is a growth stock. As the real estate market recovers and creates greater appliance upgrade demand, new store openings will further improve SHOS earnings.
Insiders have purchased shares at a higher price. CEO Bruce Johnson has bought shares at $49.02. The current price is less than half that.
Risks
1. The U.S. real estate market reverses its upward trend.
2. Continued lack of coverage from the investment industry; stays undervalued in the near term.
3. New franchises may expand at a slower speed.
Disclosure: I am long SHOS, SHLD. Our clients are long SHOS, SHLD. I wrote this article myself, and it expresses my own opinions. I am not receiving compensation for it. I have no business relationship with any company whose stock is mentioned in this article.