After a hot IPO in 2013, Noodles & Company (NASDAQ:NDLS) is showing the growing pains of being a public company. This Zacks Rank #5 (Strong Sell) recently gave 2014 guidance which disappointed the Street.
Noodles & Company operates in the "fast-casual" restaurant sector. It operates 380 restaurants in 29 states and the District of Columbia. Fast-casual restaurants have been a hot niche in the restaurant industry.
Duh, It's the Weather
Noodles & Company reported preliminary sales data well ahead of its Feb. 26 earnings date so the comparable restaurant sales gain of 3.9% was priced in.
But it was the 2014 guidance that spooked investors and analysts.
And like a lot of companies that have exposure to the Midwest and the Northeast, it was all about the weather.
"Looking ahead to 2014, we have faced an unusual amount of severe winter weather during the first quarter to date. Nearly 80% of our restaurants are located in areas severely impacted by atypical weather, including the Mid-Atlantic, Upper Midwest and Rocky Mountain West," said Kevin Reddy, Chairman and Chief Executive Officer.
"In fact, over 30% of our operating days thus far have seen either measurable precipitation or temperatures at least twenty degrees below normal."
"As a result, in the first quarter we anticipate a roughly 300 to 350 bps negative impact to revenue and $0.03 impact to diluted earnings per share. Still, we remain confident that we can deliver on our 25% annual adjusted diluted earnings per share growth goal for 2014," he added.
Estimates Lowered for 2014
Expectations have been high coming out of the IPO. It didn't take much to knock the shares back.
Since Feb. 26, five estimates have been lowered for 2014 pushing down the Zacks Consensus to $0.51 from $0.55 just 90 days ago.
It is still a growth story, however. Earnings are expected to grow 26.7% in 2014 and another 27.8% in 2015.
Shares Decline
Shares have fallen 18% over the last six months and are well off their IPO high.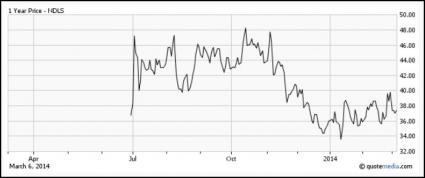 But that doesn't mean that Noodles & Company is now a deal.
Shares are still expensive, trading with a nose-bleed forward P/E of 73. If you must buy a stock in the restaurant industry, take a look at juggernaut Chipotle Mexican Grill (NYSE:CMG) instead. It's a Zacks Rank #2 (Buy) stock and its valuation is a little more reasonable at 45x.
CHIPOTLE MEXICN (CMG): Free Stock Analysis Report
NOODLES & CO (NDLS): Free Stock Analysis Report