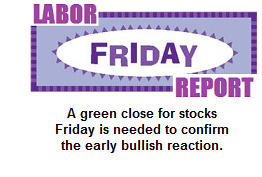 If there is one economic report that captures the interest of Wall Street, it is the monthly employment situation report released on the first Friday of every month at 8:30 a.m. EST. The early reaction in the futures market was favorable, but that must carry into Friday's close to be meaningful. From MarketWatch:
The U.S. economy generated 175,000 jobs in February despite harsh winter weather, but the unemployment rate ticked up for the first time in 14 months, the government reported Friday. The steady pace of hiring last month - it was the biggest increase in three months - suggests the economy has not slowed as much as a recent spate of indicators appear to indicate. The unemployment rate, for example, edged up because more people entered the labor force in search of jobs. That's usually a sign that workers think more jobs are available. Yet economists say it may take another month or two to get a good read on the economy's health because of unusually cold and snowy weather in the early part of 2014.
How Concerned Are The Markets?
We could list numerous concerns for stock investors, but the bullets below capture the big three:
Fed tapering and fears of rising interest rates.
A recent trend of weak economic data.
Vladimir Putin.
From an economic perspective, market participants tend to vote with their investments. When concerns about future economic outcomes increase, investors tend to gravitate toward more conservative sectors, such as consumer staples (NYSEARCA:XLP), which is not what we have now.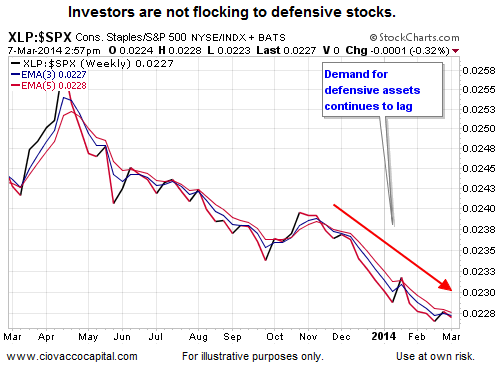 Putin Keeps Ukraine On Market's Radar
Markets have an almost infinite number of moving parts. While Wall Street turned its attention to Friday's economic data, the tension in Ukraine continues. From Reuters:
President Vladimir Putin rebuffed a warning from U.S. President Barack Obama over Moscow's military intervention in Crimea, saying on Friday that Russia could not ignore calls for help from Russian speakers in Ukraine. After an hour-long telephone call, Putin said in a statement that Moscow and Washington were still far apart on the situation in the former Soviet republic, where he said the new authorities had taken "absolutely illegitimate decisions on the eastern, southeastern and Crimea regions." "Russia cannot ignore calls for help and it acts accordingly, in full compliance with international law," Putin said.
Consumer Stocks Worth Watching
When investors are confident about future economic outcomes, they tend to prefer growth-oriented consumer stocks over defensive-oriented consumer staples stocks. During the early 2014 pullback in stocks, investors shunned this sector. From Bloomberg:
Investors are having a change of heart about U.S. consumer stocks, a sign their optimism about Americans' discretionary spending remains intact even after a January selloff. The rebound has been swift, showing that some investors overreacted to bad winter weather, sluggish holiday sales and negative earnings pre-announcements from several fund members, said Timothy Ghriskey, chief investment officer at Solaris Asset Management LLC in New York, which manages about $1.5 billion in assets. The shift has been driven by "some nice, positive surprises" on quarterly results from companies - including Gap Inc. (NYSE:GPS) and Macy's Inc. (NYSE:M) - and a recognition that income growth and hiring, the drivers of U.S. consumption, haven't deteriorated, he said.
The chart below is a snapshot of consumer stocks (NYSEARCA:XLY) taken during Friday's trading session. The recent improvement in investor demand can be seen on the right side of the chart.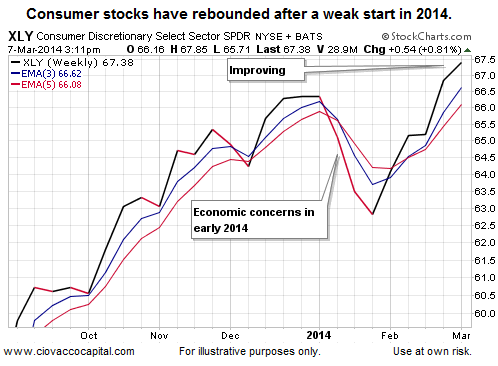 Investment Implications - A Perfect Bullish Storm?
With over 20 years experience on Wall Street, we can state confidently that getting too excited one way or another about the initial reaction to a monthly labor report is not wise. The "perfect storm" scenario for the stock market bulls is outlined below by Andrew Wilkinson, chief market analyst at Interactive Brokers. From The Wall Street Journal:
"The February jobs report is something of a perfect storm for the U.S. economy and is likely to further fuel bullish fervor across the stock market. At the same time the bond market can dwell upon a lift in the rate of unemployment and the still stable outlook for inflation to fight off accusations that the Federal Reserve will soon be tightening policy. The latest strength in the stock market appears to have been driven by hopes that what the winter took away, the spring will reclaim in terms of a jobs rebound. Today's employment report compounds such expectations."
The evidence in hand supports the risk-on case. However, history tells us periods of rising interest rates can be difficult to navigate. The Fed is always a factor.

If the bulls can nail down a green close for stocks Friday, we are prepared to make two chess moves from an allocation perspective: (1) reduce exposure to an already small stake in bonds (NYSEARCA:TLT), and (2) incrementally increase exposure to stocks (NYSEARCA:SPY). Where that incremental exposure comes from is yet to be determined, but some candidates include large cap growth (NYSEARCA:IVW), and cyclical stocks. If we see a red close Friday, we might rethink the bond reduction, as well as the stock addition. We have the plans in place; the market will decide on the direction of our next portfolio tweak.
Disclosure: I am long SPY, QQQ, TLT. I wrote this article myself, and it expresses my own opinions. I am not receiving compensation for it. I have no business relationship with any company whose stock is mentioned in this article.