It has been a while since I reported on the ISM indexes and the reports produced by the Institute of Supply Management. These reports tend to be the most underrated of much of the macroeconomic reporting. But they contain a lot of information and nuances that other indicators do not show.
Take for example the employment index in both the manufacturing (PMI-February 2014 Manufacturing ISM® Report On Business®) and non-manufacturing (NMI-February 2014 Non-Manufacturing ISM Report On Business®) reports. The backdrop for this information is that the unemployment edged up in February to 6.7% while payrolls increased by 175,000 which was above economists' expectations. While the PMI employment index maintained its level with no change, the NMI employment index dropped below the 50 mark (the number indicating expansion or contraction) by a cliff dive of 8.9 to 48.5%. This was the first contraction for NMI employment in 25 months and the lowest indicator since March 2010 with the second biggest drop in 16 years. The chart below shows this dramatic drop for the last month. While the index has been that low and recovered the next month, none have been this drastic of a drop.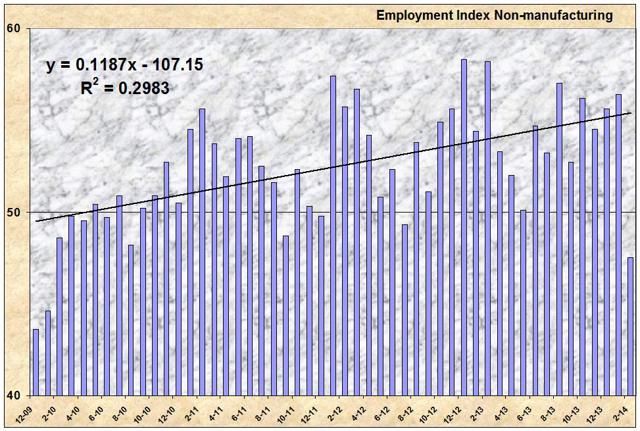 (Source: Ron Rutherford)
Some of the drop in NMI employment might have been weather related and respondents from both reports indicated weather-related issues. This seems to have had an effect on the NMI as the headline composite index dropped 2.4 to above the 50 mark at 51.6%. This missed the consensus mark of 53 and 53.5 and range of 52.5 to 55 by Econoday (ISM Non-Mfg Index). But manufacturing shrugged off the weather effects with an increase of 1.9 to 53.2%, which beat the consensus of 51.9% and 52.5% and just hitting the high end of the range of 49.5% to 53.2% by Econoday (ISM Mfg Index). Interestingly enough, the PMI report quoted a respondent as having trouble finding qualified CNC machinists and programmers. I noticed this demand recently when running across CNC programmers as part of general programming job searches.
This weather effect was even stated as having an effect on raw materials and oil prices. The pricing indexes did not reflect this with a slight decrease of 0.5 of PMI to 60% and a significant drop of 3.4 to 53.7% for the NMI. Even with quite a few commodities going up in price of 14 for PMI and 18 for NMI and half that number being multi-month price trending up, there seems to be little inflationary pressure as compared to previous reports.
Overall the ISM reports were mixed, but with weather getting better, the delivery problems and constraints on production factors should be mitigated and the economy should continue to grow. The one area of concern with respect to inflation is more likely to come not from the production sectors of the economy but from wage inflation and regulatory uncertainty. Respondents are still voicing concern about the Affordable Care Act with financial uncertainty and the unprecedented impact on revenue (and costs). The second opportunity is from wage spirals caused by raising the minimum wage especially if labor costs are directly influenced by the minimum wage rates.
Disclosure: I have no positions in any stocks mentioned, and no plans to initiate any positions within the next 72 hours. I wrote this article myself, and it expresses my own opinions. I am not receiving compensation for it (other than from Seeking Alpha). I have no business relationship with any company whose stock is mentioned in this article.