This is the first in a series of articles covering "unpopular" larger companies. Benjamin Graham believed that such companies may present opportunities for enterprising investors. We discussed the Graham approach in more detail in a recent article.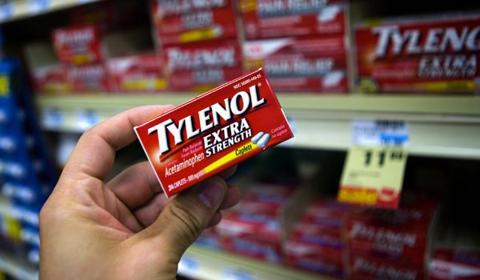 Few large companies have built up as much brand equity and consumer goodwill as Johnson & Johnson (NYSE:JNJ). The company routinely appears near the top of lists of the most respected American companies and makes products that consumers rely on. The company's prompt response to the Tylenol recalls in 1982 made it the subject of numerous case studies on how to properly handle such situations.
Given Johnson & Johnson's history, allegations of improper behavior related to recent recalls has surprised many investors. The FDA is considering criminal charges against the company for pursuing a "stealth recall" of Motrin before being pressured into a formal recall in July 2009.
In addition to the recall related trouble, Johnson & Johnson is also exposed to the new health care law's 2.3 percent revenue tax on medical devices which will go into effect in 2013. The medical device tax in particular, and health care reform in general, has weighed on the stock price of many companies involved in the industry. In this article, we will take a brief look at Johnson & Johnson's history to determine whether there are any rays of sunlight that may break through the stormy clouds currently over the company.
Ten Year History and Current Valuation

A brief look at Johnson & Johnson's ten year history reveals a company that has consistently delivered growth in earnings per share, dividends, and sales while posting steadily improving margins. The following table displays selected data found in Value Line's latest report on Johnson & Johnson (Value Line makes all Dow 30 stocks available free of charge). Click on the image for a larger view.

What is interesting about Johnson & Johnson is that the market has steadily cut the price to earnings multiple for the stock over the past decade. This is not unlike the experience of Wal-Mart (NYSE:WMT) or Microsoft (NASDAQ:MSFT) shareholders over the past decade. The business has done very well and key metrics keep improving while the stock gets less and less popular over time.
Johnson & Johnson closed at $58.30 on Friday, May 28 which represents a trailing P/E ratio of 12.6. The forward P/E ratio is slightly under 12 assuming modest earnings growth this year. With a current dividend of $2.16 per share, Johnson & Johnson provides a 3.7 percent yield. Over the past decade, dividends have increased at a 13.3 percent annualized rate while the payout ratio has only increased modestly. With a market capitalization of nearly $161 billion, one would expect growth to slow at some point, and perhaps the market believes that the decline in revenues in 2009 and very modest earnings per share growth means that the slowdown is imminent.
Medical Device Segment
Since we believe that one of the factors depressing the stock price is related to the healthcare law's 2.3 percent medical device tax on gross revenues, it is important to dig a bit deeper and look at Johnson & Johnson's segment information which is reported in annual 10-K reports filed with the SEC. The tables below show Johnson & Johnson's revenues, operating profits, and operating margins broken down by segment (click on the image for a larger view):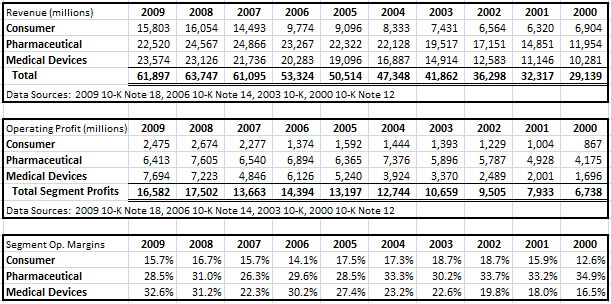 We can see that medical devices accounts for a significant percentage of Johnson & Johnson's total revenues (38 percent in 2009) and a greater percentage of operating profits (46 percent in 2009). In addition, we can see that operating margins are relatively high for medical devices and have been growing higher over time. In 2009, medical device operating margins were 32.6 percent, the highest of any segment. Certainly medical devices seem to be an important part of Johnson & Johnson's business. The charts that appear below present segment data for 2009 for revenues and operating profits.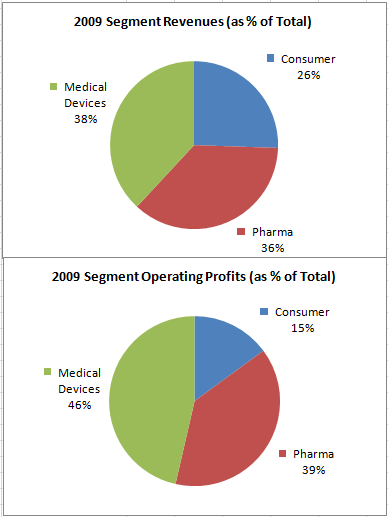 Impact of Medical Device Tax
Is it accurate to take the 2.3 percent revenue tax on medical devices and simply multiply it by segment revenues in order to measure the potential impact? This would not be accurate because the tax only applies to medical devices shipped within the United States. In addition, the final version of the health care law made the tax deductible for income tax purposes (some versions prior to the final reconciliation process were non-deductible).
The following table shows Johnson & Johnson's medical device segment revenues broken down by region for the past ten years (click on the chart for a larger view):

We can see international sales have become more important for the medical device segment in recent years and now exceeds the sales volume of domestic shipments. Less than half of the medical device revenues at Johnson & Johnson would be subject to the tax based on 2009 revenues: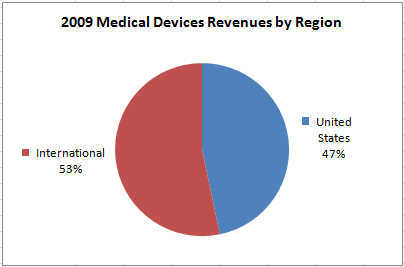 The tax does not take effect immediately, but let us assume that Johnson & Johnson has to pay the 2.3 percent gross revenues tax on the $11,011 million in medical device revenues in 2009. The tax would amount to approximately $253 million, but we must remember that this figure is deductible for income tax purposes. Therefore, assuming a 35 percent tax rate, the net tax impact would be approximately $164 million. With total net profits of $12.9 billion in 2009, the impact of the medical device tax would amount to a reduction of only 1.3 percent of net income.
Assessing the Risks
Let us revisit the two risks to Johnson & Johnson discussed in this article (there are other business risks that an investor may want to consider as well — specifically the risk profile of the pharmaceutical segment which we have not discussed):
Impact of the Recent Recalls. From recent accounts of the recall of Motrin, several troubling allegations have emerged regarding Johnson & Johnson employees taking regrettable actions that could lead to serious trouble with the FDA. At the very least, the behavior would appear to be totally at odds with the company's behavior in the 1982 recalls and could certainly reduce consumer confidence in Johnson & Johnson in general and the recalled brands specifically. It is impossible to predict the outcome but the company is at least making the right statements regarding its commitment to taking corrective action on the recall. Any direct financial penalty would pale in comparison to the consequences of criminal charges.

Medical Device Tax. The medical device tax on gross revenues has been controversial and will certainly impact Johnson & Johnson. However, the overall impact to the bottom line seems muted and implementation of the tax will not take effect until 2013. At the same time, one must note that the medical device segment is the fastest growing and most profitable segment at Johnson & Johnson and general pressures on health care cost inflation could constrain the company's ability to pursue price increases going forward. On the other hand, the aging population and having more people covered under the health reform law could increase unit volumes.
The bottom line is that Johnson & Johnson is now a very unpopular large company from Mr. Market's perspective. At a PE ratio of approximately 12 and a dividend yield of 3.7 percent, the stock appears to be cheap given the company's history of growth as well as the current levels of profitability that clearly demonstrate the presence of a powerful moat in all three business segments. The company's market capitalization is now at the point where one can reasonably expect growth to slow in the future, but investors are not paying a price that demands much future growth.
What would Benjamin Graham think about Johnson & Johnson's valuation today? We obviously cannot be so presumptuous as to make any definitive statement, but the company's record over the past ten years combined with a very secure and growing dividend that yields in excess of the ten year Treasury note would probably at least spark his interest in the stock as a potential "relatively unpopular large company" worthy of serious consideration.
Disclosure: No position in Johnson & Johnson currently but seriously considering a purchase.