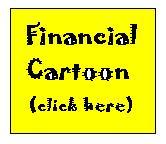 Outlook: Investors are somewhat "punch drunk" as the stock market has been zipping from surges to swoons. With the important exception of a handful of economic events, there is not much "good news" on which investors can "hang their hats".
Gray Swan: As previously discussed here is the thesis that the current market turmoil could be a replay of the 2008 stock market failure. The major difference is the liquidity and credit of European sovereign debt in 2010 versus U.S. financial institutions in 2008.
With that concern in mind, it seemed worthwhile to "stress test" the S&P 500 to see what depth it could plum if a similar market decline were to occur from these levels. The preliminary results based on a somewhat "worse case" scenario would be the S&P 500 index plunging into the 500's.
While remote, this "Gray Swan" scenario could present itself. As always it is good to stress test different scenarios in uncertain markets—ask John Meriwether of Long-Term Capital. (See: How Conceivably S&P 500 Could Trade at 500 in 2011 (5/27/10) for details)
CEF Weekly Review: The 13 closed-end fund (CEF) types on average posted a 2.1% increase for the week ending 5/28/10. The high-low spread was +2.6% vs. -6.4% the previous week. On an aggregate, unweighted basis the weekly average price change for the 500 plus CEFs was up 1.9%.
The PowerShares CEF Income Composite (NYSEARCA:PCEF), an ETF that invests in taxable income CEFs, advanced 3.6% for the week. The S&P 500 essentially flat-lined at 0.2% for the week and is off 2.3% YTD.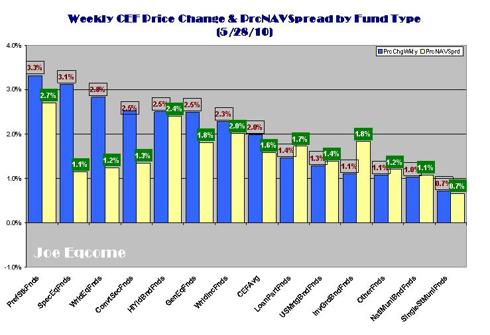 (Click here [1] for YTD CEF Performance. The table is based on a smaller CEF sample size as all the data fields are not available for the CEF universe.)
The Eqcome CEF Fear Index eased significantly. The average price increase was 1.9% versus a 0.4% increase in the NAV. The CBOE Volatility Index (VIX), which typically moves inversely with the stock market—but is mostly a measurement of volatility based on stock options' premiums—dropped below 40 to 32 giving up 20%. The VIX dropped mid-week as stock prices rallied.
The S&P 500 average daily trading volume also eased 15.3% from last week's options expiration activities to 5.5 billion shares.
CEF Weekly Fund Type Performance: CEF fund types typically track the underlying asset class fairly closely. This was true for the SpecEqFnds which was up 3.1% and reflected the strong performance of the related ETFs making up that group: real estate (2.4%), oil (5.5%) and precious metals (3.2%).
The GenEqFnds posted a strong performance (2.5%) while the general equities markets, as measured by the S&P 500, gained 0.2%. Even after removing the micro-mini cap Engex (EGX), at a 15.7% gain, the group's average still advanced 2.1%.
What was additionally interesting was the advance of the GenEqFnds was driven by the large-cap sector. This may indicate a gravitation of investors towards large-cap stocks and the purchasing of CEFs as a way to buy them at a discount.
The PrcNAVSprds[*] typically move in the direction of stock prices. For the forth week in a row this pattern showed no exceptions. The average price of all fund types rose greater than their NAV's.
When prices and NAVs move to the upside, the larger PrcNAVSprds indicate investor's enthusiasm for the fund type. This week the fund types demonstrating such enthusiasm were PrefStkFnds (3.3%), HiYldBndFnds (2.5%) and WrldIncFnds (2.3%).
I continue to remain reticent on HyYldBndFnds given "risk play" volatility. The strong movement in PrefStkFnds may indicate investors' belief that financial reform will be "watered down" in the wake of Congressman Frank's support of not severing derivative trading from banks' investment activities.
CEF Winners and Losers: With the exception of illiquid CEFs, the CEF with the greatest positive spread was Transamerica Income Shares (NYSE:TAI). TAI price advanced 7.5% for the week while its NAV declined a modest 0.8% generating a positive PrcNAVSprd of 8.3%.
There was no news on TAI, no unusual volume or insider trading activities. In fact, according to Yahoo, the stock went ex-dividend on Friday the 28th. The stock has broken through its NAV to the upside which is an unusual event for TAI. Earlier in the year, TAI traded at a slight premium for several months and was unable to sustain the premium for the following 3 months. The stock pays an annualized monthly yield of 7.3%.
The CEF having one of the greatest negative PrcNAVSprd for the week was Kayne Anderson MLP Investment Company (NYSE:KYN). KYN share price was up 0.1% versus a NAV increase of 6.4% generating a negative PrcNAVSprd of 6.3%. KYN invests in energy related MLPs. It is currently yielding 7.6% and trading at a 15.1% discount. Depending on where you think energy prices are going this may be something to consider.
Economic & Earnings Outlook: (Click here [2] for next week's economic calendar; click here [3] for earnings announcements and estimates.)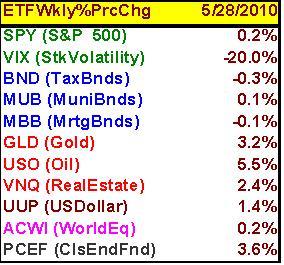 ETFs: For a more detailed EFT performance by sectors, click here [4].
Insider Trading: Horejsi Group (Horejsi) continued its buying in Boulder Total Return Fund (BTF) and Boulder Growth & Income Fund (NYSE:BIF) acquiring an additional 30,000 shares in each after a two week sabbatical.
The biggest incremental insider buying for the week occurred in Pimco Income Strategy Fund (NYSE:PFL) and Pimco Corporate Opportunity Fund (NYSE:PTY), $1,078,962 and $2,132,297, respectively. In each case, Bill Gross, the founder of Pimco, acquired those positions. In total Mr. Gross has acquired approximately $7 million in funds his firm manages.
(Click here for a hyperlink to the Joe Eqcome's CEF Weekly Insider Report.)
CEF Distribution Announcements This Week: The following is a link to a table of CEF distribution announcements this week as well as the previous week's with yet expired ex-dividend dates. The list is not intended to be inclusive. (Click here for Joe Eqcome's Weekly CEF Distribution Announcements.)
Significant CEF Corporate Events: RiskMetrics Group, Inc., a proxy evaluation service, has recommended that its clients vote their shares of the Gabelli Global Multimedia Trust, Inc. (NYSE:GGT) on the GOLD proxy for Western Investment's director nominees, Arthur D. Lipson and Gregory R. Dube, at GGT's 2010 Annual Meeting of Stockholders scheduled for June 8, 2010. ISS also recommended a vote in favor of a shareholder proposal, also supported by Western Investment, to declassify the Fund's Board of Directors.
As reported here last week, my analysis shows that when comparing GGT with its peer group it is not off the reservation with regards to discount or performance. (If anyone has access to the full RiskMetrics report I'd like to see it.)
Based on RiskMetrics analysis, all CEFs trading at double digit discounts should have their Boards removed—starting with The Adams Express Company (NYSE:ADX).
With regards to Western LLC candidates being placed on the board, I don't see why not. They're GGT's largest shareholder and should have representation.
Neuberger Berman Real Estate Securities Income Fund Inc. (NYSEMKT:NRO) announced this week it will conduct a tender offer for up to 5% of its outstanding common stock at a price equal to 98% of its net asset value per share ("NAV") as determined on the day the tender offer expires. The Fund currently expects its tender offer to commence on June 11, 2010, and expire on July 9, 2010.
DWS Enhanced Commodity Strategy Fund, Inc. (GCS) announced that its Board of Directors has formally approved a proposal to merge the Fund into DWS Enhanced Commodity Strategy Fund, a registered open-end fund also managed by Deutsche Investment Management Americas Inc.
CEF Focus Stock for the Week: Rather than focusing on a specific CEF, I want to focus on a concern of mine with respect one of the few major independent research operations researching CEFs.
I believe the Morningstar's current CEF "star rating system" is confusing to retail investors. It is not a prospective analysis of relative attractiveness of stock appreciation, as is their system for stocks, but a historical comparison of the CEF against their peer group. Morningstar's fund's definition further states, "They're [CEF Star Ratings] a useful tool for identifying funds worthy of further research, but shouldn't be considered buy or sell recommendations."
In an article I penned last year, entitled Morningstar CEF Rating System: Worse than Random (6/5/09)[5], that there was an inverse correlation between the higher ranking and stock price performance.
Morningstar should more clearly identify the rating definition difference by placing an asterisk at the top of the column for its CEF ratings directing its reader to the definition for its CEF "star rating" system. Or, change the name of the rating to something more descriptive. (See: Morningstar CEF Research Potentially Confusing for Individual Investors[6] (5/25/10))
This is constructive criticism as I think Morningstar provides some valuable information for CEF investors.
Disclosure: Author owns a diversified portfolio of CEFs
---
[*] All things being equal, price and NAV should move in tandem. A price movement greater than the NAV generates a positive PrcNAVSprd and may be interpreted as negative on a near-term basis and indicate that the stock is overvalued relative to its NAV which in theory is the stock's intrinsic value. The opposite would be true for a negative PrcNAVSprd.
---