When I first wrote about WhiteWave Foods, Inc. (NYSE:WWAV) in November, shares were trading at levels just under $22/share; WWAV now trades around $30.00 following momentum stemming from its impressive FY13 release.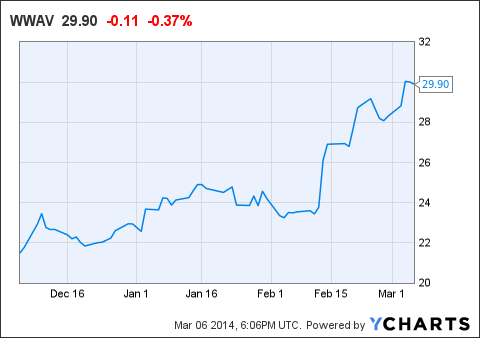 The report was released Thursday, February 13th before the market opened. Below are some of the highlights from WhiteWave's report, broken down into Q4 and FY accomplishments:
Q4
Revenue growth of 11.5%
EPS growth of 22%
Rollout of several new products (will be covered later)
13% growth in coffee creamers and beverages platform
Reached agreement with Dunkin' Donuts (NASDAQ:DNKN) to launch creamers bearing the chain's brand name
Announced purchase of Earthbound Farms
FY2013
Revenue growth of 10%
EPS growth of 23%
Operating margins expanded 70 bps
Growth in both North America and Europe segments
Increased volume over all platforms
Officially completed spin-off from Dean Foods (NYSE:DF)
Total share price appreciation of 43.55%
New Products
North America
As revealed on the company's FY Conference Call, WhiteWave's plant-based food and beverage segment is one its strongest assets. It commands 60% market share of the entire space as well as the number one market share in each of its subcategories. WWAV boasts 74% share in soy-based products, 64% in coconut and 53% in almond. The almond category itself grew 50% in Q4 and now comprises 60% of the plant based category. To further improve these footprints and maintain its position ahead of the competition, WhiteWave is producing new blends of flavored almond and coconut milk as well as an almond milk offering that is enriched with extra protein and fiber. The company will also be broadening its Silk brand non-dairy yogurt products, whose performance in North America has satisfied management.
Arguably more significant than any new options in the plant-based category is the extension of the Horizon brand "beyond the dairy case". The popular brand is has started selling a variety of mac & cheese flavors, most notably its organic mac and cheese product. Management said the popular kids meal hit shelves in December and that they were pleased with the initial sales. The product will be gradually distributed more throughout the U.S. and reach target levels by the end of the year. This product will be the first of its kind and take provide parents with a healthier alternative that satisfies children's demand for one of the youth's favorite meals. Below is an image comparing the nutrition facts of Horizon's Organic Mac to Kraft Mac and Cheese: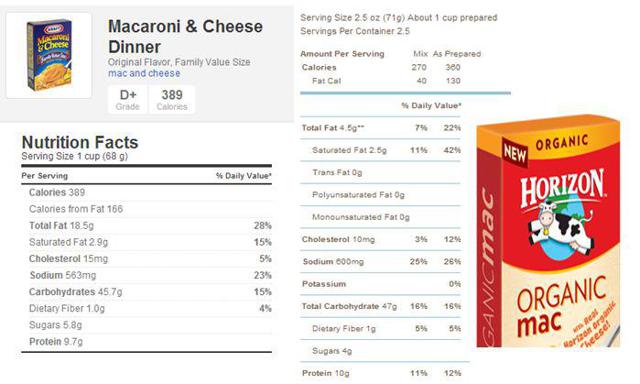 The major difference can be seen in the fat content as Organic Mac has 75% less fat. Other benefits that can be discovered upon further investigation is that Organic Mac is made with all organic ingredients, meaning no artificial flavoring or high fructose corn syrup. Management admits that this single product will not provide a material addition to its bottom line in 2014 but it is the first step in a transformation that can potentially revolutionize WhiteWave and its product mix.
Europe
The European segment is not as broad or profitable as the North American one, but it is growing at very comparable rates. Alpro, WWAV's signature brand in Europe, has seen very strong demand for its almond and hazelnut beverages. In an attempt to maximize the profits from these products, 2014 will be the year that WWAV will begin manufacturing the products in-house as opposed to outsourcing production.
Alpro will also be extending its plant based offerings to include new yogurt products as well as rice-based creams. Another major focus for WhiteWave is to expand the distribution of its brands across Europe, with emphasis on Southern Europe. The four main markets for WWAV products abroad are the UK, Germany, Belgium and the Netherlands.
Earthbound Farms Acquisition
On December 9th, WWAV announced that it had reached an agreement to acquire Earthbound Farms for approximately $600 million in cash; that deal closed officially on January 2nd, 2014. Earthbound will provide WhiteWave with a huge segue into large healthy food categories such as fruits, vegetables and especially salads. Earthbound is the largest organic produce brand in North America and the largest non-dairy organic brand in the U.S., according to WhiteWave CEO Gregg Engles. In 2013 Earthbound generated sales of $500 million, 65% of which came from fresh package organic salads, something WWAV had not previously offered. Earthbound occupies 55% market share in the fresh package organic salads category.
This acquisition seemingly will benefit WhiteWave in the long term as it gives the company a commanding influence in the organic produce on top of its presence in the organic dairy category; two of the biggest, if not the biggest, categories of healthy eating. In the short term, management estimates that Earthbound will add $0.07 to the company's bottom line in 2014. Kevin Yost, a former associate of Engles at Dean Foods will be brought in to head Earthbound. Engles said of Yost:
"Kevin ran in the Morningstar business for me at Dean Foods and brings more than 22 years of CPG in food industry experience in a strong operating track record to WhiteWave. We are thrilled to have Kevin on board and have the highest confidence in his ability to lead and optimize Earthbound to its fullest potential."
Asian Expansion
Three days after finalizing the Earthbound deal, WhiteWave announced that it is forming a joint venture with Chinese manufacturer Mengniu Dairy, the largest dairy company in China. The JV is however, still subject to some regulatory approval. WWAV doesn't expect this endeavor to generate any revenue until 2014. This should act as a good introduction to a previously untapped, yet hugely profitable, foreign industry.
Dunkin' Donuts Partnership
The coffee creamers and beverages platform is a relatively smaller portion of WWAV's business but the firm has a large presence in that space as well. The overall platform grew 13% in Q4 and 12% for the year. To improve even further on this impressive growth, WWAV has entered into a licensing agreement with Dunkin. The two companies will offer four different varieties of coffee creamers available in quart-sized (32 oz) bottles. Teaming up with a brand like Dunkin' that's got such national exposure can only bode well for WhiteWave and its already successful coffee creamers.
Outlook
2013 was a year of outstanding growth in almost every possibly way for WhiteWave; management expects 2014 to be one of the same. CFO Kelly Haecker outlined some robust guidance on the fiscal year report. The image below is from the investor presentation on WhiteWave's website.

In addition to these points Haecker operating margin to expand further in 2014, primarily in the second half of the year. The numbers speak for themselves.
Financial Position
Despite making aggressive moves overseas as well as domestically in terms of product expansion and M&A activity, WhiteWave remains in a strong financial position.
Balance Sheet
Taking a look at the company's balance sheet will show that even though the company acquired Eastbound Farms as well as rolling out new products, its debt has actually decreased since the conclusion of 2012; its assets have also risen. WWAV currently sports a debt ratio of 57.9% as compared to 63.8% at the end of 2012. The company is also comfortably liquid with a current ratio of 1.18. One notable aspect of the company's balance sheet is that almost 71% of its debt obligations are long term, so it raises the questions whether or not WhiteWave will be running into trouble with lenders in the future. WWAV's schedule of debt payments, found on its Form 10-K, below show that the firm's obligations are not only spread out relatively evenly over the next five years but that the amounts themselves are not overwhelmingly high at all.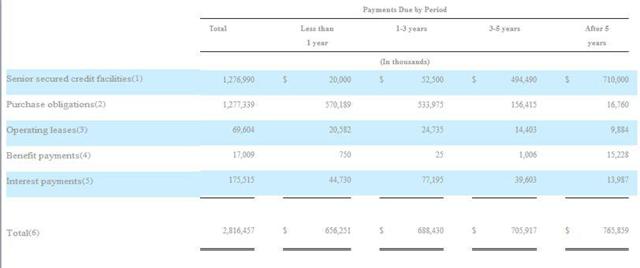 Given that WhiteWave currently has $101 million in cash and cash equivalents and generated $53 million in free cash flow last year, I am very confident these outstanding debts will not cause significant problems in the future.
Cash Flow
Speaking of free cash flow, as mentioned the company managed to generate $53 million of it in 2013, however, that is a decrease of 60% from the previous year. In fact, despite rapid sales growth, WWAV's operating cash flow has fallen from $241 million in 2011 to $237 million in 2012, and ultimately all the way down to $185 million in 2013. If the net change in cash was the figure that was gradually dropping, it would not be as alarming considering the aggressive action taken by the company to globalize its products, but the fact that it is operating cash flow could pose a serious problem as expansion domestically and abroad carries on, which management seems adamant to do. This trend needs to be reversed immediately to avoid problems down the road. In the first quarter of 2013 WhiteWave's operating cash flow was -$11 million; it will be interesting to see if the firm can generate some momentum towards higher cash flows.
Management
A large focus of my previous article was the impact that Engles will have on the company. I was very confident in his abilities and he has supported my bullishness with excellent performance. The movement the company has made in the M&A space has been astute, being both accretive to earnings and well-priced. Engles has vast experience in the industry given his time at the helm of Dean Foods and the Earthbound acquisition, the Chinese JV, the Dunkin licensing agreement as well as bringing in another executive with an extensive background in the space show that he is focused on making WhiteWave a huge company for the future. Most impressive in my opinion is that Engles managed to make all of that progress without compromising the company's balance sheet. Possible future cash flow problems aside, Engles remains confident is in position to capitalize "additional strategic growth opportunities". Management was also able to offload some assets and use the proceeds to reduce net debt by $150 million from the year before.
Analyst Opinion
According to NASDAQ.com 11 analysts cover WWAV, all of which have issued at worst a hold rating and with 6 of those analysts asserting a strong buy rating on the company. Beyond that, many of the price targets set for WhiteWave since their Q3 report in November have been reached, leaving the strong possibility new price target releases. Thomson Reuters was the first to respond to WWAV's quarter, issuing a buy rating on March 5th. Below is a table of five firms with outstanding price target that will most likely be revisited in the near future:
| | | | |
| --- | --- | --- | --- |
| Firm | Rating | Price Target | Date Issued |
| Morgan Stanley | Overweight | $29.00 | 2/14/2014 |
| Zacks | Outperform | $26.60 | 1/22/2014 |
| JPMorgan Chase | Overweight | $27.00 | 1/7/2014 |
| Stifel Nicolaus | Buy | $25.00 | 12/10/2013 |
| Credit Suisse | Outperform | $23.00 | 11/8/2013 |
Rating information found on AnalystRatings.net
Morgan Stanley's target of $29 was released only three weeks ago and has already been left in WWAV's rearview. I expect many analysts to come out in the coming weeks to disclose their opinions on WhiteWave and after the explosive growth over the last year, don't be surprised to see some ambitious price targets. The possibility of a string of statements from research firms (the majority of which I expect to be bullish) puts WhiteWave in a great short term position to supplement its extensive long term growth potential.
Valuation
Below is a table consisting of the same valuation metrics I used in my first article on WhiteWave. Competitors used for comparison are Whole Foods Market (WFM), Sprouts Farmer's Markets (NASDAQ:SFM), and Hain Celestial (NASDAQ:HAIN); keep in mind that Hain is a closer competitor to WhiteWave in terms of business structure as Whole Foods and Sprouts are organic foods grocery stores while Hain is a manufacturer of organic foods. I calculated my own P/E and Forward P/E calculations for WWAV, while all other ratios were found on Yahoo! Finance.
| | | | | | |
| --- | --- | --- | --- | --- | --- |
| | WWAV | WFM | SFM | HAIN | Median Value |
| Trailing P/E | 40.54 | 35.25 | 120.57 | 31.73 | 37.34 |
| Forward P/E | 32.61 | 27.69 | 60.90 | 24.30 | 29.71 |
| PEG (5 year) | 1.81 | 1.92 | 2.95 | 1.67 | 1.87 |
| Price/Book | 5.19 | 4.95 | 10.84 | 3.12 | 5.07 |
| Price/Sales | 1.96 | 1.48 | 2.30 | 2.26 | 2.11 |
| Market Cap (In Billions) | 5.06 | 19.67 | 5.30 | 4.41 | 5.18 |
As you can see, WhiteWave isn't inexpensive by any means when looking at these metrics. Continuing with the trend of concentrating on the long term, WWAV does have a lower PEG than its competitors with the exception of HAIN, but the other statistics show that WhiteWave is fairly valued (at best) compared to competitors.
Takeover Possibility?
All things considered, WhiteWave still only has a market cap slightly over $5 billion and is a major player in a burgeoning industry. To not consider the possibility of a takeover would be rather naive especially investors in companies like Coca-Cola (NYSE:KO) have been begging management to make some sort of move to avoid having the company's sales be diminished by changing consumer tastes. There are many producers itching to get into this space and diversify their product offerings including PepsiCo (NYSE:PEP) and Mondelez (NASDAQ:MDLZ), who in addition to KO have the means to launch a large bid that may be too sweet to turn down. While Engles made it clear on CNBC's Mad Money With Jim Cramer that he has plans to remain independent and grow the company, every man has his price. If a takeover bid were to be tabled, it would have to be at a substantial premium given the future prospects WhiteWave has in its back pocket coupled with its desire to remain its own corporate entity.
Headwinds
While there are many tailwinds behind WWAV, there are still some potential stumbling blocks the company might hit in the near future. The most discussed problem has been the recent spike in almond prices which was first realized in the back half of 2013. Many companies that rely on almonds for its products, like Hain Celestial have been struggling with this recent uptick in costs. Luckily for WhiteWave, it was locked into contracts with its almond suppliers at fixed prices; those contracts will run out around the end of the first half of 2014. Engles described the contract situation for the back half of the year as "open", meaning the company will be at the mercy of the market and its prices in a few months. A lot of the initial price increase was due to a decreasing honey bee population in the U.S., but now there is a new factor to consider. California has been experiencing a drought that Hain CEO John Carroll predicts will further increase almond prices as well as causing a bump in dairy products as well as California-based commodities as a whole. WhiteWave's almond milk has surpassed its soy milk as its mostly widely sold flavored milk product and is one of its fastest growing subcategories.
In terms of the drought, Engles assured Ken Goldman from JPMorgan on the CC that WhiteWave is not having and should not have any problem accessing water supplies as many of its farming operations are focused in north California, especially in Salinas Valley where there are no constraints on water supply. The same cannot be said for Earthbound, which is located in San Juan Bautista, near San Jose in south California. The last few days have seen some rainfall in California, but it was to no avail for farmers as it did little to solve the problem. According to USA Today, 94.56% of the state remains in a drought. Additionally, the next week's forecast calls for warm, dry weather in California. The map below depicts the levels of drought in areas of the state, with the darker shades representing more severe drought.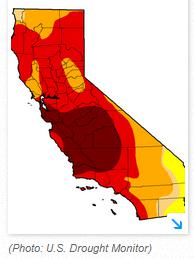 San Juan Bautista is situated almost directly in the darkest area of the map. The drought has become so troublesome that California Governor Jerry Brown has signed a $687 million relief package for farmers. If this drought carries on for a long time, it will certainly have an impact on WWAV's newest addition as well as perpetuating the higher almond prices.
2014 Expenses
All of these new initiatives and acquisitions are going to (expectedly) provide WWAV with earnings growth in the long term, but there are also short term costs that will be incurred. Its JV with Mengniu Dairy Farm is the one that stands out the most. While this untapped market is ripe with potential revenue, there is risk along with expenses, whose amounts are currently uncertain. This joint-venture is still subject to regulatory approval and "then will need to acquire, and complete construction of a production facility" (per Engles on the conference call) before products can be sold. The venture will cause additional costs for commercialization and start-up operations which will result in operating losses in the short term. While this may seem pretty straightforward, what if regulatory approval takes longer than expected or is not granted? That will take the wind out of WWAV's sails in its Asian expansion. Then there is the risk that this market will not take to the products. Engles has over 20 years of experience in North America and Europe as does Yost, but not China. Cultural differences can make or break a corporation expanding into other areas of the world, especially for a food and beverage company. While I support WWAV's long term view, I think that this JV was one step too far for such a tight time frame. The company should integrated Earthbound into its product mix before taking this giant leap of faith that could result in the company falling flat on its face.
Also, in respect to its domestic business, the company forecasts increased marketing spend to increase the awareness of its new products but has not given any numerical figures. The company expects $65 million in corporate expenses, which represents a "notable step-up" due to costs related to its standalone capabilities and costs to support Earthbound and Mengniu integration. CapEx is estimated to be between $230-$260 million, an increase from $155 million in 2012. Also, interest expense is expected to skyrocket from $4 million to $37 million.
Investment Thesis
Overall, WhiteWave's future looks bright. It has reported incredible growth and calls for that to continue. Its CEO is both ambitious and experienced, a combination bettered by few. The Chinese JV is a bit of a risk but the reward is substantial and the products offered in North America and Europe have proven to be popular and profitable so I am behind the company's expansion plan as a whole. I have great confidence in the healthy food and beverage trend, WhiteWave's products, and Gregg Engles. Like every potential investment ever, there are some risks, some headwinds, and some uncertainty but that's investing. WWAV poses a compelling long term story. Considering all angles I am placing a Strong Buy rating on WhiteWave. I've been a shareholder since $19 and look forward to riding the stock much, much higher.
Disclosure: I am long WWAV. I wrote this article myself, and it expresses my own opinions. I am not receiving compensation for it (other than from Seeking Alpha). I have no business relationship with any company whose stock is mentioned in this article.