First Internet Bancorp (NASDAQ:INBK) is a bank holding company that conducts business through its subsidiary First Internet Bank of Indiana (referred to as FIB hereafter), an internet-only bank that does not have branch offices but has a national footprint.
INBK commenced trading on NASDAQ on February 22, 2013. The stock performed very well until early August when it peaked at about $36. Since then it has been on a downtrend until recently. Following the precipitous fall on 3Q13 earnings release in late October, the stock has been consolidating roughly in the $20-24 trading range until Friday (March 7, 2014), when the stock seemed to have broken out to the upside.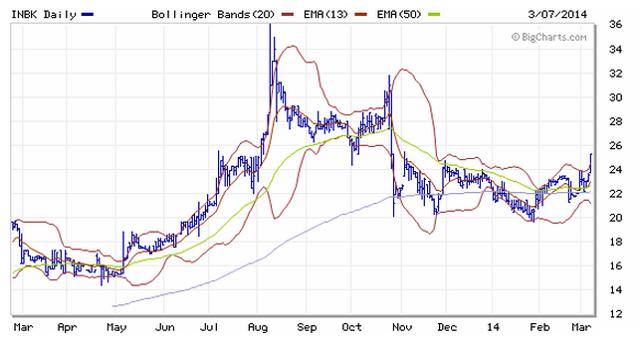 Collapse Of Mortgage Banking Business
The poor performance since late October is mainly attributed to the collapsing mortgage banking revenue in Q3 and Q4. The rapidly rising long-term interest rate last summer has brought the refinancing activity nationwide to a screaming halt. This has hurt the banking industry hard. But for INBK, the pain has been particularly severe.
INBK benefited immensely from the refinancing boom in 2012 and the first half of 2013. In 2012, the bank's noninterest income increased by a whopping 230% to $11.7 million from $3.6 million in 2011. This enabled the bank to report a revenue (sum of net interest income and noninterest income) growth of 53% and net income growth of 76%. The 230% increase in noninterest income was mainly a result of the spiking mortgage banking revenue, which grew a whopping 189% and accounted for nearly 91% of noninterest income in 2012. Mortgage banking revenue as a percentage of revenue grew to 39% in 2012 versus 21% in 2011.
In Q4 of 2012, mortgage banking revenue climbed to 46% of total revenue. Essentially the bank had struck it rich in the refinancing boom that would last through the first half of 2013.
Then came the collapse of the refinancing and mortgage banking activities in the second half of 2013. In Q3 and Q4 of 2013, the mortgage banking revenue decreased 60% and 75%, respectively, from the same period a year ago. This led to revenue decrease of 18% and 22%, respectively, in those quarters. Net income fared even worse, falling by 55% and 57%, respectively. Net income decline was exacerbated by the company's spending on a strategic expansion and diversification initiative.
Investors were caught off guard when 3Q13 earnings were released, thus sending the stock down by about 1/3 in two trading sessions. Since then the stock has continued to underperform the broad market until the past week or so.
Net Interest Income Grows Even In Tough Period
With this collapse of the mortgage banking business, the company now has to find growth from its core lending business. Luckily for investors, short-term bumps aside, the company has a proven record in growing its lending business through thick and thin.
Just look at the past few years during and following the financial crisis. The banking industry has complained about the zero-interest-rate environment squeezing the net interest spread. This is because the lending rate (long rate) continues to fall but the borrowing cost (short rate) has exhausted its room to fall further. But INBK still managed to grow net interest income by about 50% from 2007 to 2013.
During the period, INBK grew its net interest income mainly through decreasing its interest expense, rather than growing its gross interest income. Actually, throughout much of the period the bank's interest income was on a downtrend. Only that the interest expense declined even faster than the interest income. See the chart below.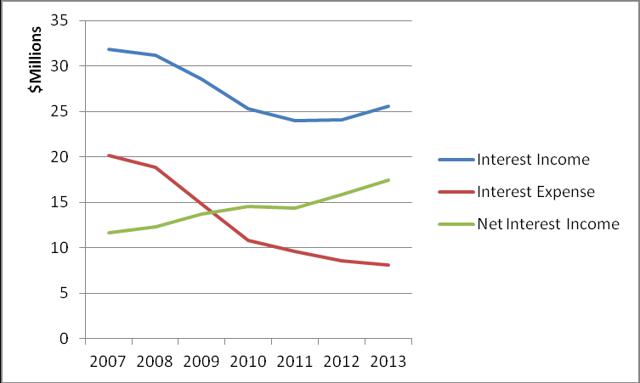 Total Interest Income Finally Growing Again
Of course, you are rightly concerned if the total interest income does not reverse its downtrend. But as you can see from the chart above, interest income finally bottomed in 2011 or 2012 and has begun to pick up in 2013.
… And Growth Is Accelerating
In 2013, interest income has grown for three quarters in a row. And the growth has actually been accelerating in the second half.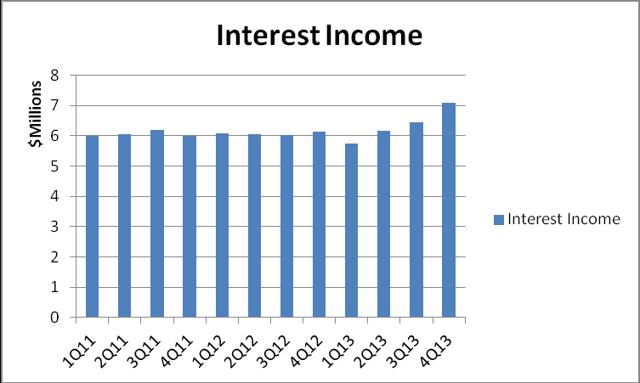 The acceleration of the interest income growth in the last three quarters can be seen more clearly in the following chart. On the chart, YoY% means percentage change year over year.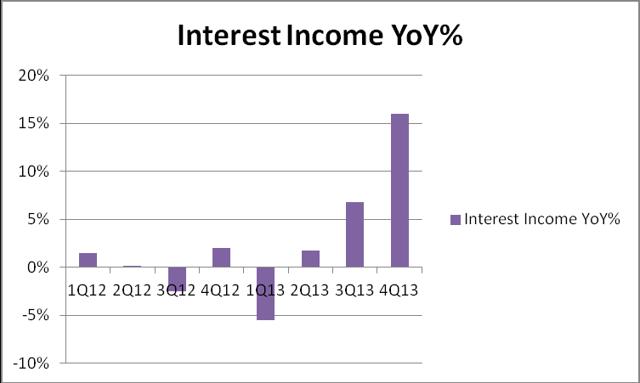 Note that in both 2012 and 2013 interest income grew while interest expense declined (refer to the second graph from top). With growth of total interest income now accelerating, this bodes particularly well for net interest income growth in the next few quarters. It is of course unrealistic to expect interest expense to fall indefinitely. But for net interest income to grow, interest expense just has to grow slower than interest income.
Robust Net Loans Growth Sustains Income Growth
Looking beneath the surface, recent earnings releases have revealed robust growth in loans, deposits, and assets. As you can see from the graph below, net loans receivable hit bottom in 2010. Since then it has grown again. In 2013, it grew by a whopping 40.7%!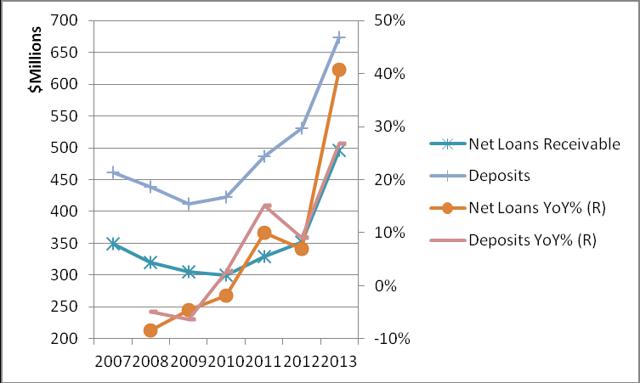 Besides, the growth of net interest income has been accelerating in the past few quarters. And you can expect the acceleration to continue into the coming quarters as the loan growth fully manifests itself in interest income.
Expansion And Diversification Initiative
In 2013, the company embarked on a strategic initiative to expand its operation and grow and diversify its loan portfolio. It opened a new office in Fishers, Indiana to house 65 banking and mortgage personnel (including 48 new hires) in July. In November, it also added an asset based lending (NYSEMKT:ABL) operation (in Portland Oregon) to provide working capital to small and medium sized businesses. In addition, it also increased marketing and professional services spending.
The result of this strategic initiative is a 41% growth in net loans receivable to $496 million, at the end of 2013, from $352 million at the end of 2012. Moreover, total deposits were up 27% (from $531 million to $673 million) and total assets were up 26% (from $637 million to $802 million).
Driving the loan growth were C&I (Commercial and Industrial) loans which grew 287% from $14.3 million to $55.2 million, CRE (Commercial Real Estate) loans which grew 68% from $84.9 million to $142.4 million, and residential real estate loans which grew 48% from $128.8 million to $191.0 million. The net result is diversification into more commercial loans. The chart below compares the loan portfolio composition for 2012 and 2013. Commercial loans (CRE + C&I) now comprised 40% of the loan portfolio by the end of 2013 compared to 28% at year end 2012.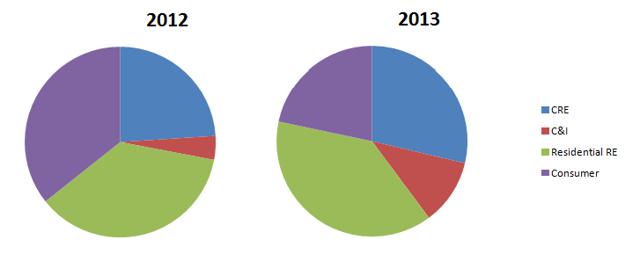 With the expanded banking and mortgage lending operation and continuing growth initiative, there is no reason the loans/deposits/assets growth momentum cannot continue into the future.
FIB Entering New Stage of Growth
FIB commenced banking operations in 1999. Since then, the bank's net loans and leases (see the following graph, data from FDIC filings) have gone through three stages of growth: (1) Stage I, from 1999 to 2007 where loans grew monotonously, (2) Stage II, from 2008 through 2010 when loans declined steadily year after year, and (3) Stage III, from 2011 on when loans are growing again.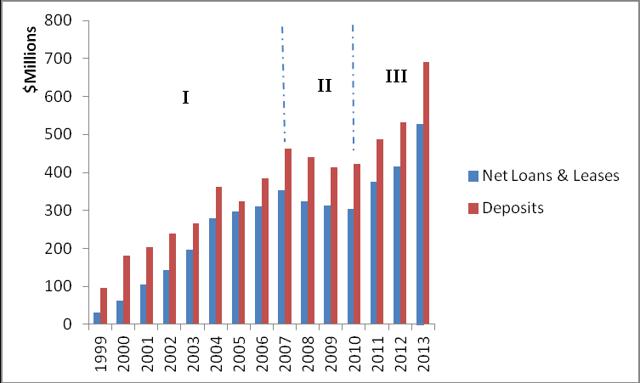 Note that Stage III is still young but is showing very robust and accelerating loans (and deposits) growth. In other words, after a brief period (Stage II) of loans /deposits decline, FIB is entering a new stage of immense growth.
The following graph plots FIB's income/expense and loan provision since inception, divided into the same three stages. Total interest income roughly follows the loan growth. Net interest income, on the other hand, behaves more resilient in recent years, continuing to creep up even when loans and total interest income declined from 2008 through 2010. This echoes earlier observation about INBK's impressive growth ability in the recent rough deflation/disinflation period.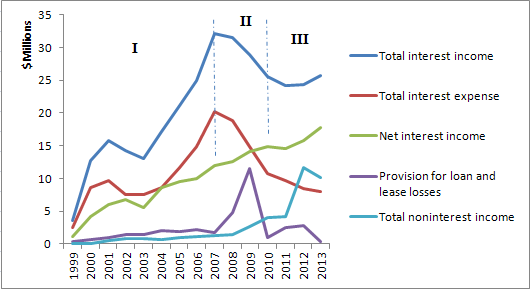 It is important to note that, ever since FIB's inception, net interest income is on a steady path of climb except for a couple of blips.
At the beginning (first year or 2011) of Stage III, both total interest income and net interest income declined while net loans had already crept up. The one-year lag of interest income to loan growth/decline should not be surprising and likely, in a similar way, the rapid pace of loan growth in 2013 has not yet been fully reflected in interest income growth. That means the interest income growth could be higher in 2014 than in 2013. A preview of what to expect in 2014 can already be seen in the acceleration of INBK's net interest income in the past few quarters, described above.
If we just focus on FIB's net interest income growth over time, a different three-stage pattern can be easily spotted as illustrated in the following graph.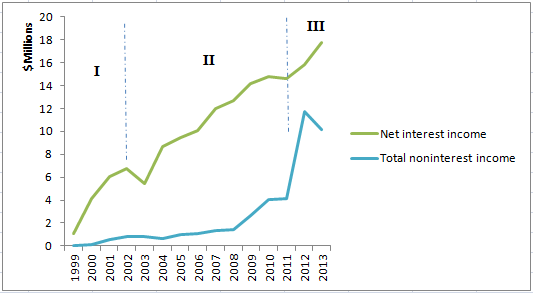 Stage I was from 1999 to 2002 when FIB's infant growth was eventually dampened by the early 2000s' recession. In stage II, net interest income hit bottom, recovered from the downturn and then entered a period of steady, near-linear growth until the early 2010s (2011). The stage III we are in now appears to be the beginning of an exponential growth period. The exponential growth is now well underway with the accelerated growth of interest income in the past few quarters.
New Stage Of Growth Is No Accident
Of course, one might argue that stage III is still young and it remains to be seen if the exponential growth can continue into the future. But remember that the new stage of growth at FIB is no accident. It resulted from management's vision of its future. Management realized a need "to support growth as a larger, more diversified retail and commercial banking entity." And that was what's driving the expansion in infrastructure and expertise in the past year or so.
As a result of the investment over the years, the company now has a highly qualified team at its disposal to continue its lending growth in consumer loans, residential mortgage, C&I, and CRE. See the following slide from the company's latest presentation.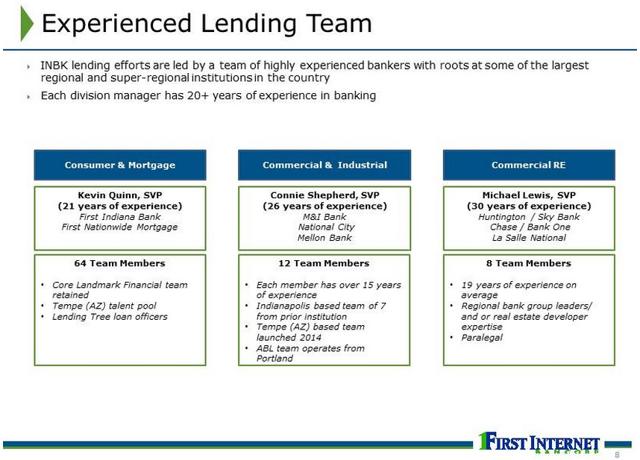 To further fuel the expansion initiative, INBK also made a secondary public offering in November 2013 and raised $29.1 million of new capital, which was a huge sum for a bank that had only $62 million of shareholders' equity back then. Management stated that the goal of the secondary was "to support our positive momentum and enable continued growth."
Going forward, management singled out four areas to focus on: organic growth, additional revenue channels like ABL and SBA lending, management lift-outs, and opportunistic acquisitions. Refer to p.17 of the presentation mentioned above.
Long-Term Trend of Noninterest Income Is Still Up
That is, even if you take away the transient spike in the past two years attributed to the refinancing boom. Refer to the following graph.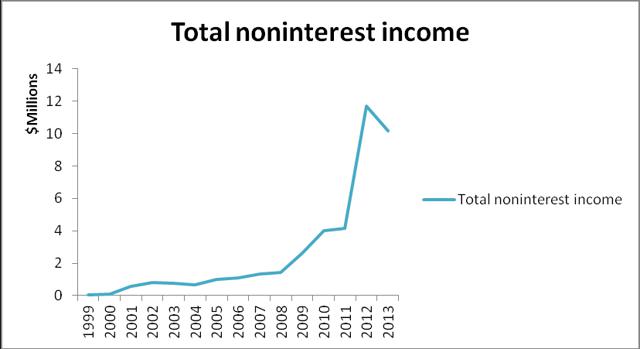 Judging by year-over-year growth, the meltdown of mortgage banking income will continue for a couple more quarters (because 1Q14 and 2Q14 still face tough comparison due to the refinancing boom that lasted through 2Q13 but has since busted). But after the dust settles the underlying long-term growth remains intact. Partly supported by strength from purchase money mortgage, the noninterest income will probably fall back to 2011 level or slightly higher. One might use 4Q13's noninterest income as a reference run rate. Annualizing that number points to about $4.7 million annual noninterest income, which would still be about 30% higher than 2011's $3.6 million.
Starting 3Q14, when noninterest income becomes less likely to be a significant drag on overall performance (in terms of year-over-year growth), the coast will be clear for a favorable growth picture that can potentially fully expose the robust net interest income growth discussed above. Looking further out, noninterest income can begin to grow again thus contributing to total revenue growth.
The bank was the winner of Mortgage Tech's 2013 Online Mortgage Originator Award. With a solid web-based infrastructure and a highly-qualified lending team, the bank is well positioned to compete effectively in the mortgage business. A growing share in home purchase mortgage will not only bring in more interest income but also boost mortgage banking business and noninterest income.
It seems a little less clear to me regarding when the bottom line growth will begin to surface again. The exact timing depends on if noninterest expense will need to grow further, and by how much, to support the ongoing expansion initiative. But it is just a matter of timing that does not impact the longer-term growth picture.
Stable Net Interest Margin Through Different Rate Environments
Some might be concerned about net interest margin once short-term rate begins to rise. The company's loan portfolio (as disclosed for FY12) seems to indicate a negative interest rate gap, i.e., short-term interest-sensitive loans outweighed by short-term interest-sensitive deposits. 10-K for FY13 is not out yet; so we do not know how much change there is on this front.
But remember that management has a whole set of ALM (asset and liability management) tools to address the issue. They can grow loans faster than deposits (and they are already doing that). They can narrow the interest rate gap. They can also set rates for loans and deposits at favorable terms. And so on.
FIB currently operates at a loans (and leases) to deposits (LTD) ratio of 76.5% (as of 2013 year end), which has room to grow into the 90s or even 100s level. At 2005 year end, the LTD ratio reached 91.2%. And it is not unusual for fast-growing banks to operate at an LTD of over 100%. So there is a lot of room for FIB to push LTD up to highly utilized level, thus boosting net interest margin.
FIB currently offers an interest checking account at 0.55% APY and savings interest rate of up to 0.80%. These are very competitive and attractive rates in today's zero-rate environment. When needed, there's indeed some room for the bank to slow down the rate increase on deposits when the short-term rate rises.
ALM and interest rate sensitivity management are topics of much academic debate and discussion. For investors, however, the history of net interest margin is probably a more convincing and practical way to assess the issue.
The following graph plots FIB's yield from earning assets, funding cost, and net interest margin throughout the bank's entire history. As can be seen (taking yield and funding cost as proxy), there have been quite a range of rate variation over the past 15 years or so. But net interest margin was mostly confined to the 2 to 3% range. During the last period of rate increase (2003 to 2007), net interest margin essentially remains flat. That is, except for the 2003-2004 period, when net interest margin actually moved up because the bank increased the lending rate first before raising the rate on deposits (as all banks tend to do). That is a good thing for investors though.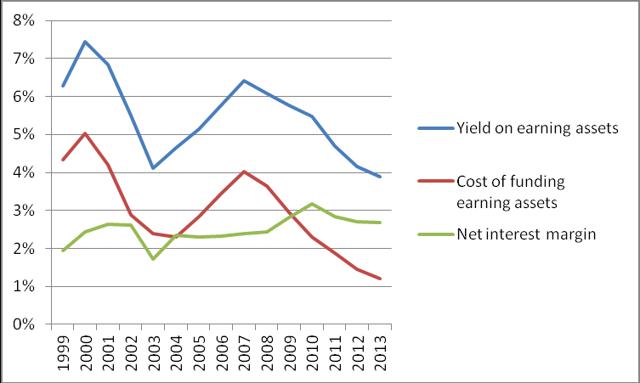 It can also be observed that in recent years (since 2009) net interest margin has been at the high end of the historical range. That's a reflection of management's competent ALM and rate-sensitivity management skills in the current low-rate environment. Considering the history overall, it seems logical to expect similar management skills when the rate rises.
Normalized Efficiency Ratio In 50s
Understandably, during transition period like now, INBK/FIB is running a little high on the efficiency ratio (noninterest expense as a percentage of revenue). In 2013, the efficiency ratio for INBK was 76% and for FIB it was about 70%. But from 2004 through 2012, FIB's efficiency ratio remained consistently below 60%. In 2004 the ratio even went below 50% (at 49.3%).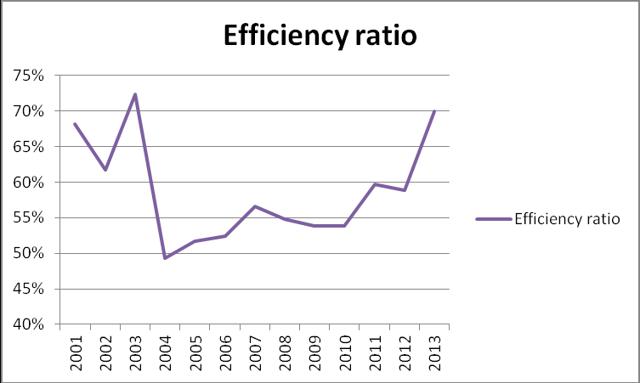 As the bank scales up its operation, expect the efficiency ratio to fall back to the normalized 50-60% range. As pointed out above, the bank is now at the early stage of a new growing cycle which has caused the noninterest expense to grow faster than (interest and noninterest) income. As the growth pans out and the operation scales up, the growth of noninterest expense should slow down relative to income.
Just look at the early years of FIB's growth, efficiency ratio began at over 300% but fell precipitously to the normalized range of 50-60% in a few years. Although magnitude differs, the current new stage of growth should follow the early years regarding how efficiency ratio normalizes over time.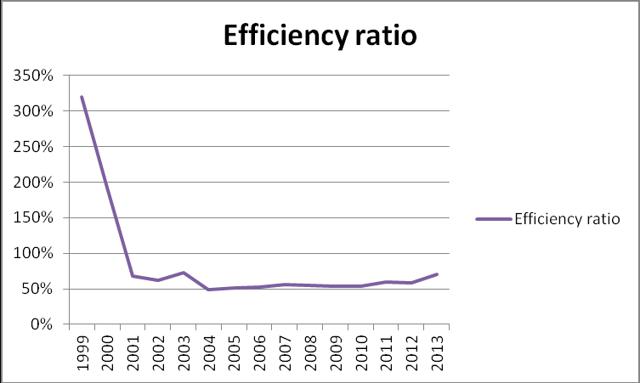 Insider Purchases
Following the company's listing on NASDAQ, directors and officers (including founder and CEO Mr. David Backer) bought into the stock from the $16 level (split adjusted) all the way up to $30. Then in the company's November secondary offering, they also purchased shares at the offering price of $20 per share. In Q4, renowned institution investor Wellington Management acquired shares (likely in the secondary offering) and became a 9.88% owner of the stock.
Customer Reviews
Searching over the web for customer reviews, FIB's customer rating overall is on par with what Bank of Internet USA (NASDAQ:BOFI) receives.
One thing I noticed was that an FIB manager occasionally responds to customer complaints, as you can see from this Yelp page now. It appears to me that some sites deleted certain reviews after a period of time for whatever reasons (maybe due to software issues as well). So you shouldn't be surprised if the link I gave above does not match the content I described after a while.
Actually, I remember a customer complaint on Yelp regarding a loan issue which then got resolved with a comment and involvement from an FIB official. The same customer then posted a follow-up comment on the page to say that she was happier after the resolution. This was there just one or two months ago. Unfortunately, this rare example is now absent from the site.
The fact that the company monitors customer reviews is a positive thing for two reasons. First, it is an indication that the company cares about customers. Second, it is a reflection that the company cares about its public image. Both are good to its business and to shareholders. Remember, without customers, there is nothing for investing in a company!
Price Target
I believe INBK deserves a near-term P/B ratio of 1.5, which should value the stock at $30.65. As a reference, SPDR Regional Banking ETF (NYSEARCA:KRE) trades at P/B of 1.46. Like I explained above, FIB is now entering a new phase of robust, exponential growth. And I expect the underlying growth rate to be faster (or much faster) than KRE as a whole. So in my view an on-par P/B ratio of 1.5 is nothing unreasonable to expect. I also want to point out that INBK has minimal amount of intangibles thus making its tangible book value ($19.38) close behind the book value ($20.44).
As the growth story pans out, I see a lot of room for multiple expansion. I see the market value of the stock at a P/B multiple of 2.0 in one or two years. Assuming book value per share growth of 25% in two years, we can be looking at a stock price of $51.
For reference purposes, INBK grew book value per share by 25% in the two years since 2010, i.e. 2011 and 2012 combined. (I left out year 2013 because of the abnormal factors that blurred the overall picture, i.e., refinancing business meltdown and a secondary public offering in the year.) In the same period, tangible book per share grew by 28% while total shareholders' equity grew by 25.5%. Since we are now entering a more robust growth mode, there is no reason we can't grow book value at a similar pace. But let's take possible dilutive impact into account and assume book per share will grow 25% in 3 years (from 2013 YE). That would take us to the end of 2016. A double from here in less than three years is still a return not to sniff at.
Closing Remarks
INBK/FIB has now entered a new stage of robust, exponential growth. The growth is being masked by a nationwide meltdown in refinancing business, and to a lesser extent, by the increased spending due to a strategic expansion and diversification initiative. These complicating factors have created a buying opportunity for the patient investors.
Underlying the promising growth picture is a highly qualified team that can grow loans in the areas of consumer, residential mortgage, commercial real estate, and commercial and industrial loans. FIB has a proven record of being able to grow through thick and thin. It also has a proven record of maintaining stable net interest margin in different rate environment through its 15 years of history so far.
With the internet-only business model, the company already has customers in all 50 states. The bank's current miniscule assets of $802 million, deposits of $673 million, and net loans of $496 million only speak to the huge runway ahead of it given its national reach.
That's exactly why the company was able to grow C&I loans by an amazing 287%, CRE loans by 68%, residential mortgage loans by 48%, and total net loans by 41% in 2013. This kind of breakneck growth cannot go noticed by the market for long. In fact, the stock outperformance in the past week might have marked the beginning of the investing public awakening to the phenomenal growth thus far masked by the transient mortgage banking weakness.
One can be reasonably sure that in the long run the stock will get much bigger than the current market cap of $112 million. My current near-term price target for the stock is close to $31 and longer-term target is $51. Near-term is defined as 6 to 12 months. Long-term is defined as 18 to 36 months.
Disclosure: I am long INBK. I wrote this article myself, and it expresses my own opinions. I am not receiving compensation for it (other than from Seeking Alpha). I have no business relationship with any company whose stock is mentioned in this article.