February 2014 Sales
The Buckle, Inc. (NYSE:BKE) released its 2014 sales figures on March 6th, 2014 and the numbers showed continued slow growth. The net sales in February for comparable stores opened at least one year, continued their pattern of decreasing sales with a decline of 1.4%. Total net sales were up .2%, which means that its new stores and online sales were barely strong enough to overcome its comparable stores sales decline. BKE's 2013 fiscal year ended on January 30, 2014, so February was the first month of its 2014 fiscal year. 2013 full year financial results are scheduled to be released on March 14, 2014. According to the March 6th news release, the company added nine stores in 2013 bringing its current total to 450. BKE has had an online store since 1999.
BKE's results are consistent with the chatter I have been hearing on Bloomberg and other financial news sources about February sales in general. As such, the decline does not appear to be specific to BKE, and in fact, BKE may be doing better than at least some of its competitors. The Gap, Inc. (NYSE:GPS) was down 7% on comparable store sales. The consensus view seemed to be that the weather put downward pressure on February sales, but retailers were optimistic about upcoming spring sales.
The Business
For those of you who are unfamiliar with BKE, it is an apparel retailer that caters to young adults. It is an American success story that began in 1948 when David Hirschfeld opened a men's store named Mills Clothing, in the small college town of Kearny, Nebraska. In 1965, Dave's son Dan took over the business. Dan changed its name to the Brass Buckle, and it became a denim store. In 1977, it started selling women's apparel, and in 1991 it went public as The Buckle, Inc.
Fundamentals
The following is a list of relevant financial ratios from Charles Schwab which shows the strength of BKE.
Return On Assets - 43%
Return On Equity - 40.14%
Return on Investment - 35.01%
Net Profit Margin - 14.32%
Operating Profit Margin - 22.64%
Long-Term Debt - $0.00
Quick Ratio - 1.7
Current Ratio - 2.99
Enterprise Value - $2.2 Billion
EPS Growth Rate (5 year) - 16.18%
BKE's Dividend Policy
In addition to its regular dividend, BKE consistently pays a mammoth special dividend at the end of the year. The present yield for the regular dividend is 1.9%. A special dividend was recently declared in the amount of $1.20, a 2.5% yield. Last year's special dividend was an exceptional $4.50, issued (at least in part) as a result of an anticipated adverse change in tax law.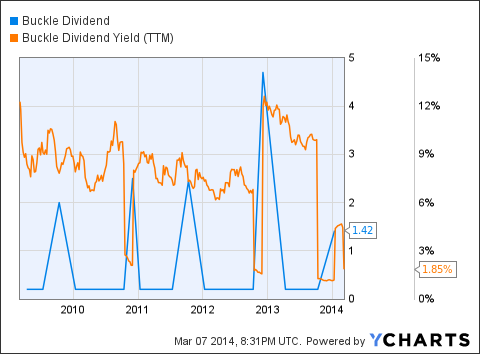 BKE Dividend data by YCharts
In the five years prior to the 2013 fiscal year (BKE's fiscal year end is January 30), the total dividends had an average payout ratio to earnings of 154%. However, the five-year payout ratio to operating cash flow minus capital expenses was only 68%. The large payout ratio is concerning, but by keeping the regular payout low (about 25%), I think it can avoid the usual share price chaos if a substantial decrease in future special dividends becomes necessary. The unanswered question at this time is whether or not BKE will continue its current dividend policy if its growth in revenue, profits, and earnings continue to be flat.
Conclusion
BKE's shares are currently selling at $47.70 (March 7, 2014), which is close to my fair value estimate of $48.90, using a present value model of total owners' earnings. For those of you who would like to see how I calculated this price, you can look at a previous article I published on Seeking Alpha on January 15, 2014. The current share price is up approximately 15% from its $41.45 fifty-two week low, set on February 5, 2014. At this time I am holding my shares, and waiting for the 2013 full year financial reports to be released on March 14th, 2014. I am anxious to see how well BKE's margins are holding up (which at 14.32% are one of the highest in the apparel retailer industry), and I also want to see if the company had positive or negative earnings growth for the 2013 fiscal year.
BKE does have strong fundamentals with no long-term debt, so it is unlikely that it will cut its regular dividend, but the special dividend is another matter. If BKE's earnings growth turns negative, its directors might substantially cut its special dividend or forego it completely. Such a change in its dividend policy will no doubt cause a material decline in the company's share price. Investors should monitor BKE's monthly sales reports in 2014 if they are relying on its current policy of delivering large fourth quarter special dividends.
Disclosure: I am long BKE. I wrote this article myself, and it expresses my own opinions. I am not receiving compensation for it (other than from Seeking Alpha). I have no business relationship with any company whose stock is mentioned in this article.