Audience (NASDAQ:ADNC) is a fabless semiconductor company that specializes in noise suppression technology. Its solution is broadly adopted by tier-1 handset makers in popular smartphone models like the Samsung Galaxy S4 and Xiaomi Mi3. Audience's dominance in the smartphone market, high cash balance and low share price make it a uniquely interesting strategic asset to potential buyers.
Is A Deal Brewing?
Last week, Audience's management suddenly backed out from two major investor conferences. Their Investor Relations web page shows that the company cancelled its attendance to the Morgan Stanley TMT Conference on the day of the conference (March 3rd). The next day, Audience's IR page shows a cancellation of its attendance to the Roth Conference on March 11th. This is right after the company just announced participation in these conferences on February 21st.

These are huge conferences, and Audience's cancellation can only mean that management needs to deal with something of great urgency, such as looking at an M&A offer. In such a situation, management has reasons to avoid unnecessary publicity and distraction.
Whatever is so urgent that requires higher priority than two high profile investor conferences is most likely good news. If it was bad news, then the company is required to report it quickly. Whereas with M&A info, a company can't talk about it right away. Also, if it was bad news, the company would want to attend the conferences to assure the investing public that the company is still in good shape.
This situation looks similar to when Dell acquired Compellent Technologies in 2010. Just a couple days before acquisition talks were announced, Compellent backed out of an investor conference.
Audience Has The Best Noise Suppression Technology
The key for robust voice centric application is noise-free audio input. The real world environment (e.g., driving on the freeway, sitting in a coffee shop) can be quite noisy. In the past, the ambient noise significantly decreased the accuracy of voice recognition. Various solutions, such as specialized microphones, were tried, but none was convenient, low cost and robust.
Audience's noise suppression technology is unique and extremely effective. It is based on the Fast Cochlea Transform, a special transform that mimics how human ear processes audio input. The company provides an experience demo on its web site. The following long list of design wins is a clear testament of the company's technology superiority.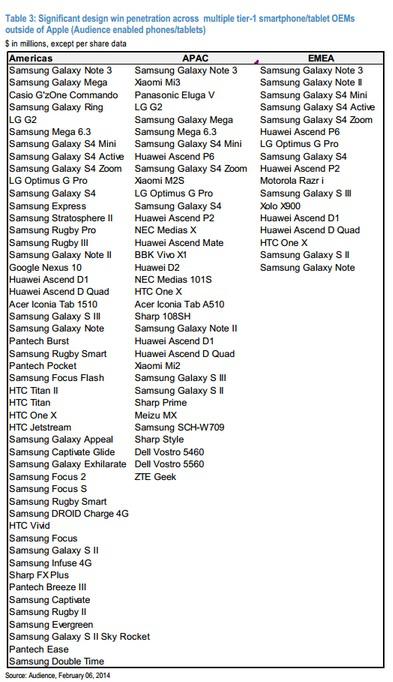 Many of the above companies are potential acquirers of Audience.
Audience is creating new products. In CES 2014, it introduced VoiceQ software, which enables users to activate commands on their mobile devices using only their voice. Audience stated that its eS700's VoiceQ functionality is low-powered with the always-on voice sensing. The popularity of continuous voice command services are growing in mobile products. For instance, the Moto X launched in August 2013 from Motorola and Google emphasized its touchless control in comical video ads. It was rumored last summer that LG will package a similar service on its upcoming handsets as well.
The China Mobile partnership is huge
A significant development in 2013 is that Audience formed a partnership with China Mobile, the world's largest wireless carrier, to set voice standards for handsets running on China Mobile's network. The potential of this partnership is tremendous. Since Audience is helping China Mobile to define the voice standard, this partnership gives Audience the unfair advantage to make its voice processors a baseline requirement for all handsets running on China Mobile's network. The work has been progressing, and the company expects to see revenue impact in 2H14.
Audience's Valuation Is Cheap
Audience's market cap is $270 million. It has $140 million cash and no debt. That puts the company's enterprise value at $130 million. The company's annual sales is $160 million in 2013, and growing. The 2015 consensus EPS is $0.51. So the stock is trading at a 2015 P/E ex cash of only 12x. That's a low P/E for a growth tech company with cutting edge innovations.
This is a great opportunity for a potential acquirer. They have the chance to purchase Audience around its IPO price of $17 per share. That would be a reasonable takeout price of over 30% from its current price. A higher offer is also possible.
Disclosure: I am long ADNC. I wrote this article myself, and it expresses my own opinions. I am not receiving compensation for it (other than from Seeking Alpha). I have no business relationship with any company whose stock is mentioned in this article.