Diamond Offshore Drilling (NYSE:DO) is a leader in offshore drilling, providing contract drilling services to the energy industry around the globe with a fleet of 45 drilling rigs, including 5 under construction. The current company was founded in 1989 but can trace its roots to 1953 when ODECO's Alden "Doc" Laborde developed the first semi-submersible rig. ODECO, founded in New Orleans, Louisiana was purchased by Diamond M Drilling in 1992.
Former CEO Lawrence R Dickerson has recently retired after over 30 years of service with the company and has been replaced by Marc G. R. Edwards. Mr. Edwards has spent the majority of his career with Halliburton (NYSE:HAL) and will bring a wealth of experience along with his worldwide contacts to the helm of Diamond Offshore.
Diamond Offshore is based in Houston, Texas and has approximately 5500 employees.
The Dividend: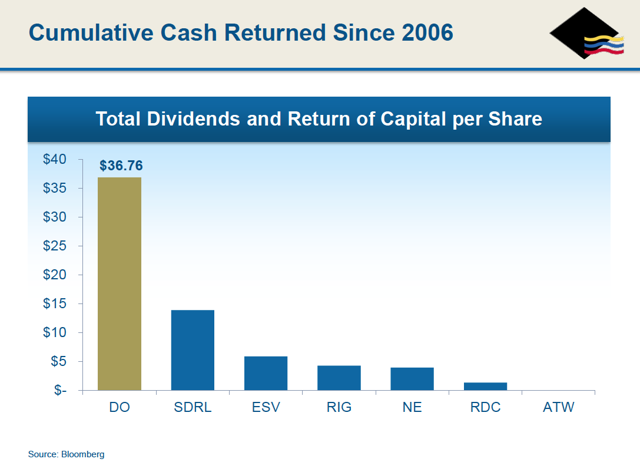 (Diamond Offshore presentation)
Diamond Offshore has demonstrated a commitment to returning capital to shareholders, including 50.9% owner Loews Corporation (NYSE:L). Loews retains the Chairmanship along with two additional seats on Diamond Offshore's Board of Directors. Loews reports the Diamond Offshore dividend as "Cash from Operations" on its financials and has come to rely on its dividend. When the CEO Larry Dickerson was asked on the Q413 Conference call if Loews liked the dividend Mr. Dickerson responded, "I believe they like it, I believe all of our shareholders like cash." This is very telling where the priorities are, particularly for a company that does not give any sort of forward guidance on the dividend. Diamond Offshore is famous for paying most of the dividend as a "Special Dividend"; however, this Special Dividend has been paid regularly since 2006. When asked about this policy which results in an artificially low yield, former CEO Larry Dickerson replied, "We've attracted people that understand that and the bulk of our shareholders know the kind of yield that they're actually receiving, including the special dividend." Where other drilling contractors defend the feasibility of their dividend, I think the most likely scenario for Diamond is raising the dividend in 2015 or 2016 based on increasing revenue and decreasing CAPEX.
Dividends are where investing becomes reality. If a company is not returning capital to shareholders and has no plans to in the future, in my opinion, what's the point of owning the stock?
Credit Rating:
Diamond Offshore's corporate debt rating compares favorably to competitors Transocean (NYSE:RIG), Seadrill (NYSE:SDRL), Noble (NYSE:NE), Ensco (NYSE:ESV), Rowan (NYSE:RDC), Atwood Oceanics (NYSE:ATW) and Vantage Drilling (NYSEMKT:VTG).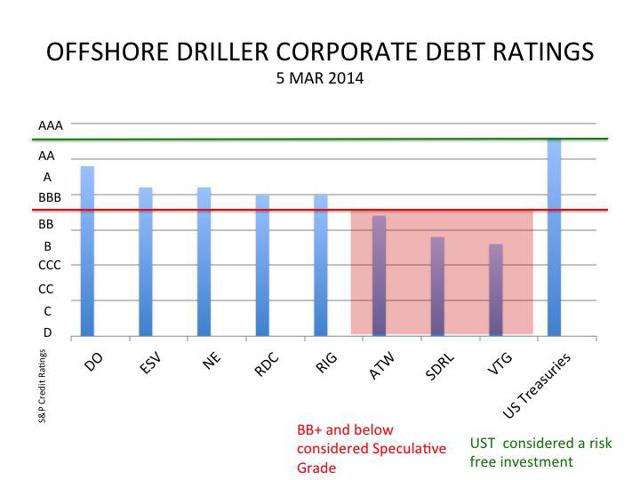 (Author's chart)
Diamond Offshore Drilling currently supports the highest credit rating among all publicly traded offshore drillers. This is significant as it represents cost of debt. Debt is senior to equity in corporate structuring and credit ratings are a quick read on the health and survivability of a company. To my knowledge, no company has ever been successful long-term by financing a dividend with "junk" rated debt (read Seadrill Ltd.). Financial strength cannot be overstressed, particularly if this doomsday scenario from Barclays comes to pass. Situations like this would likely work out similarly to when in 2009 Diamond picked up both the Ocean Valor and the Ocean Courage at distressed prices. See link here.
The Fleet:
Much has been made of the age of Diamond Offshore's fleet. The oft quoted fleet age of 29 years must be taken with a grain of salt.

(Diamond Offshore Fleet Status, Feb 14)
How long has the 38-year-old Ocean Nomad been paid off?
Diamond Offshore has upgraded its fleet commensurate with what the company needs to meet its obligations, take care of employees and return money to shareholders.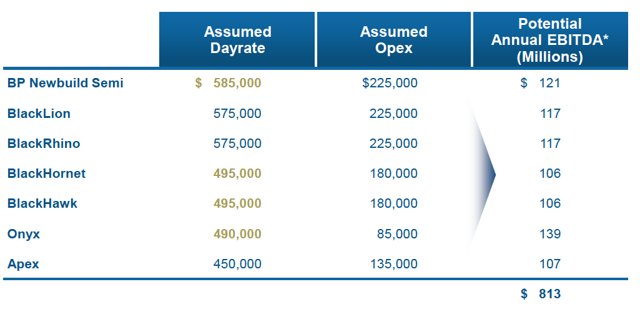 (Diamond Offshore presentation)
In fact, when this newbuild program is complete, excluding 4 cold-stacked, non-marketed rigs, the fleet age will be 23 years. 23 years is insignificant in my opinion when you can still work 38-year-old rigs at $330,000 per day. The point to take from this is Diamond Offshore is upgrading its fleet while maintaining capex to protect the dividend and cost of debt. Meanwhile some of its competitors are building a battery of uncontracted rigs being financed at junk rated debt levels. Diamond Offshore's competitors' fleet age will climb but will they have the cash flow to maintain the rigs and keep their young fleet age? The jury is still out.
Diamond Offshore's Fleet profile going forward: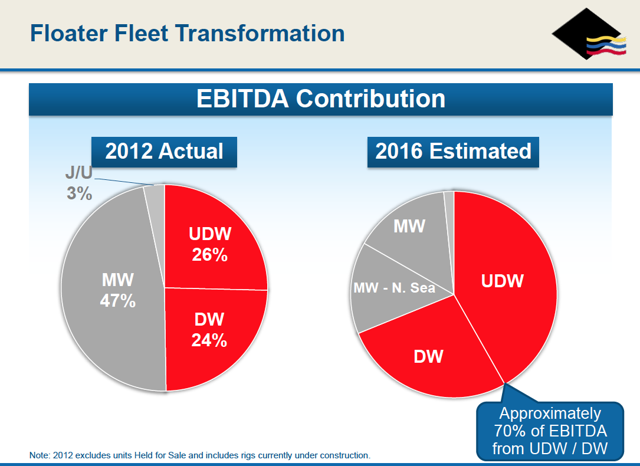 (Diamond Offshore presentation)
Diamond Offshore stock appreciation:
Diamond Offshore is currently trading 6% off of a five year low. This is mainly due to contract issues with OGX and NIKO Resources, along with decreased revenue from operations. The current situation obviously isn't rosy but these issues are temporary in my opinion. The company has settled with NIKO and revenue is forecasted to climb every year to at least 2016. This presents an excellent opportunity to enter the stock at levels not seen in quite some time. The Stock trades at 8x FY15 EPS.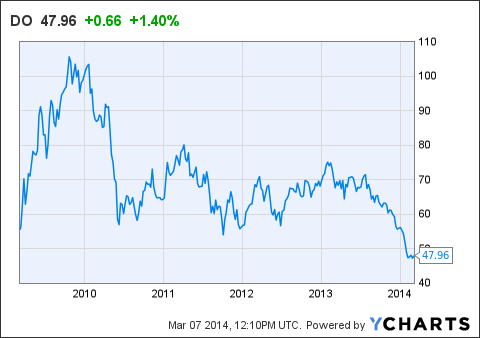 DO data by YCharts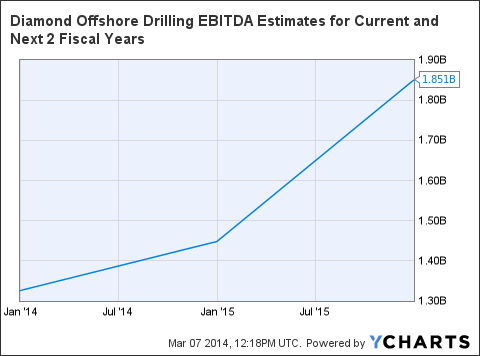 DO EBITDA Estimates for Current and Next 2 Fiscal Years data by YCharts
Opportunities to acquire companies with a +7% yield, an A credit rating and increasing revenues are limited and present a great opportunity. With that, I'll leave you with a quote:
"Be fearful when others are greedy and be greedy when others are fearful." - Warren Buffett
Disclosure: I am long DO. I wrote this article myself, and it expresses my own opinions. I am not receiving compensation for it (other than from Seeking Alpha). I have no business relationship with any company whose stock is mentioned in this article.