Illumina
Illumina (NASDAQ:ILMN) is a leading innovator in next-generation sequencing (NGS). NGS enables researchers to study biological systems at a much greater capacity than traditional DNA sequencing technologies. This technology cost researchers $1 billion just 10 years ago making this testing available to very few labs. Through Illumina's innovative research NGS is becoming more accessible and affordable for the average researcher willing to pay an average of $10,000. Just imagine the possibilities as this new age genetic testing becomes affordable for the average person.
There are many relevant applications for next-generation sequencing that could change the future of agriculture, medicine, science and more. Illumina points out key areas of interest in their financials so let's focus on a few to see the real potential for NGS and Illumina.
Agrigenomics:
Agrigenomics is the application genomics in agriculture. Using NGS allows agriculture researchers and breeders identify desirable traits in plants and animals at complex levels. Being able to identify positive and negative traits will provide healthier, more efficient crop and livestock. The applications of NGS are endless as global population continues to grow and individuals demand healthier food. A few applications include finding reproductive traits to make planting more efficient, determining the best climate for sustainable growth and finding complex pathogens and what causes food allergies and disease. Today this science is only available to certain labs due to the high costs; however, as costs go down, agrigenomics will be available to all farmers and individuals interested in what they are eating. This will lead to higher scrutiny in the food industry as the food products being sold will be more transparent with affordable testing.
Cancer and Genetic Disease Genomics:
The application of NGS to cancer has its obvious benefits. Before DNA testing, people relied on family history to determine whether or not certain cancers were genetic to them. This raised awareness in hopes that regular testing would find cancer in the early stages. Today NGS takes testing for cancer to a whole new level. Using NGS people can test their genes to see the probability of cancer customized to their genetic makeup rather than relying on family history. This will allow individuals to take precautionary measures to remove the possibility of cancer before it even appears in the body.
Individuals can also benefit from NGS if there are any other genetic diseases they are susceptible to. Even if no genetic disorders are known in one's family, NGS can identify ANY mutations that lead to a number of diseases or conditions. Early identification will save lives and making living more sustainable for millions of people. NGS will provide custom medicines designed for an individual's specific genetics for effectiveness, and the future of medicine will be completely different as no two pills will be alike. Today this testing is too expensive for the average person, however, if the cost is reduced to $1,000 or even less, NGS will become a regular medical screening for almost everyone.
NGS Implications:
The implications of NGS are huge and will be a part of everyday life in the future. NGS will be mainstream and available to anyone with a need. Illumina is the leading innovator of NGS, and once the applications become more accessible, they will be the major supplier for testing equipment. Investing in a company that will have its footprint in the future of agriculture, medicine, science and much more is a great opportunity.
Illumina Current Economic Conditions:
Illumina has enjoyed a nice run of roughly 55% in 2013 as it became a big momentum play and received a lot more coverage than prior years. Many analysts continue to upgrade ILMN resulting in even larger gains of 50% so far in 2014.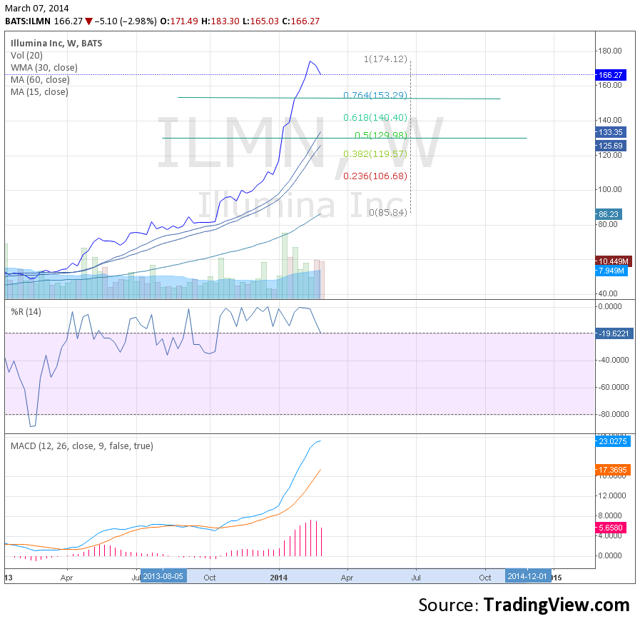 With these massive gains in the stock market, ILMN is set up for a nice pull back which may have started this week. If the stock moves below $153.29 look for some consolidation as it may find nice support between $129.98 and $153.29. After several trading sessions in this range, ILMN will be in a nice buy position at a discount from the current stock price. Other indicators also show the stock is still overbought providing further confidence of a pullback even though new stock price targets from research firms put ILMN between $205-$215 per share.
As margins increase and sales continue to grow at rates greater than 25%, the stock will become cheaper as earnings per share will start increasing at noticeable rates. I agree with many analysts who say the stock is too expensive, however, I would buy it at support levels mentioned above and continue to buy as ILMN will become relevant to the average person within a short period of time. Illumina's historic clients are large labs and medical offices offering expensive, time consuming tests. Once Illumina's NGS equipment becomes mainstream, offering economically and efficiently attractive tests, the company will grow exponentially along with the stock.
As always, do your own research and read ILMN's latest 10K. There is a lot of fascinating information about NGS and the endless amount of applications for the testing.
Disclosure: I have no positions in any stocks mentioned, and no plans to initiate any positions within the next 72 hours. I wrote this article myself, and it expresses my own opinions. I am not receiving compensation for it (other than from Seeking Alpha). I have no business relationship with any company whose stock is mentioned in this article.