The Boeing Company (NYSE:BA) is geared to profit from a series of macroeconomic growth drivers that will propel shares 14% higher. The Boeing Company (Boeing) (the Company) is a leader in the Aerospace and Defense Industry, operating in five business segments: Commercial Airplanes, Boeing Military Aircraft, Network and Space Systems, Global Services and Support, and Boeing Capital Corporation. Financial strength will allow the Company to leverage product breadth, and a significant global presence, into growth and increased profitability. Strong future free cash flow projections, and a history of robust earning power, suggest that shares of Boeing are trading at a discount to fair value and represent an excellent long opportunity.
Boeing forecasts 3.2% growth in world GDP, 4.1% growth in the number of airline passengers, 5.0% growth in airline traffic, and 5.0% growth in cargo traffic from 2012 to 2032. In this 20 year forecast, emerging economies are likely to grow by 5.2%, accounting for 60% of global growth, while developed economies are forecasted to grow 2.1% over the same length of time. As low-cost carriers expand across emerging markets in order to reach a broadening middle class, the product of increasing wages and sustained GDP growth, Boeing is poised to meet the burgeoning demand for the high-efficiency, single aisle airplane. The demand for these airplanes is forecasted to increase 6% by 2032, and will mark a source of continued revenue generation, allowing Boeing to capitalize on the fastest growing segment of the world economy, emerging markets. The share of the fleet operating in the BRIC economies will increase from 26%, in 2012, to 37%, by the Company's projections.
This model estimates that the Company retains a 40% share of global commercial aircraft deliveries through year 2020, with a 12.5% EBITDA margin. The Boeing Commercial Market Outlook values the demand for 35280 airplanes, 41% of which will replace older airplanes, and 59% of which will expand the fleet, at $4840bn from 2014 to 2032, an average airplane price of $137,188,209 over the course of 20 years. This unit reflects 78% of share value. Boeing's strengthening EBITDA and operating margins are shown with increasing free cash flow yields over a 5-year period on the chart below.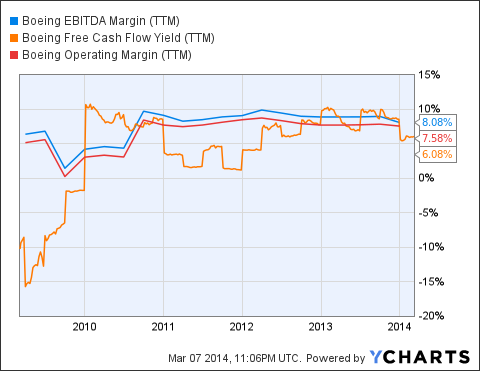 In the Military Aircraft business segment, this model estimates an 11.2% EBITDA margin on 360bn in revenue in 2014, with DSS contractual backlogs totaling $43.2bn, and $335bn in revenue in 2020. This is in keeping with the downward trend of defense spending by the United States. The impact of slowed defense spending has been a lack of short-term clarity in the price action of Boeing stock; light volume and a lack of directional momentum have left shares undervalued by 14%, creating an excellent long opportunity. With regard to profitability in the medium and long term, Boeing's Commercial Aircraft division can compensate the bottom line for the slight pullback in defense spending. The Military Aircraft segment comprises 17.2% of share value. The Non-US Defense, Space, and Security Systems unit reflects 2.6% of share value, Boeing Capital represents 2.2%, and Net Debt represents 15.2%. The 3-month chart below shows the pullback that has created a solid entry point for a long position.
Discounting future cash flows suggests that shares of Boeing are fairly valued at $147. This price is derived using an EPS estimate of 7.47, an 11.5% growth rate over the next 10 years, a 2% terminal growth rate, 10 years of terminal growth, and a discount rate of 9.29%. Reverse DCF analysis indicates that the current share price of Boeing necessitates demonstrated growth at a minimum rate of 9.55%, over the last 10 years, in order to be considered justifiable. The Company has an EBITDA growth rate of 9.80% over the last 10 years, and a free cash flow growth rate of 17.10% over the last 5 years. This analysis shows that shares of Boeing are undervalued by 14%, relative to a price target of $147, and the intraday share price of $128.64.
| | |
| --- | --- |
| EPS | 7.47 |
| 10yr Growth Rate | 11.5% |
| Terminal Growth Rate | 2% |
| Years Terminal Growth | 10 |
| Discount Rate | 9.29% |
| Reverse DCF | 9.55% |
| Fair Value | $147.00 |
Disclosure: I am long BA calls. I wrote this article myself, and it expresses my own opinions. I am not receiving compensation for it. I have no business relationship with any company whose stock is mentioned in this article.