I find Ensco plc (NYSE:ESV) stock to be a rare combination of value and growth high-yielding dividend stock. The year of 2013 had been remarkably successful for the company, and it achieved record revenues and earnings, and it doubled its dividend payment. The prospects for 2014 are also very good. In this article, I will explain why, in my opinion, ESV stock is a remarkably promising long term investment.
The Company
Ensco plc provides offshore contract drilling services to the oil and gas industry worldwide. The company owns the world's second largest offshore drilling rig fleet, and its ultra-deepwater fleet is the newest in the industry. Ensco currently owns and operates an offshore drilling rig fleet of 74 rigs, including six rigs under construction, spanning most of the strategic, high-growth markets around the globe. Ensco plc was founded in 1975 and is headquartered in London, the United Kingdom.
Valuation Metrics
The table below presents the valuation metrics of ESV, the data were taken from Yahoo Finance and finviz.com.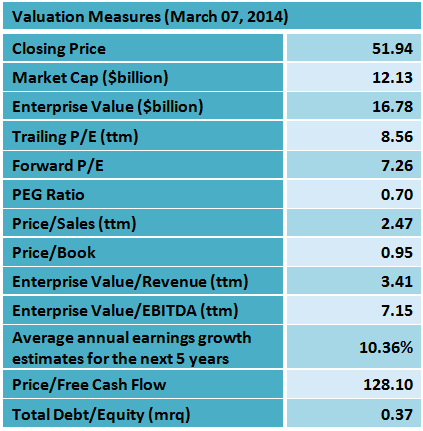 Ensco's valuation metrics are extremely advantageous; the trailing P/E is very low at 8.56 and the enterprise value-to-EBITDA ratio is also very low at 7.15. According to Yahoo Finance, ESV's next financial year forward P/E is very low at 7.26 and the average annual earnings growth estimates for the next five years is quite high at 10.36%. These give an exceptionally low PEG ratio of 0.70, only Transocean Ltd. (NYSE:RIG) among high-yielding S&P 500 companies has a lower PEG ratio. The PEG Ratio - price/earnings to growth ratio is a widely used indicator of a stock's potential value. It is favored by many investors over the P/E ratio because it also accounts for growth. A lower PEG means that the stock is more undervalued.
Latest Quarter Results
On February 19, Ensco reported its fourth-quarter and full-year 2013 financial results, which was in-line with EPS expectations. The company reported that diluted earnings per share were $1.54 in fourth quarter 2013 compared to $0.94 in fourth quarter 2012. Diluted earnings per share from continuing operations increased to $1.56 in fourth quarter 2013 from $1.04 a year ago. Revenues grew 16% to $1.256 billion in fourth quarter 2013 from $1.086 billion a year ago. The average day rate for the fleet increased 16% to $230,000, mostly due to the addition of ENSCO 8506, ENSCO DS-6 and ENSCO DS-7 to the active fleet, as well as higher day rates for several floaters and an increase in the jackup segment average day rate.
Full-year 2013 diluted earnings per share were $6.07 compared to $5.04 in 2012. Diluted earnings per share from continuing operations increased 16% to $6.09 in 2013 from $5.23 per share in 2012. In 2013, revenues grew 14% to a record $4.920 billion and net income increased 21% to a record $1.418 billion.
In the report, Chairman, President and Chief Executive Officer Dan Rabun stated:
The past year has been a period of remarkable growth for Ensco. We achieved record revenues and earnings as we added three new ultra-deepwater rigs to our active fleet. Each of these rigs commenced work on multi-year contracts for repeat customers, reinforcing the advantages of fleet standardization. Ensco's fleet will continue to grow as we complete the construction of six additional rigs scheduled for delivery through 2016. Highgrading our fleet with technologically-advanced rigs is a key element of our success in achieving the highest levels of customer satisfaction. Recently, Ensco once again was rated #1 in total customer satisfaction by EnergyPoint, an independent research firm. This is the fourth year in a row and our offshore crews and onshore personnel are to be commended for this impressive accomplishment.
Major Development
The year of 2013 had been remarkably successful for the company, it achieved record revenues and earnings, and it doubled its dividend to $3.00 per share annually. In 2013, revenues grew 14% to a record $4.920 billion and net income increased 21% to a record $1.418 billion.
In late May 2011, Ensco completed its acquisition of former offshore drilling rival Pride International (NYSE:PDE) for approximately $7.2 billion in cash and new ESV shares. Since the acquisition Ensco has increased its exposure to deepwater drilling. The company has added 11 new high-spec deepwater floaters to its fleet since 2008, and currently has three more deepwater rigs under construction. Ensco has now the youngest deepwater fleet in the industry with an average age of three years. It also has more 400' water depth jack-ups than any other driller.
Dividend
Ensco has been paying uninterrupted dividends since 1997. The forward annual dividend yield is very high at 5.78% and the payout ratio only 37%. The annual rate of dividend growth over the past three years was very high at 21.25% and over the past five years was extremely high at 90.30%. I consider that besides dividend yield, the consistency and the rate of raising dividend payments are the most crucial factors for dividend-seeking investors, and ESV's performance has been impressive in this respect.
Ensco's dividend is paid every quarter, as shown in the charts below.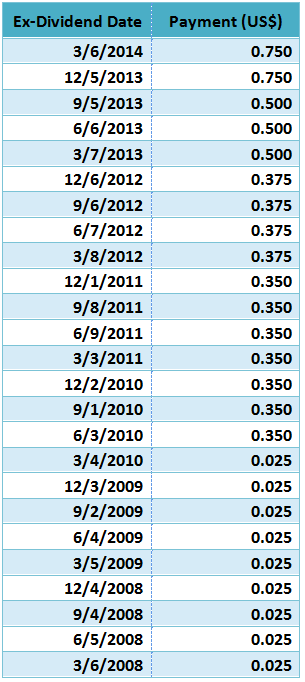 Competitors and Group Comparison
According to Ensco, the offshore contract drilling industry is highly competitive. Drilling contracts are, for the most part, awarded on a competitive bid basis. Price competition is often the primary factor in determining which contractor is awarded a contract, although quality of service, operational and safety performance, equipment suitability and availability, location of equipment, reputation and technical expertise also are factors.
A comparison of key fundamental data between Ensco and its main competitors is shown in the table below.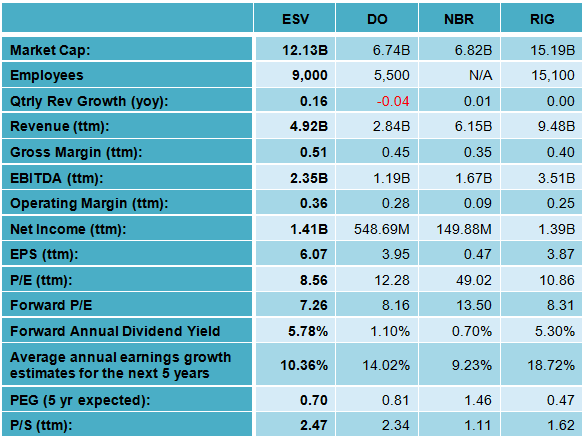 Source: Yahoo Finance
Ensco has the highest dividend yield and the lowest trailing and forward P/E among the stocks in the group.
Ensco's margins have been much better than its industry median, its sector median and the S&P 500 median, as shown in the table below.

Source: Portfolio123
Technical Analysis
Personally I am using only fundamental analysis for my investment decisions. After many years of experience, and after having tried all kinds of decisions making including technical analysis, I have reached the conclusion that relying on fundamental information is giving me the highest return. Nevertheless, some investors are successfully using technical analysis to find the proper moment to start an investment (I am not talking about traders; my analysis is only for investors). The charts below give some technical analysis information.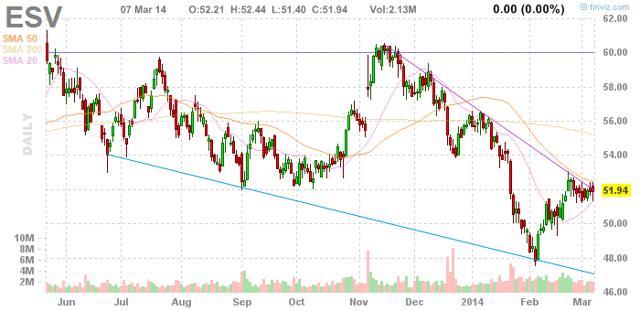 Chart: finviz.com
The ESV stock price is 1.45% above its 20-day simple moving average, 1.15% below its 50-day simple moving average and 6.05% below its 200-day simple moving average. That indicates a short-term uptrend and a long-term downtrend.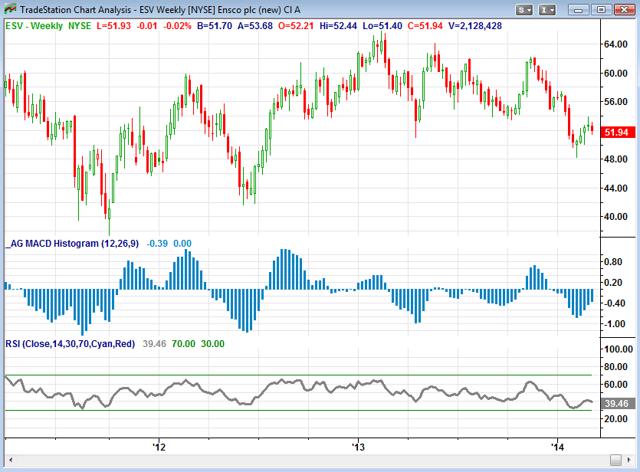 Chart: TradeStation Group, Inc.
The weekly MACD histogram, a particularly valuable indicator by technicians, is negative at 0.39 and ascending, which is a positive signal (a rising MACD histogram and crossing the zero line from below is considered an extremely bullish signal). The RSI oscillator is at 39.46 which do not indicate oversold or overbought conditions.
Analyst Opinion
Analysts opinion is divided. Among the thirty six analysts covering the stock, four rate it as a strong buy, six rate it as a buy, twenty three rate it as a hold and three analysts rate it as an underperform.
Mark Brown, an analyst at Citigroup (A four star rated analysts according to TipRanks) recommended the stock with a buy rating.
My Take
Oil and natural gas prices have been rising from the beginning of the year which should promote an increase in the demand for new explorations. WTI crude price has risen 12.1% from its low of January 09, 2014, to $102.58 per barrel on March 07 while Henry Hub natural gas price has risen 18.7% at the same period to $4.618 per Million Btu. Since a greater percentage of oil is being discovered in extremely deep waters, where Ensco thrives, this will cause an increase in the demand for Ensco's ultra-deepwater rigs where the rental price is the highest (about $610,000 daily rate in Q4 2013).
Since Ensco has $11 billion of contracted revenue backlog, and its long-term debt-to-capital ratio is only 27%, I am quite sure that the company will be able to sustain its high dividend payment. Ensco's leverage ratio is low at 28%, much lower than the leverage ratio of its competitors; SeaDrill Limited (NYSE:SDRL) - 60%, Transocean Ltd. - 40%, Noble Corp. (NYSE:NE) - 40% and Rowan Companies plc (NYSE:RDC) - 30%, only Diamond Offshore Drilling, Inc. (NYSE:DO) has a lower leverage ratio of 24%.
Risk
The success of Ensco's business largely depends on the level of activity in offshore oil and natural gas exploration, development and production. Oil and natural gas prices, and market expectations of potential changes in these prices, may significantly affect the level of drilling activity. An actual decline, or the perceived risk of a decline, in oil and/or natural gas prices could cause oil and gas companies to reduce their overall level of activity or spending, in which case demand for Ensco's services may decline and revenues may be adversely affected through lower rig utilization and/or lower day rates.
Conclusion
Ensco has compelling valuation metrics and strong earnings growth prospects, its PEG ratio is extremely low at 0.70, only Transocean Ltd. among high-yielding S&P 500 companies has a lower PEG ratio. Furthermore, its leverage ratio is much lower than that of its main competitors, and it has the lowest trailing and forward P/E among its peers.
All these factors lead me to the conclusion that ESV stock is a smart investment right now. Furthermore, the very rich growing dividend represents a gratifying income.
Disclosure: I have no positions in any stocks mentioned, but may initiate a long position in ESV over the next 72 hours. I wrote this article myself, and it expresses my own opinions. I am not receiving compensation for it (other than from Seeking Alpha). I have no business relationship with any company whose stock is mentioned in this article.