Salesforce.com (NYSE:CRM) benefits from pre-payment for its services accounting for those pre-payments for services not yet provided in a given year as a "Deferred Revenue" liability. This is a standard way of accounting for such payments and there is no issue with the treatment. On the balance sheet, the pre-payments received show up as additions to Cash balances and the pre-payments invoiced but not yet paid show up in the Accounts Receivable balance.
At least that is what I get out of their disclosure documents.
An example may assist. A customer purchases a license to use the Salesforce.com platform for two years and pays Salesforce.com $200 on the first day of its fiscal year. Salesforce.com deposits the $200 to its bank and by year end has provided one year of the two years' licensed services and records $100 as revenue. The other $100 is already in the bank but not recognized as revenue so Salesforce.com records the $100 as a Deferred Revenue liability to balance the books. In the following year when the second year of the license runs its course and the full two year service has been provided, Salesforce.com will recognize the revenue and relieve the Deferred Revenue liability. Importantly, while the Deferred Revenue will show up in that second year in Revenues, no cash will be received in that year it having been received by Salesforce.com in the prior year.
In the case of Salesforce.com its January 31, 2014 balance sheet discloses that the Deferred Revenue liability had grown to be $2,473,705 in Current Liabilities and another $48,410 in non-current liabilities (all numbers are 000's to conform to the Salesforce.com statement presentation). "Current" means due within the next fiscal year, indicating that the vast majority of Deferred Revenue will be recognized in fiscal 2015.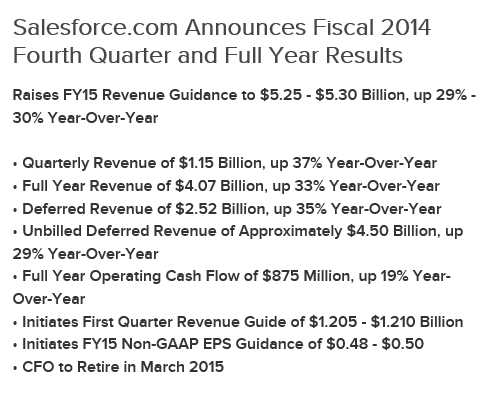 Source: Salesforce.com press release
Salesforce.com gave guidance that its fiscal 2015 revenues (year ending January 31, 2015) will be in the range of $5.25 to $5.3 billion. Of that, $2.5 billion (I have rounded the $2,473,705) has already been booked with payments received or recorded in accounts receivable. Since I expect accounts receivable to grow in proportion to revenues in fiscal 2015, it is fair to say that the $2.5 billion Deferred Revenue being recognized in fiscal 2015 will provide no additional cash to Salesforce.com.
In fact, the prepayments by customers recorded as Deferred Revenues by Salesforce.com have grown to where they now fund 95% of Salesforce.com liquid assets. The past few years illustrate the point.

Source: Salesforce.com reports, Michael Blair arithmetic
The Salesforce.com balance sheet is not all that liquid. Working capital as at January 31, 2014 showed a deficit of $1.3 billion.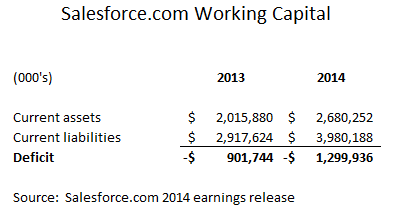 My take on this is not pretty. Customers give Salesforce.com money - I like to think of it as a deposit - for services to be rendered over time. Customers have a reasonable expectation that the money they paid will be used to provide the services they contracted. But it is not. It is being used to fund past and current losses and to help pay for acquisitions of unprofitable companies that management hopes will one day be profitable.
The result is a balance sheet that is very tight. Cash, securities and receivables are now $1.7 billion less than debt and deferred revenue obligations, leave alone accounts payable of $0.9 billion as at January 31, 2014.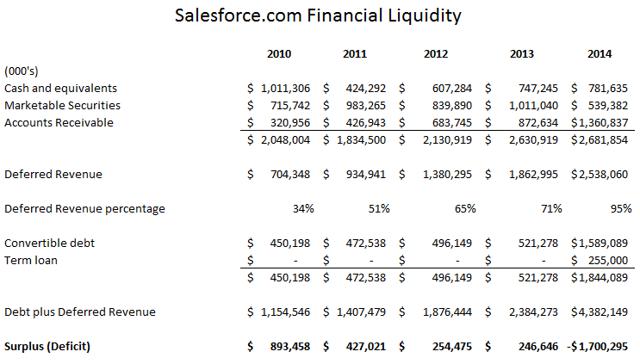 Source: Salesforce.com reports, Michael Blair arithmetic
Profitless growth won't solve this problem. At best the crunch can be "Deferred" by exponential growth in customer prepayments.
Given the very rapid build in Salesforce.com employment and marketing expenses generally, this seems to be management's plan.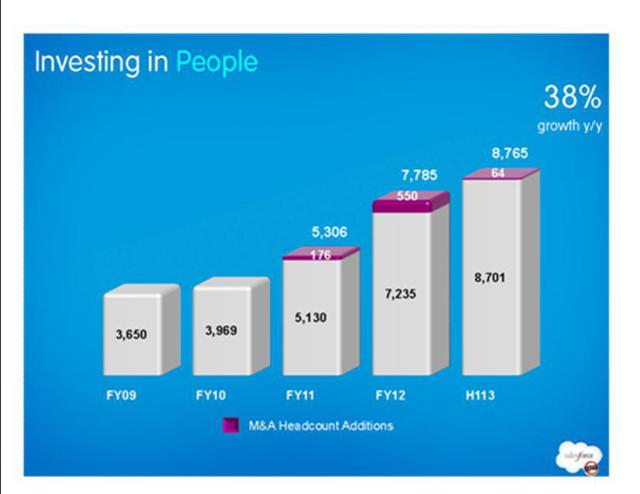 Source: Salesforce.com November 19, 2013 presentation
As long as Salesforce.com can keep the money from new contracts coming in up front at a faster rate than they are paying it out to provide services for existing contracts, the game can go on.
By my arithmetic, Revenues have grown at a compound annual growth (CAGR) rate of 33% since 2010 while Deferred Revenues have grown at a 38% CAGR. In my opinion it has a Ponzi-like smell to it and I don't think it can go on much longer.
I am short the stock.
Disclosure: I am short CRM. I wrote this article myself, and it expresses my own opinions. I am not receiving compensation for it (other than from Seeking Alpha). I have no business relationship with any company whose stock is mentioned in this article.