Check out this week's Danger Zone Interview with Chuck Jaffe of Money Life and MarketWatch.com.
AOL Inc. (NYSE:AOL) is in the Danger Zone this week. This Web 1.0 figurehead is trying to sell investors on its reinvention as a digital media company. It appears that too many investors are buying that story as the stock is up over 140% in the past two years. The stock has a long way to fall once more investors recognize the weakness of AOL's legacy membership service as well as the inherent instability of its new business.
Where Are Profits Coming From?
AOL is divided into three reportable segments: the Membership Group, the Brand Group, and AOL Networks. The membership group encompasses AOL's 2.5 million paid subscribers as well as advertising revenues from properties like AOL Mail. These legacy services are in decline. AOL is losing subscribers, and Membership Group revenue has declined by 19% over the past two years.
AOL's other two groups, the Brand Group and AOL Networks, are the new businesses that have excited investors. The Brand Group encompasses AOL properties like aol.com, the Huffington Post, TechCrunch, and many others. AOL's revenue from ads on these sites grew by 9% in 2013.
AOL Networks consists of several different advertising platforms, such as Advertising.com and Adap.tv, which connect video advertisers and online publishers. AOL Networks grew revenues by 22% in 2013.
While revenue growth at AOL Networks and the AOL Brand Group looks good, a look at AOL's operating results by segment shows why investors should be worried. Figure 1 shows just how dependent AOL still is on its Membership Group for profits because the new businesses are barely making any money.
Figure 1: Operating Income Before Depreciation and Amortization (OIBDA) by Segment

Sources: New Constructs, LLC and company filings
AOL's declining Membership Group contributed almost $600 million in reported pre-tax operating income, while its Brand Group and AOL Networks combined contributed $25 million. AOL is still remarkably dependent on subscribers and users of outdated services like AOL mail. Even if its other two segments can become profitable, they will have to offset the continued decline of the Membership Group.
Cost Cutting Can't Continue
The bull case for AOL also centers around its impressive recent profit growth. AOL grew after-tax profit (NOPAT) by 53% and 40% in 2012 and 2013 respectively. They key to this growth can be seen in the "Corporate and Other" row in Figure 1.
AOL has been slashing its costs significantly. From 2011 to 2013, General and Administrative expenses declined by 27%. These cost cutting measures have allowed AOL to show profit growth even though the operating income from its three segments has been declining. Cutting administrative costs has allowed AOL to expand its NOPAT margins from 4% to 7%, even though gross margins have declined from 28% to 26.5%. Gross profit has been essentially stagnant over the past three years, which means that AOL's NOPAT growth has come entirely from cutting administrative costs.
Even after all those cuts, however, AOL still earns a return on invested capital (ROIC) of just 5%, below its competitor Yahoo (YHOO) and in the bottom 40% of all the companies we cover.
Cost cutting does not drive growth in the medium of the long term. Already we can see that AOL is starting to reach the limit of its cost cutting efforts. The well-publicized "distressed babies" fiasco from earlier this year shows that AOL is scraping the bottom of the barrel looking for ways to cut costs and boost EPS. CEO Tim Armstrong announced that the company would switch from matching 401(k) contributions on a monthly basis to a yearly basis, which would save AOL money for those employees who left the company in the middle of a year. The plan backfired, as AOL was forced to go back to the old matching system and had to hire a PR firm to deal with the fallout.
Too Much Competition in New Businesses
Analysts have hyped up AOL's new initiatives in the Brand Group and AOL Networks as the beginnings of a 'digital media empire', but I have to question the real potential here. On the Brand side, the openness of the Internet makes it incredibly difficult to consistently succeed as a content provider.
For AOL, the best example of this difficulty comes in the form of Patch.com. Patch was founded by Armstrong and others in 2007, and AOL acquired it soon after Armstrong became CEO in 2009. After four troubled years in which Patch struggled to compete with local blogs and never reached profitability, AOL gave in and sold the property.
Patch is the most extreme example, but every one of AOL's properties has the same inherent issue. Content is expensive to create, and the rapidly changing tastes of the online community make it extremely difficult to create and maintain a loyal reader base. AOL has not yet shown that it's mastered content creation. Truthfully, not many firms have. Even traditional content powerhouses like the New York Times and Washington Post are struggling to make any money. Not surprisingly, AOL is struggling too as its properties are stagnating while competitors gain ground. For example, The Huffington Post has been stuck at a global rank of 80 in terms of visitors while competitor BuzzFeedhas gone from around 600 to 143 over the past year.
The Huffington Post looks especially vulnerable, as it's not only facing competition from smaller news aggregators like Buzzfeed and Reddit, but also from old media companies trying to emulate its model. Washington Post's Wonkblog has gained significant traction over the past year, and its creator, Ezra Klein, has now left to form his own site with Vox Media.
Also, The Huffington Post, as well as many other AOL properties, gets much of its traffic from links on aol.com, which is seeing falling readership.
Figure 2: AOL Global Page View and Visitor Ranking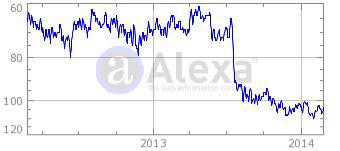 Source: Alexa.com
The problem is not just confined to aol.com or The Huffington Post. AOL properties like TechCrunch and Engadget have seen either stagnant or falling global ranks while competitors like Gizmodo are on a steady uptrend.
While the AOL Brand Group's 9% revenue growth might seem impressive, it's actually quite a bit less than the 32% growth in spending on display ads, according to Nielsen (NYSE:NLSN). The rising tide in digital ad spending is lifting all boats so far, except not as much for AOL. Not a good sign.
As for the difficulties facing AOL Networks, I have one word: Google (NASDAQ:GOOG). Video advertising is Google's domain, and AOL will find it difficult to make headway. Much has been made of the fact that, with the acquisition of Adap.tv, AOL passed Google for the largest number of video ads served online in September. While that's true, people are focusing on the wrong metric. The number of viewers, rather than the number of videos, is what's important, and in that category Google still dominates. Google had 165 million unique video viewers in September compared to 62 million for AOL. AOL Network must also look up to Facebook (NASDAQ:FB), which had 67 million unique video viewers.
Total video ads served can be a high variance metric. Brightroll overtook Google for a few months in 2012 and 2013, but now it's sitting in third place. Investors should not believe that AOL has achieved a dominant market share in the online video advertising business. Even if they gained a temporary edge, it is hard to make a straight-faced argument that they could keep it.
Even if AOL Networks can compete with Google, it doesn't have a very high profit ceiling. In its role as a facilitator between publishers and advertisers, AOL Networks is essentially a middleman, and that's not a very high margin business most of the time. Figure 1 showed that, despite its revenue growth, the AOL Networks segment has not achieved consistent profitability. Investors hanging their hat on significant profit growth from this segment need to temper their expectations.
Valuation Implies Too Much Growth
At ~$44/share, AOL is priced for too much growth to be a good long-term investment. In order to justify this valuation, AOL would need to grow NOPAT by 14% compounded annually for 17 years.
A more reasonable NOPAT growth rate of 8% compounded annually for 10 years yields a share price of only ~$22/share.
It's important when modeling AOL's future cash flows to note that pre-tax margins are going to decline due to the shift away from the high-margin subscriber business to the lower margin advertising segments. Even if AOL can achieve significant revenue growth (something it's yet to do), it will have a hard time growing profits enough to justify its current valuation.
Insider Selling
We're not the only ones who think that AOL is overvalued. Their executives seem to agree. AOL insiders have dumped 180 thousand shares over the past six months, nearly 9% of all the shares they held. Institutional investors have joined in the selling, dumping 12 million, or 17% of their shares.
Downward Catalysts
I've mentioned two of the major downward catalysts above. Key AOL properties like The Huffington Post or aol.com look vulnerable to losing readers in the coming year. Investors are counting on AOL's Brand Group to fuel growth going forward, so a disappointment there could hit the stock hard.
Additionally, the market is discounting the margin compression that will take place as AOL's transition continues. Even if AOL can keep the top line growing, expect some bottom line disappointment.
Finally, Tim Armstrong has proved himself to be a potential liability as CEO with the 401(k) issue and his controversial firing of an employee on a conference call with 1,000 participants back in August. AOL stock fell sharply after Armstrong's most recent gaffe, and further PR problems could send the stock even farther down, if disappointing earnings don't happen first.
Bad Holdings Make a Bad Fund
AOL looks poised for a big drop, and funds that allocate heavily to it could suffer as well. Therefore, we recommend that investors also avoid RS Investment Trust: RS Partners Fund (MUTF:RSPFX), which allocates 3.6% of its portfolio to AOL and earns a Very Dangerous rating.
Sam McBride contributed to this report.
Disclosure: David Trainer and Sam McBride receive no compensation to write about any specific stock, sector, or theme.
Disclosure: I have no positions in any stocks mentioned, and no plans to initiate any positions within the next 72 hours. I wrote this article myself, and it expresses my own opinions. I am not receiving compensation for it. I have no business relationship with any company whose stock is mentioned in this article.