On February 20, Southern Company's (NYSE:SO) Georgia Power subsidiary received federal loan guarantee approvals that should give investors a big sigh of relief. While still in a technical bearish to neutral pattern since early September 2013, the federal loan guarantees should remove a looming question mark for future investors. With a current yield of 4.7% and a current value of a mere 5% above its 52-week low, SO should be on your radar screen as a long-term core holding.
While the application has been in review by the Dept. of Energy (DOE) since 2010, the administration moved against the wishes of one of their main constituents: the environmental lobby. For example, the Union of Concerned Scientists published a report in 2009 against the issuance of federal loan guarantees for the construction of nuclear power plants. They concluded the guarantees were a means of subsidizing the wrong type of power generation.
However, in an hour-long speech at the National Press Club, Energy Secretary Ernest Moniz justified the action as an endorsement of President Obama's "all of the above" energy strategy by including heavy-handed government support for a wide swath of generating fuels.
Of the $8.3 billion in guarantees, Georgia Power, one of the three owners of two new reactors currently under construction, will receive the majority of the benefit. According to the latest reports, SO has stated its current construction budget for the reactor at Vogtle will cost $4.8 billion, not including about $2 billion in financing costs, or about $381 million more than the amount approved by state regulators. SO is 45.7% owner of the project. Vogtle reactor #3 is scheduled to begin commercial operation in the fourth quarter of 2017, with Vogtle #4 to follow about a year later. The terms of the loan guarantees are as follows, from their February 20 8-K filing with the SEC:
Total maximum amount under the loan agreement $3.46 billion, or 70% of the cost of construction;
Georgia Power has initially borrowed $1 billion under this Facility;
Half of the initial advance was priced at a 30-yr interest rate of 3.86% and the balance at 3.49% with no principal repayment due until 2020. Future borrowings under the Facility will bear an interest rate at the applicable Treasury rate plus 0.375%;
Security for the federal loan is the 45.7% interest Georgian Power has in the two new reactors.
While known in the press as "guarantees" and implies third party lending, the reality is the program is a direct loan from the federal government to Southern Company's subsidiary. From an article at WSJ.com:
Federal guarantees are new to the U.S. nuclear power industry. In the last construction cycle, which hit the skids following the nuclear accident at the Three Mile Island plant in Pennsylvania in 1979, utilities and their customers were exposed to cost overruns and losses. This time around, the power industry lobbied for guarantees so utilities could protect their customers and shareholders from potential losses.
According to comments by Southern Company's CEO, the loans will save SO ratepayers about $225 million to $250 million in reduced financing costs.
While any financing savings will flow through to ratepayers rather than shareholders, this action will reduce the overall cost of the project. The lower cost will tend to placate regulators, and investors, who have been concerned about the cost of the plants. It would seem it is a win-win-win for the company, for rate payers, and for investors. In addition, the guarantees will reduce the risk profile of the company as worse case will reduce exposure to a complete project failure to 30% of overall project costs.
Since last September, SO share prices have traded just above their support level of $40. A drop below this support may create a vacuum until the $35 price target is reached. Prices would have to rally to over $44 to signal a new leg higher.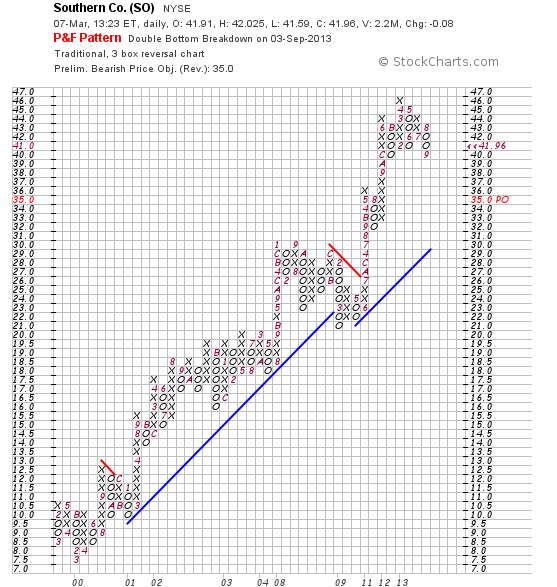 Southern Company offers compelling value at current levels with an improving risk profile, lower potential need to request rate increases tied to financing of the Vogtle project and a nice current yield. The news over the last few weeks should have consolidated SO position as a core utility holding. However, investors need to watch closely any break below $40 for additional buying opportunities.
Author's Note: Please review important disclaimer in author's profile.
Disclosure: I am long SO. I wrote this article myself, and it expresses my own opinions. I am not receiving compensation for it (other than from Seeking Alpha). I have no business relationship with any company whose stock is mentioned in this article.