A lifetime ago, 1965 to be exact, a country singer named Roger Miller penned the following verse in his gold selling "king of The Road":
Trailers for sale or rent
Rooms to let...fifty cents.
No phone, no pool, no pets
I ain't got no cigarettes
Ah, but..two hours of pushin' broom
Buys an eight by twelve four-bit room
I'm a man of means by no means
King of the road.
I read this and think of simpler times and cheaper times. Interestingly, both of these themes are also consistent in many of my investment strategies. Putting more focus on the lyrics (more than ever anticipated, I am sure), I see "rooms to let". Makes me think of better times when rooms were cheap. Or, in REIT space, when multifamily/apartment REITs were cheaper and had decent upside.
As you may have guessed, I believe that multifamily - generally - is rich, and is poised to get cheaper. Why? Supply, demand and expectations. Let's look at supply and demand: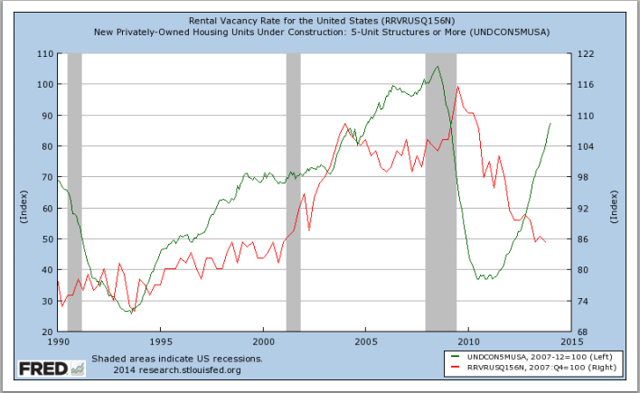 In this chart (from the St. Louis FRB), the green line is multifamily units under construction and the red line is the vacancy rate. The greater the increase in the green line, the more trouble the red line has going further down (to lower vacancy rates). This is what I believe is the problem: demand was significant and, as usual, supply comes on line in a greater proportion. This is Econ 101. When there is excess demand, supply will be introduced and lower prices will result.
The lower prices being referred to here are rents. As supply comes on line and outpaces demand (supply is greater than absorption), rents fall. Due to the new supply, vacancy rates increase. Add the two together - higher vacancies and lower rent - and there might be trouble in the multifamily REIT sector.
According to Trepp (emphasis mine):
In 2014, apartment market fundamentals will be stable or will deteriorate slightly as a result of an influx of new construction deliveries. Apartment deliveries of 215,000 to 220,000 units in 2014 will be well above 2013 levels. The supply of new units coming online will be especially strong in expensive, urban infill markets. Deliveries are expected to outpace demand, even with a strengthening economy and the release of pent-up demand generating greater need for housing. Some of this new demand could be siphoned away from the rental market into the recovering for-sale housing market, although the effect might be mitigated by higher interest rates and rising home values that make it more difficult for buyers to purchase homes. By year-end 2014, the rental vacancy rate will be slightly higher than 2013. Rents will also be affected by this shift in the supply and demand balance, as well as by the inability of incomes to keep pace with rising rents. Rent growth will stay positive, but growth will slow in 2014.
Further supported by REIS: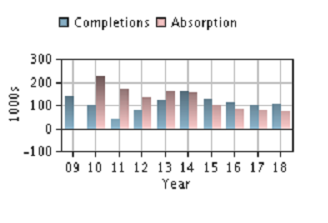 Note that completions dominate absorptions beginning this year and continuing into the future.
And CoStar:
For the top 54 U.S. metros, CoStar Group forecasts more than 240,000 new multifamily units will be added in 2014, and a combined nearly 350,000 units in 2015 and 2016. Those projections are on top of the more than 200,000 new apartment units developers added between 2012 and 2013.

The supply wave already is affecting some market indicators, including gradual reductions in rental growth and increases in vacancy, according Luis Mejia, CoStar's director of U.S. research, multifamily. The aggregate fourth quarter 2013 CoStar data for 50-unit-plus properties shows a year-over-year effective rent growth pattern that is consistent with increasing competition. As landlords adjusted concessions to lure renters, annual effective rent growth declined from 4.9% in the first quarter to 2.7% in last quarter of 2013, after peaking above 7% in 2012.
I could keep going, but you get the picture.
Is this outlook priced into multifamily REITs? Let's take a look:

The average multiple in the multifamily/apartment sector is nearly 18x, a premium to the overall REIT market. The biggest players in the market trade at over 20x FFO. The two 400lb gorillas in the sector, AvalonBay (NYSE:AVB) and Equity Residential (NYSE:EQR), trade at the nosebleed levels of over 24x FFO. A midcap such as HighWoods (NYSE:HIW) or Home Properties (NYSE:HME) trade at a more reasonable multiple of just over 13x FFO. On a forward basis, apartment REITs trade at 17.9x, a 6.5% premium to the overall REIT industry. At the same time A premium multiple with a market level dividend yield and slower growth on the horizon, hardly something to get excited about.
What should a REIT investor do in this environment? As I see it, there are two options:
Avoid the sector or sell out of it, or
Reallocate within the sector.
I believe that investors should have diversified portfolios comprised of multiple sectors and asset classes. As a result, I am loathe to have zero exposure to a sector unless it is rapidly deteriorating or absurdly rich. Looking at multifamily REITs, forward fundamentals are deteriorating, but not rapidly and there are multifamily REITs that are not rich. As a result, I am more inclined to follow option 2 "reallocate within the sector".
The reallocation can be done through swapping from large capitalization apartment REITs into mid-capitalization apartment REITs - as was hinted at earlier. The large cap to mid cap thesis was explored by SA author Brad Thomas (here) in which he stated:
In closing, Zell's right - most of the Large-Cap REITs are getting the attention as the premium brands are attracted to the "big money" indexed buyers. This strong overall performance, relative to the broad market, has resulted in equity REIT shares that are continuing to trade at more pricey valuation premiums, with the catalysts being durable income, improving portfolio operating fundamentals, healthy capital structures, and the potential benefits as a hedge against, eventual higher interest rates and inflation.
Equity REITs continue to be more widely utilized by an increasingly broader investor base as part of an overall "growth and income" strategy, as opposed to income only. Accordingly, many equity REITs are trading at higher valuations and prudent investors should consider the Small and Mid-Cap REITs that are often overlooked by the Wall Street analysts.
I agree with Brad's statement and thought that large caps have been attracting the bigger money players and that going down in market capitalization might be the best way to invest in the sector.
With this fundamental outlook in mind, and having answered the question "is it time to move out?" with no, but it's time to move down, the next (and final) installment will be selecting those REITs that fit the "down in market capitalization" profile.
Disclosure: I have no positions in any stocks mentioned, and no plans to initiate any positions within the next 72 hours. I wrote this article myself, and it expresses my own opinions. I am not receiving compensation for it (other than from Seeking Alpha). I have no business relationship with any company whose stock is mentioned in this article.
Additional disclosure: This article is for informational purposes only, it is not a recommendation to buy or sell any security and is strictly the opinion of Rubicon Associates LLC. Every investor is strongly encouraged to do their own research prior to investing.