Intel Corporation's (NASDAQ:INTC) fourth-quarter performance came in roughly in line with my forecast. After updating my model, I reduced the intrinsic value estimate for INTC from $32 per share to $30 per share, as the competitive landscape continues to adversely impact the company's results of operations. The competitive environment is forecasted to remain challenging during 2014, but the ramping of the mobile offerings could produce positive surprises in the back half of 2014. Back to school season in the third quarter will offer insight into how competitive INTC's mobility offerings are in the market.
The first quarter appears like it'll be better than I originally thought it would be with revenue forecasted to come in at $12.8B while my forecast was for $12.2B. But the profitability forecast remains the same. So, the Q1 EPS forecasts remains at $0.37. Thinking about the rest of 2014, if enterprise PC sales remain strong, and INTC is able to increase its mobile chips shipments to 40 million, the current financial performance forecast may be too pessimistic, and INTC's share price may be able to converge to its intrinsic value.
Right now, INTC trades at roughly its 5-year average valuation multiples. Better-than-expected financial performance would decrease the valuation multiples and clear some of the resistance between the current share price and the intrinsic value estimate of $30 per share.
Recent Developments
INTC is on track to supply 40 million tablets with its mobile chips this year.
The 64-bit Intel Atom Processor, Merrifield, for smartphones and tablets was launched. Also, the Intel XMM 7260 platform, Moorefield, with LTE-Advances features and performance was introduced, which puts Intel several months behind rival Qualcomm.
The Intel Xeon Processor E7 v2 is designed for in-memory analytics. The big data technology and services market is expected to grow 27% annually through 2017 to reach $32.4B.
INTC elected five new corporate vice presidents, who have appreciable experience with the firm.
The marketing chief left the firm, but after 27 years with the company, it was probably time for change.
Business Summary
Intel Corporation is a semiconductor chipmaker, which develops integrated digital technology products, mainly integrated circuits ("IC"), for industries such as computing and communications.
The company is the largest semiconductor company in the world, and its microprocessors have a substantial installed based within the PC and server markets. More recently, Intel's dominance in technology has declined, as companies such as Qualcomm (NASDAQ:QCOM), and Broadcom (BRCM) have increased their installed base within compute using ARM-based architectures, which consume power more efficiently. The increasingly competitive environment is being reflected in INTC's financial performance.
The mid-point of management's first quarter revenue forecast is for revenue being up 1.6% Y/Y; the upper end of the range means revenue would be higher by 5.6% Y/Y. If revenue comes in at the high end of the range, my revenue forecast ($51.2B) for 2014 will be increased.
Operating expenditure is continuing to increase, as revenue remains roughly flat. So, while the mid-point of the Q1 forecast is for revenue that would be flat relative to Q1 2012, operating income could decline by $1.3B with net income down $900M. Basic EPS could decline by 33% from 2012's level, as basic shares outstanding declines.
Turning to the balance sheet, my forecast is for total assets to end the year at $94.79B, which would be up from $92.36B at the end of 2013. Total equity is forecasted to increase from $58.26B to $59.72B. So, book value per share would increase 3.5%.
Cash flow provided by operating activities could decline to $20B from $20.78B with free cash flow-to-the firm declining to $9B from $10.07B in 2013. Free cash flow-to-equity is forecasted to decline. But FCFE in 2012 was increased by $6B in net debt issuance. No net debt is forecasted to be issued this year. I look for $2.23B of shares to be repurchased and $4.6B of dividends to be paid. Thus, the forecast is for a dividend increase to $0.2325 from $0.2250, per quarter.
INTC's profitability is deteriorating and so are its returns to equity holders. This reflects the competitive environment, which includes broader trends in IT, such as virtualization, and mobility. Also, cloud should be included in the IT trends impacting INTC's competitive environment. This impact should be partly offset by new offerings in the mobility space, but the lower ASPs would offset some of the impact of higher volumes. The overall technology and chip markets are growing but there are share shifts and changes in the ASP mixes that are inhibiting INTC's profitability. The organization should be able to generate a return on its invested capital during 2014, but that return is less juicy than in prior periods.
Risks
A change in the mix of platforms among Data Center, PC Client and Other Intel Architecture could adversely impact Intel's net revenue and profit margins.
Recently introduced products with higher costs could adversely impact profitability.
Given that technology firms rely heavily on intellectual property, Intel investors face risks emanating from IP-related incidents.
Material settlements related to adverse litigation outcomes may adversely impact the results of operations and value of Intel's common equity shares.
A significant decline in sales from the Data Center operating segment could cause reported results to differ materially from expectations.
A material decline in IT and/or consumer expenditure could adversely impact the results of operations and cause reported results to differ materially from expectations.
The share price is likely to be volatile in the future and investors could lose a portion or all of their investment. Additionally, Intel is unsuitable for some investors.
This section does not discuss all risks related to an investment in INTC.
Portfolio & Valuation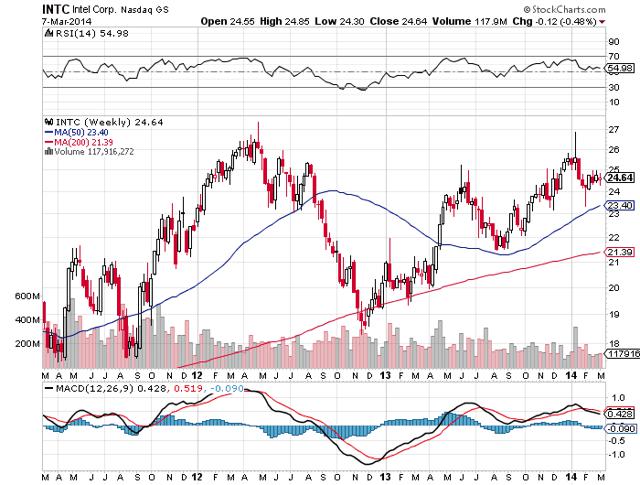 INTC is in a bull market of primary and intermediate degree. The current bull market comes following a significant bear market. For now, the expectation is that INTC trades up to the $30 per share level.
The share price of INTC is strongly correlated with the broader market. Since 2013, the variation of the share price of the S&P 500 (NYSEARCA:SPY) has explained 81% of the variation of the share price of INTC. Also, INTC is currently trading below its long-term trend line. The 12-months price target based on that trend line is $27.19.
The expected quarterly return excluding the dividend is 4.03%. That is because the expected monthly return is 1.35% with the standard deviation of monthly returns being 6.5%. As a reference point, the expected quarterly return of Microsoft (NASDAQ:MSFT) is 4.57%. I think of INTC as "market perform" to "market underperform" without a bullish catalyst.
Based on the fundamentals of the business, the base case intrinsic value is $54.54. The pessimistic valuation is $30.30. But when the historic multiplier valuations and the forward multiplier valuations are taken into account, INTC is fairly valued. The forward P/E, P/B, P/S, and P/CF are 14.66, 2.03, 2.38, and 6.08. Relative to the market, and relative to the industry, Intel appears undervalued. For now, $30 per share is the intrinsic value as growth concerns may worry most market participants. The expected alpha is 16.75%.
Disclosure: I am long INTC, BRCM. I wrote this article myself, and it expresses my own opinions. I am not receiving compensation for it (other than from Seeking Alpha). I have no business relationship with any company whose stock is mentioned in this article.