Shortly after the New Year, Seeking Alpha editors published Part 1 of this series. At that time, I suggested three 2014 general equity investment strategies:
Understand the current phase of the business cycle and overweight stock sectors that historically outperform;

Identify and seek contrarian stock values; "the most hated names of 2013"

Maintain discipline when evaluating securities in a market that's run up 30%; don't chase hot tickets
In addition, I offered eight specific stocks that I believe were aligned with these strategies: Eaton Corp, PLC (NYSE:ETN), Union Pacific Corp. (NYSE:UNP), International Paper (NYSE:IP), Apple Inc. (NASDAQ:AAPL), Energy Transfer Equity (NYSE:ETE), Intel Corp. (NASDAQ:INTC), Caterpillar (NYSE:CAT), and Annaly Capital Management (NYSE:NLY).
In subsequent installments, I covered the aforementioned securities:
Part 2, industrial sector stock Eaton Corporation

Part 3, contrarian call Intel Corp.

Part 4, industrial sector stock Union Pacific Corp.

Part 5, contrarian call Caterpillar Inc.

Part 6, materials sector stock International Paper

Part 7, contrarian call Apple Inc.

Part 8 energy sector MLP Energy Transfer Equity
You may back-check any of these articles here.
In the final part of this series, we will review contrarian pick Annaly Capital Management.
Annaly is an mREIT (mortgage Real Estate Investment Trust). At its core, the business generates cash by borrowing short-term funds, investing in longer-dated mortgage-backed securities, and pocketing the interest rate differential, commonly referred to as "the spread." In addition, the Annaly management toolbox contains several financial tools that may assist performance. These include hedging mechanisms, leverage, and investment diversification. Recently, Annaly purchased Crexus, a commercial real estate trust. Therefore, while NLY retains an mREIT classification, the business model now includes commercial real estate instruments. In the quarter ending December 31, 2013, CRE represented 14% of stockholder's total equity.
In 2013, mREIT share prices fell hard, including Annaly.
Investment Thesis
Annaly Capital Management is a clear choice for contrarian investors. Throughout 2013, the shares and management team have been encircled in unending despair. Warnings have been issued. Dire proclamations have been forecast.
I contend this despair has provided an opportunity.
It is critical to understand how this business makes money. mREITs make money on the "spread" or the differential between short and long rates. High or low rates don't matter as much as the differential between short and long. Using hedging and leverage, Annaly management can choose to focus upon maximizing investment income or protecting book value; it's difficult to do both at the same time. Notably, mREITs don't do well when rates move quickly. Last spring saw interest rates spike upwards over a very short period of time. Indeed, the delta change versus time was as great as seen in decades.
Unfortunately, some "yield-hungry" retail investors became enamored with Annaly's double-digit yield during a time of historic low interest rates. They piled into the shares, perhaps not fully realizing the risks associated with the mREIT model. When interest rates spiked in May 2013, certain retail investors panicked: and turned a bad situation worse. The Annaly price-to-book ratio plummeted well below 1.0. This was an historic "tip" to buy.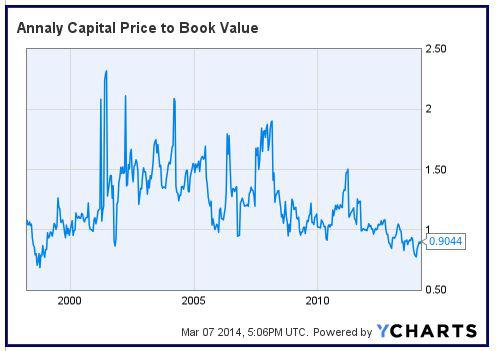 Rarely has NLY experienced long periods when the P/Book remained below 1.0. Essentially, the company represents a portfolio of relatively liquid investment securities. Default risk is very low. It would seem that, in general, investors should expect P/Book to range between 1.0 and 1.5. Dislocations typically occur during periods of financial uncertainty or investor euphoria. Historically, such episodes come and go for limited time frames.
Beginning late 2013, interest rates began to stabilize and spreads widened. Net interest income improved, while book values have begun a bottoming process. NLY management, caught off guard a year ago, de-levered the portfolio. It's also continued to pursue a move to the less volatile commercial real estate business.
Here's another key chart: Annaly's share price plotted as a function of the spread between 2-and-10 year treasuries. Notice the years of correlation: until the extreme 2013 divergence.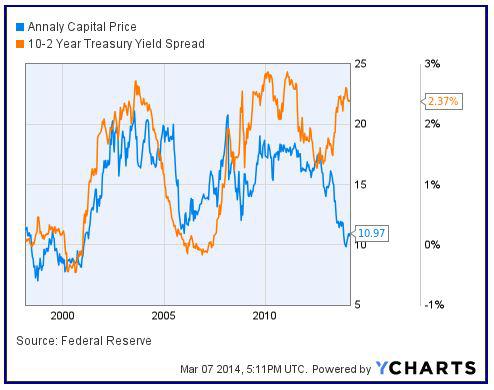 What changed last year? For starters, we experienced the largest spike in the 10-year rate in many years. It was a knee-jerk market reaction to Fed "tapering."
One may then logically ask, "Why should this price/spread disconnect persist?" It would appear difficult to defend such a position. Either the interest rate spread must narrow significantly (meaning the yield curve will flatten, often the signal for recession), and/or Annaly's share price should rise on the heels of widening spreads and resulting greater net investment income.
Patient contrarian investors may view the pricing turmoil as a chance to build a position and perhaps reinvest the dividend (still nearly 11%, despite cutbacks), then wait for a recovery.
Annaly by the Numbers
In Part 1 of this series, a number of financial metrics were offered to help identify whether or not a company is fairly valued.
Permit me to begin by stating that the numbers tell a story, but the numbers are not THE story. I point this out because it can become easy to get somewhat dogmatic about "the numbers." Let's review the metrics openly, but pragmatically; in light of the underlying corporate narrative and the investment thesis. Particularly in the case of Annaly, we will discard or substitute some metrics used earlier in this series. mREITs are a bit of a different animal than traditional corporate stocks.
Price/Cash Flow: Rather than use traditional cash flow, I have substituted what Annaly management refers to as "core earnings." This non-GAAP measure attempts to indicate how much money the portfolio generates after filtering out "noise" in the numbers. Using 2013 core earnings, and the December 31, 2013 price, the trailing 12-month P/Core ratio is 8x. Interestingly, this is about the same as YE 2012. In any event, I find this figure to be unremarkable.
2-Year PEG ratio: For mREITs, the PEG ratio is not meaningful.
Return-on-Equity: When viewing RoE, I again utilized "core earnings" instead of GAAP earnings. Furthermore, I subtracted preferred stock dividends and preferred equity from the overall calculation. For years' ending 2013 and 2012, and using December 31 common shareholder equity, an identical 10% return-on-equity was the result. I found such returns to be adequate.
Revenue Growth: Revenue growth isn't very useful when analyzing Annaly. Instead, I highlight delta Net Interest Income, which is germane to the narrative. Here we see good reason for a valuation decline, although I continue to assert NLY shares sold down too hard. NII fell 11.6% year-over-year, indicating a significant cash drop due to core activities.
Debt-to-Equity: For mREITs, the debt-to-equity ratio isn't useful. Contingent upon management's views of opportunity or risk, these entities can leverage up or down quickly. Annaly began 2013 leveraged at 6.5-to-1. By year-end, management had lowered the multiplier to 5.0-to-1. Interestingly, NLY management expects to "lever up" going forward, indicating their expectation of a more stable interest rate environment. Whether this view is correct or not remains to be seen. In any event, one would not expect management to lever up its investments if they determined undue negative economic or interest rate pressures.
Margins: Traditional gross or operating margin analysis isn't useful when evaluating mREITs. However, as described earlier, net interest margins (the difference between the cost of borrowed money and investment returns) are very important. Between 2012 and 2013, Annaly Capital's margins widened from 0.94% to 1.43%. That's robust.
A year ago, the market fretted that low net interest margins were crushing NII and associated returns. Then, when long interest rates moved up quickly (while short rates remained anchored), the market hammered the stock due to interest rate fears. A no-win situation, huh?
mREITs do not like whipsaws. The year-end 1.43% net interest margin is a much more comfortable collar than year-end 2012 model. The spread began to show up in Annaly's most recent earnings release: a blowout.
Price and Valuation
mREIT valuation is different than a traditional C-Corp valuation exercise. In order to keep it simple, I prefer to focus upon price-to-book valuation.
NLY currently trades at 91% of book value versus 82% as of the end of 2013. Net book fell from $12.70 at the end of September 2013 to $12.13 on December 31. The percentage decline in net book was in line with peer American Capital Agency (NASDAQ:AGNC) and others.
Once the quarterly book value stabilizes, I expect to see NLY shares return to trading around net book. If the NIM continues to expand, and net book begins to creep up, investors may even see the stock trade somewhat above book value.
I am not persuaded to validate Annaly Capital valuation using GAAP earnings or dividend yield metrics. Just watch price-to-book and the interest rate spread.
My view is that Annaly investors will see book value bottom around $12 a share. If so, the share price will gradually revert to approximately that figure; indicating a 9% uplift. Shares began the year trading ~$10 each. Assuming the $0.30 quarterly dividend remains flat, total 2014 returns could approach 30%.
Summary
Annaly Capital is a contrarian stock value. A series of problems: low net interest margin, followed by a sharp spike in long rates, and followed by investor panic all contributed to a woeful 2013 stock performance.
As is often the case, Mr. Market may have overshot to the downside. Historically, investors should expect NLY to trade somewhat above net book value. The shares generally follow widening or declining net interest margins. The 2/10-year treasury spread is a good long-term proxy. Management is tenured and experienced. While two senior staff recently resigned, I could find no evidence it means anything more than folks seeking other pastures, internal philosophical differences, or housecleaning.
The shares remain undervalued.
Closing Note
This concludes my series on "2014 Strategies and Stocks." For your review, I recap the 8 covered stocks and their performance-to-date, effective the first trading session of January 2014. I do not believe investments should be measured based upon 2 months' data. The table is for information only.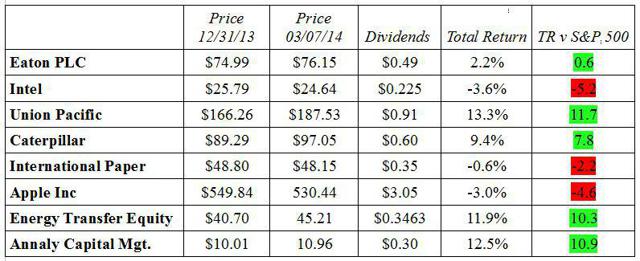 Note: ETE results adjusted for 2-for-1 split
Please do your own careful due diligence before making any investment. This article should be used for information purposes only. It is not a recommendation to buy or sell any stock. Good luck with all your 2014 investments.
Disclosure: I am long NLY. I wrote this article myself, and it expresses my own opinions. I am not receiving compensation for it (other than from Seeking Alpha). I have no business relationship with any company whose stock is mentioned in this article.
Additional disclosure: I am also long NLY-D preferred shares.