Introduction
The stock market as a whole has been in a bull market for the past 5 years. The adage "a rising tide lifts all boats" analogizes why investors should not consider their recent performance as an inherent ability to choose winning stocks. The current P/E ratio for the S&P 500 as a whole is 19.88 which is markedly above its historical average of 15.51. This across the board overvaluation indicates to investors the heightened importance of choosing undervalued securities. American International Group (NYSE:AIG) is a company that has not been driven up by this bull market and provides a compelling buying opportunity.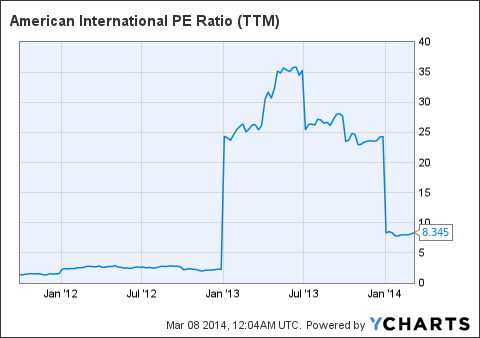 The sentiment towards AIG has been excessively negative since the financial crisis. AIG would have failed during this time if the government did not bail them out. AIG's dreadful operating decisions cost its investors nearly all of their capital and many are hesitant to reenter this name. Shrewd investors should capitalize on this mispricing.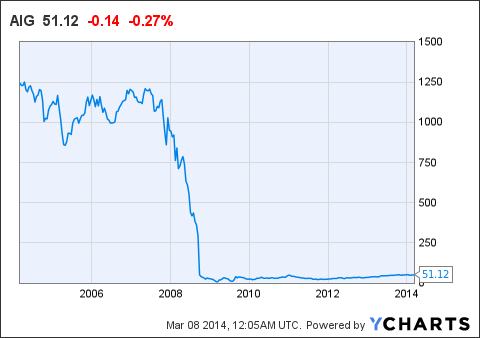 Currently the book value of AIG stands at $68.62 while AIG is currently trading at $51.15 which represents a 25% discount to book value. Most of AIG's competitors are trading above book value and the industry average is 1.2x book value. From a price to earnings prospective AIG is considerably undervalued as well. The peer group average is 11.18 while AIG trades at just 8.3. The reason for this divergence is due to negative sentiment and an irrational perception of risk in AIG as opposed to its competitors. With AIG gaining approval for another $1 billion of share repurchases, it will further improve earnings per share and reduce its P/E ratio.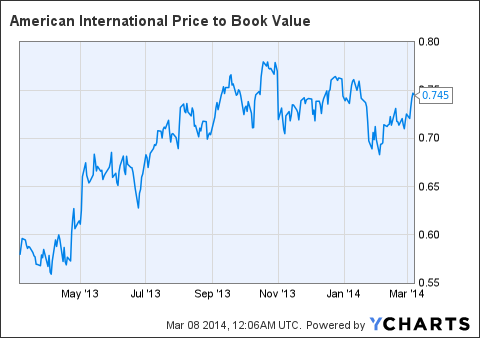 By reviewing the segments of AIG's business it is clear that it is recovering and far from the doldrums of 2008.
Life & Retirement
The business segment that is driving growth the most is the Life & Retirement segment which represents 34% of revenue. From Q4 of 2012 to Q4 of 2013, the operating income of this segment increased a staggering 37%. Furthermore the assets under management have increased 10% over 2013 to $318 billion. This segment is poised to provide lucrative returns going forward with the expected increase in interest rates. The reason for optimism is twofold. First, the spread AIG receives from the annuities and group retirement products will increase profitability. These spreads have increased from 2.06% in 2012 to 2.27% in 2013 and 1.82% in 2012 to 1.97% in 2013 respectively. Secondly, rising interest rates will decrease the present value of future claims for life insurance which provides another boon to profitability.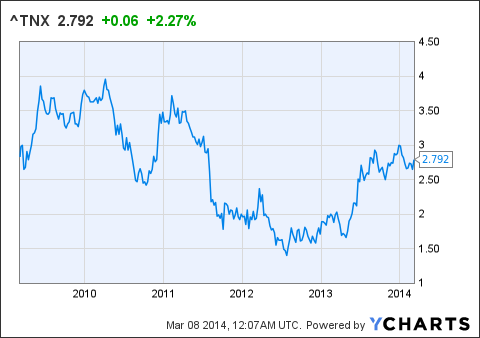 Property & Causality
Property and Causality insurance represents the lion's share of AIG's revenue. A great indicator of the health of this segment is the combined ratio. This ratio tells you the profitability of the underwriting process. It is calculated by dividing the underwriting expenses by the net premiums earned. A combined ratio of 100% is breakeven and anything above that represents a loss. Currently, the combined ratio for Property and Causality is 103.8% or -3.8% profit margin which represents a vast improvement from last year's 125.1% (Keep in mind that this number is slightly inflated due to hurricane Sandy). The CEO of P&C also stated that expense ratios were elevated as they are integrating several distinct centers:
"And so this year we will be really streamlining, removing excess layers of management in areas where they're duplicative so that we can be as responsive to customers and grow and redeploy people and capital where the opportunities are greatest."
Once these synergies are completed, AIG's profitability will increase prodigiously. Since this represents such as large stream of revenue, a small margin increase will have a profound effect on profits.
Conclusion
In this market environment characterized by above historical average P/E ratios, it is exceedingly more paramount for investors to look for undervalued securities. AIG is assuredly an undervalued opportunity caused by a glut of negative sentiment due to the overhang of the financial crisis. The Life & Retirement business has been improving and additional expected increases in interest rates will provide further positive catalysts. Although the Property & Causality business currently has a negative profit margin, management has taken several steps to reduce expenses. AIG is well positioned to outperform the market over the next few years.
Disclosure: I have no positions in any stocks mentioned, but may initiate a long position in AIG over the next 72 hours. I wrote this article myself, and it expresses my own opinions. I am not receiving compensation for it (other than from Seeking Alpha). I have no business relationship with any company whose stock is mentioned in this article.