Last week I wrote an article on The Street called Real Estate Lessons From Warren Buffett's Annual Letter. In that article I referenced a pair of real estate investments in which The Oracle from Omaha had acquired privately owned properties with a margin of safety.
In obvious Buffett candor, the legendary investor was aiming his message at value investors in an effort to explain that long-term investing should be the goal of every investor and that it's best to be in the market, invested in value stocks that offer the highest potential returns. In Buffett's shareholder letter he explained:
Games are won by players who focus on the playing field -- not by those whose eyes are glued to the scoreboard. If you can enjoy Saturdays and Sundays without looking at stock prices, give it a try on weekdays.
Whether it's real estate or stocks, Buffett makes the case that there is simply no way to accurately and consistently time short-term market movement and "forming macro opinions or listening to the macro or market predictions of others is a waste of time."
Value investors have learned over time that the way to win the game is to focus on both price and value - that is, paying less than what you are getting. The primary goal for a value investor is to get in at the bottom of a cycle (a margin of safety) and stay away from predicting short-term stock market movements.
Buffett's message was clear (to me) in that he was illustrating that a collection of businesses bought at excellent prices is no less a long-term asset than a piece of real estate and should be treated the same way. Prices will fluctuate both up and down and what Buffett was trying to explain is that an intelligent investor must own the right stocks when the market does go higher.
Digital Realty - A Digital Diamond in The Rough
Over the last twelve months I have watched Digital Realty (NYSE:DLR) rise to stardom and then precipitously collapse. For some, the events of the last year have been painfully familiar as many owned REITs prior to the crash we now call the Great Recession. The worst thing that can happen with any investment is to get blind-sided by an event that brings new meaning to the words: "protecting ones principal at all costs."
One of the hardest things about being a value investor is to sometimes go against the herd. It's often extremely difficult to predict how Mr. Market will react, especially when there's considerable turbulence.
Many of you know that I have been following Digital Realty for quite some time and I made my initial BUY recommendation back on February 11, 2013. At the time, Digital's share price was soaring and as judged by the fundamentals (at the time), the leading Data Center REIT was a solid BUY opportunity.
Then on May 8th (2013) the first torpedo hit the battleship. The opponent was Highfields Capital, a hedge fund who had shorted the stock and caused damage to Digital's projected revenue model. The key argument (by Highfields) was that Digital's shares were worth considerably less and that Digital's dividend record was not sustainable.
Then on May 22nd (2013), just around two weeks after the Highfields torpedo, another one hit Digital dead center. This attack also came out of the middle of nowhere and it was felt by everyone. The Federal Reserve announced that it was going to begin to taper its bond buying program and of course that caused a ripple effect for all REITs.
Then on July 26th (2013) a third torpedo hit the battleship and just as the others, this one was unexpected. An untimely earnings announcement regarding some new accounting changes prompted investors to revisit the durability of the vessel and the management team was again tested.
Finally (we hope) on October 30th (2013) during the third quarter earnings call, Digital announced a straight-line rent expense adjustment (related to 111 8th Avenue in New York) that caused yet another shock to the once untouchable battleship. The combination of all four direct hits - virtually impossible to predict in advance - caused Digital shares to slide by over 23%.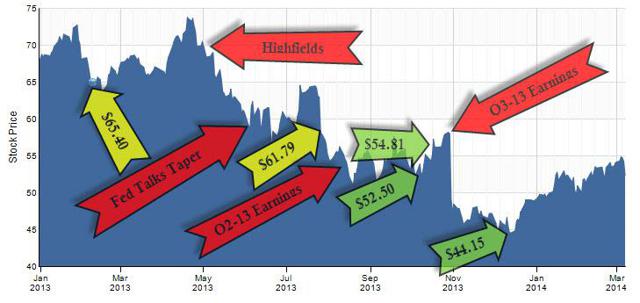 As I have watched all of the drama unfolding with Digital (over the course of months), I have never questioned the company's fundamentals. Although Mr. Market was reacting to the massive decline in value (negative 27% by the end of the year), I stayed glued to the earnings and debt metrics believing that investing against the herd could provide me with a long-term winner.
Since my last purchase on December 3rd (2013), Digital shares have climbed by over 17.5%. Believing strongly in the power of compounding, I have been cautiously dollar cost averaging shares of Digital and my weighted average cost to date is around $48.16.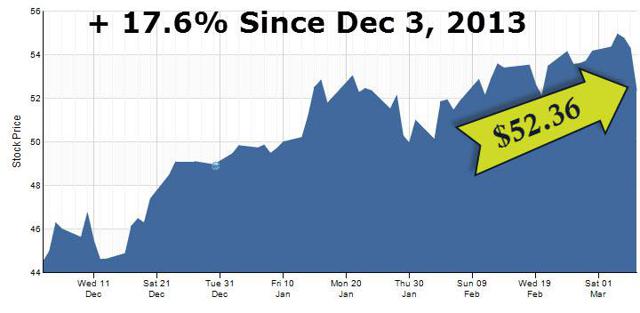 Last week Yahoo! Inc. (YHOO) said it was planning to sublease date center space it's leasing from DuPont Fabros Technology (NYSE:DFT), a smaller competitor of Digital Realty. The data center capacity that Yahoo is putting on the market represents around 11% of DFT's portfolio.

That news sparked DFT shares to fall by around 7% to a close of $25.10. On that same news, Digital shares pulled back a more modest 4% (to a close of $52.36).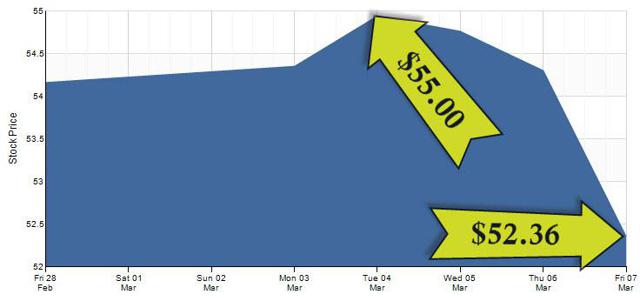 Similar to Facebook (NASDAQ:FB), Yahoo! Inc. has been building out its own data centers and moving out of leased facilities. Facebook is also putting data center space in the Silicon Valley on the market at reportedly lower-than-market rates that has created worries of oversupply and downward pricing pressure in the region.
Clearly, Mr. Market is still spooked with Digital and the Data Center sector in general; however, when a value investor buys a stock, it's imperative that he or she doesn't let the stock performance get in the way of performance. That's why, I am going to research the latest earnings results and determine whether or not I'm comfortable with my current exposure. As Ben Graham said, "You are neither right nor wrong because the crowd disagrees with you. You are right because the data and reasoning are right." Now, let's get down to business…
Digital Realty - The Dominant Data Center REIT
Digital Realty has assets of around $9.68 billion and is the largest of the four publicly-traded Data Center REITs.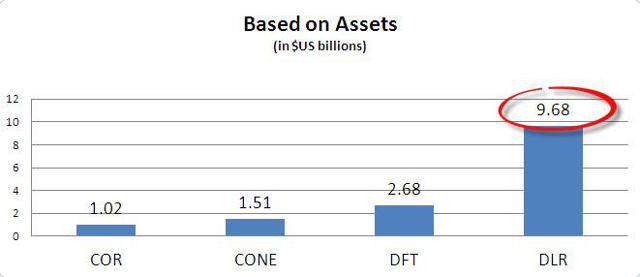 Digital owns 128 properties, double the number owned by all three other competitors.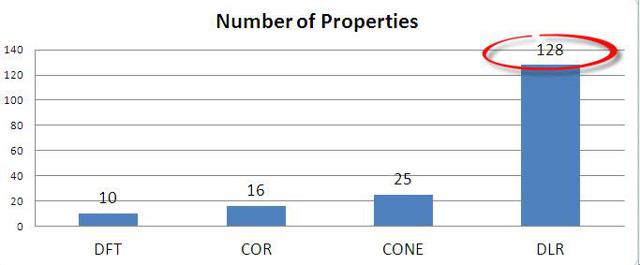 Digital's market value (of $6.725 Billion) has declined considerable since early last year; however, the San Francisco-based REIT is still around three times the size of the smaller peers.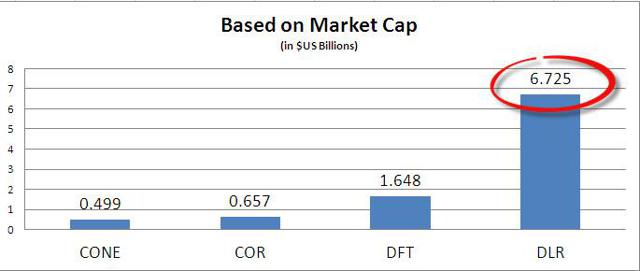 Digital's diversified portfolio of 128 properties (23.7 million square feet) is located in over 30 markets throughout North America, Europe, Asia, and Australia. Accordingly, Digital has a high-quality tenant base much like DuPont Fabros (referenced above); however, Digital has well over 2,000 leases and 600+ tenants making the revenue much less concentrated than DuPont.
Digital's diverse revenue model of leading global companies across various industries provides for muted risks as compared to the more recent news associated with Yahoo! Subleasing from DuPont. Here is a snapshot of Digital's Top Tenants (Note: Yahoo! Inc. accounts for only 1% of Digital's revenues):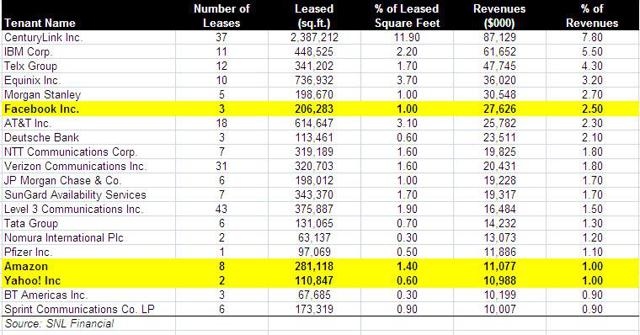 Digital has grown considerably since going public in October 2004. Here is a snapshot of Digital's balanced geographical exposure (top 12 markets):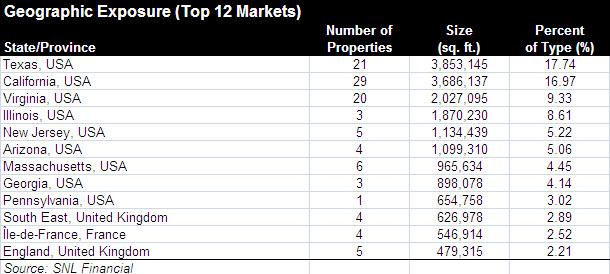 One of the key drivers for Digital Realty is the amount of global spending for infrastructure and services related to the cloud. In 2014 this related cost should exceed $174 billion, a 20% increase from 2013. Global consumer spending on digital games, apps, and online movies passed $57 billion in 2013, up almost 30% from $44 billion in 2012 (source: Digital 4Q13 Presentation).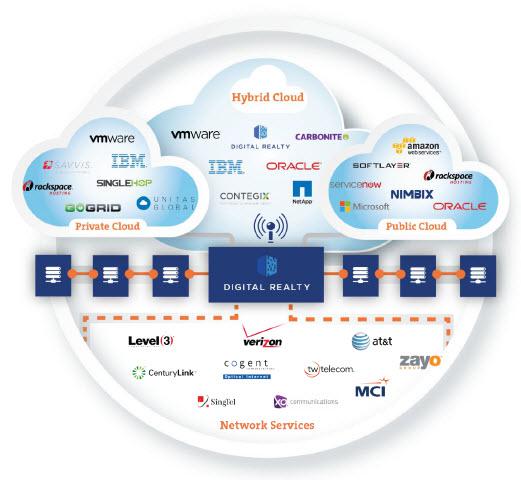 Digital Realty - Are Drivers Durable and Lasting?
Digital achieved record lease signings in the fourth quarter which also propelled the full year total for 2013 - the company's best year ever. Here is a snapshot of Digital's leased space in the latest reporting quarter.

Digital also reported higher-than-anticipated contribution from the mid-market and colocation sales initiatives (during the latest quarter). The company signed $7.7 million of annualized GAAP colocation revenue during the fourth quarter which is also a record high quarter for this segment.

During the recent earnings call Digital's CEO, Mike Foust, replied:
"We don't believe that the strong fourth quarter volume was an anomaly as our mid-market sales team is ramping up with management sales directors now in place. We're encouraged by the early results and we're cautiously optimistic on the prospects for repeat performances in the quarters ahead."
Digital signed $22 million of renewal leases in the fourth quarter and the rental rates on renewals increased by 3.6% (CASH) and 18.9% (GAAP) for total data center space.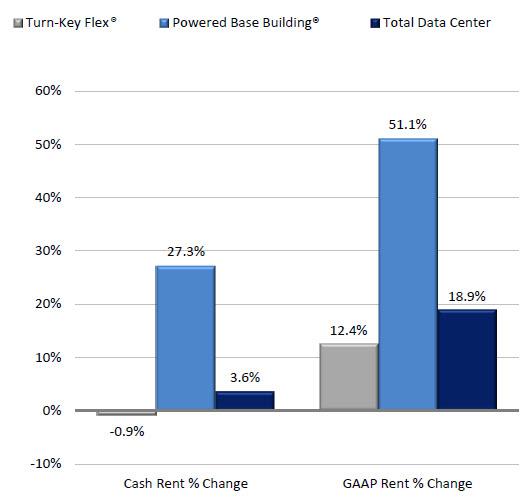 Digital's backlog of signed leases translates to an incremental $28 million of GAAP NOI in 2014, with an additional $48 million beyond that. This solid backlog of leases are signed but not yet commenced representing contractual obligations for future rental revenue, setting stage for healthy growth and cash flows over the intermediate term. Mike Foust (CEO) commented (on the earnings call):
Clearly leasing momentum picked up in the second half of the year. That momentum is carried forward into the first quarter, although slowed down a bit from the rapid pace in the fourth quarter. We feel very good about the first quarter leasing activity, particularly based on deals in the final stages of our sales process. But as typically the case, signings do appear to be back end loaded towards the end of the quarter. Overall, our team is engaged with more leased prospects than ever, representing over $3 million rentable square feet of 2014 requirements.

Also commenting on demand drivers and the use of IBM-related SoftLayer, Mike Foust commented:
And many of you have seen them in January, IBM announced plans to spend $1.2 billion to open 15 new cloud data centers worldwide. We are working with IBM SoftLayer to ensure that we remain their trusted data center partner for much of their global expansion needs.

As you can see from the top tenants' table, IBM is now our second largest tenant, representing over 5.5% of total revenues. We believe that we have a portfolio best capable of supporting IBM's cloud platform on a global scale, much as we have with software over the past several years of their rapid growth.
Digital Realty - The Latest Results
Digital's balance on its $2 billion line of credit stood at $725 million at year-end. On the earnings call the company said that "subject to market conditions, it expects to term out most of its borrowings on the line of credit with the combination of preferred equity and long-term debt over the course of the year".
Digital is the only Data Center REIT with Investment Grade ratings (S&P BBB) and the company maintains a flexible balance sheet. The company's Net Debt / LQA Adjusted EBITDA stands at 5.4x.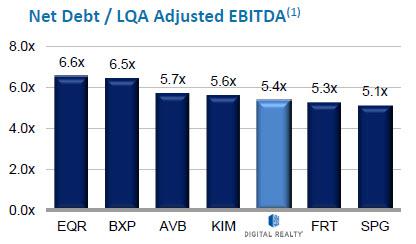 Net Debt + Preferred / LQA Adjusted EBITDA is 6.2x.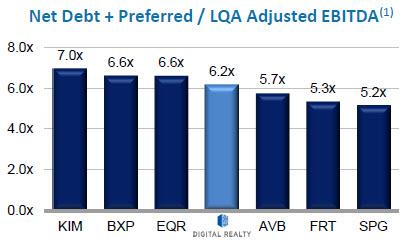 Digital's Interest Coverage is a healthy 4.3x.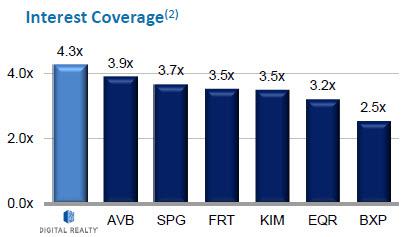 The company's Fixed Charge Coverage is 3.3x.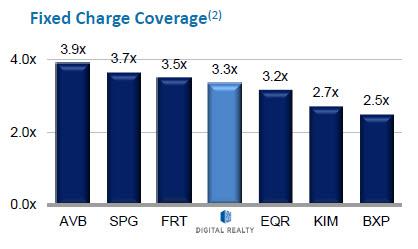 Digital's fourth quarter Funds from Operations (or FFO) per share came in $0.10 higher than the third quarter (the primary sources of upside include $0.04 per share due to lower financing cost). The company's annualized FFO came in at $4.74 (beating guidance): however, as the company's CFO, Bill Stein, explained:
On the heels of the beat in the fourth quarter, the year over FFO per share growth rate admittedly looks light, but I would remind you that it's largely a function of what we believe to be prudent balance sheet management along with the dilution from the joint venture with Prudential Real Estate Investors that we closed in the third quarter last year.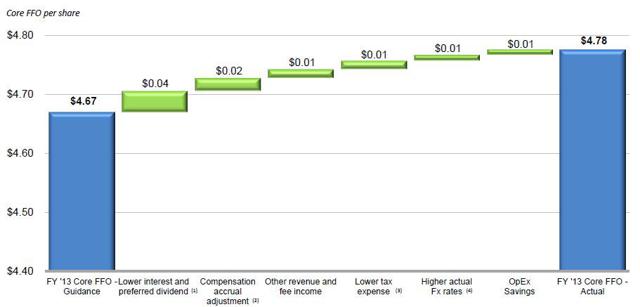 Here's a snapshot of the company's historical FFO:

Here's a snapshot of the company's historical Adjusted Funds from Operations (or AFFO) per share: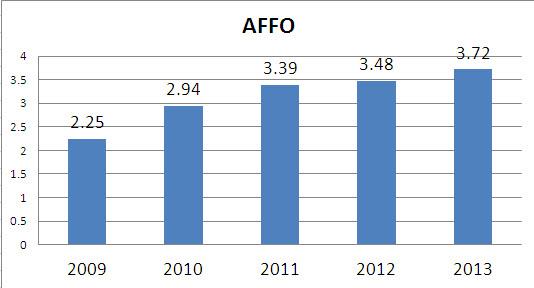 On February 11, 2014, Digital's Board of Directors approved a 6% dividend increase. This is the 12th dividend increase since the IPO in 2004. And as you can see on the chart (below), Digital has grown the per share dividend at a 14% compounded annual growth rate over that time.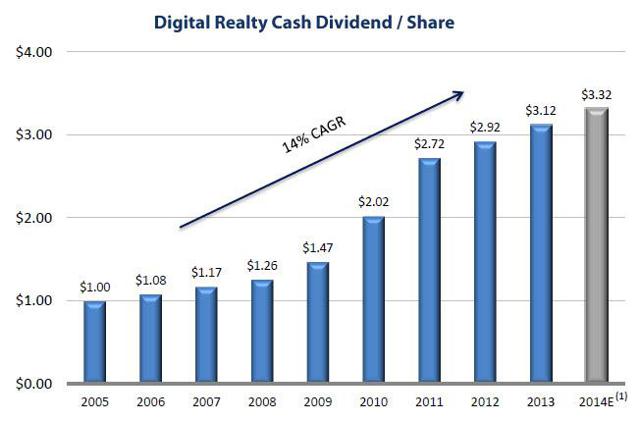 Here is a snapshot of Digital's dividend payment history compared with the peer group:

Here is a visual of Digital's dividend history compared with the peer group:

Digital's current dividend yield is 6.34%, the highest in the peer group: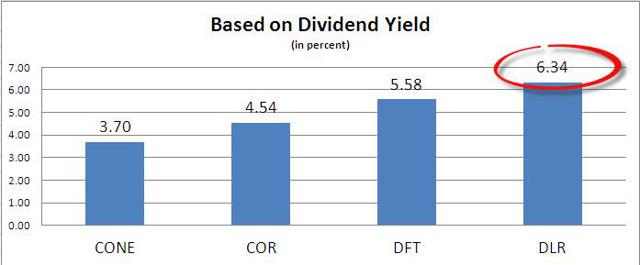 Digital Realty and DuPont Fabros have a Price to Funds from Operations (P/FFO) multiple of 10.8x, the lowest in the sector.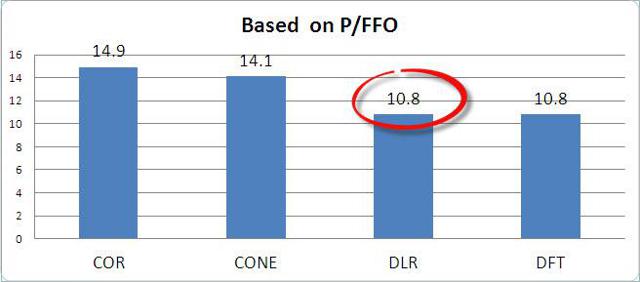 Now as I mentioned earlier, I wanted to take a good look at Digital Realty without paying attention to the price. I have reviewed the latest earnings and operating fundamentals. As evidenced by the FAST Graph below, I am confident of the value proposition associated with Digital Realty's repeatable operating model.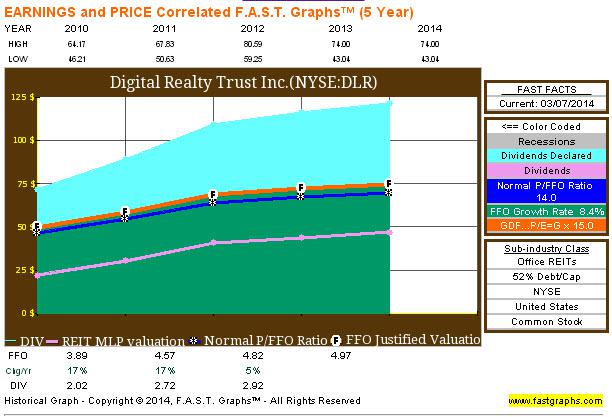 Intelligent investors should always pay close attention to net profit margins as they are helpful in accurately predicting the future. It's quite clear that Digital's pattern of dividend payments has provided valuable clues to the company's underlying performance and this useful data provides conclusive evidence that I bought a "blue chip" stock on sale. It's true that dividend increases are forward looking signs of growth and total return prospects.
Now, with the price line included (in the FAST Graph below), I can see that Digital is moving towards fair value. At $52.36 I still consider the shares to be trading at a discount and cheaper than the peers (on a risk-adjusted basis).
As Warren Buffett explained in his recent shareholder letter, the present price is based on a mix of unpredictable factors, many of which pertain more to emotion and mass psychology than anything else. An intelligent investor should always remember that nobody should be expected to predict future prices accurately. As Ben Graham wrote in The Intelligent Investor, the value investor's purpose is to capitalize upon "a favorable difference between price on the one hand and indicated or appraised value on the other."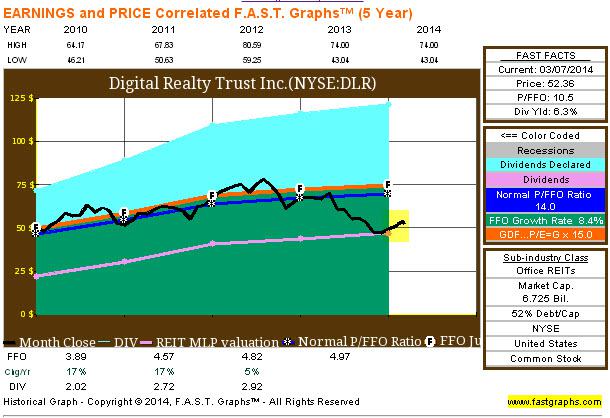 ACTION BUY: Digital's fourth quarter results exceeded expectations and the 10%+ beat consensus in the latest quarter ($1.26/share vs. $1.14/share) and that should propel momentum during the year. Furthermore, I was thrilled that Digital got thru the latest earnings call with no hiccups and the unexpected results have given me more confidence with my purchases in 2013. I'm encouraged by the results and the long-term prospects with the leading Data Center Sector REIT and I'm continuing to add more shares on market weakness (in addition to my regular DRiP strategy).
Over the last few months we have witnessed a classic case in which the financial markets failed to fully incorporate fundamental values into Digital's share price. Keeping in mind that all stocks have risk; however, I believe that an Intelligent Investor can filter out the noise and determine when there is a high margin of safety. Finally, we all know that the margin of safety concept is necessary because valuation is an imprecise art, the future is unpredictable, and investors are human and do make mistakes.
In summary, Digital Realty has experienced turbulence; however, I consider the company a battleship and I will continue to own the shares for the dependability of the dividends and the above-average appreciation potential.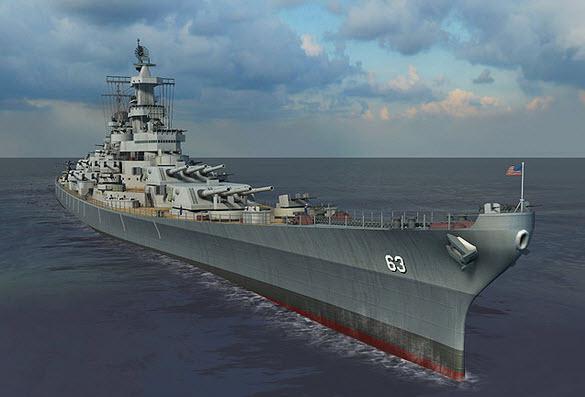 SWAN Portfolio: For more information on Digital Realty and other "sleep well at night" REITs, check out my monthly newsletter HERE.
Source: SNL Financial, FAST Graphs, and Digital Realty Investor Presentation.
Other REITs referenced: (NYSE:AVB), (NYSE:SPG), (NYSE:FRT), (NASDAQ:CONE), and (NYSE:COR).
Disclaimer: This article is intended to provide information to interested parties. As I have no knowledge of individual investor circumstances, goals, and/or portfolio concentration or diversification, readers are expected to complete their own due diligence before purchasing any stocks mentioned or recommended.
Disclosure: I am long O, DLR, VTR, HTA, STAG, UMH, CSG, GPT, ARCP, ROIC, MPW, HCN, OHI, LXP, KIM. I wrote this article myself, and it expresses my own opinions. I am not receiving compensation for it (other than from Seeking Alpha). I have no business relationship with any company whose stock is mentioned in this article.